Think back to your most memorable dance workout. The music was just right, your moves were on point, you didn't get the awkward oops-I-missed-a-step, and you finished feeling great. Afterward, you left the studio with a subtle spring in your step because you knew no matter how sweaty and sticky you felt, you still looked great. What were you wearing? Chances are, it was a pair of quality leggings and a supportive top.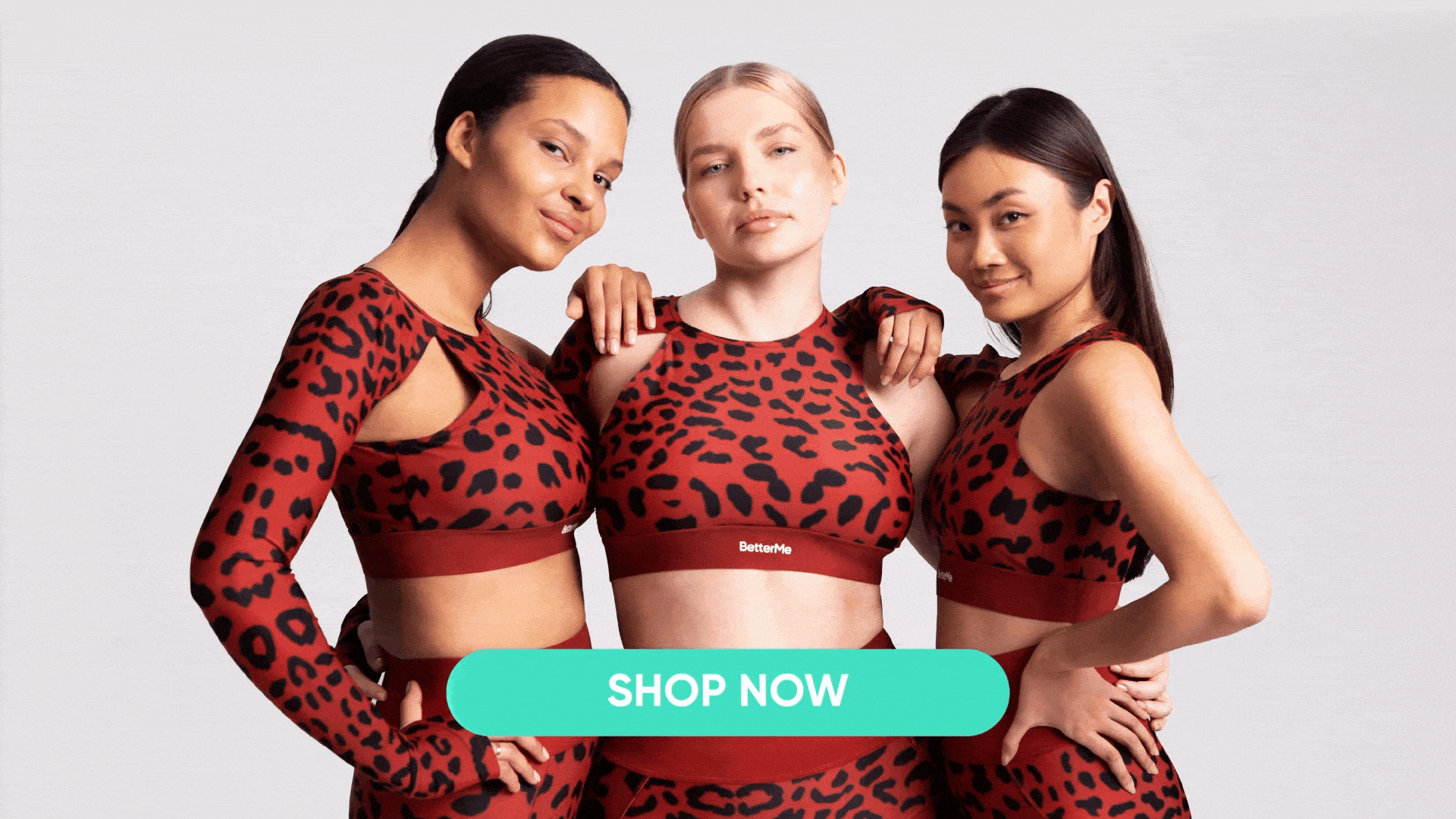 What you wear actually makes a huge difference in your fitness experience. If you're not comfortable, it's hard to move freely and be confident. You need something that can keep up with your every twist and turn. And we're not just saying this because we've designed the perfect pair of leggings to meet all your needs; research actually backs this up.
Appropriate fitness clothing can help increase your motivation and performance, reduce fatigue and promote better posture.
A good pair of leggings is an investment that's worth making. BetterMe's High Rise Knee Slit Leggings are designed with performance and style in mind, and we're happy to tell you why. But first, a little background story on leggings-when did they become a staple in our activewear wardrobes? 
What Do We Mean By Leggings?
Leggings are a form-fitting garment that is usually ankle-length or slightly shorter. Traditionally, they were made of a heavy material and mostly worn over other clothing for warmth. 
However, since the early to mid-1980s leggings have become a popular item of clothing for women and girls when paired with other items such as tunics, dresses, sweaters or shirts.
Just like jeans or workout shorts, leggings are now commonplace in the gym and on the streets. That said, they might be the most controversial pants; some people adore them while others despise them. Those who despise them cite the fact that leggings are too tight and can be see-through in certain lighting.
And they are partly right; ill-fitting leggings can be a recipe for disaster. Poor material and a bad design can make leggings uncomfortable and unflattering. Not to mention, if the material isn't breathable and wicks moisture, it can cause some serious chafing. 
The recent athleisure trend piles the pressure on leggings even more. Now, people aren't just looking for leggings that perform well, they want them to look good too. They want a versatile pair that can be dressed up for brunch with friends, or dressed down for a yoga class. They need to feel supported as they're running errands, but also be stylish enough to wear out. 
With this in mind, is it possible to find a pair of leggings that look great and perform even better? We believe so.
Read More: Be Confident And Dance Better In The New BetterMe Loose Fit T-Shirt
Why The Right Sportsgear Matters
Having the right gear for your workout is essential. It's the foundation of a successful session, and if you don't have the basics down, you won't be able to get the most out of your workout. 
To put things into perspective, a runner in the wrong shoes will soon find themselves suffering from aches and pains that can affect their performance. 
Similarly, if you are trying to power through a squat session in leggings that don't fit properly, it can be incredibly uncomfortable and distracting. 
Still not convinced about why the right gear is important? Here are just a few reasons why having the appropriate clothing for your workout can go a long way: 
Injury Prevention
Wearing the right clothing for your activity can help reduce your risk of injury (3). Before you ask, "What kind of injury can I get from wearing the wrong clothes?" We'll explain. 
Clothes that are too tight can restrict your range of motion, while loose clothing can get in the way of you performing certain exercises. When you're distracted by the discomfort, you're more likely to make mistakes, have poor form and get injured. 
There's also the risk of heat-related injuries. The wrong kind of clothing can make you too hot and sweaty, which leads to dehydration, cramping and exhaustion. Worst case scenario, it's a hot summer and you're wearing leggings that don't have a breathable fabric, which can lead to heat stroke (4).
A more common injury you might experience with the wrong gear is chafing and skin irritation. This is due to the fabric not being breathable or soft enough and can make your workout session quite uncomfortable.
Optimal Performance
How well you perform in your chosen sport or workout will depend largely on how comfortable you are (1). Wearing the right clothes can help you feel more supported and less restricted, allowing you to focus on your form and technique. 
The right type of clothing can also help regulate the temperature in your body. Heat and sweat build up during exercise, so clothing that is designed to wick moisture away from the body can help keep you cool. This will not only make you feel more comfortable, but it will also help regulate your body temperature. 
Mindset
When you're feeling confident and comfortable in your clothes, it can have a positive impact on your performance. Feeling good about yourself and being prepared for your session can help to boost your confidence and keep you focused. As a result, you may find yourself pushing further and achieving better results.
If you've mustered up the courage to crush your weight loss goal, let Betterme take the sting out of this demanding process. Our app will help you restructure your habits, remold your life and crank up your fitness results!
How Should  The Right Sports Leggings Feel?
When you're wearing the right sports leggings, they should feel:
Supportive, But Not Restrictive
Leggings are a form-fitting garment, so they should wrap snugly and securely around your legs and stick close to your body. But they should also be comfortable and not restrict your range of motion while you exercise. 
Think of them like a second skin that supports you as you move. So any pinching, bunching or discomfort is a sign that you may need to size up!
Breathable
Your leggings should also be breathable enough to help you keep cool as your body temperature rises. Look for fabrics like cotton, spandex and nylon that are lightweight and allow air to circulate through, so you don't end up feeling too hot or sweaty while exercising.
Moisture-Wicking
A common assumption many make is that sportswear should be able to absorb sweat, but that's not actually true. Your leggings should be moisture-wicking, which means they draw sweat away from your skin so it evaporates and can't pool or get uncomfortable. 
Look for fabrics that are labeled "moisture-wicking," as these will help keep you dry and comfortable.
Stylish
Whether you're fashion-conscious or not, the right sports leggings should also look great. A classic black pair with a flattering fit can be stylish enough for everyday wear and allow you to transition from the gym to the street in style. 
Or feel free to shop around for a wilder print or color that shows off your personality. Whatever your style, make sure the leggings offer the right combination of form and function. 
About The BetterMe High-Rise Knee-Slit Leggings
You know how the right leggings should feel, but do you know which ones actually fit the bill? Here's why the BetterMe High-Rise Knee-Slit Leggings should be your go-to for any workout (2):
4-Way Stretch For Maximum Comfort
The type of stretch (how far the fabric can be pulled) is an important factor when it comes to finding comfortable leggings. Generally, leggings and other sportswear fall into one of two categories: two-way or four-way stretch. 
Two-way stretch fabric stretches horizontally, while four-way stretch fabric stretches in both directions (horizontally and vertically). This is important, as four-way stretch gives you more freedom to move and helps ensure the fabric doesn't become too tight or restrictive. 
Our leggings feature four-way stretch fabric and are designed to move with you, giving you maximum comfort. Literally, you'll feel like you're wearing a second skin!
Read More: 6 Reasons To Add The BetterMe Sexy Front-Tie Support Top To Your Sports Wear Collection
Moisture-Wicking Technology
A patch of sweat on your back or thighs is probably the last thing you want while working out. Thanks to BetterMe's moisture-wicking technology, you won't have to worry about that. 
Our fabric is designed to draw sweat away from your skin, so you can stay cool and comfortable, even during the most intense workouts. 
Tummy Control Waistband
Picture your shapely silhouette in the next spin class. 
Our high-rise waistband provides comfortable support and helps to keep your tummy in check, so you can feel confident in your leggings. Even then, the waistband won't constrict you. It's designed to be snug, but not too tight, so you can move freely and still feel supported. 
Bright Prints For On-Trend Style
Whether you want to keep it classic with a solid color, or get more daring with bright prints, our leggings provide on-trend style. 
Our leopard print is bold for the gym, and can easily transition to the street for a head-turning look. You have multiple color and pattern options to choose from, so you can find the perfect look for your workout wardrobe. 
Knee-Slits For A Stylish Finish
Ripped jeans look great, but have you ever tried ripped leggings? Our knee-slit leggings feature stylish and practical cuts that add an extra edge to your look. This one detail makes the leggings so versatile; you can easily pair them with a crop top, sweatshirt or tank and make any outfit look fashionable. 
Size-Inclusivity
Finding the right size for leggings can feel like a challenge. That's why BetterMe's High-Rise Knee-Slit Leggings come in sizes XS-2XL, so you can choose the size that works best for your body type. With sizes for everyone, you can be sure that your leggings will fit just right. 
Get A Pair, Or Two
Our High-Rise Knee-Slit Leggings provide the perfect combination of form and function, with four-way stretch fabric for maximum comfort, moisture-wicking technology for a dry fit and tummy control waistband to keep you looking sleek. Best of all, they come in multiple colors and prints, so you can show off your style with every workout. With that in mind, make sure to grab a pair (or two)!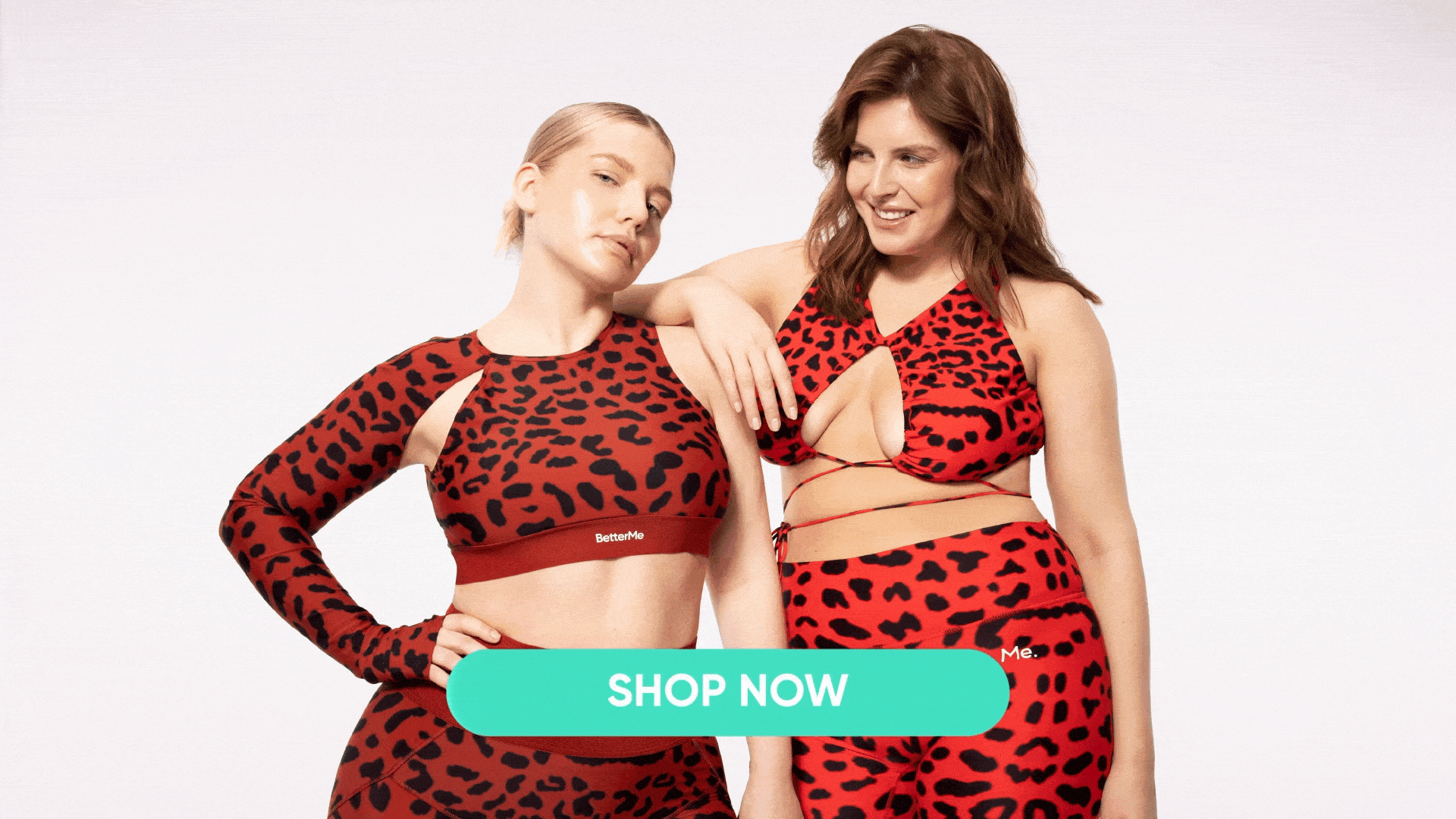 DISCLAIMER:
This article is intended for general informational purposes only and does not address individual circumstances. It is not a substitute for professional advice or help and should not be relied on to make decisions of any kind. Any action you take upon the information presented in this article is strictly at your own risk and responsibility!