BetterMe: Home Workout & Diet – A Personal Coach In Your Pocket
BetterMe: Home Workout & Diet is a part of a line of Health & Fitness apps created by BetterMe company.
BetterMe is determined to improve physical and mental health by providing simple gamified solutions to people with no fitness or meditation experience, who are new to the concept of a healthy lifestyle but suffer from varied health problems.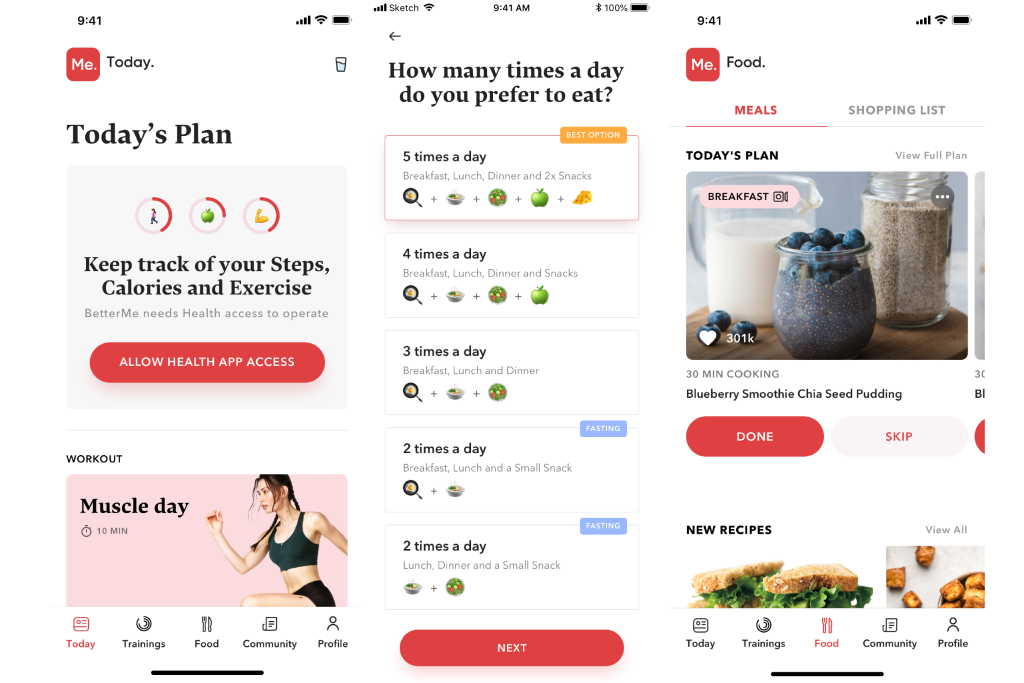 What Is The BetterMe App?
BetterMe is a personalized fitness helper available at your fingertips. The app shreds through the competition thanks to the game-changing weight loss approach, results-driven fitness strategy and cutting-edge built-in tools that ensure a head-turning body transformation. Betterme guides you every step of the way, helps you kick deep-rooted habits, provides you with evidence-backed information and spurs you on to face the challenge that towers over you. The fitness app makes counting calories and monitoring your weight easier than ever and proves to be remarkably effective at keeping you on track with dieting and exercising.
BetterMe was founded in 2016 by Victoria Repa and Vitaly Laptenok. Within 4 years this workout app turned out to be a roaring success with over 80 million installs in more than 10 countries. In March 2020 the company was featured in the TOP 30 EMEA Headquartered mobile publishers list by Revenue according to App Annie.
Read More: Aerobic Exercise At Home-Simple and Beneficial At-Home Aerobic Workouts
Main Features Of The BetterMe App
BetterMe is a revolutionary body fitness app that's perfect for people looking to shave off some weight. It packs all the basic features users are browsing for when they muster up enough courage and determination to take the plunge and look the challenge in the eye:
Users get an AI-based personalized workout and meal programs according to their parameters, weight expectations, diet preferences, and restrictions.

User-friendly calorie tracker – carbs, fats and proteins display order and display in grams for all. Plus a

barcode scan feature.

An extensive recipe database with filters, video instruction, and shopping list.

Quick and effective workouts that cater to different fitness needs and levels. BetterMe home workout app has more than 1,500 workout programs users can do every day, with nearly 700 exercises that include everything from traditional weightlifting to fat-frying Tabata to stress-busting stretching.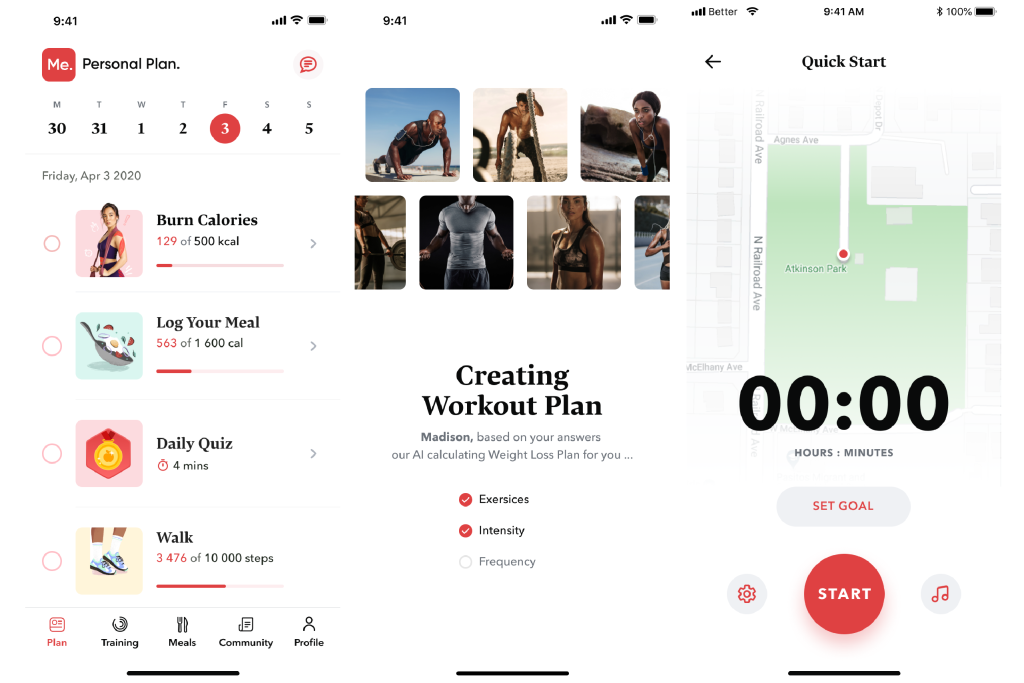 Besides, there are additional  features that streamline the weight loss process:
Water Tracker that kindly reminds you to keep your water intake up.

Step Tracker that urges you to get some movement in.

Personal Coach feature that allows you to ask certified coaches any fitness and weight loss-related questions that pop into your mind.

Challenges for those who are itching to see quicker results: sugar-free, 6-pack abs, or perfect beach body challenges. Every day a user gets a number of challenges: do squats every time you open a fridge, drink water, swap out a carb-heavy snack for a handful of berries, whip up a healthy dinner, try out meal prepping etc.
It's great for fitness newbies who need extra support and motivation to stick to their new routine.  Also, it's perfect for vegetarians or people with allergies as you can choose a vegetarian meal plan and exclude ingredients from your diet recipes.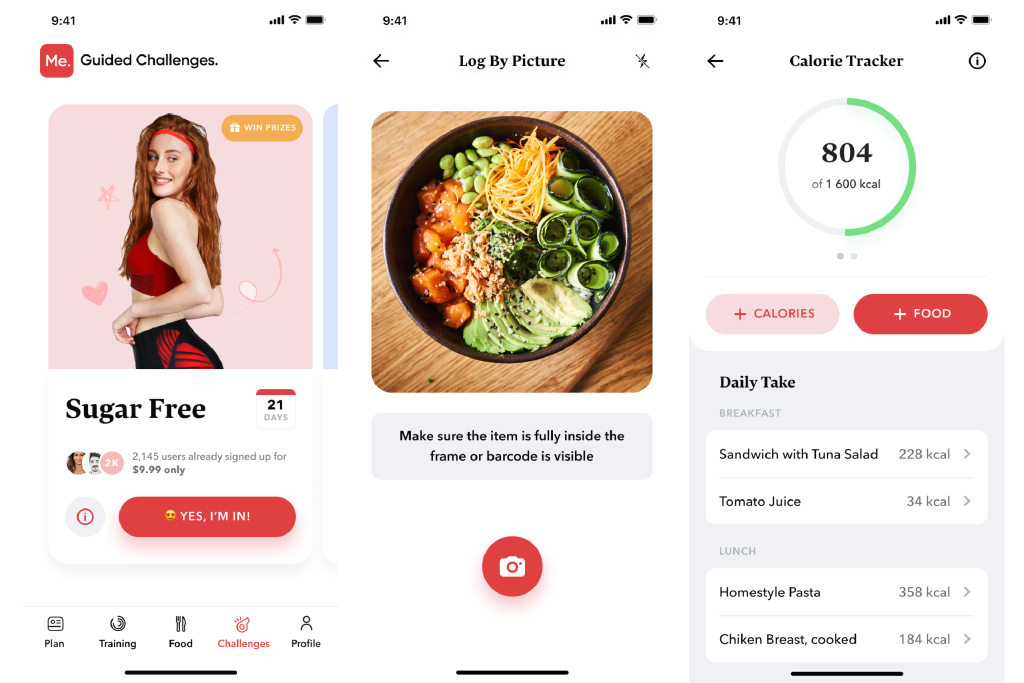 How Much BetterMe Costs: Free vs Premium?
BetterMe is free to download and you can use our workout trainer app on a subscription basis. A trial is offered to first-time users so that they could get a first-hand experience of the high-quality content this full fitness app has to offer.
During the trial period, you have access to a database of more than 1,800 workouts for both men and women, for home and gym; a personalized plan based on your parameters, calorie tracker, article library, weight tracking, and much more.
After the trial is over, you will be automatically subscribed to a 6-month plan at $9.99/month. A subscription will give you additional benefits such as Chat with a Personal Coach: a real human trainer who is at your service round the clock.
A wide range of affordable subscription options is typically offered, and there are often discounts and promotions to score an even better deal. You can cancel your subscription at any moment in your iTunes account settings.
BetterMe offers various subscription options to choose from. You may subscribe for a week for $4.99, 12 weeks for $29.99, and get a yearly subscription for $120.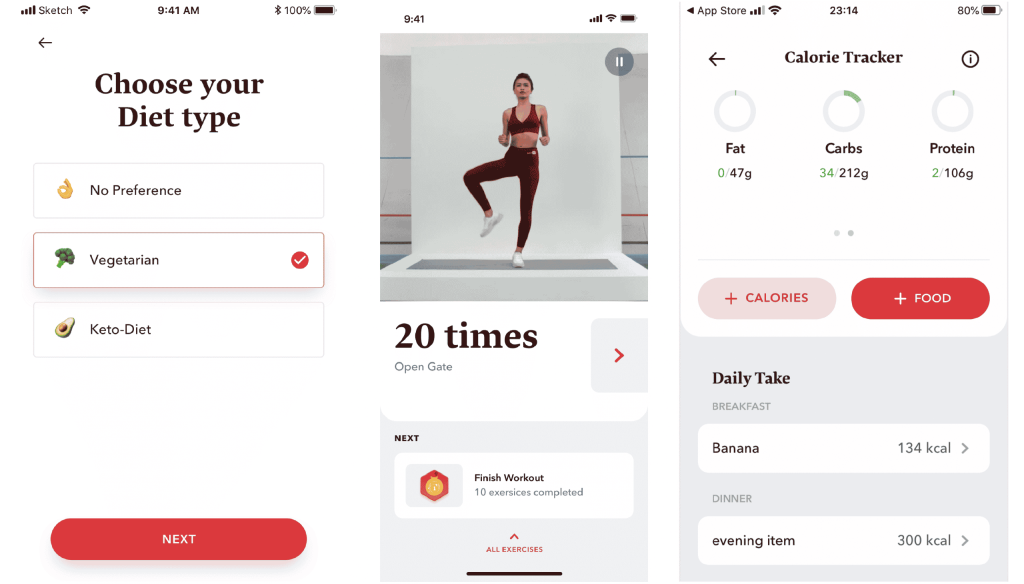 What All You Can Do With BetterMe?
As you fire up BetterMe for the first time, you are asked a few standard questions: your age, height and weight, how active you are and how familiar you are with working out.
Because BetterMe is a workout plan app that caters to all your fitness and weight loss needs, before putting together a custom program, each user has to answer a couple of additional questions like "how many hours a day do you spend sitting?" for the app to get the full picture and tailor the program to fit your goal.
The whole process of the app getting to know you takes less than 10 minutes, and once set up, you have the access to the whole library of workouts and meals, a calorie tracker, graphs to track your progress, and of course your personalized program.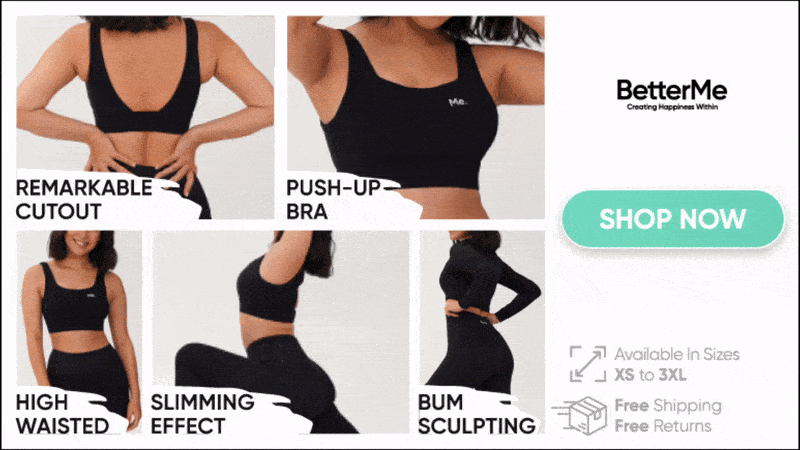 The Bottom Line
BetterMe fitness workout app is a combination of well-rounded exercise programs, diets, nutrition tips and challenges that help users fast-track their goals. It offers a customized workout and nutrition program. But on top of that, you can create your own dishes and log calories in Calorie Tracker or tap into the variety of workouts and meal ideas the app provides you with.
You are also encouraged to track your weight, steps for the day, and water intake. BetterMe is an all-in-one tool to help users reach their fitness goals in a healthy risk-free way.
Currently available languages are English, Dutch, French, German, Hindi, Italian, Japanese, Korean, Polish, Portuguese, Russian, Spanish, Thai, Chinese, Turkish, and Vietnamese.
Links – AppStore and Google Play