What are you wearing when you head to the gym, or roll out your mat to strike a yoga pose outdoors? And no, we're not the fashion police, so you can rest easy if prints and colors don't make it onto your radar. Having the right clothing and gear is more than just a fashion statement – it's essential for creating the optimal environment when exercising. In this article, we cover 6 important reasons why the clothing you choose for exercise matters. We'll also give you pointers for selecting the best options for each activity. (Bonus—we'll include a selection of BetterMe workout clothes that are made with breathable and comfortable fabrics because we know how important it is to have the right gear when you're working out!)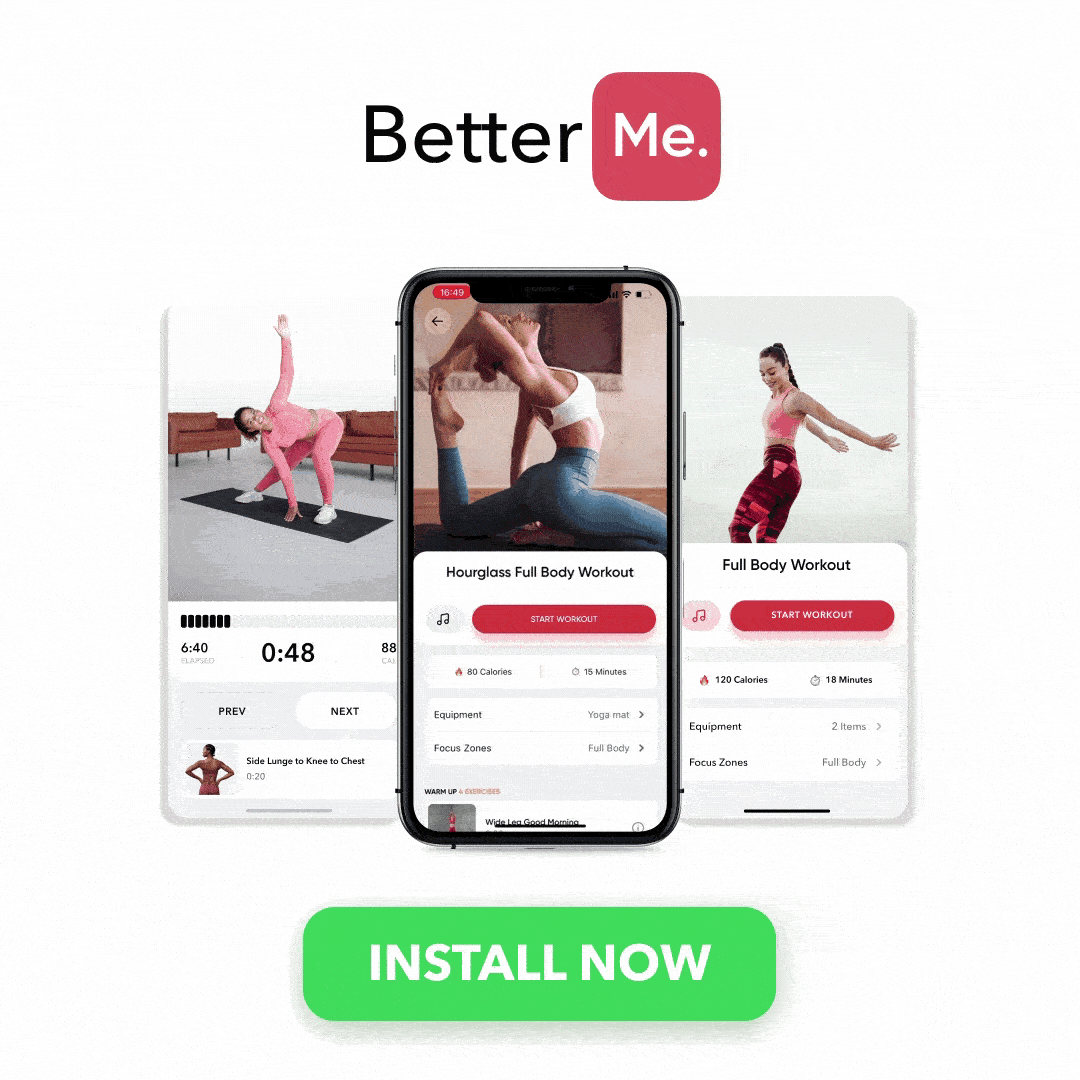 Here's why sportswear matters:
Reason #1: Performance Optimization
No matter how fast you can run or how many plates you can lift, you won't get the most out of your workout if you're not wearing clothing that allows for maximum performance. Sports clothing affects the following aspects of performance:
Flexibility

– this refers to how far you can move your body without feeling restricted by what you're wearing. Fabric that's tight or inflexible can cause you to feel uncomfortable, preventing you from executing certain exercises.

Range of motion

– this refers to how much you can move around without feeling constrained by your clothing. Clothing that is either too loose or bulky can make it difficult to do certain movements.

Focus

– this refers to how easily you can stay focused on your workout without being distracted by the clothes you're wearing. The imminent danger of slipping out of your clothes or having them ride up on you are distractions that can keep you from reaching your peak performance.
So, how does the right sports clothing optimize your performance? By giving you total control over your body movements as well as your mind. That way, you can focus on the task at hand—working out.
BetterMe's Matching sets (1) offer the best of both worlds—flexibility and comfort. The leggings feature a high-rise fit with figure-contouring effect, tummy control, 4-way stretch material and waistband silicone grip—all designed to ensure a good range of motion.
The lightweight, breathable material and anti-friction properties also guarantee that you're not fighting discomfort while you exercise. The tank tops are designed with innovative sweat-wicking technology, a midi length loose fit, round neckline and peach-soft fabric, giving you a flattering and comfortable fit that allows you to focus fully on your workout.
Read More: What Should You Know Before You Buy Good Leggings? The Ultimate Buyer's Guide
Reason #2: Injury Prevention
An injury can put you out of commission for a while and set you back on your fitness goals. If you're not an athlete, there's a higher risk of injury if you don't have the right clothing. Some of the most likely injuries include:
Strains

– this refers to muscles that are overused due to improper support, such as poor fitting clothing. 

Sprains

– this refers to ligaments that are overstretched due to inadequate support from clothing. 

Chafing

– this refers to skin irritation caused by clothing that is too tight or made of abrasive material. 

Sunburn

– this refers to skin damage caused by the sun's ultraviolet radiation that is not adequately protected against by clothing.

Chapping

– this refers to skin irritation caused by cold, windy conditions.

Musculo-skeletal damage

– this refers to overuse injuries caused by exercising in the wrong type of clothing. For example, sports bras that don't offer adequate support can lead to shoulder, neck and back injuries.
How can the right gear help? By protecting you against the elements, providing adequate support for your muscles and ligaments, and making sure your clothing fits properly.
Here are a few picks from the BetterMe collection that will help you stay injury-free:
Reason #3: Fatigue Reduction
Struggling to push yourself harder without getting winded or feeling tired? Your choice of clothing could be the issue. What happens if your clothing doesn't fit properly? It will make you feel uncomfortable, resulting in a decrease in energy and focus.
The right clothing can provide a balance between cold and heat, allowing your body to regulate its temperature. In turn, this will help you keep up with the intensity of your workout and increase endurance (3). Furthermore, the right clothing will prevent you from getting weighed down by sweat or other elements, allowing you to go the extra mile.
BetterMe's performance wear ticks all the boxes as far as comfort and breathability are concerned. The combination of nylon and spandex; two materials renowned for their sweat-wicking properties, keeps you light and dry even in the most intense workouts (2).
Compression and sculpting panels make sure that the clothing fits perfectly and supports you in all the right places. The result? Less fatigue, more energy and improved performance. 
Reason #4: Mood & Confidence Booster
Let's face it, the right clothing can make you feel unstoppable. It puts you in the proper mindset to take on any workout and makes you feel more confident. It also helps to create an identity for yourself – something that's important when it comes to sticking to your goals.
Wearing BetterMe's performance wear is sure to give you a boost of confidence in the gym or on the streets. From stylish minimalist logos to vibrant colors, our garments will have you feeling unstoppable no matter what your fitness level is.
You'll be happy to know that our clothes are designed for more than the gym; you can pair them with a pair of jeans and rock them out on the streets!
BetterMe is your fast-track ticket to a long-lasting weight loss! Tailor your fitness journey and maximize your results with just a couple of swipes!
Reason #5: Safety
Love working out in the park or nature trail, but are worried that you're not visible enough? That's where the right clothing can save the day.  Stand out in one of BetterMe's sports clothing that screams 'athlete' with its bright colors and apparent logos.
There will be no doubts that you are a person to be reckoned with – and just as importantly, seen – when wearing our performance wear. That said, if staying safe while pushing yourself to your limits is a priority, let BetterMe's performance wear be your go-to choice. 
Reason #6: Durability
We all know that high-intensity workouts can take their toll on clothing. That's why it is important to invest in garments that are designed to last.
BetterMe's performance wear is created from ultra-durable fabric blends and reinforced stitching. You can be sure that your clothing will be up for the challenge, no matter how tough.
Added features such as tear and abrasion-resistant material, plus sweat-wicking technologies, mean you can make the most of your workout without having to worry about any damage or odors.
Read More: How To Choose A Sports Band To Amp Up Your Fitness
How To Choose The Best Sports Clothing For Your Activity
Feeling overwhelmed by the sheer number of options available? Here are a few tips to help you select the perfect activewear for your needs: 
1. Consider The Impact Of Your Activity
Different activities have different demands, so think about how your clothing needs to support you. For example, running is a high-impact activity that requires supportive clothing. On the other hand, yoga requires a different kind of clothing that allows freedom of movement and breathability. 
2. Ensure A Snug Fit
When it comes to performance wear, a snug fit is essential. You want each piece to fit like a glove so you can move freely and ensure that your physique is properly supported. Loosely-fitting clothing can get in the way or even become a safety hazard. Conversely, tight-fitting clothing can restrict your movements and be uncomfortable. 
To ensure a snug fit:
Measure these areas- chest, waist, hips, and inseam

Compare your measurements with the size chart 

If in doubt, size down – sports clothes tend to be stretchy! 
3. Consider How Price Relates To Quality
When selecting the best sports clothing, it's important to consider how price relates to quality. While cheaper garments might seem like a great deal, they're likely to be made from lower-quality material.
As a result, they won't last as long and could even be a safety hazard.For the best value for your money, invest in quality performance wear that is designed to last and hold up against even the toughest workouts.
How To Care For Your Sports Clothing
Caring for your sports clothing is just as important as choosing the right items in the first place. To get the most out of your activewear, follow these steps: 
1. Read The Care Label
The care label will provide instructions on how to look after your clothing properly. Pay close attention to the water temperature and type of detergent as this will determine how well your clothes stay in shape.
2. Wash Your Clothes After Every Workout
Sweat, dirt and bacteria can build up on your clothing during intense workouts. To avoid any potential odors and damage, always give your clothing a thorough wash after each session.
If you've mustered up the courage to crush your weight loss goal, let Betterme take the sting out of this demanding process. Our app will help you restructure your habits, remold your life and crank up your fitness results!
3. Follow The Drying Instructions
As with washing, it's important to follow the drying instructions on the care label. Generally, this means hanging your clothing up to air dry away from direct sunlight. Avoid using a tumble dryer as this can damage the fabric. 
4. Alternate Your Clothing
It's good practice to alternate between two or more pieces of activewear, as this will help your clothing last longer. Wearing the same piece of clothing every day can cause it to wear out quickly, so mix things up a bit to ensure longevity. 
5. Inspect Your Clothes Regularly
Check your clothing regularly for signs of wear and tear, such as pilling or loose threads. Wrinkles on padded sports bras, for example, can indicate that they need replacing. While some damage is fixable, it's best to replace any faulty pieces of clothing as soon as possible. You don't want a seam ripping while you squat or a waistband snapping while you run. 
The Bottom Line
Choosing the right sports clothing is essential for any physical activity. Performance wear should fit snugly, provide support and be well-made. To make sure your clothing lasts as long as possible, follow the care instructions and inspect each piece regularly. With a little bit of knowledge and care, you can ensure that your sports clothing is working as hard as you are.
DISCLAIMER:
This article is intended for general informational purposes only and does not address individual circumstances. It is not a substitute for professional advice or help and should not be relied on to make decisions of any kind. Any action you take upon the information presented in this article is strictly at your own risk and responsibility!