Research shows that a diet high in fruits and vegetables may reduce the risk of heart disease, stroke, and some types of cancer (10). 
According to the U.S. Department of Agriculture, adults should aim to eat 1.5-2 cups of fruits and vegetables each day (3). But eating the same old apples and oranges can get boring after a while, so why not switch it up with something a little more interesting? 
That's where acai bowls come in. This tasty dish consists of a thick blend of frozen acai berries mixed with other fruits and topped with a variety of delicious toppings.
Not to mention, it's also incredibly colorful – if the bowl's hue isn't enough to make your mouth water, the flavor certainly will. 
Let's explore some of the best acai bowl recipes to try at home, as well as the science-backed benefits of this antioxidant-loaded superfood. 
What Is An Acai Bowl Made Of?
An acai bowl is a creamy, smoothie-like dish made with a frozen blend of acai berries and other fruits like banana or strawberries. It's typically topped with a variety of healthy ingredients like chia seeds, goji berries, and more.
The star of the show is the acai berry, a reddish-purple fruit native to Central and South America. To many, this fruit seems like a recent health trend, but it's been enjoyed for centuries by indigenous people who live in the rainforest. 
Acai berries have a distinct, earthy flavor that's close to a mix between chocolate and wild berries.
Unfortunately, due to their perishable nature, it's difficult to find fresh acai berries in the grocery store. However, you can easily buy frozen acai purée in most health food stores or online. Powder versions are also becoming increasingly popular. 
ries are incredibly nutrient-dense and are loaded with antioxidants, vitamins, minerals, healthy fats, and fiber. As part of a healthy, nutrient-dense diet, these berries offer a wide range of potential health benefits, including reducing inflammation and promoting healthy digestion. 
Read More: Italian Stuffed Mini Peppers: Recipes And Side Dishes For A Delightful Meal
Is The Acai Bowl Healthy?
In general, acai bowls recipes are a healthy breakfast or snack option. The base is made with frozen fruit and it's typically topped with healthy items like nuts, seeds, and fresh fruit. This makes the dish high in nutrients, fiber, and antioxidants while being relatively low in calories. 
That being said, the nutritional value of your acai bowl recipe will depend on what you put in it. If you're adding a lot of sweeteners, syrups, and other added sugars, your bowl won't be as healthy. 
Based on the nutrient bowl of the main ingredient (acai berries), below are some possible health benefits of these colorful bowls: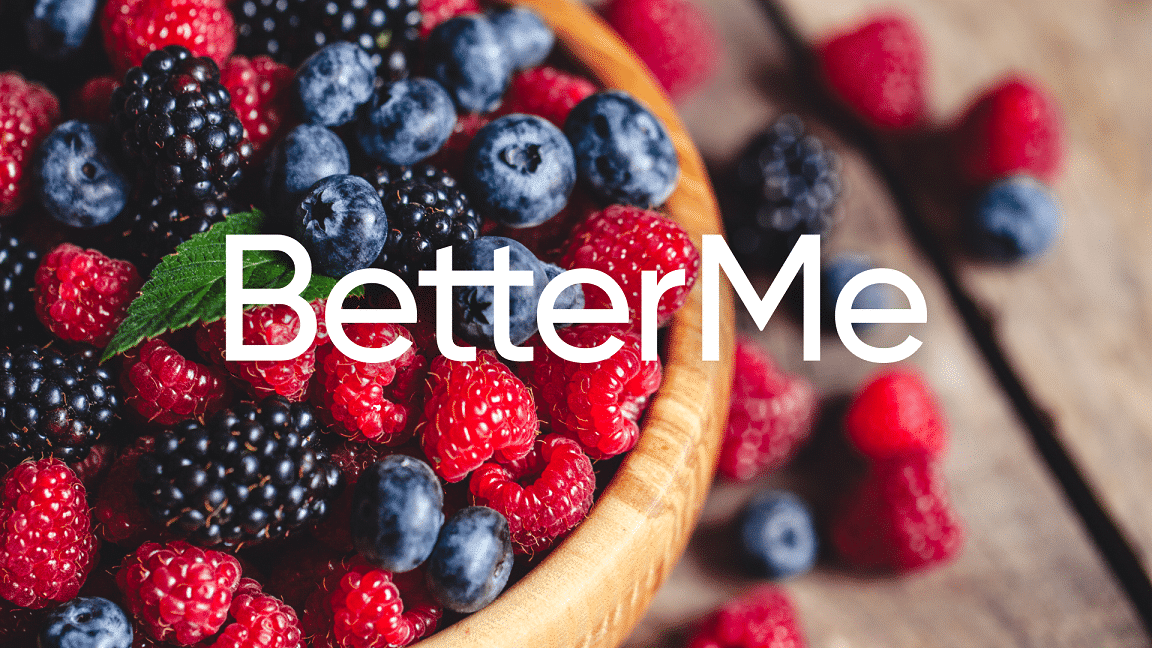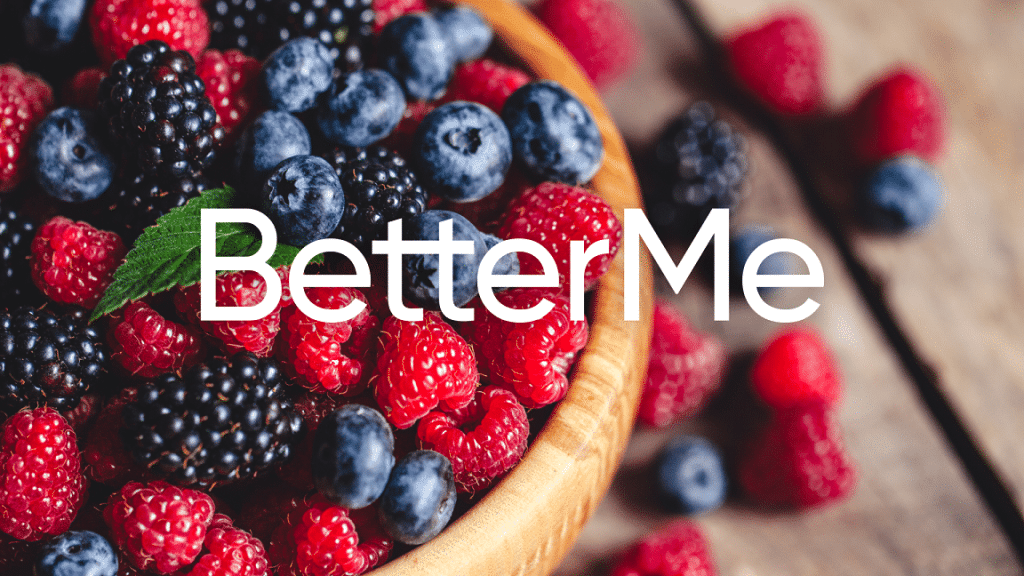 Protection Against Chronic Disease
Acai berries are high in antioxidants, which can help protect against the oxidative damage caused by free radicals. The antioxidant content of acai berries is thought to be even higher than that of other common berries like blueberries, cranberries and blackberries (5). 
In addition, they're a great source of omega-3 and omega-6 fatty acids, which may provide numerous cardiovascular health benefits (6).
Studies have found that supplementing with these healthy fatty acids can reduce inflammation and may help lower blood cholesterol levels. As a result, acai berries may help prevent chronic diseases such as heart disease and stroke (8).
Digestive Support 
Acai berries are high in dietary fiber, which is essential for proper digestion and elimination. Fiber helps keep your digestive system running smoothly and can help reduce symptoms of constipation and diarrhea (7).
These berries also contain a type of prebiotic fiber called inulin, which helps feed the beneficial bacteria in your gut (9). Studies have found that maintaining a healthy balance of gut bacteria can help support your immune system and overall health (13).
Improved Cognitive Function 
Acai berries contain compounds like anthocyanins and proanthocyanidins, which have been suggested to improve memory, focus and learning (11). Studies have also found that these compounds may help reduce inflammation in the brain, which is linked to age-related cognitive decline (12).
Betterme will keep you laser-focused on your weight loss journey! Nutrient-packed meal plans, fat-blasting workouts, galvanizing challenges and much more. Try using the app and see for yourself!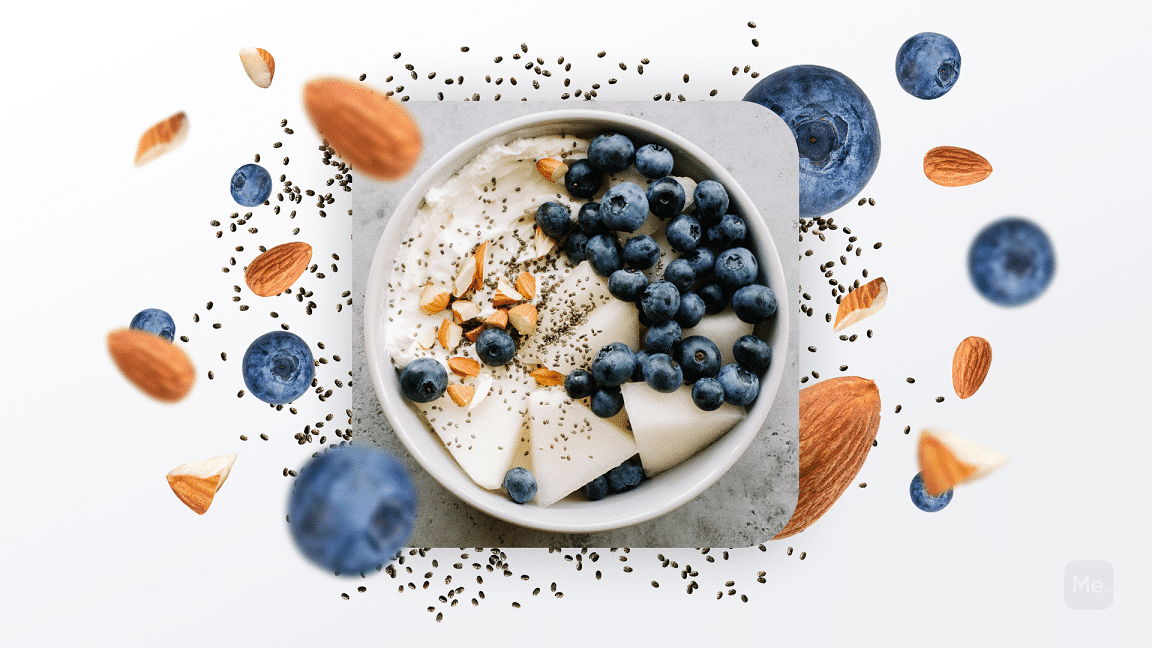 Possible Anti-Cancer Effects 
Some studies have suggested that acai berries may have anti-cancer effects. Test-tube and animal studies have found that acai berry extract can inhibit the growth of certain types of cancer cells, though more research is needed in humans (4). 
Additionally, the antioxidants in acai berries may help prevent oxidative damage, which is thought to be a major factor in the development of cancer (4). 
Energy Booster 
The combination of healthy fats, fiber and antioxidants in acai berries can help boost your energy levels. Eating nutritious foods like acai berries is thought to help increase your stamina and endurance, making it easier to stay active throughout the day. 
Additionally, the fiber in acai berries can help keep you feeling full for longer amounts of time, which can reduce cravings and overeating. This may help regulate your blood sugar levels and prevent energy crashes (7). 
Weight Loss Support 
Is acai good for weight loss? Yes, acai berries may help support your weight-loss efforts.
They are naturally low in calories and high in fiber, making them a great addition to any weight loss plan. Eating more fiber-rich foods can help you feel fuller longer, which can reduce your overall calorie intake and promote weight loss (7).
What Liquid Do You Add to Acai?
Your choice of liquid can make or break your acai bowl. Water-based liquids are best for maintaining a thick, creamy consistency and will help you get the most out of your acai berries. Plus, they're calorie-free, so you won't have to worry about excess sugar or calories. 
The most popular liquids for acai bowl recipes are almond milk, coconut water and plain water. For a richer flavor and thicker consistency, try adding some 100% pure acai juice. If you prefer a sweeter taste, try adding some fresh fruit juice. 
Read More: The Top 4 Delectable Guilt Free Dessert Recipes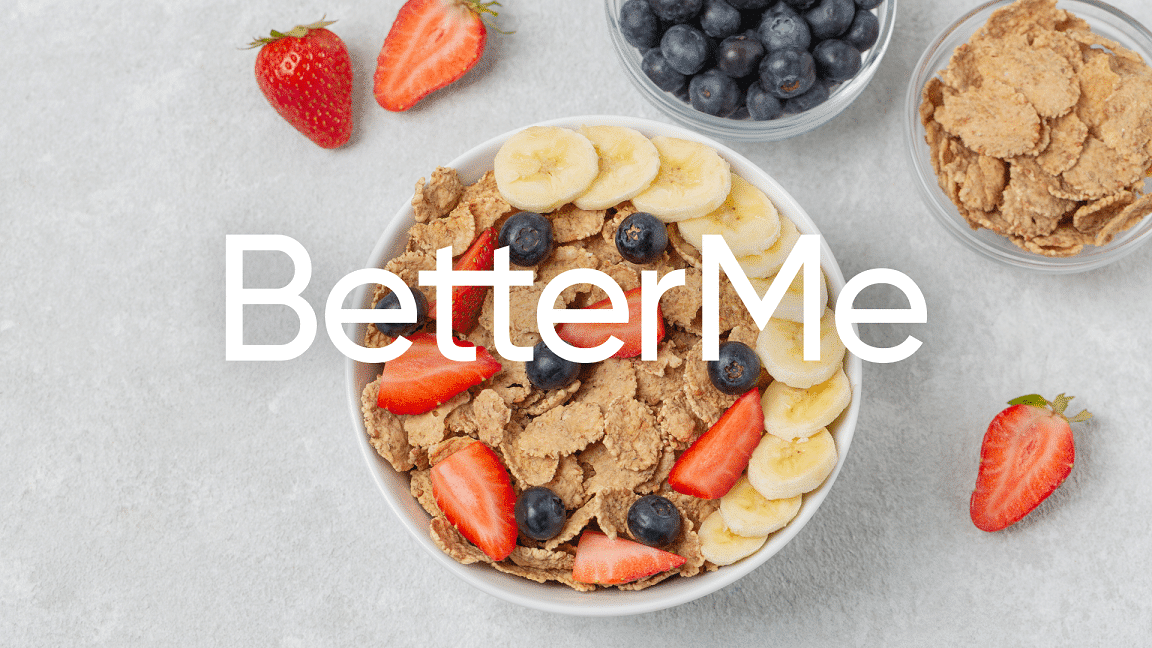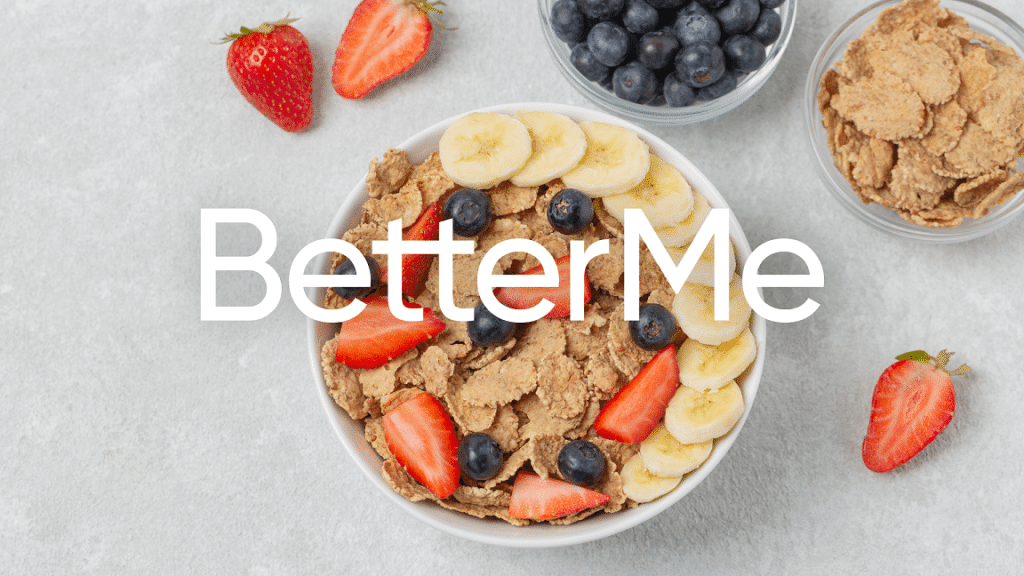 Acai Bowl Recipes With Toppings 
Now that you know all about acai berries, let's talk about the recipes. You'll find a few acai bowl recipes that use powdered, fresh and frozen acai puree. You'll also find some creative topping ideas for your own acai bowl creations. 
Classic Acai Bowl (2) 
The classic acai bowl reipe is a simple, delicious way to enjoy the benefits of acai berries.
We recommend using frozen acai puree for a thick, creamy texture. We also recommend relying on the natural sweetness of the fruits that you add into the bowl, so you don't have to add extra sweeteners.
Ingredients
1 banana – sliced and frozen

½ cup blueberries – frozen

½ cup strawberries – frozen

¾ cup milk or juice – use your favorite milk (dairy milk, soy, almond, etc) or juice (apple or grape)

½ cup plain yogurt – (substitute with milk or juice if desired)

200 grams (2 packets) frozen acai puree – broken into pieces

Assorted toppings – nuts, seeds, fresh fruit, granola, coconut, etc.
Instructions 
Freeze fruit for a super-thick acai bowl.

Line a baking sheet with parchment paper and spread out the sliced banana, blueberries and strawberries. Place in the freezer until frozen. 

Combine the milk or juice, yogurt and acai puree in your blender and blend until smooth. 

Pour the blended ingredients into a bowl and top with your favorite toppings. 
Nutritional information: Serving size: 2 bowls, Calories: 248kcal, Carbohydrates: 29g, Protein: 7g, Fat: 10g, Saturated Fat: 3g, Cholesterol: 17mg, Sodium: 69mg, Potassium: 511mg, Fiber: 7g, Sugar: 20g, Vitamin A: 245IU, Vitamin C: 29.9mg, Calcium: 183mg, Iron: 0.4mg
This recipe is courtesy of theforkedspoon.com
Peanut Butter Acai Bowl Recipe (1)
Nutty, sweet and full of protein, this peanut butter acai bowl recipe is perfect for a quick breakfast or snack. We recommend omitting sweeteners from this recipe, as the apple juice, peanut butter and banana are plenty sweet on their own. 
Ingredients
1 packet (100 grams) frozen acai berry packet

1/2 cup apple juice

2 tablespoons peanut butter

½ tablespoon unsweetened cocoa powder

1/2 frozen banana (frozen in chunks)

1/2 cup frozen strawberries

1/2 cup frozen blueberries

Toppings (Granny Smith apples, bananas, strawberries, cocoa nibs or mini dark chocolate chips, vanilla almond granola, and/or chia seeds)
Instructions 
Place acai packet, apple juice, peanut butter, cocoa powder and banana in your blender. Blend until smooth and creamy. 

Add in your frozen fruits and blend until everything is combined. 

Pour into a bowl, top with your favorite toppings, and enjoy!
This recipe is courtesy of carlsbadcravings.com
If you've mustered up the courage to crush your weight loss goal, let Betterme take the sting out of this demanding process. Our app will help you restructure your habits, remold your life and crank up your fitness results!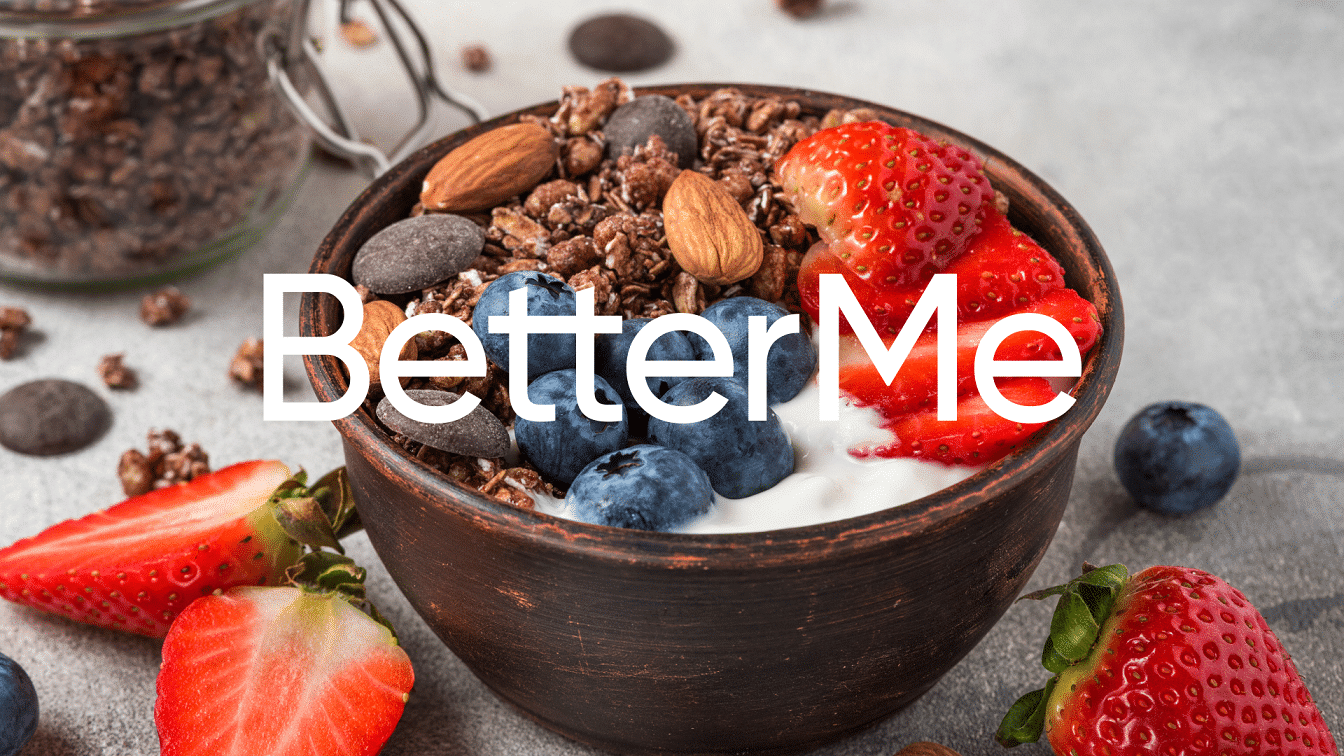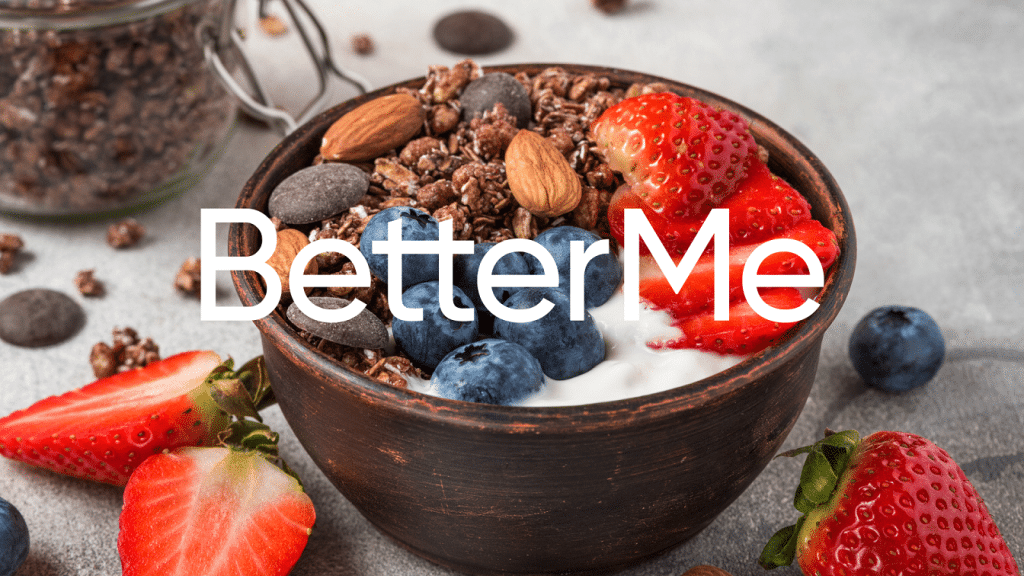 Tropical Acai Bowl Recipe (14)
This tropical acai bowl is full of sweet, tropical flavors and is a great way to start your day.
We recommend topping it off with hemp seeds for a boost of protein and omega-3 fatty acids. Granola gives it extra crunch, but feel free to omit it if you're looking for a low-carb version. 
Ingredients 
1 fresh mango or papaya, cubed

3 frozen bananas, sliced

½ cup frozen berries (of choice)

1 cup acai concentrate

Toppings (hemp seeds, pumpkin seeds, shredded coconut, sliced kiwi, fresh blueberries and granola)
Instructions 
In a blender, combine the cubed mango or papaya, frozen banana slices and frozen berries. Blend until smooth. 

Add the acai concentrate and blend until everything is combined. 

Pour into a bowl, top with your favorite toppings, and enjoy! 
Nutritional information: Serving Size: 1 bowl (272g), Calories: 297, Sugar: 28.4g, Sodium: 43mg, Fat: 9.7g, Saturated Fat: 4.1g, Unsaturated Fat: 4.8g, Trans Fat: 0g, Carbohydrates: 52.7g, Fiber: 7.6g, Protein: 5.3g, Cholesterol: 0mg
This recipe is courtesy of draxe.com
High Protein Acai Bowl Recipe (1)
Upping your protein consumption to build muscle, stay full longer, or as part of a weight loss strategy? This high protein acai bowl recipe is a great way to increase your intake without relying on processed foods.
You may use as much or as little protein powder as you'd like to meet your individual needs. 
Ingredients 
1 packet (100 grams) frozen acai berry packet

1/2 cup milk of choice

3 tablespoon vanilla whey protein powder

2 tablespoons peanut butter

1 tablespoon honey

1/2 frozen banana (frozen in chunks)

1/2 cup frozen strawberries

1/2 cup frozen blueberries

Toppings ( strawberries blueberries, bananas, peanut butter, granola, chia seeds, vanilla almond granola and/or, chia seeds
Instructions 
Place the acai, milk, protein powder, peanut butter, honey and banana in a blender. Blend until smooth and creamy. 

Add in your frozen fruits and blend until everything is combined. 

Pour into a bowl, top with your favorite toppings
This recipe is courtesy of carlsbadcravings.com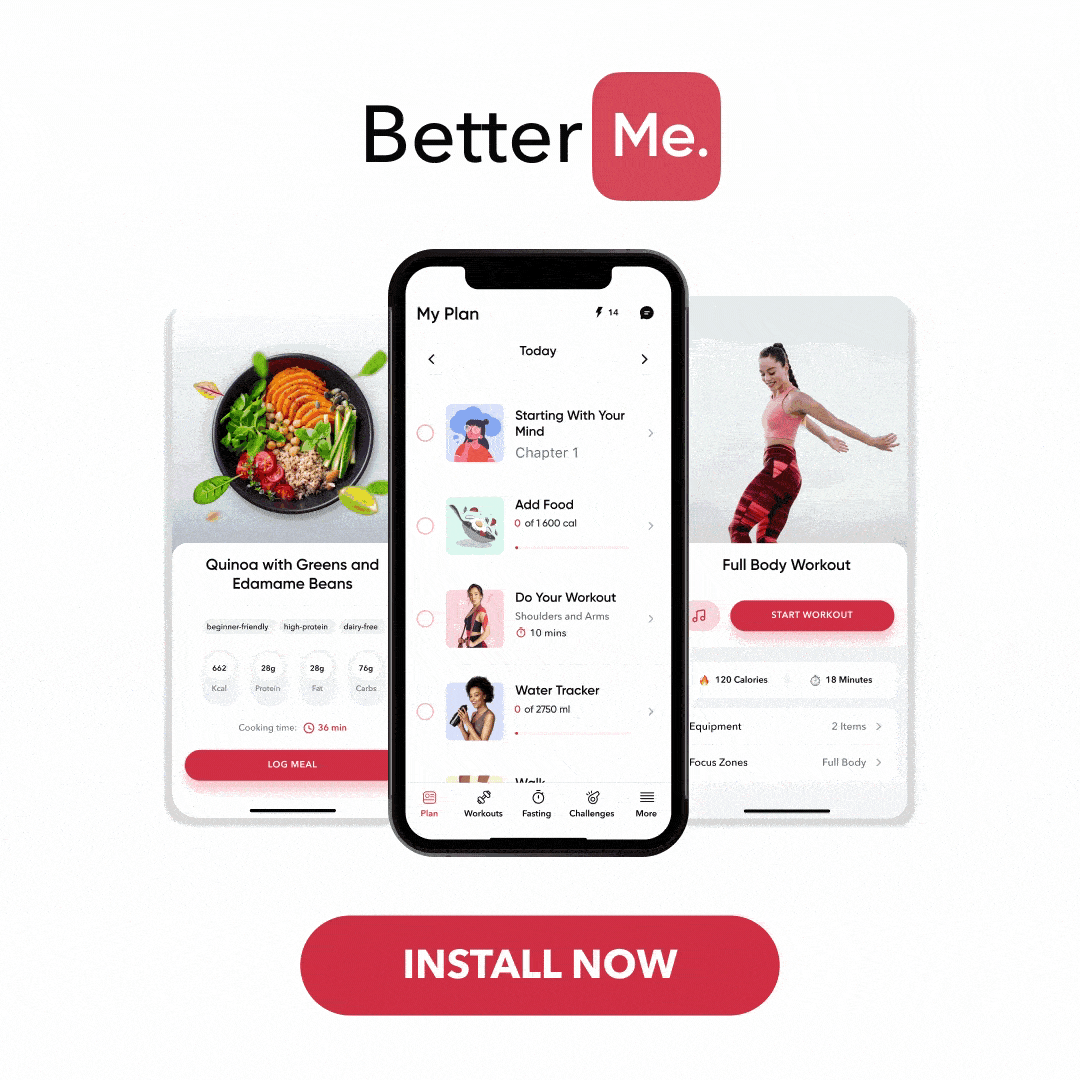 The Bottom Line 
So there you have it! Acai bowls are a delicious and nutritious snack that's packed with nutrients and health benefits. Give one of the recipes above a try and enjoy the benefits of this superfood! 
DISCLAIMER:
This article is intended for general informational purposes only and does not address individual circumstances. It is not a substitute for professional advice or help and should not be relied on to make decisions of any kind. Any action you take upon the information presented in this article is strictly at your own risk and responsibility!