Statistically, women have a harder time losing weight than men. This is due to several factors including hormonal changes, metabolism, genetics, lifestyle, and other variables. So if you're a woman and need to lose some extra weight, there are certain strategies you can apply that may be more effective than others.
A 4-week workout plan, for starters, is one of the best ways to jump-start your weight loss journey. It provides a structure and a plan of action, so you won't be tempted to just throw in the towel after a week or two.
Sustainable lifestyle changes are another effective way to lose weight and keep it off for good. Contrary to popular opinion, you don't have to drastically change your habits overnight. Start slow and work up to bigger changes as time passes. 
Not sure how? We've got you covered!
In this article, you'll discover a 4-week workout plan for female weight loss, as well as 7 habits to adopt for permanent weight loss.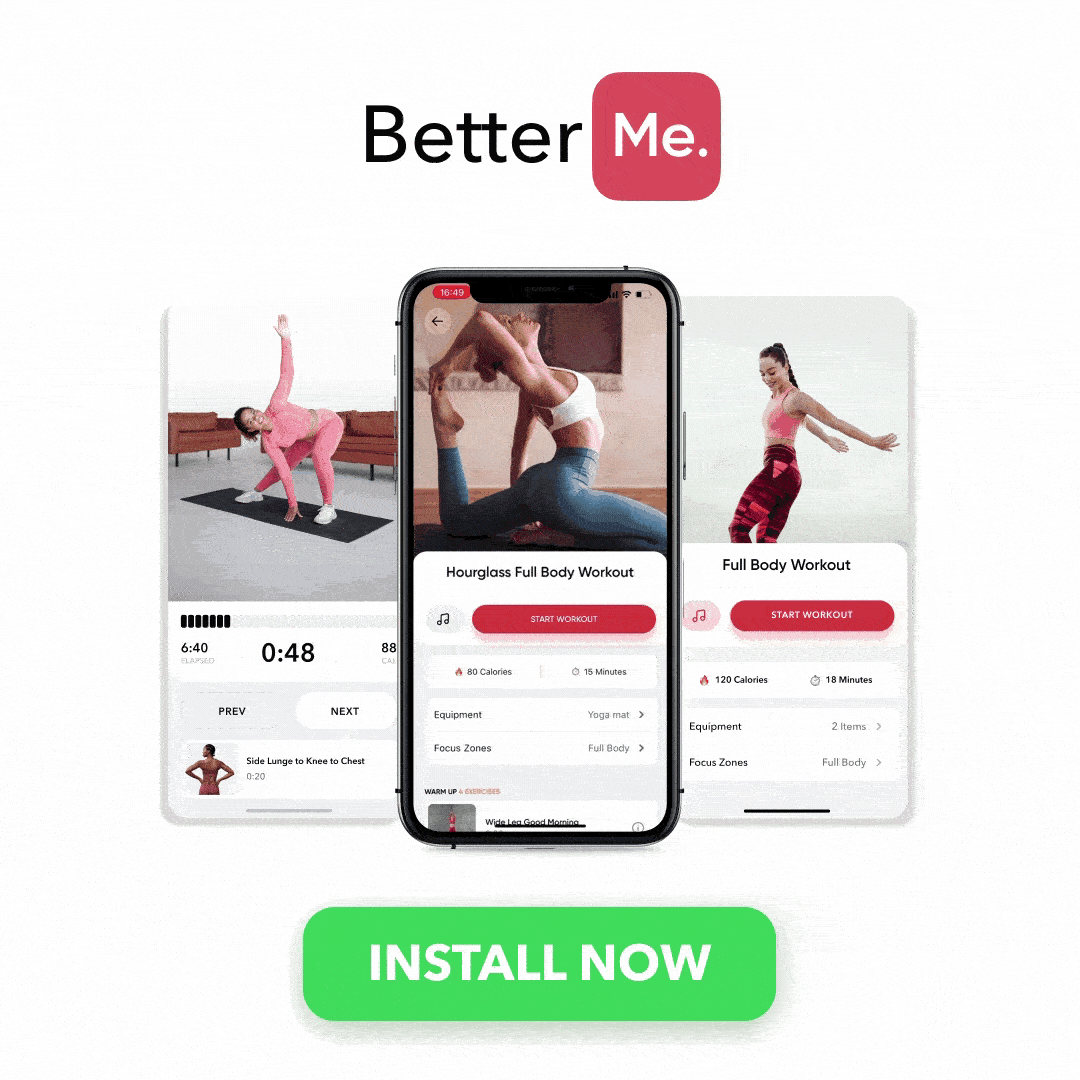 What Is A Good Workout Plan For Weight Loss?
A good 4 week workout plan for weight loss should have a proper balance between cardio and strength training. Cardio exercises, such as jogging, running, biking, or swimming, help burn calories. Meanwhile, strength training, such as weight lifting and resistance training, helps build muscle and improve the body's ability to burn fat even while at rest (2) (6).
According to the American Council on Exercise, a good weight loss program should include the following elements (13):
A combination of both aerobic and resistance exercises 

A minimum of three cardio sessions per week

A minimum of two strength-training sessions per week 

Periodic rest periods in between workouts 

A personalized program based on your goals and needs
To get the best results, it's important to stick with one program for at least 4 weeks. This way, you can measure your progress and adjust your program as necessary. Switching up your workout program too often can lead to plateaus and can slow down your progress.
Not only that but sticking to a program helps you build and maintain motivation. You will start seeing results after 4 weeks and knowing that you accomplished something can keep you motivated to continue.
If you wish to free yourself from all the extra pounds that have been weighting you down for way too long, start using the BetterMe app and overhaul your entire life!
How To Plan Your Workout Week For Weight Loss?
When planning your workout week, you'll have to split it based on muscle groups. 
For example, on Mondays you can do lower-body exercises like squats and lunges, while on Tuesdays you can move to upper-body workouts such as bench presses and rows. This allows for efficient recovery so that you don't overwork any one muscle group.
Splitting your workout according to movement patterns is also a good idea. There are six movement patterns in total; push, pull, hinge, squat, lunge, and carry. This means that you can plan your workouts to focus on one movement pattern per day.
For example, on Monday, you can focus on pushing exercises, like push-ups and shoulder presses. On Tuesday, you can do pulling movements such as rows and pull-ups. This allows you to focus on one movement pattern at a time so that you can practice the form and get better at the exercise.
So you don't get bogged down or overwhelmed, it is best to limit your workouts to 3 to 4 muscle groups each day. This way, you can make sure that you're working each muscle group adequately and giving yourself enough time to rest in between workouts.
Below is an example of a 4-week workout program for female weight loss. This plan includes a 5-day workout per week; three cardio sessions, two strength training sessions, and two rest days. You'll repeat this program for four weeks and focus on improving your form, gaining strength, and building endurance.
Day 1: Cardio 
30 minutes of moderate-intensity cardio (jogging, elliptical, swimming, biking) or 

HIIT (high-intensity interval training) e.g. 5 minutes of continuous running followed by 1 minute of walking, repeated 5 to 6 times
Day 2: Lower Body Strength
3 sets of 10 squats 

3 sets of 8 lunges (each leg) 

3 sets of 10 calf raises 

2 sets of 10 glute bridges
Day 3: Upper Body Strength
3 sets of 10 push-ups 

3 sets of 10 bent-over rows (each arm) 

3 sets of 10 bicep curls (each arm) 

2 sets of 10 tricep extensions 

2 sets of 10 shoulder presses
Day 4: Rest
Day 5: Cardio
30 minutes of moderate-intensity cardio (jogging, elliptical, swimming, biking) or 

HIIT (high-intensity interval training) e.g. 5 minutes of continuous running followed by 1 minute of walking, repeated 5 to 6 times
Day 6: Rest
Day 7: Cardio
30 minutes of moderate-intensity cardio (jogging, elliptical, swimming, biking) or 

HIIT (high-intensity interval training) e.g. 5 minutes of continuous running followed by 1 minute of walking, repeated 5 to 6 times
How Different Female And Male Workout Plans Are?
When it comes to workouts, men and women have some distinct differences. 
Men generally have a higher percentage of muscle mass than women, so they can lift heavier weights and handle more intense exercises. They may build muscle faster, partly due to having higher levels of testosterone (7). 
Women, on the other hand, tend to have less muscle mass and lower testosterone levels, so their progress tends to be slower.
Research shows that women tend to perform better in endurance activities; they can run further and for longer periods of time (1) (8). Women also have a lower risk for injury during endurance activities like jogging, swimming, or cycling.
What does this mean for their workout plan? Not much. Both men and women should follow a balanced workout routine that includes both strength training and endurance exercises. However, as far as seeing results, men may see greater strength improvements than women when following the same workout plan.
Read More: Intermittent Fasting Exercise For Safe Weight Loss And Muscle Preservation
Habits For Long-Term Success
Regardless of gender, the key to long-term success in any fitness program is consistency and forming healthy habits. 
Here are seven habits to help you stay motivated and get the most out of your workouts:
1. Using Non-Scale Goals
Sure, weight loss is a great way to track your progress, but remember that there are other signs of success. Focus on setting non-scale goals like increasing your strength, running a faster mile time, or mastering a new exercise.
Many people don't realize that weight loss isn't as straightforward as it's made out to be. 
When you start working out, some physiological changes occur that don't always correlate to the scale. These changes, such as increased muscle mass, water retention, and inflammation, can actually cause your weight to stay the same or even go up. 
Using the scale as a measure of progress can be demotivating when you don't see the number on the scale decreasing as quickly as you'd like.
You're better off focusing on how you feel physically and mentally and striving to achieve other goals that can measure success.
2. Consistency Over Intensity
When it comes to workout plans, consistency is more important than intensity. There's no point in working out hard for one week and then taking several weeks off. It's much better to exercise regularly, even if that means doing lighter exercises or working out for a shorter amount of time.
This is especially true when the initial burst of motivation wears off. Rather than feeling pressure to go hard every time you work out, you'll prioritize showing up and doing the best you can.
3. Diet Review
You can't out-exercise a bad diet. Along with working out, you should also review your eating habits and make sure that you're fueling your body with nutritious food.
Focus on implementing small changes that you can maintain over time, like adding more vegetables to your meals or reducing the amount of processed food you eat. Eating a healthy diet will give you more energy for your workouts and help you reach your goals faster.
We recommend the following seemingly simple changes to your diet:
Increase your intake of fruits, vegetables, and whole grains. 

Reduce processed foods, high sodium content, and added sugar.

Avoid sugary drinks, like soda or energy drinks. 

Incorporate healthy fats into your meals from sources such as avocados, nuts, and fatty fish. 

Drink plenty of water throughout the day. 
BetterMe is your fast-track ticket to a long-lasting weight loss! Tailor your fitness journey and maximize your results with just a couple of swipes!
4. Meal Planning And Prepping For Diet Success
Failure to plan is planning to fail. After you've figured out which types of food to eat, take the time to plan and prep your meals for the week ahead.
Meal prepping will help ensure that you're eating healthy meals throughout the week and reduce the temptation to eat unhealthy convenience food instead. You'll also save time and money in the long run (3) (4).
To successfully meal prep, here are a few tips:
Choose meals that can be easily made in bulk. 

Make use of leftovers. 

Have a few quick and easy meals on hand that you can make in the event of an emergency. 

Make sure you have all the ingredients you need on hand to make your meals.

Don't just think of meals, plan for snacks and desserts as well. 
5. Practice Sleep Hygiene
Getting enough sleep is an often overlooked aspect of health and fitness. Poor sleep has been linked to decreased performance, increased stress levels, impaired cognitive functioning, and weight gain (9) (10). 
Make sure to prioritize getting at least seven or eight hours of sleep each night by practicing good sleep hygiene habits like avoiding caffeine late in the day, setting a regular sleep schedule, and turning off electronics at least an hour before bedtime. 
If you're struggling to get a full night's sleep, we recommend talking to your doctor or healthcare practitioner. 
Read More: The Pros And Cons Of Pilates Vs. Weight Training
6. Find Support And Accountability
It's easy to give up when you don't have anyone to be accountable to. Having a support system of family, friends, or colleagues will help keep you motivated and on track.
It's also helpful to join a fitness community or connect with people who have similar goals as you. Connecting with others can help you stay motivated and hold yourself accountable for the goals that you've set. 
If you don't have a support system readily available, there are plenty of online resources to help you find motivation and connect with other health-minded individuals. 
7. Stress Management
Stress can have a major impact on your physical and mental health. Research has shown that chronic stress can increase inflammation and lead to a decrease in performance (12). 
The good news is there are plenty of ways to manage stress. Regular exercise and yoga can help reduce the body's stress response (5) (11). Meditation, deep breathing techniques, visualization, aromatherapy, and journaling are other great ways to reduce stress. 
If you need further help managing your stress, seek out a psychologist or talk to your doctor. Don't be afraid to reach out for help if you need it.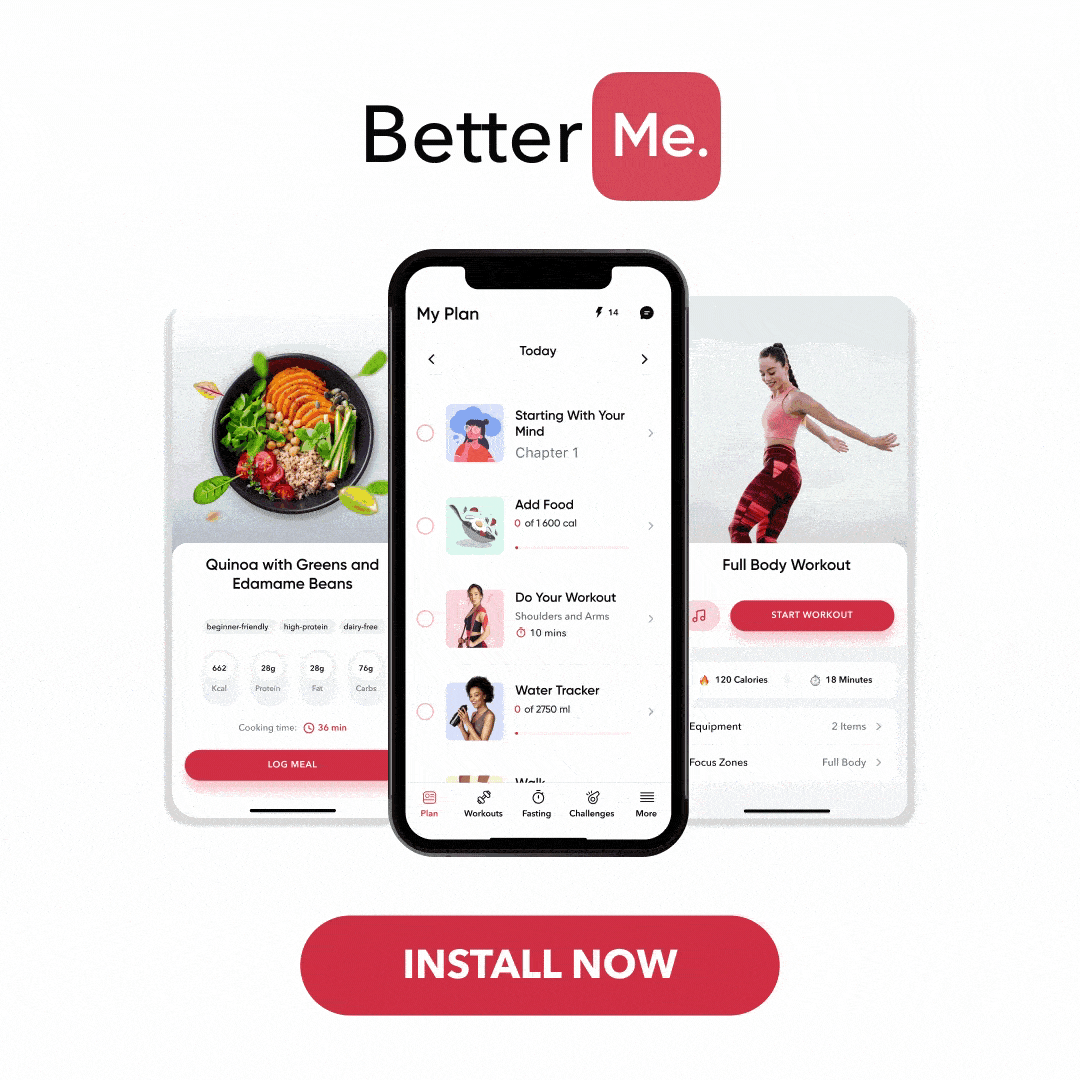 The Bottom Line
A 4-week health and fitness program is a great way to jump-start your health and fitness journey. You'll need to adopt other healthy habits to maintain your progress and reach your end goal. 
Remember to focus on a balanced diet, get enough sleep, practice good stress management, and find a support system to stay motivated. 
DISCLAIMER:
This article is intended for general informational purposes only and does not address individual circumstances. It is not a substitute for professional advice or help and should not be relied on to make decisions of any kind. Any action you take upon the information presented in this article is strictly at your own risk and responsibility!