Are you looking for an instant healthy kick in the morning? Our hectic lives demand us to be on our toes, from dawn till dusk, and while coffee gives us the punch needed to go through the day, caffeine isn't exactly a health item. Green tea, especially matcha, provides an effective energy boost yet doesn't contain as much caffeine as coffee. This is a good choice for those who are either sensitive to caffeine or want to reduce its intake. Just as you sip in and let the matcha fuel your body, you can also add it to the morning smoothie to make it more healthy and flavorful. This can be a perfect nutritional breakfast for crazy mornings so you can easily take it out and drink on the way. Matcha itself contains the beneficial nutrients from matcha tea leaves. These bring more possible health benefits than a regular mug of tea or coffee. Matcha contains three times more antioxidants than high-quality regular green tea (1). Add these potent antioxidants to leafy veggies or fruits and you get an ultimate health boost that will help you face all challenges of the day head-on. Variants like mango matcha smoothie and orange mango smoothie are a crowd-favorite. If you have been looking for quick and easy matcha smoothie recipes, you are in the right place. This article allows you to understand how to pick fruits for your matcha smoothie and learn how to prep the best ones with a few quick steps. Have a look!
Where To Buy Matcha?
Matcha powder is likely available at your favorite tea store or popular grocery mart. If you can't find it, ordering online is always an option. Find a relevant seller on the online marketplaces like Amazon and get your tea powders at your doorstep.
What Fruit Goes Well With Matcha Green Tea Smoothie?
Usually, tropical fruits go well with matcha and complement their flavor.
A matcha smoothie recipe is often made with mangoes and bananas as their primary ingredients. However, others like papaya and pineapples are also added per the taste.
If you want the smoothie to maintain a rich green color, you should use fruits that are light colored. But if you want a tangy flavor and don't mind a dark color, you can add a mixture of raspberries and strawberries to make a smoothie enriched with even more antioxidants.
What Are The Most Favorite Matcha Green Tea Smoothie Recipes?
Fruits or veggies (added as per flavor preferences) combined with the antioxidants of matcha green tea powder make a potent drink. Check out some easy ways to create matcha smoothies crammed with nutrients.
Matcha Mango Smoothie
Fresh mango works as a thickener in this smoothie, so there is no need to add extra ingredients like nuts or bananas. Mango has a sweet and rich flavor that blends with matcha to boost the energy. 
Creamy and delicious, this easy mango matcha smoothie recipe is a perfect morning pick-me-up.
Ingredients:
1 cup of almond milk

2 teaspoons of matcha powder

1 sliced mango

A few ice cubes

1 frozen banana (optional)
Instructions:
Put all ingredients in the blender

Blend until there is a smooth consistency

Add a banana for a creamier smoothie

Pour into a glass and serve
If you have only started making smoothies, you will soon be amazed by the creativity it allows. You can swap the nut butters, fruits, juices, or protein powders as you like.
Read More: Meal Replacement Smoothies For Weight Loss: How Effective Are They For The Long Haul?
For example:
Add avocado or banana to make it luscious and ultra-thick

Toss a handful of spinach to enhance the healthy content

Grate in some turmeric or fresh ginger

Use coconut milk to replace almond milk

Add seasonal fruits like peaches and pineapples
Mango Turmeric Matcha Smoothie Recipe
A matcha mango smoothie is one of the most liked recipes. A bit of tweaking in this recipe could enhance its flavor and make it much healthier. This recipe has a few ingredients that are different from the basic mango matcha recipe.
Ingredients:
2 or 3 cups of ripe mango, peeled and diced

1 teaspoon of turmeric

1 cup of brewed green tea

1 tsp minced ginger

1 cup of ice cubes

¼ cup of Chia seeds

1 tablespoon matcha powder

1 tsp activated charcoal
Instructions:
Soak chia seeds in water and keep them in the fridge for the night

Place all smoothie ingredients in the blender and blend them well

Add soaked chia seeds

Garnish the mixture with matcha powder and/or activated charcoal
Orange Mango Smoothie
Are you looking for a way to make the most famous orange mango smoothie at home? It is a go-to beverage for everyone who wants a healthy, caffeine-free drink to help them get through the day.
Its creamy texture and delicious taste may hook you right away!
Ingredients:
1 orange

1 cup of milk

1 ripe banana

2 scoops of vanilla powder

1 tablespoon agave

1 ½ cups of frozen mango cubes

1 ½ cups of ice cubes
Instructions:
Combine all the mentioned ingredients and pour them into a blender

Keep blending until it has a smooth consistency

Serve the orange mango smoothie cold to maximize its flavor
There is also an option to add matcha powder to this orange mango smoothie. This will be one of the most refreshing drinks one could have to start their day. You only need two teaspoons of matcha powder to make it more potent. This will add some caffeine.
You can make added changes according to your taste preferences. For instance, if you are looking for a dairy-free version, you can omit the protein powder because it has whey which contains some dairy content.
Reasons why BetterMe is a safe bet: a wide range of calorie-blasting workouts, finger-licking recipes, 24/7 support, challenges that'll keep you on your best game, and that just scratches the surface! Start using our app and watch the magic happen.
How Many Calories Are In A Matcha Mango Smoothie?
A typical mango matcha smoothie has the following nutritional composition:
Nutrition Facts For One Serving
Calories:

440 (Calories from Fat 72 – 16.4%)

Sodium:

160g

Total fat:

8g

Protein:

3g

Carbohydrates:

91g

Net carbs: 88g
Fiber: 3g
Sugar: 81g
Is Matcha Good For You?
Now that you know a couple of recipes to make delicious matcha smoothies, you must know how much of it is safe to consume.
For starters, matcha has grown in popularity for its possible health benefits and versatility for many many years.  According to one estimate, the number of specific epigallocatechin gallate (EGCG) in matcha is anywhere from 3 times up to 137 times greater than other variants of green tea (2).
It may also help to protect the liver, which plays a central role in flushing the toxins out of your body and processing the nutrients (3). Some research found the presence of components that may improve cognitive functioning. In one study, participants who consumed matcha had slightly better reaction time than the placebo group (4).
Matcha also contains a compound known as L-theanine. This may promote alertness and create the effects of caffeine, allowing you to feel pumped and productive. L-theanine increases the alpha frequency band activity in the brain, which may decrease stress levels and make consumers feel relaxed (5).
How Much Matcha Should You Have Per Day?
There are many possible health benefits of replacing regular tea with matcha. However, one shouldn't go overboard in its consumption. As we all know, too much of everything is harmful.
It is essential to analyze how much matcha you have per day and learn how to stay in the safe zone. Certain health experts recommend not drinking more than two or three cups of matcha each day.
When considering any drink that contains caffeine or creates a similar impact, one should always stay in moderation. This will allow you to reap the most rewards of its nutrition without worrying about the potential drawbacks.
As this article highlights some energy-rich smoothie recipes prepared with matcha, keeping an eye on the matcha powder you are adding to your smoothies is vital. A single or a double serving of smoothie is enough to keep you full and refreshed for the day.
Read More: Pear Smoothie With Cashew Recipe
What Are The Side Effects Of Taking Too Much Matcha?
As we discussed earlier, people who opt for matcha should watch their consumption and stay within limits. This is because matcha, too, can create side effects like other caffeinated drinks. The following are a few conditions you may face if you go overboard with your matcha intake:
The side effects of matcha may vary according to a person's age, health, weight, and the amount they consume. If possible, spread out the consumption of matcha throughout the day. The chances of facing side effects may increase when a person drinks a large quantity at once. If you have questions or concerns, talk to your doctor about whether matcha is safe for you and in what amounts.
BetterMe app will provide you with a host of fat-frying fitness routines that'll scare the extra pounds away and turn your body into a masterpiece! Get your life moving in the right direction with BetterMe!
The Bottom Line
Matcha is a popular green tea variety that gives a good shot of energy. Combining it with rich fruits to make a smoothie is an excellent way to amp up your body. If you want to limit caffeine or reduce its intake, you should try an all-time favorite mango matcha smoothie. Its delicious flavor gives a kick that is more lasting than caffeine.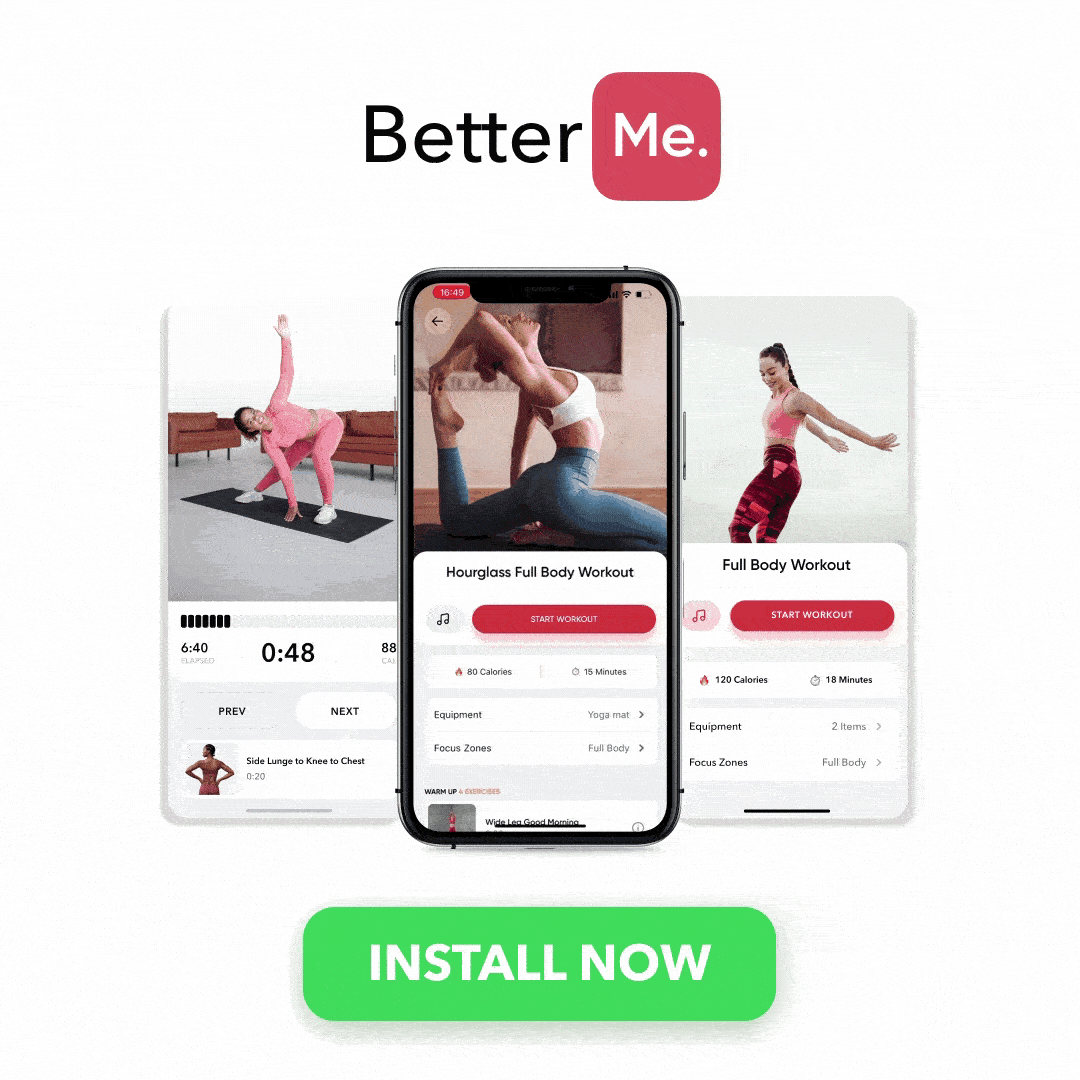 DISCLAIMER:
This article is intended for general informational purposes only and does not address individual circumstances. It is not a substitute for professional advice or help and should not be relied on to make decisions of any kind. Any action you take upon the information presented in this article is strictly at your own risk and responsibility!