Many people envy those super models we see on our television sets or just in magazines. How buff they are, how tall they are, how good looking they are and most of all how they still manage to have a flat stomach in a world where flat stomachs are becoming extinct. Let's face it, most of us have insecurities when it comes to our tummies. You will find most people wearing big t-shirts or pants that cover their tummies. It has gotten to a point where even more go to swim with tank tops on. Well, not to worry. In this read, we shall highlight the 30-day flat stomach diet that has proven effective in dealing with large tummies. We will also include a workout plan that will also help with your belly. Think of it like attacking the enemy from both sides.
Why You Need To Get Rid Of Your Stomach Overhang
Apart from big bellies, making people have confidence issues and making people look bad, big tummies are just bad for your health. A big stomach is linked to various health conditions like heart attack, type 2 diabetes, hypertension and even some types of cancer. This reveals just how serious of a problem big tummies are and why everyone with a big stomach should be working to get rid of it either in the gym or by checking out what they eat.
Big bellies are bad for your health because they are made of visceral fat. Visceral fat is fat that surrounds the major organs in your body and this reduces your overall quality of life (3). And that is not all, visceral fat is known to increase with age which means the older you get the more it becomes. This is one of the reasons older people have an increased risk of various health conditions like heart attacks, strokes and so on.
Studies show that when men are between their thirties to seventies, their visceral fat can increase by up to 200% (3). It is even worse for women who are between the same age gap as their visceral fat can increase by up to 400% (3). This is yet another reason you need to follow a flat stomach diet that helps you deal with this problem for the long run. This then means that the diet has to be sustainable and effective. When we say the diet has to be sustainable we mean that the diet should not be so restrictive that you cannot follow it for a long period of time. When we say the food plan needs to be effective we mean that it needs to give you the results that you anticipate.
Read More: 21 Days Cleanse Diet To Reboot Your Health And Shed Some Pounds
Foods That Will Help You Trim Your Belly
Although one cannot target weight loss, there are foods that have anti-inflammatory properties that will help you get rid of your belly. Here is a list of these foods and how they will help with trimming your stomach. 
Nuts And Seeds
Nuts and seeds have properties that will help you trim your belly and also help reduce the risks that are associated with having big stomachs. Most nuts and seeds contain monounsaturated fats (3). Monounsaturated fats are the good fats that are responsible for reducing the levels of bad cholesterol and increasing the levels of good cholesterol in your body. This property helps reduce the risk associated with various cardiovascular conditions like heart attacks, stroke and more. That is not all, nuts and seeds contain antioxidants that help you repair cell damage in your body and this may help prevent diabetes (3). Nuts and seeds also contain anti-inflammatory properties that will help reduce the size of your tummy. In addition, they are very important in your flat stomach journey and that is why you should work to include them in your diet. 
Foods With Resveratrol
Resveratrol is part of a group of compounds known as polyphenols. These compounds are known to act as antioxidants and help protect the body against cell damage that puts you at risk of getting diseases like cancer and various cardiovascular conditions (2). Resveratrol is mostly found in fruits like red grapes, berries and even dark chocolate. It is also known to slow down the accumulation of fat in your body, which is something you need to do if you want to reduce the size of your stomach.
Red Fruits
Red fruits are yet something else that you need to add to your diet. The deeper the colour, the better they are for your stomach trimming journey (2). Red fruits help turn off the obesity genes and this helps reduce the rate of your stomach growing bigger.
Oatmeal
This is one of those foods that has mixed reactions according to different people. There are people who love it and they are people who can't stand it.  Oatmeal contains fiber that helps you feel full faster and for longer. This prevents you from eating too much, hence reducing your weight and tummy while at it. Fiber is also known to work with the bacteria in your gut to help turn off genes that are responsible for diabetes (2). Oatmeal is just a representative of most of the foods that contain fiber and you should work to add all of them to your diet, like wholewheat pasta, whole grain bread, barley and so on.
BetterMe app will kick you out of the mental funk, shake off your extra weight, rid you of your energy-zapping habits, and help you sculpt the body of your dreams. Intrigued? Hurry up and change your life for the better!
Leafy Green Vegetables
First and foremost, vegetables are known for having a high fiber content. The fiber helps reduce the amount of food you eat hence leading to weight loss and hence a flat tummy. Leafy green vegetables will also help with your tummy by reducing the swelling and turning off the fat storage genes in your body (2).
Those are some of the foods that you should consider adding to your diet to help you achieve your goal of having a flat stomach.
30-Day Flat Stomach Diet
We believe individualized diets work better, as people are different and what works for you might not work for the other person. That is why we shall not create a 30-day food plan but we shall give you guidelines on how to create a 30-day diet for a flat stomach as well as a sample diet that you can use as a reference.
Different studies show that low-carb diets are more effective when it comes to reducing the size of your stomach compared to other diets (2). This means for you to have a small stomach, you need to reduce the intake of carbohydrates in your meal plan and increase the intake of proteins. In terms of fats, you need to reduce your intake of saturated fats as they help increase the levels of bad cholesterol in your blood and this leads to an increased risk for various health conditions. Your diet also needs to have foods with a lot of fiber. Fiber is good for your stomach and helps reduce inflammation.
30-Day Flat Stomach Diet ( Sample)
Here is a 2-day sample diet to show you how the 30-day flat stomach diet should look like (1):
Day 1
Breakfast
1 serving of blueberry-cranberry smoothie 
Calories – 245
Mid Morning Snack
Calories – 62 
Lunch 
1 serving of green salad with edamame and beets
Calories – 325
Afternoon Snack 
Calories – 116
Dinner 
1 serving of roasted salmon with smoky chickpeas and greens
Calories – 447 
Daily Totals: 1,194 calories, 70 g protein, 145 g carbohydrate, 34 g fiber, 39 g fat, 1,244 mg sodium
Read More: 21-Day Fasting Diet to Improve Spiritual Well-Being
Day 2
Breakfast
1 cup of low-fat plain Greek yoghurt topped with ¼ cup of raspberries and 1 ½ tablespoons of chopped walnuts
Calories – 253
Mid Morning Snack
A cup of sliced cucumbers with a pinch of salt and pepper to taste
Calories – 16
Lunch 
1 serving of vegan superfood Buddha bowls
Ingredients
One 8 ounce pouch of microwavable quinoa

½ cup of hummus

2 tablespoons of lemon juice

One 5 ounce package of baby kale

One 8 ounce package of refrigerated cooked whole baby beets

1 cup of frozen shelled edamame

1 medium avocado

¼ cup of unsalted toasted sunflower seeds
Calories – 381
Afternoon Snack 
Calories -35
Dinner 
1 serving of slow-cooked Turkey chili with Butternut squash

1 serving of guacamole chopped salad
Calorie – 521
Daily Totals: 1,206 calories, 68 g protein, 118 g carbohydrate, 39 g fiber, 59 g fat, 1,335 mg sodium
Exercises For A Flat Stomach
Just eating the right foods won't cut it. What you can't lose in the kitchen you have to lose in the gym. When it comes to exercises, your workout routine needs to have a lot of cardio. This is because cardio exercises are known to burn the most fat and losing overall fat will result in losing belly fat. Jump rope, cycling, sprinting, swimming are examples of the cardio exercises that you should have in your workout plan.
The Bottom Line
The 30-day flat stomach diet will help you reduce the size of your stomach or get rid of it completely. When creating your own individualised diet plan, make sure you reduce your carb intake and increase your fiber and protein intake. You also need to add healthy fats to your diet as they help with the health of your heart. In order to get the results you want, you need to be consistent with both your 30 day flat stomach diet and your workouts.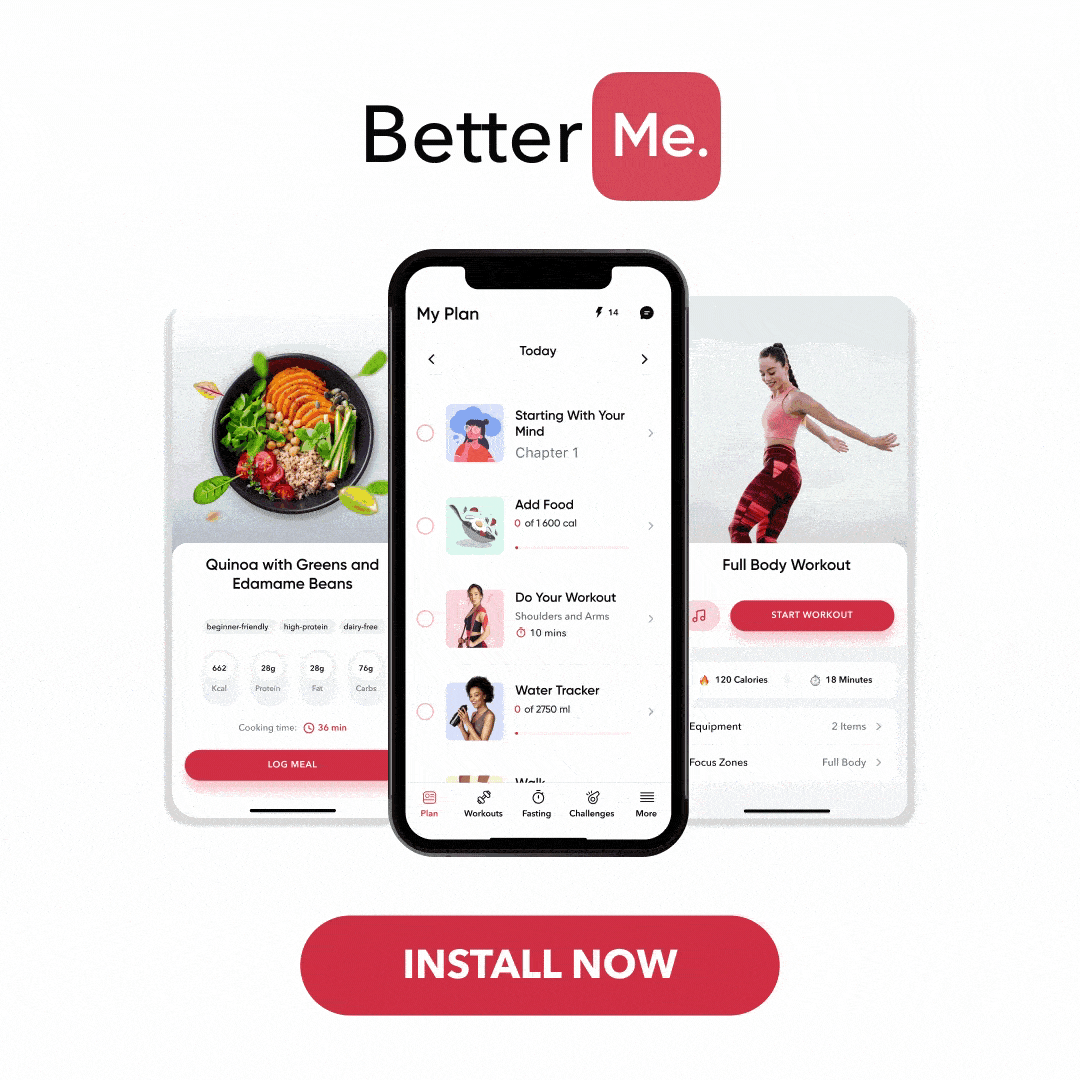 DISCLAIMER:
This article is intended for general informational purposes only and does not address individual circumstances. It is not a substitute for professional advice or help and should not be relied on to make decisions of any kind. Any action you take upon the information presented in this article is strictly at your own risk and responsibility!
SOURCES:
30-Day Meal Plan to Help Lose Belly Fat

(2019, eatingwell.com)

What Foods Help Burn Belly Fat?

(2021, medicinenet.com)

What Is the Flat Belly Diet? (2021, verywellfit.com)