Salad And Water Diet: What Should You Know Before Trying It?
Everyone knows about the importance of a healthy diet. In combination with other healthy habits, proper nutrition helps not only support your overall well-being, but also makes it easier for you to lose and maintain your weight. Smart eating choices provide your body with all the necessary nutrients and help it function properly. What comes first to your mind when you think about a healthy diet? Many people would say "salad". Generally, yes, it is a go-to dish for those who are in a bid to lose weight.  But is it sustainable? The thing is, there are a number of factors you have to pay attention to. The ingredients and the amount of salad you consume can significantly influence your weight loss progress. This article will shed light on all you need to know about the salad and water diet, including its risks and benefits. Let's take a look!
Eating Salads: Benefits
Salads usually include a wide range of healthy foods – various vegetables, greens, lean cuts of meat, and more. All these foods are packed with nutrients. For instance, leafy greens are a rich source of vitamins. Spinach, kale and green lettuce contain vitamins A, C, E and K, and mustard greens – vitamin B. These vitamins help your body function properly, support your immune system, as well as your cardiovascular and bone health (14). 
When you eat a salad for lunch or dinner, you should supplement it with a source of protein. Lean cuts of meat, grilled chicken, tuna or shrimp will be a nice choice. Protein provides your body with amino acids that work as building blocks for your bones, cartilage, and most importantly, muscles (14). 
Healthy fats are essential for your body even if you are following a diet and trying to lose weight. They give you energy and support cell growth. They help to keep your body warm and protect your organs. Fats also help your body absorb nutrients (4). 
Yes, you should practice moderation – add small amounts of fats and avoid creamy store-bought dressings that are packed with sugar. However, some nuts or seeds, olive oil, avocado, and olives are great options (14). 
Fiber is essential for your health, as it can help lower cholesterol levels and prevent constipation. It also keeps you fuller longer, which promotes weight loss. It is a well-known fact that fruits and veggies are packed with fiber, so a salad will be a perfect choice for those who want to slim down and support their health (1).
When it comes to weight loss, progress is made by inches, not miles, so it's much harder to track and a lot easier to give up. BetterMe app is your personal trainer, nutritionist, and support system all in one. Start using our app to stay on track and hold yourself accountable!
Is A Diet Of Water And Salad Good?
You already know about the benefits of salads. A typical side salad without dressing is a low-calorie (about 35 calories) dish with high content of water and fiber (9). The importance and benefits of hydration are widely known. Along with all the health benefits of hydration, it also helps to suppress hunger and make you feel fuller longer. According to one study, by drinking two glasses of water (568 ml) right before a meal, a group of non-obese young men consumed 22% less food on average than the control group who did not drink the water before the meal (10). So, low amounts of fat and calories plus proper hydration can definitely help you create a calorie deficit, suppress hunger, and lose weight. 
However, you should be careful. You shouldn't eat only salads – such a pattern can lead to a deprivation effect. You'll lack food variety and will be more prone to overeating. People who follow such a diet start craving junk foods and as a result, they make unhealthy eating choices and break their diet. 
That's why the best option will be to eat salads as one of your major meals, drink plenty of water, and stick to a healthy diet. For instance, you can eat oatmeal with nuts and banana for breakfast, a salad for lunch and grilled chicken with vegetables for dinner (plus your favorite fruits as snacks). This way you'll successfully achieve your fitness goal and get all the nutrients your body needs.
Read More: 30 Day Salad Diet: Can It Deliver The Results You Are Looking For At Lightning Speed?
What Ingredients To Choose?
For your salad to be a low-calorie and nutrient-dense dish, it is important to include proper ingredients. If you choose fatty, highly-processed ingredients with high salt content, it will be hard for you to lose weight. Below you can see a list of the best ingredients that should be added to your salad: 
Leafy greens should become the base of your salad. They are low in calories and packed with water and nutrients. Spring greens (spinach, chard, arugula, mustard greens and more) will provide your dish with flavor. Other greens (iceberg, leaf lettuce, romaine, escarole and more) will help to make it crispy and add some volume (12).
Veggies are another ingredient that should prevail in your salad. Raw or roasted vegetables from different color categories will provide you with vitamins and other essential nutrients. Red tomatoes, radishes and peppers, orange carrots, squash and sweet potatoes and healthy veggies of other colors will be a perfect choice for your salad (12).
You might think that fats will stop you from losing weight. But healthy fats are vital for proper functioning of your body. Yes, they will increase the amount of calories on your plate, but in moderate amounts they will do only good. For instance, 5-10 olives, 10-15 nuts (take into account their size), 1-2 tablespoons of olive oil or seeds will be a nice addition to your salad. You can use pumpkin, sunflower, chia, and other seeds (12).
If your salad is one of your major meals, it is important to add a healthy source of protein. This step will help you stay full longer and build muscles. You can add meat – grilled chicken, leftover lean steak, turkey breast. Seafood (tuna, salmon, shrimp and more), tofu, legumes such as beans or lentils, and even whole grains (such as brown rice or quinoa) are suitable as well (12).
Dill, parsley, cilantro, thyme, basil and other herbs will only improve the taste of your salad. You can opt for dried or fresh herbs or even add both of them to your salad – the effect will be even better (12).
If you wish to free yourself from all the extra pounds that have been weighting you down for way too long, start using the BetterMe app and overhaul your entire life!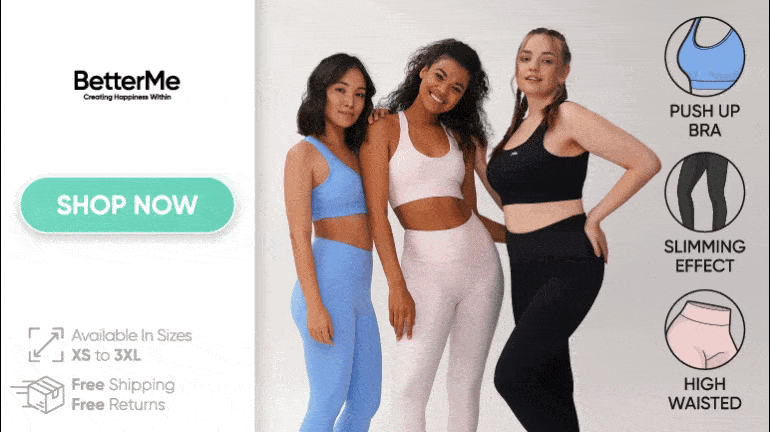 How To Prepare A Healthy Salad Dressing?
The best dressing for your salad will be salt, pepper and a small amount of olive oil. However, if you want something more interesting and tasty, you can prepare your own healthy dressing. 
For instance, you can try a honey and mustard dressing. Just mix 2 teaspoons of wholegrain mustard and 2 teaspoons of honey in a bowl. Next, add the juice of 1 lemon, 6 tablespoons of extra virgin olive oil, salt and pepper. Mix everything well, add the necessary amount of the dressing to your salad and that's it! You can store it in a glass jar in a fridge (2).
There is also a classic French dressing recipe. You'll need 6 tablespoons of extra virgin olive oil, 2 tablespoons of white wine vinegar and 1 teaspoon of Dijon mustard. Mix everything together in a bowl, add salt, pepper and a pinch of sugar (2). Enjoy! 
You can also create your own recipe using healthy ingredients. Oil, mustard, lemon juice, vinegar, salt and pepper, your favorite herbs and spices will help you to prepare a perfect salad dressing. Some people also use Greek yogurt with herbs and spices for their salads. Mashed avocado can add creaminess. Everything is up to you. 
You also shouldn't use too much dressing in order not to consume too many calories. Just add the amount that is necessary to cover the greens. You can take a large bowl, add some dressing, then put your salad and toss. This trick will help you use less dressing (7).
Read More: Different Types Of Diets: The Lowdown On The Most Talked-About Weight Loss Strategies
Salad Recipes For Dieting 
You already know what ingredients to choose for your salad and what dressings will make it perfect. This way you can create your own recipes that will be suitable for you and provide you with nutrients and flavors you need. Below you can see several recipes that you might like. The ingredients are quite simple and the preparation won't take more than 5 minutes. Let's start!
Feta Cheese And Tuna Salad
This salad is suitable even for the supporters of the keto diet. You need 1 ounce of low-fat feta cheese, 6 ounces of chunk lite tuna, 1 carrot, 2 celery stalks, 2 cups of chopped romaine lettuce, ¼ of lemon, 1 teaspoon of capers and 1 teaspoon of balsamic vinegar. First, you should drain water from tuna. Then mix chopped carrot and celery with capers in a bowl. Add tuna. Squeeze lemon in a bowl and mix everything well. Take another bowl, cover it with lettuce, place the salad on it, add cubed feta cheese and vinegar (13). That's it!  
This salad is extremely simple and won't take much time and effort. You need 1 carrot, 1 cup of baby spinach, 1 clove of garlic and 1 tablespoon of raspberry vinegar. Grate carrot, mix it with spinach in a bowl, add crushed garlic and mix with vinegar (11). Enjoy!
To prepare this salad you need 2 servings of soft boiled eggs, 1 cup of mixed greens and 2 cups of baby kale. Boil 2 eggs for approximately 7 minutes. Mix greens and kale, add eggs and 2 tablespoons of your favorite healthy dressing. The salad is ready (6).
FAQs
Can You Eat Too Many Vegetables?
As a rule, people think that vegetables are the best choice when it comes to healthy eating. Yes, they are low-calorie and nutrient-dense foods that help to support your health and control your weight. However, it is vital to practice moderation even if your diet mainly consists of veggies. 
The thing is that vegetables are packed with fiber. In moderate amounts, fiber can offer many benefits for your body. It can help maintain your bowel health, normalize your bowel movements, control blood sugar levels, lower cholesterol levels and more (5). But when your body gets excessive amounts of fiber, you may suffer from diarrhea after consuming veggies. More serious health issues are possible as well. For instance, such a dietary pattern can lead to abdominal discomfort, digestive difficulties, nutrient deficiencies, and blocking of the gastrointestinal tract, although this is not very common. 
That is why it is so crucial to follow a balanced diet that consists of various food groups. To get the desired results it is also better to limit your consumption of starchy vegetables, such as corn, potatoes, beans etc. (3)
The recommended amount of veggies per day differs depending on your age and physical activity levels. For instance, the recommended amounts of vegetables per day for young adults (19-30 years old) is at least two and a half cups a day for women and three cups for men. Those people who work out minimum 30 minutes a day should increase this amount. Anyway, the best option will be to consult your dietician (8).
Conclusion
In conclusion, the salad and water diet can help you to lose weight and support your health. However, it is important to eat more than just salads. You should create a well-balanced meal plan to provide your body with essential nutrients. In this way you'll lose weight in a healthy way without unwanted consequences for your well-being. Salads and water can help you make your diet brighter and healthier, and your weight loss journey – faster and more effective. In combination with regular workouts this strategy will help you to achieve the desired results in a short period of time. Remember to consult your health professional before making changes in your usual meal plan.

DISCLAIMER:
This article is intended for general informational purposes only and does not address individual circumstances. It is not a substitute for professional advice or help and should not be relied on to make decisions of any kind. Any action you take upon the information presented in this article is strictly at your own risk and responsibility!
SOURCES: