Eat your veggies. Now, this is a phrase growing up that we've all either been told or read somewhere. Sure, it may not always be the most pleasant thing to do (no one likes veggies, right?), but it's definitely worth it. Here's why. Vegetables come loaded with a ton of health benefits. These include reduced risk of some chronic diseases, better nutrient intake, and healthy management of your body weight. Yes, eating vegetables can also help you safely shed the extra pounds. How? Let's take a look at healthy vegetable recipes for weight loss.
Vegetables And Weight Loss
You've probably seen lots of health and nutrition articles saying vegetables are an excellent addition to your weight loss regimen. However, what about veggies makes them "excellent" for weight loss? Here are some of the top reasons why you need vegetables for your weight loss journey.
Vegetables Increase Your Satiety
Most vegetables contain a lot of fiber and water content. Now fiber is an essential dietary component with numerous health benefits, including controlling your blood sugar and cholesterol levels (4). However, it is also beneficial when it comes to filling you up.
This review of epidemiologic studies shows that having fiber is linked to lower body weight because of its role in improving satiety and energy intake (7). When you combine vegetables, lean protein, and healthy fats, you'll stay full until it's time for your next meal. Remember, not overeating will go a long way in helping you shed the extra pounds.

Vegetables Help Prevent Erratic Spikes In Your Energy Levels
You need energy to function optimally. Now, energy can be obtained from various sources in the form of calories. However, your body's most preferred source of energy is carbohydrates. When the calories are from complex carbohydrates, it's better.
A carbo problem sets in when the source is from simple sugars and refined carbs, which could lead to spikes and slumps in your energy levels. This leads to an over-production of insulin, resulting in excess calories being stored in fat cells leading to weight gain. Vegetables contain fiber that can help you control your blood sugar levels, thus better managing your weight (4).
Vegetables Are Low In Calories
The logic is simple. Do you want to lose weight? Reduce your calorie intake while being sure that you're still getting all the nutrients your body needs to function properly. Vegetables can be a great help in achieving this equilibrium.
Many vegetables are incredibly low in calories, yet replete with the best nutrients and minerals that keep you healthy (8). This is better for your weight loss goals than relying on packaged foods full of calories but devoid of nutritional benefits.
That said, here are some healthy vegetable recipes for weight loss for you to use on your journey to shed those extra pounds.
Read More: Vegetable Smoothies Diet: Is It Effective For Weight Loss?
Easy Healthy Vegetable Recipes For Weight Loss
Have you been looking for something to boost your weight loss efforts? Here are some of the healthy vegetable salad recipes for weight loss you should give a try.
Veggies And Hummus Sandwich (9)
This is an awesome heart-healthy vegetarian weight loss snack to go. You can even take it up a notch by mixing different flavors of hummus and different types of vegetables. Here's how you make veggies and hummus sandwiches:
Ingredients:
2 slices of whole grain bread

3 tablespoons of hummus

¼ mashed avocado

¼ cup of mixed salad greens

¼ cup of sliced cucumber

¼ cup of shredded carrot
Instructions:
Start by spreading one slice of bread with mashed avocado and the other with hummus.

Next, fill the sandwich with bell pepper, greens, cucumber, and carrots.

Slice the sandwich in half and serve.
This recipe is courtesy of eatingwell.com.
Peanut Butter Noodles (3)
Peanut butter has incredibly healthy monounsaturated fats which makes it key in any weight loss diet. Ginger can increase your satiety while revving up your metabolism, giving you an added advantage. Here's how you make peanut butter noodles:
Ingredients:
¼ cup of peanut butter

1 tablespoon of soy sauce

1 tablespoon of agave sweetener

2 tablespoons of water

1 tablespoon of minced ginger

1 clove of minced garlic

½ tablespoon of apple cider vinegar

1 teaspoon of sesame oil

½ tablespoon of sriracha 

4 oz of soba noodles

¾ cup of julienned cucumber

1 diced scallion

¼ cup of peanuts for garnishing (optional)

½ diced scallion for garnishing (optional)
Instructions:
Start by combining the first nine ingredients to form a sauce. Now mix them well until they are thoroughly blended and smooth.

Next, cook the soba noodles as instructed on the packaging and cover it in cold water as soon as you remove them from the heat.

Leave for about 20-30 seconds to cool. Once cool, drain the noodles and add the sauce, scallions, and cucumber.

Garnish with peanuts if desired.
This recipe is courtesy of shape.com.
If you wish to free yourself from all the extra pounds that have been weighting you down for way too long, start using the BetterMe app and overhaul your entire life!
Roasted Cauliflower & Potato Curry Soup (6)
In this recipe, the roasted cauliflower adds depth of flavor while preventing the florets from turning into mush. The coconut milk and a little tomato sauce give the soup a rich, silky texture. You can serve it with some sour cream or yogurt. Here's how you make roasted cauliflower and potato soup:
Ingredients:
2 teaspoons of ground coriander

2 teaspoons of ground cumin

1 ½ teaspoon of ground cinnamon

1 ½ teaspoon of ground turmeric

1 ¼ teaspoon salt

¾ teaspoon of ground pepper

⅛ teaspoon of cayenne pepper

1 small head cauliflower that is cut into small florets of about 6 cups

2 tablespoons of divided extra-virgin olive oil

1 large chopped onion

1 cup of diced carrot

3 large cloves garlic, minced

1 ½ teaspoon of grated fresh ginger

1 fresh minced red chile pepper (serrano or jalapeno) and more for garnishing

1 can (14 ounces) of no-salt-added tomato sauce

4 cups of low-sodium vegetable broth

3 cups of diced and peeled russet potatoes (1/2  inch)

2 teaspoons of lime zest

2 tablespoons of lime juice

1 can (14 ounces) of coconut milk

Chopped fresh cilantro for garnishing
Instructions:
Start by preheating the oven to about 450 degrees F.

Next, combine the cumin, cinnamon, coriander, turmeric, pepper, salt, and cayenne in a small bowl.

Now add the cauliflower with 1 tablespoon of oil in a large bowl. Sprinkle 1 tablespoon of the spice mixture into the bowl and toss again. Spread it in a single layer on a rimmed baking sheet.

Roast the cauliflower for about 15 to 20 minutes until its edges are browned and set it aside.

Next, use medium-high heat to heat the remaining tablespoon of oil in a large pot.

Add the carrots and onion to cook. Ensure that you're constantly stirring until they turn brown for about 3 to 4 minutes. Throw in the garlic, chile, ginger, and remaining spice mixture and cook it, stirring for just over a minute.

Stir in the tomato sauce while scraping up any browned bits, and let it simmer for a minute.

Add the soup, sweet potatoes, lime zest and juice. Cover the mixture and bring it to a boil over high heat.

Reduce the heat to maintain a gentle simmer and cook while it's partially covered. Keep occasionally stirring for about 35 to 40 minutes until the vegetables are tender.

Finally, stir the mixture in coconut milk and the roasted cauliflower. Return to a simmer to heat through.

Add cilantro and chiles for garnish if desired.
This recipe is courtesy of eatingwell.com.
Cheesy Spinach And Artichoke Stuffed Spaghetti Squash (2)
This recipe cuts down considerably on calories while providing an amazing creamy casserole for your taste buds. For the best results, roast the squash to enhance its flavor. Here's how you make it:
Ingredients:
One 2 ½ to 3 pounds of spaghetti squash that is cut in half lengthwise and all its seeds removed

3 tablespoons of water, divided

One 5-ounce package of baby spinach

One 10-ounce package of frozen artichoke hearts, thawed then chopped

4 ounces of reduced-fat cream cheese, cubed and softened

½ cup of grated parmesan cheese, divided

¼ teaspoon of salt

¼ teaspoon of ground pepper

Chopped fresh basil and crushed red pepper for garnishing
Instructions:
Put the squash cut-side down in a microwave-safe dish and add 2 tablespoons of water.

Now microwave it uncovered on high for about 10 to15 minutes.

Mix the spinach and the remaining water in a large skillet over medium heat.

Cook while occasionally stirring until it's wilted for about 3 to 5 minutes.

Next, use a fork to scrape any squash from the shells into the bowl. Place these shells on a baking sheet.

Stir the cream cheese, artichoke hearts, salt, pepper, ¼ cup parmesan into the squash mixture. Broil for about 3 minutes until the cheese turns golden brown.

Sprinkle crushed pepper and basil for garnishing if desired.
Recipe courtesy of eatingwell.com.
Now above are just 3 healthy vegetable recipes for weight loss. It doesn't stop there, though. There are other numerous vegetable recipes you could try. However, if that's just not your thing, try these smoothie recipes.
Read More: Zucchini Weight Loss Recipes: 5 Ways To Eat This Colorful Vegetable
Healthy Fruit And Vegetable Smoothie Recipes For Weight Loss
The beauty of these recipes is that they are versatile. You can take them in several different forms, smoothies being one of them. Here are some healthy vegetable smoothie recipes for weight loss:
Plant-Based Spirulina Pina Colada Smoothie (5)
This is a tropical plant-based smoothie that's loaded with nutrients. It basically combines a light coconut base with some frozen pineapple. Spirulina is a blue-green algae that is considered a superfood, rich in antioxidants and high-quality protein. Here's how you can make it:
Ingredients:
½ cup of frozen pineapple chunks

1 frozen banana that has been broken into chunks

1 cup of organic coconut original plant-based beverage

1 teaspoon of spirulina powder

1 tablespoon of cacao butter (optional)
Instructions:
Start by combining all the ingredients in a blender.

Now begin blending on low, then finish on high for about 1 to 2 minutes until it's smooth.
This recipe is courtesy of eatthis.com.
Yanking yourself back in shape has never been so easy with our game-changing fitness app! Start transforming your life with BetterMe!
Purple Passion Green Smoothie (1)
Whoever said vegetable and fruit smoothies don't taste good must have never tried this recipe before. Nutrient laden and delicious, that's the only way to describe the purple passion green smoothie. Here's how you make it:
Ingredients:
½ cup of strawberries

¼ cup of blueberries

1 cup of raw spinach

¼ cup of greek yogurt

1 cup of water
Instructions:
Add all the ingredients to a blender.

Now blend until smooth while adding more water to obtain the desired thickness.

Serve and wash out your blender to avoid sticking.
This recipe is courtesy of loseweightbyeating.com.
Conclusion
Losing weight doesn't always have to be a grueling process. Sure, hitting the gym and working out is key, but so is your diet. If you take care of what you eat, then managing your weight won't be much of a hassle. These healthy vegetable recipes for weight loss may just do the trick.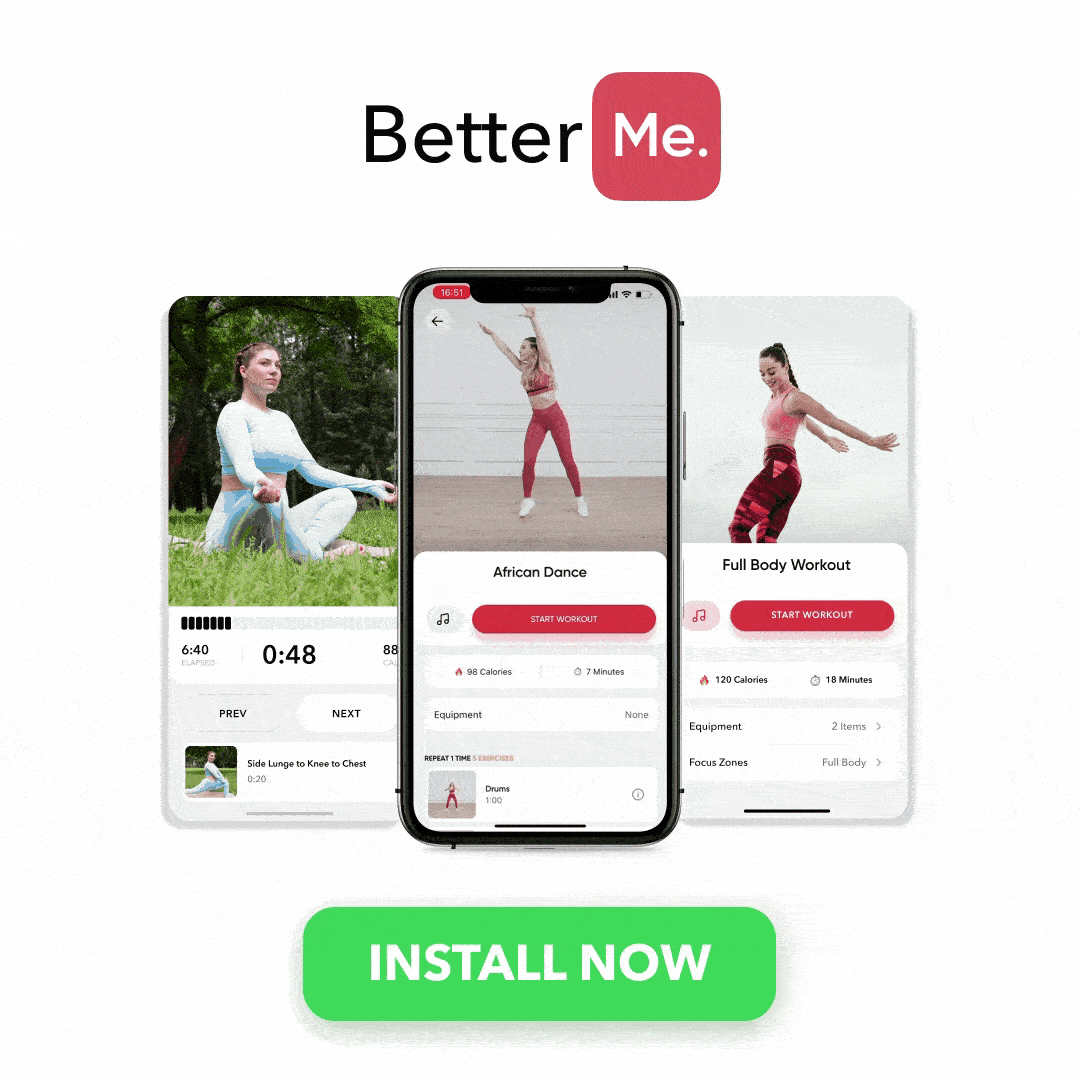 DISCLAIMER:
This article is intended for general informational purposes only and does not address individual circumstances. It is not a substitute for professional advice or help and should not be relied on to make decisions of any kind. Any action you take upon the information presented in this article is strictly at your own risk and responsibility!
SOURCES: