Zucchini, often known as summer squash, is a favorite of many. It is low in calories and rich in nutrients. In ancient times it was used to treat colds, and other diseases. If you are trying to shed some weight, zucchini would be ideal as it is both filling and delicious. Below are great zucchini weight loss recipes you can try.
Zucchini Nutritional Profile
Zucchini's are a potent source of vitamins and minerals. One cup of sliced zucchini contains the following nutrients (17):
Zucchini calories:

27

Fat:

0.65 grams

Carbs:

4.84 grams

Fiber:

1.8 grams

Sugars:

3.08 grams

Protein:

2.05 grams

Sodium:

5.4 mg

Potassium:

475 mg
Zucchini Health Benefits
Below are the zucchini benefits for health:
Aids In Weight Loss
This vegetable contains only 15 calories per 100 gram serving (17). It is low in calories and has a high water content which may help you feel full. It also has a high in fiber which promotes satiety removing the need for regular snacking and overeating. 
What's more, research links high consumption of fruits and vegetables to lower adiposity (body fat) (14). So, if you were wondering, "is zucchini good for you?", it definitely is. It is full of nutrients and is low in calories.
Good For Your Heart
Keeping your heart healthy is crucial for a long and happy life. Zucchini may help improve heart health. The vegetable is rich in fiber and potassium. 
The potassium in zucchini may help reduce blood pressure. Lower blood pressure is associated with a reduced risk of stroke and heart disease (12).
Zucchini contains pectin, a soluble fiber that seems to be effective at lowering low density lipoprotein (LDL) cholesterol (3). It is often referred to as bad cholesterol. High Levels of LDL cholesterol increases your risk of stroke and cardiovascular disease (9).
May Lower Blood Sugar Levels
Zucchini may help lower blood sugar levels in individuals with type 2 diabetes or insulin resistance. Compared to other foods such as corn, pasta and rice, zucchini is a low-carb vegetable with just 3 grams per cooked cup. Research shows that low-carb diets help lower blood glucose and insulin levels. Both these mechanisms help stabilize blood sugar levels in those with type 2 diabetes or prediabetes (1). 
The vegetable is also a good source of fiber. Fiber helps stabilize sugar levels by preventing spikes in blood sugar especially after meals. What's more, studies link fiber-rich fruits and vegetables such as zucchini to a lower risk of type 2 diabetes (8).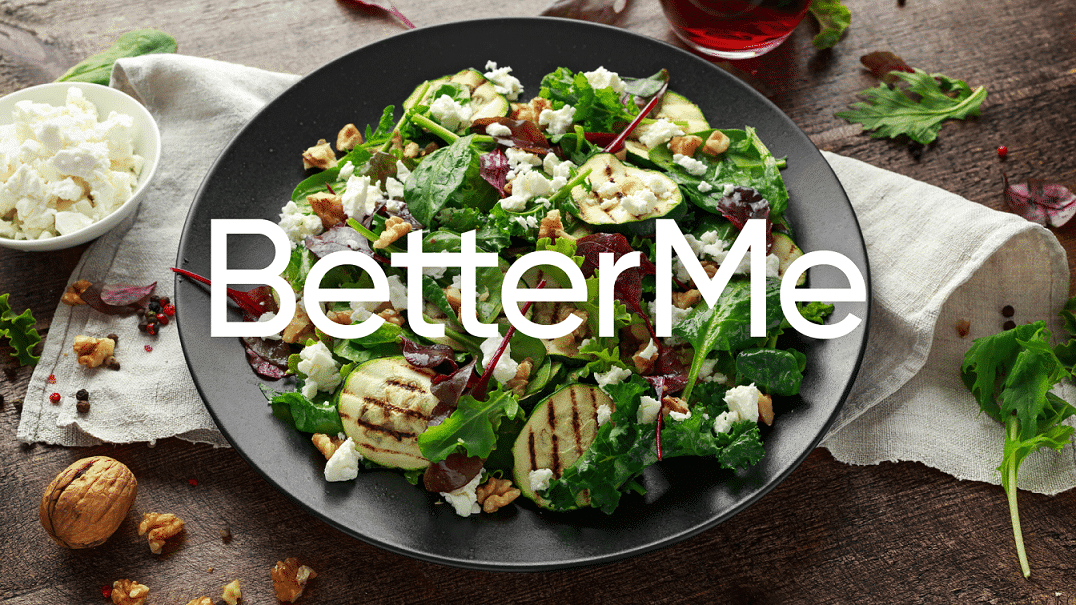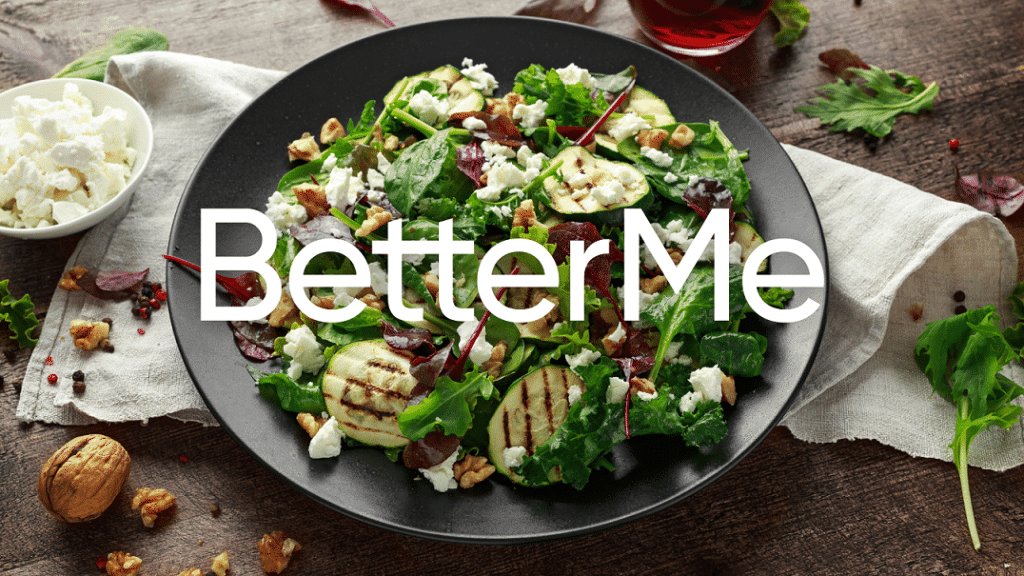 Rich In Antioxidants
Most vegetables and fruits boast of a rich antioxidant profile. Zucchini are no exception. The yellow variety is believed to contain more antioxidants than the green type (16). Antioxidants are plant compounds that protect cells from damage caused by oxidative stress.
They are particularly rich in beta-carotene, zeaxanthin and lutein (19). These compounds may be beneficial for your heart, eyes and skin. They may also help prevent certain types of cancer like prostate and colon cancer (13).
May Help With Vision
Zucchini contains zeaxanthin and lutein, two compounds important for eye health. Studies show that these compounds can accumulate in the part of the eye known as the retina thus supporting vision. Additionally, they help reduce the risk of age-related eye diseases such and macular degeneration (11) (10).
May Aid In Proper Digestion
When it comes to healthy digestion and gut health, fiber, both the soluble and insoluble types, are important. Insoluble Fiber adds bulk to the stool, helping food move easily through the gut and reduces constipation. It's best to ensure you also have enough fluid in your diet (7). 
Soluble fiber on the other hand, feeds the friendly gut bacteria. These gut microbiota then produce short chain fatty acids that nourish your gut (15). Additionally, zucchini has a high water content, which makes it easier to pass waste and reduces constipation (6).
Read More: High Fiber Foods For Weight Loss: 9 Things You Should Eat While Trying To Lose Weight
Healthy Zucchini Recipes For Weight Loss
There are many ways to cook summer squash. You can boil them, sautee, roast or even bake them. You can come up with recipes of your own. Below are 7 zucchini recipes you can try.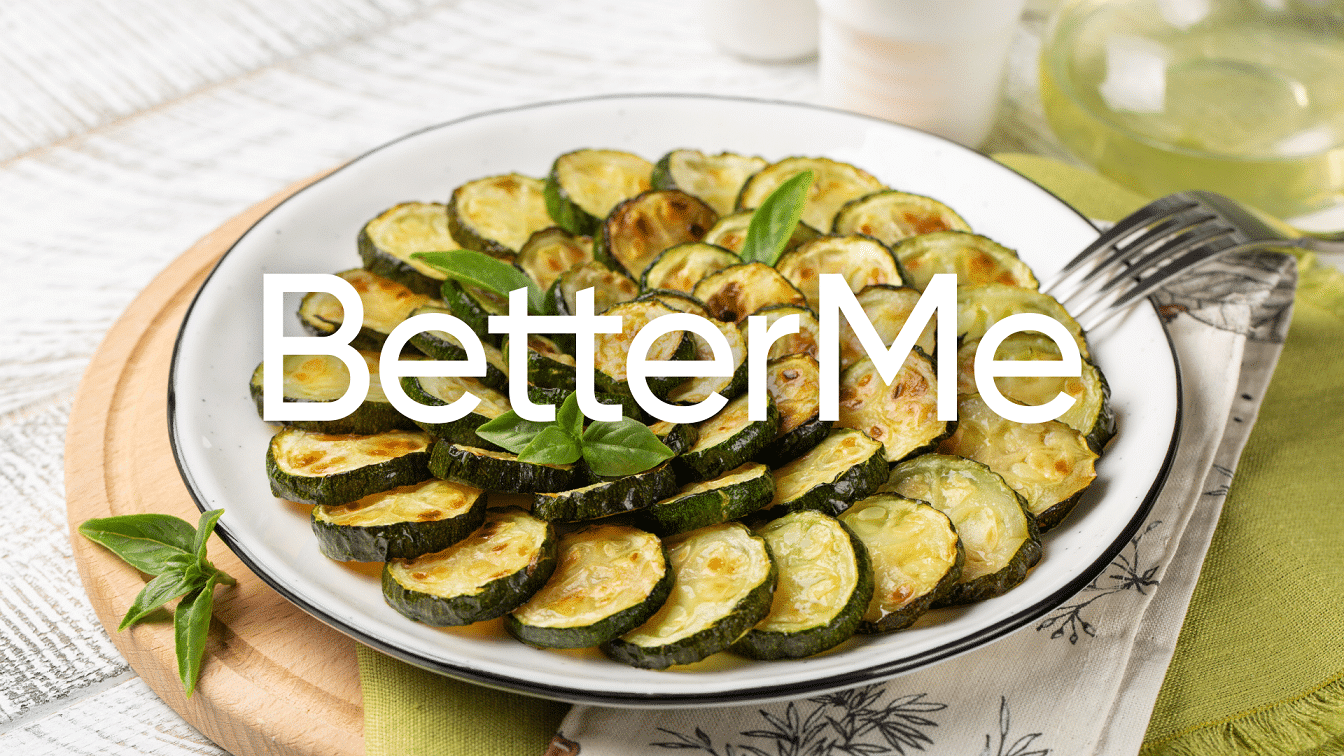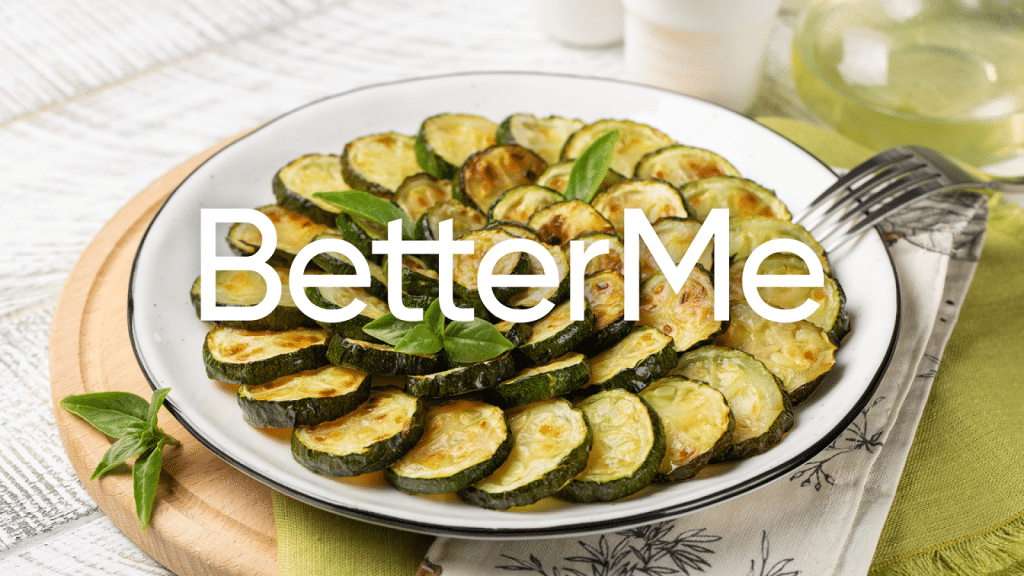 Sauteed Zucchini (18)
This is a simple recipe that is perfect for weight loss. With such tasty meals, eating healthy becomes a habit, making your dream body within reach. 
Ingredients
24 ounces of zucchini, peeled and chopped

2 garlic cloves

2 tablespoons of olive oil

½ lemon, juiced

1 ½ tablespoon of fresh parsley

Salt and balck pepper
Method
In a large pan, heat the olive oil over medium heat

Put the garlic in and cook for about half a minute

Add the zucchini and saute. Cook for about 10 to 15 minutes while stirring occasionally until tender.

Remove from heat.

Add the lemon juice and parsley then season with salt and pepper.

Mix everything well then serve
Servings: 8
BetterMe app is a foolproof way to go from zero to a weight loss hero in a safe and sustainable way! What are you waiting for? Start transforming your body now!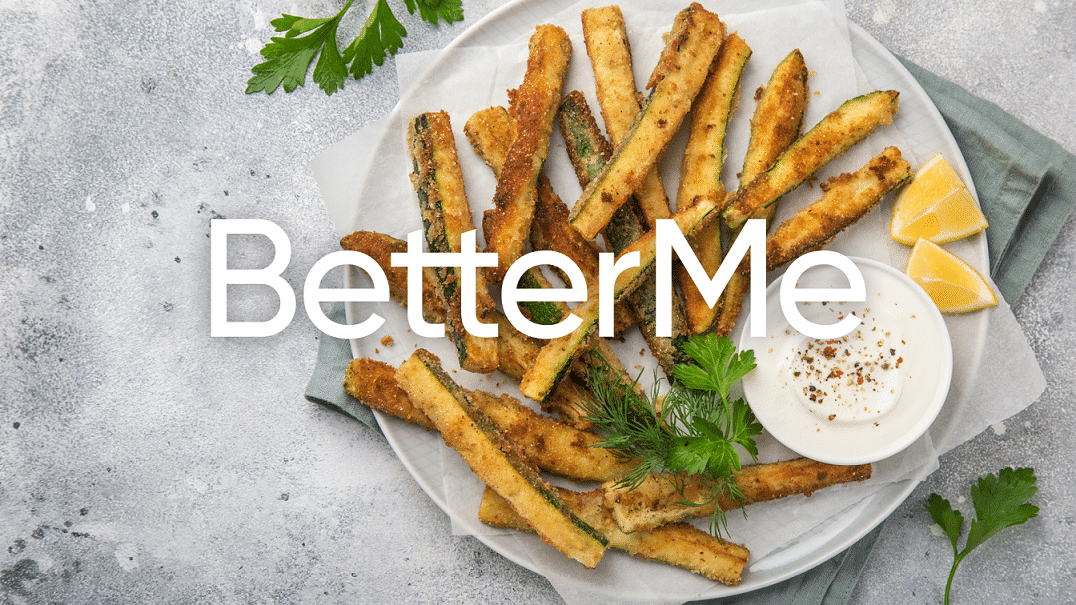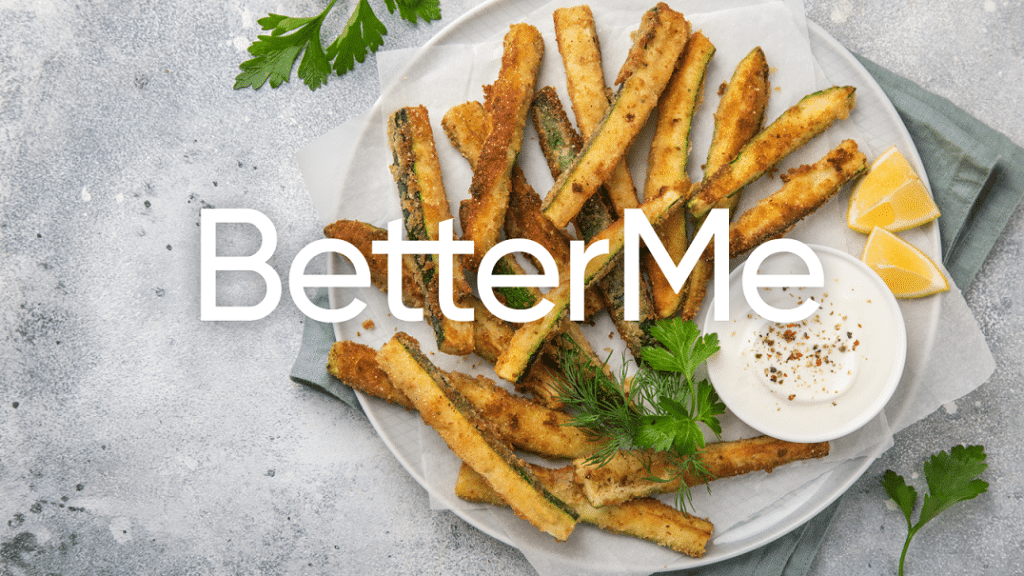 Easy Garlic Parmesan Oven Roasted Zucchini (5)
If you are a sucker for oven roasted zucchini, then this is for you. 
Ingredients
4 zucchini quartered lengthwise

1/4 cup freshly grated Parmesan cheese

1 teaspoon Italian seasoning

1/2 teaspoon of garlic powder

Salt and pepper to taste

Olive oil
Method
Preheat the oven to 350 degrees

Place parchment paper in the baking tray and set it aside.

In a bowl, mix the Parmesan cheese, garlic powder, salt, pepper and Italian seasoning.

Place the zucchini into the baking tray, spray with olive oil then sprinkle the mixture.

Bake in the oven for 15 to 20 minutes until tender. Then, broil until the zucchini are golden brown.

Serve while still hot.
Servings: 4
Macros: 83 calories, 6.9 grams protein, 7.5 grams carbs, 3.9 grams fat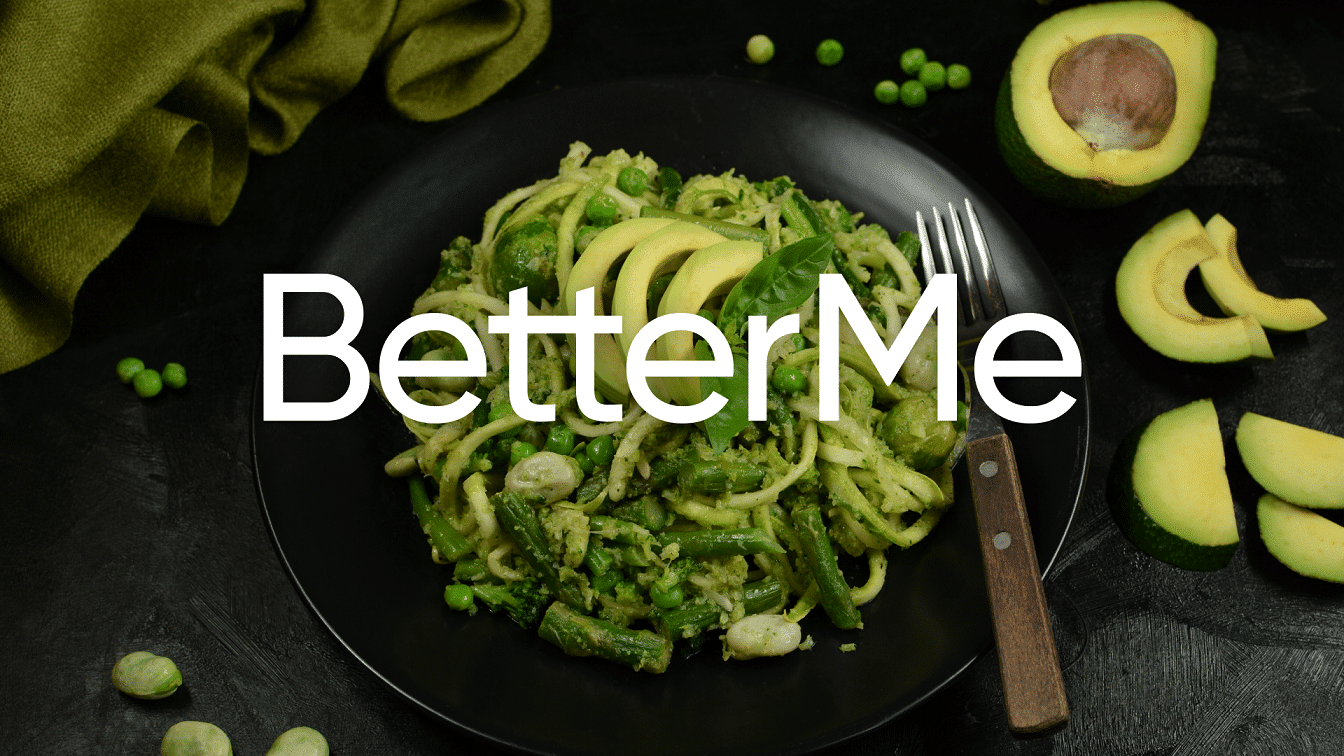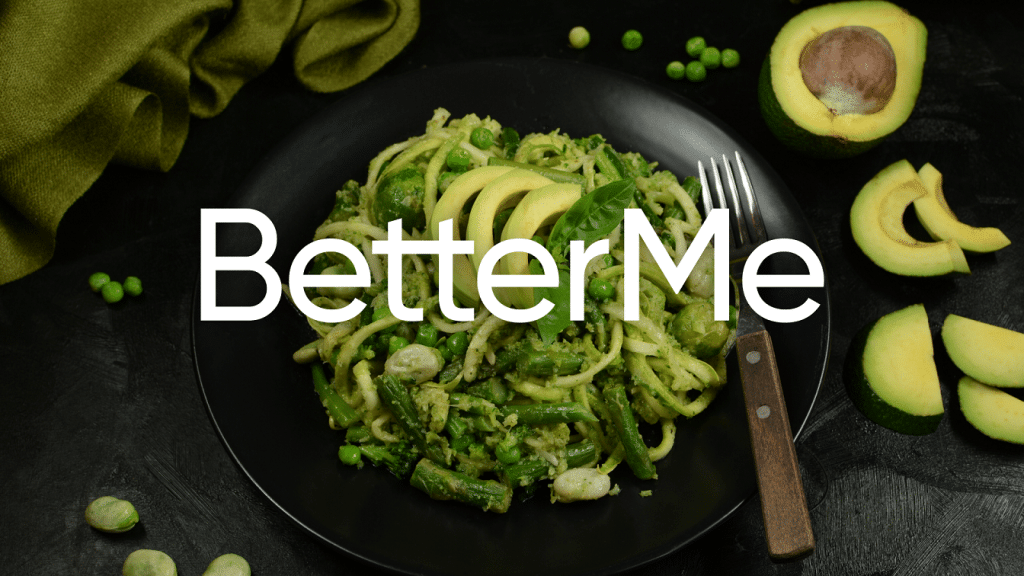 Zucchini Pasta With Creamy Avocado Pesto (2)
Avocado is a favorite of many and a great source of healthy fats. Chicken is also an important ingredient so this makes one of the tastiest zucchini recipes for weight loss high protein. It would be a good idea to eat half a serving of this meal if your daily calorie intake does not allow for as many as 600 calories per meal. 
Ingredients
3 zucchini, trimmed

1 ripe avocado – peeled, halved, and pitted

5 tablespoons pesto

1 skinless, boneless chicken breast

½ teaspoon paprika

1 pinch salt and black pepper to taste

olive oil

2 tablespoons of grated Parmesan cheese (Optional)
Method
Make zucchini noodles using a spiralizer.

In a bowl, mash the avocado and mix the pesto until the mixture is smooth.

Flatten the chicken breast then season with salt, pepper and paprika.

Heat olive oil in a large cooking pan over medium heat. Cook the chicken until it turns golden, for about 6 minutes each side.

Cool for about 5 minutes and dice the chicken into small pieces.

Heat about a tablespoon of olive oil in a cooking pan over medium heat. Add the zucchini noodles, cook for about 5 to 7 minutes while stirring occasionally

Add in the chicken and avocado pesto mixture then cook for 3 to 5 minutes.

Sprinkle the Parmesan then serve. 
Servings: 2
Macros: 609 calories, 26.8g protein, 21.5g carbohydrates, 49.4g fat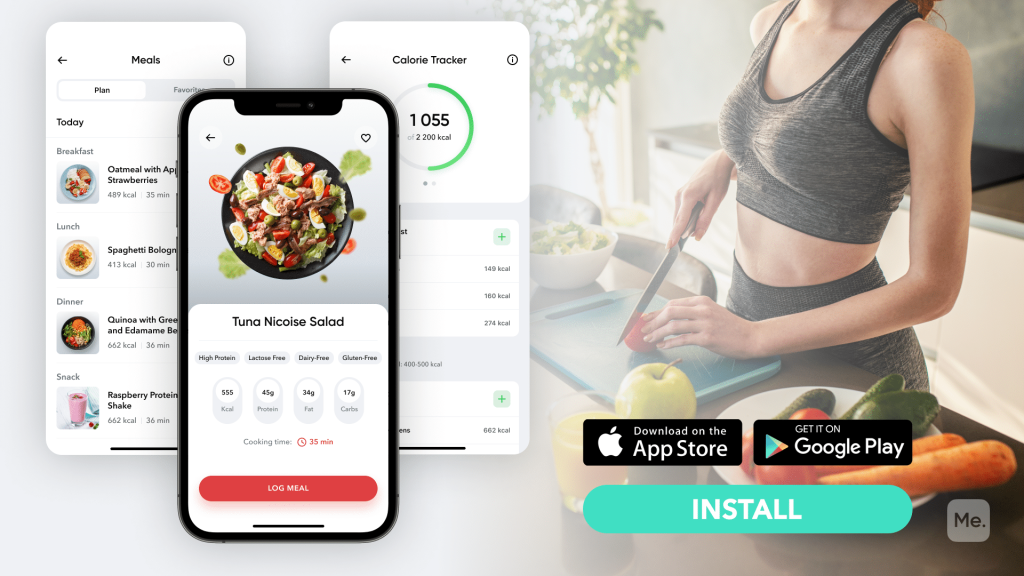 Whole Wheat Zucchini Pancakes (20)
You may have heard that too many carbs aren't good for you. The truth is that the type of carb-rich food you choose is important. So, opt for healthier sources of carbs such as whole wheat.
Ingredients
2 cups shredded zucchini

1 ¼ cups white whole-wheat flour or all-purpose flour

2 teaspoons baking powder

1 teaspoon pumpkin pie spice blend

¼ teaspoon salt

2 large eggs

1 cup plus 2 tablespoons low-fat milk

2 tablespoons melted butter

2 tablespoons light brown sugar

1 teaspoon vanilla extract

½ cup toasted pecans, chopped
Method
Put the zucchini in a clean towel and squeeze to remove moisture

Whisk the whole-wheat flour, baking powder, salt and pumpkin spice in a bowl. In a medium bowl, mix the eggs, butter, milk, vanilla and brown sugar. Make a well in the dry ingredients and add the wet mixture and mix well.

Mix the nuts and zucchini with the flour mixture.

Coat a nonstick skillet with oil and heat over medium heat. Cook the pancakes then serve while hot. 
Servings: 5
Macros: 300 calories, 9.9g protein, 33.9g carbohydrates, 4.4g dietary fiber, 15.1g fat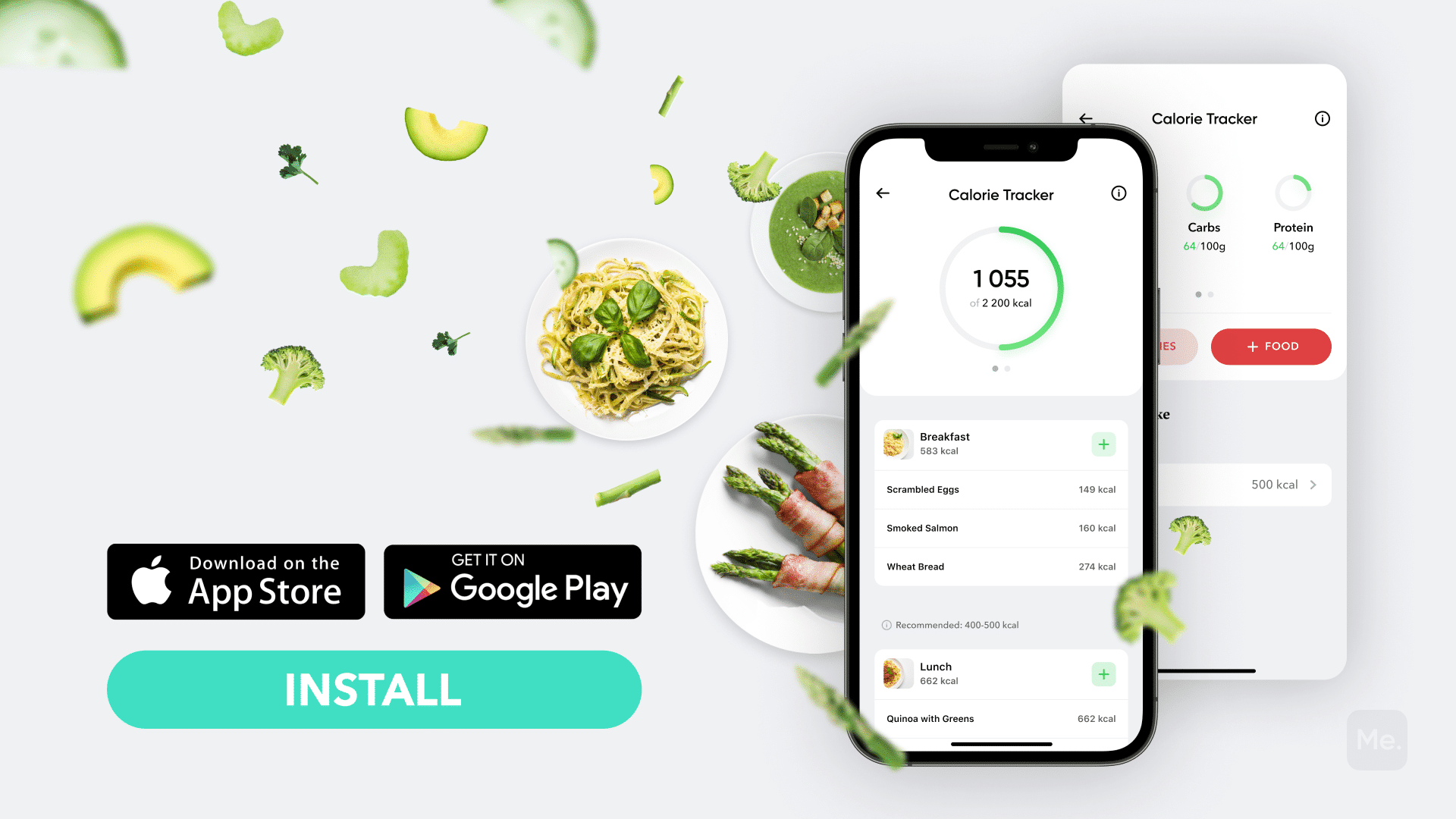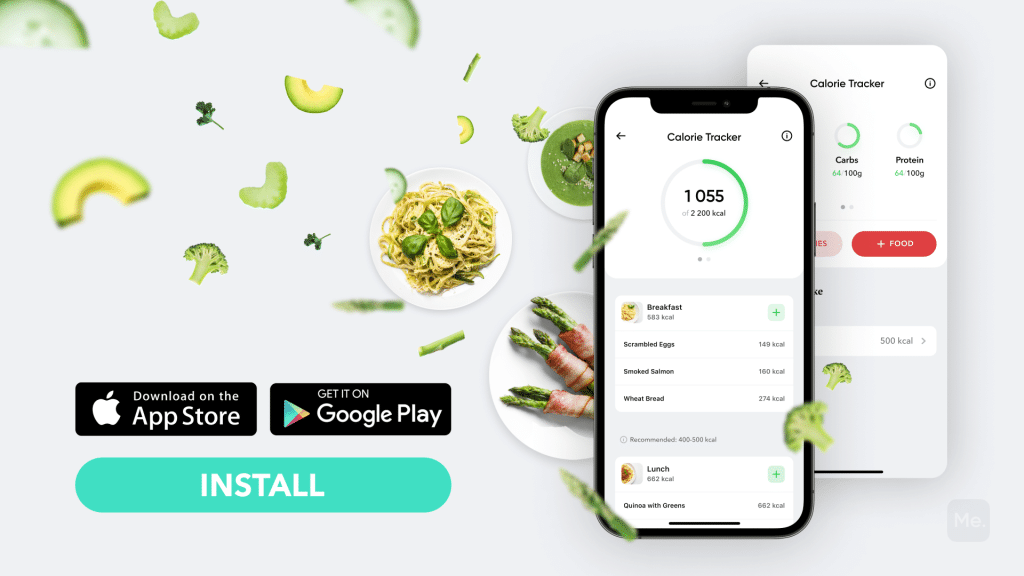 Zucchini Fries (4)
With zucchini, the meals you can prepare are endless. The best part is that zucchini is suitable for keto and even vegan diets. Top of the keto zucchini recipes is zucchini fries.
Ingredients
2 medium zucchini, peeled

1 large egg

1 tablespoon of low carb ranch dressing or mayonnaise

1 cup almond flour

1/2 teaspoon garlic salt

1/2 teaspoon pepper

1/2 teaspoon garlic powder

1/2 teaspoon paprika

1/2 cup Parmesan cheese
Method
Preheat the oven to 400 degrees.

Slice the zucchini into shapes that resemble that of french fries. Then dry the zucchini. 

Set up the first bowl, and in it mix the egg and ranch dressing until perfectly combined.

In a second bowl, mix the flour, spices and parmesan cheese.

Roll the zucchini in the egg mix then the almond flour mixture and place in the baking sheet.

Spray the fries with cooking spray. Bake for 15 minutes then carefully turn with a fork. Bake for another 10 minutes or so.

Dip in ketchup or dressing of your preference. 
Servings: 4
Macros: 240 calories, 11.8g protein, 5.5g carbs, 2.3g fiber, 19.7g fat
Intense sweat sessions, working weight loss tips, lip-smacking recipes come in one package with the BetterMe app. And all of it is at your fingertips, start transforming your life now!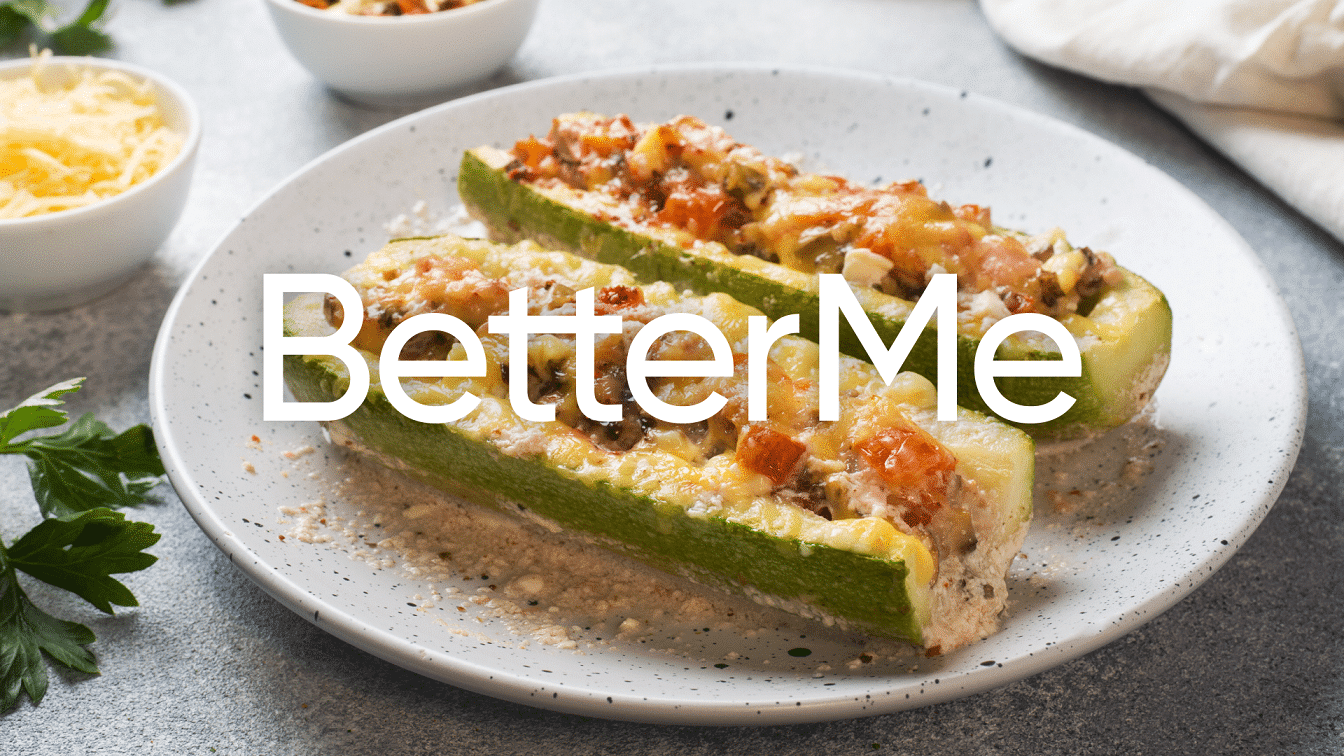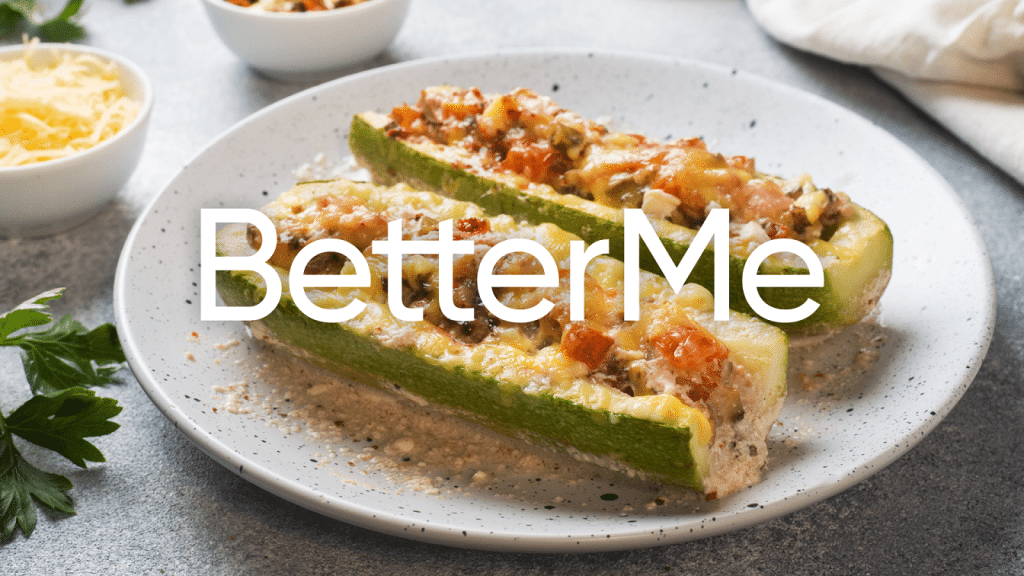 Conclusion
Zucchini is an ideal squash for many reasons – it's rich in nutrients, antioxidants and is low in calories. You can use it to prepare breakfast, dinner or even a snack. Try adding it to your meal to enjoy its many benefits for health.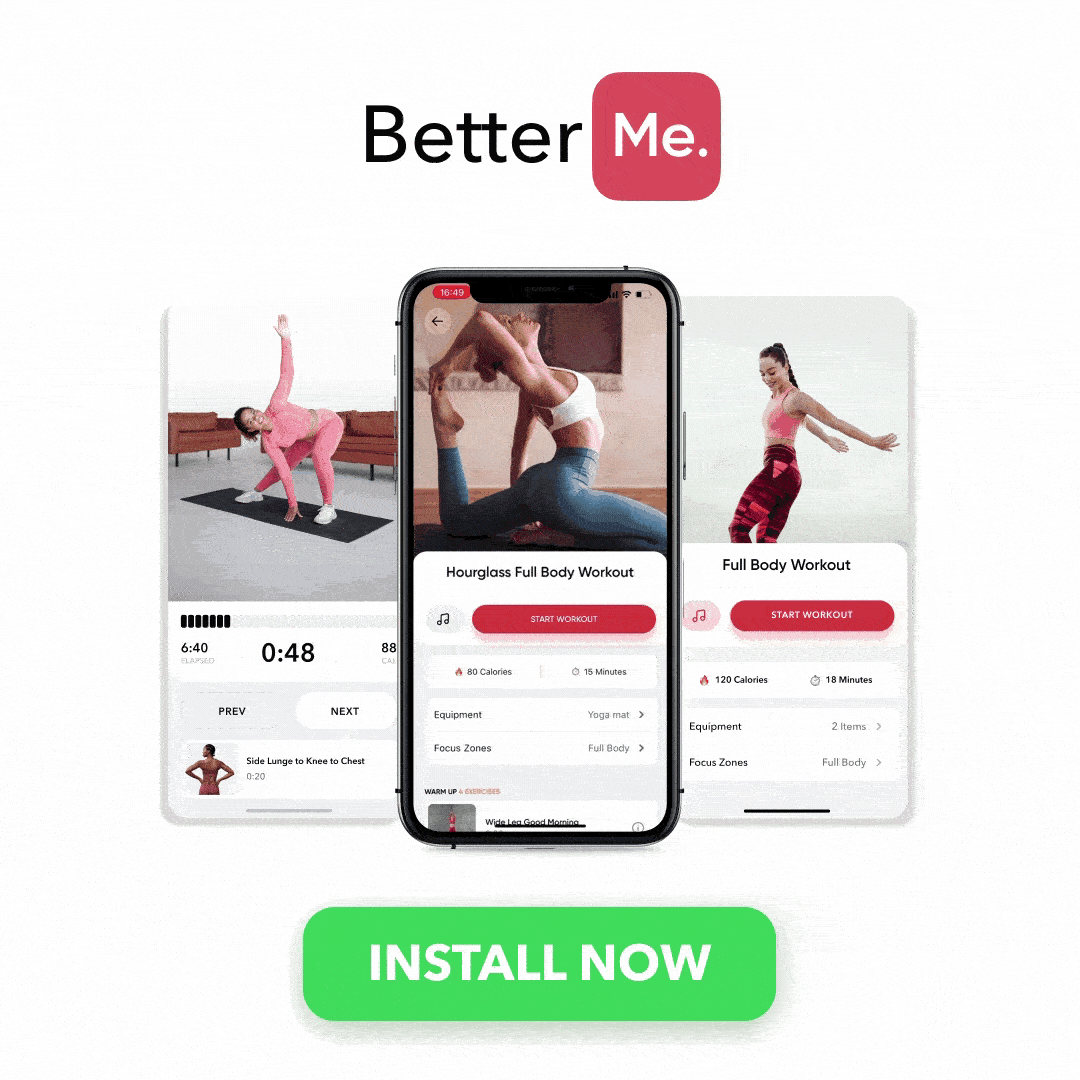 DISCLAIMER:
This article is intended for general informational purposes only and does not address individual circumstances. It is not a substitute for professional advice or help and should not be relied on to make decisions of any kind. Any action you take upon the information presented in this article is strictly at your own risk and responsibility!
SOURCES: