Losing weight and living a healthy lifestyle are among the fitness goals of many health conscious persons. This is often not as easy as it sounds. Perhaps this is because it entails dietary changes, such as ditching unhealthy eating patterns like regularly eating junk food. What if we told you that you could swap these foods for healthier options with the same if not better flavors?  Here we will go over 10 of the best healthy food alternatives for junk food.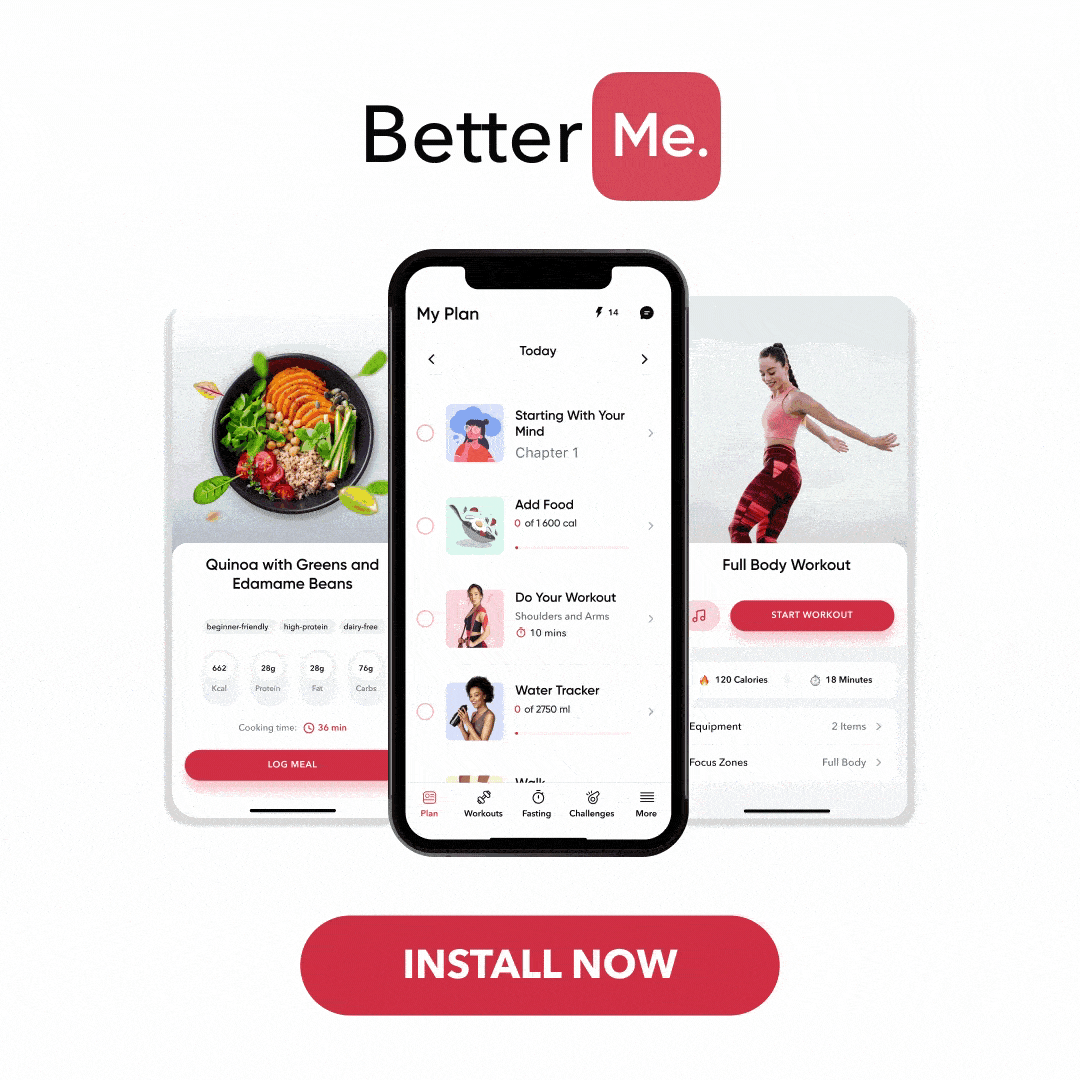 10 Healthy Food Alternatives To Fast Food
Giving up junk food may sound unimaginable, but it is possible. You can swap them with healthy food alternatives with similar flavors yet lower in calorie and fat contents while also higher in nutrients. Take a look at these recommendations:
Kale Chips
Kale chips are a healthier substitute for potato chips. So, you can choose them if you are craving salty and crunchy chips. Good news is that they are low in fat and calories and have a more nutritional value than potato chips. Here is an easy recipe from WebMD on how to make kale chips (12):
Ingredients:
1 large bunch (about 16 cups) of kale, tough stems removed, leaves torn into pieces 

1 tbsp. extra-virgin olive oil

1/4 tsp. salt
Preparation (12):
Preheat the oven to 400°F and position the racks in the upper third and center of the oven.

If the kale is wet, thoroughly pat dry with a clean kitchen towel, then transfer to a large bowl. Drizzle the kale with the oil and sprinkle with salt. Use your hands to massage the oil and salt onto the kale leaves to coat evenly. Fill 2 large rimmed baking sheets with a layer of kale and do not overlap the leaves.  

Bake until they are crisp, switching the pans back to front and top to bottom halfway through, for 8 to 12 minutes total. (Start checking after 8 minutes to avoid burning.)
Nutrients (12):
Calories- 110

Total fat- 5 g

Total carbs- 16 g

Fiber- 6 g

Protein- 5 g
Read More: Weight Gain Food List: 24 Best Healthy Foods For Gaining Weight Fast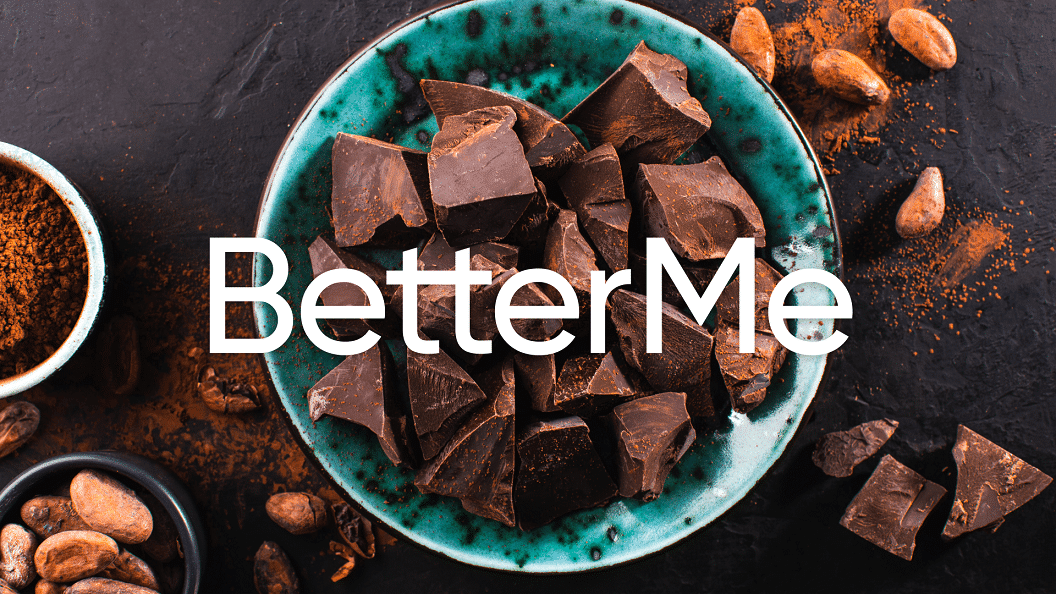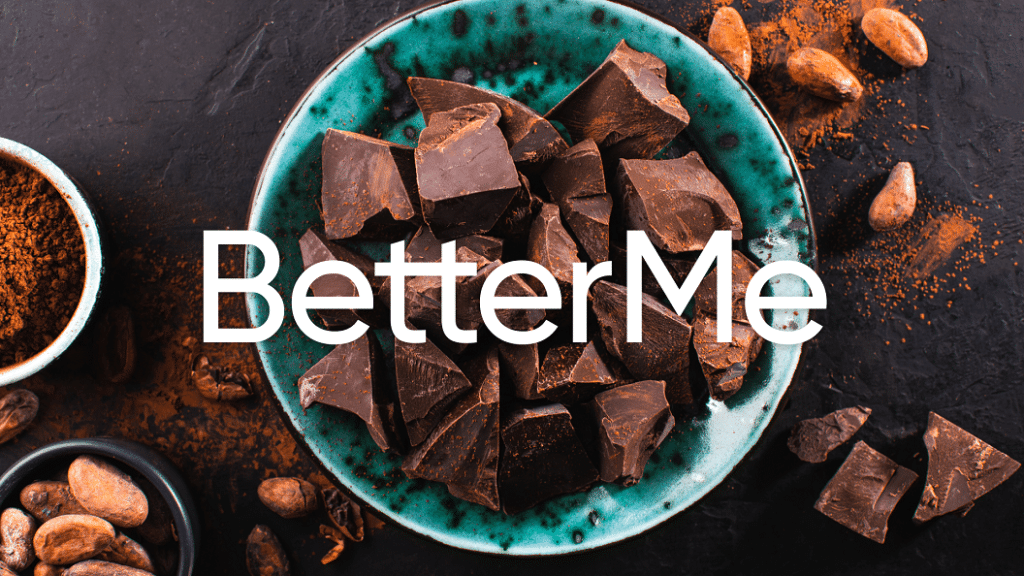 Dark Chocolate
Dark chocolate is one of the best food substitutions for sweets. It is rich in antioxidants, vitamins, and essential minerals that benefit your body. For instance, evidence shows that as part of a healthy diet, dark chocolate may help lower heart disease risk, reduce insulin resistance and inflammation, and improve brain function (13).
Dark chocolate also is low in fat and calories. According to Medical News Today, a 101 g serving of dark chocolate with 70% to 85% cocoa solids provides (13):
Calories- 604

Protein- 7.87 g

Fat- 43.06 g

Carbs- 46.36 g

Fiber- 11 g
Additionally, the chocolate is loaded with essential nutrients like magnesium and zinc. However, experts suggest consuming chocolate in moderation, because it still contains added sugar and is usually high in calories. Choose varieties  with higher percentages of cacao solids and stick to around 20 to 30 g of dark chocolate per day, which is the amount typically used in studies on its benefits (13).
Hummus
Hummus is a healthy food alternative to mayonnaise as a sandwich spread or dip. It is made from pureed chickpeas and may contain flavoring agents such as lemon juice, tahini, salt, and oil (11). There are several types of hummus to choose from, with extra flavoring ingredients like red pepper and nuts.
According to the United States Department of Agriculture database, you can make hummus at home using chickpeas, garlic, lemon juice, olive oil, and sesame seeds. A 2 tablespoon (30 g) serving of this home-made hummus provides (10):
Calories- 53

Total fat- 2.6 g

Protein- 1.5 g

Fiber- 1.2 g

Carbs- 6 g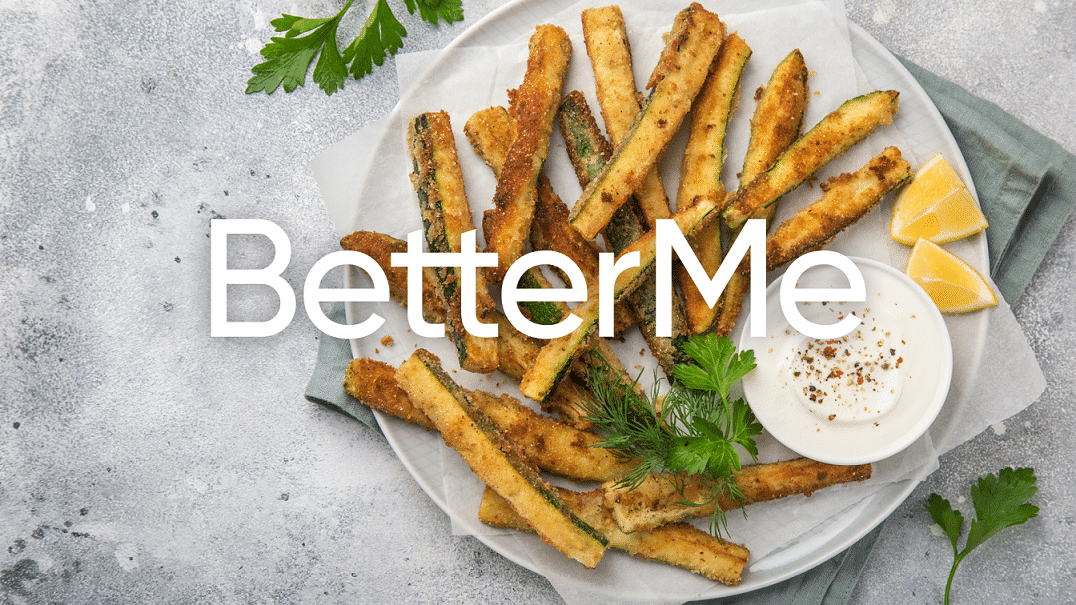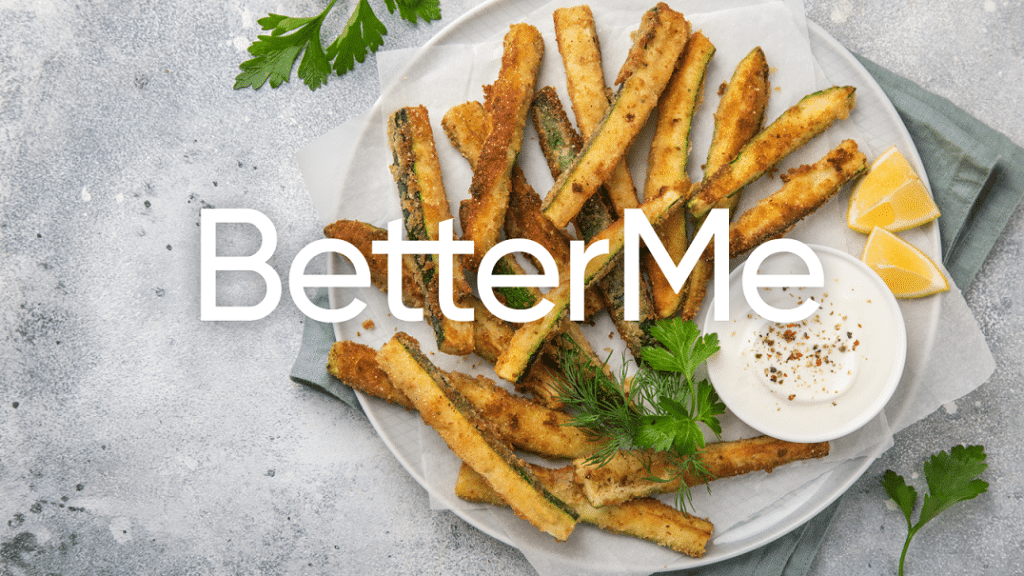 Celery Sticks With Blue Cheese Dip
Celery sticks are excellent snack ideas when craving crunchy unhealthy snack foods like potato chips or crisps. Here is a recipe from BBC Good Food that has elevated the flavor of the sticks by making a tangy, creamy sauce the centerpiece (4):
Ingredients (4):
1 head celery, cut into batons

150 g blue cheese, crumbled (Danish or Roquefort)

300 g soured cream or crème fraîche

100 g mayonnaise

1 tsp. Worcestershire sauce

1 tbsp. white wine vinegar
Preparation (4):
Take a medium-sized bowl and mix the mayonnaise, soured cream, blue cheese, Worcestershire sauce, white wine vinegar, and seasoning. Pour into a serving bowl and use it as a dip for the celery sticks.
Nutrients (4):
Calories- 158

Total fat- 15 g

Carbs- 2 g

Fiber- 1 g

Protein- 4 g
Looking for a way to break the vicious cycle of weight loss and tone up all the jiggly parts? Watch the extra pounds fly off and your muscles firm up with the BetterMe app!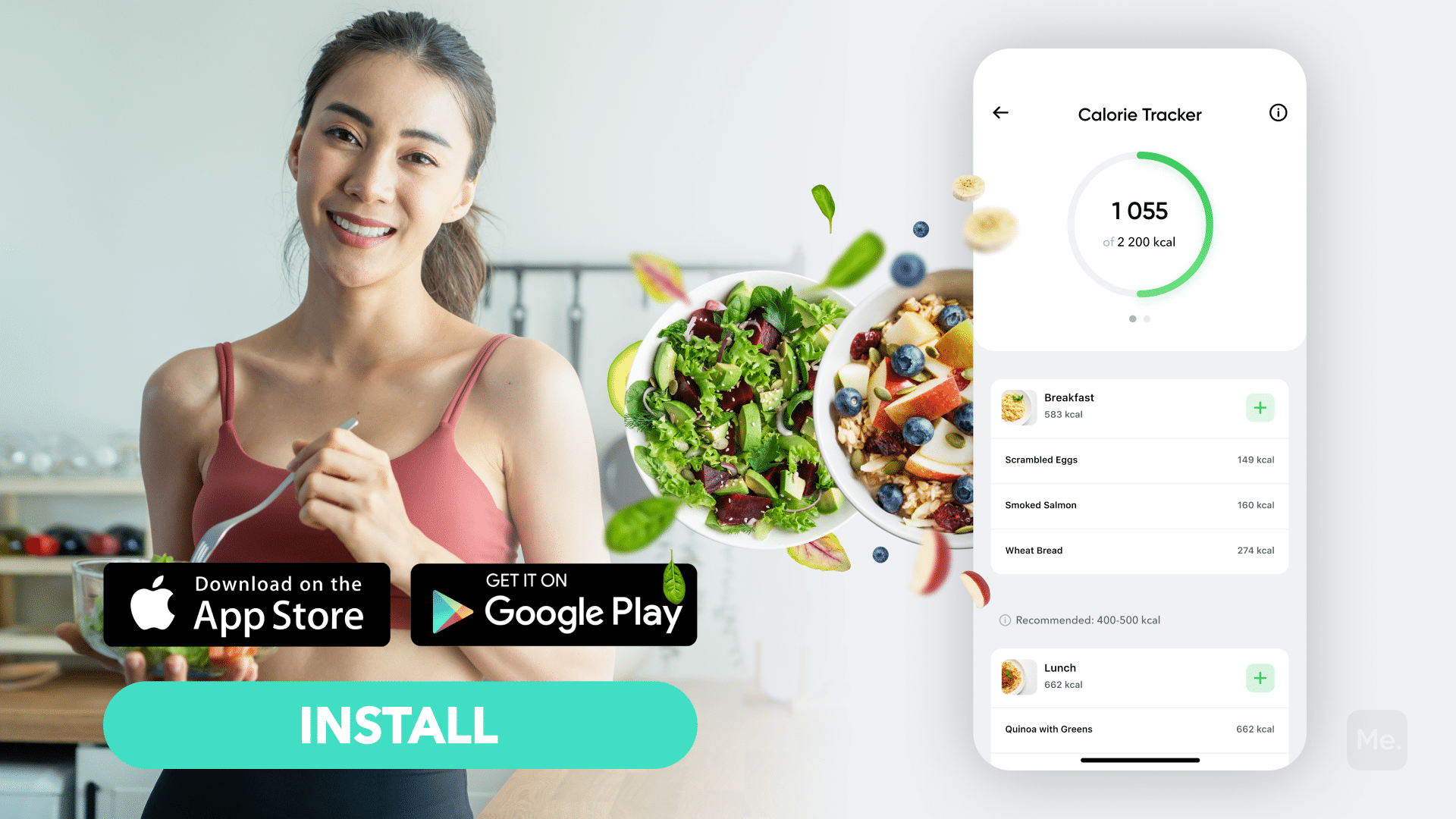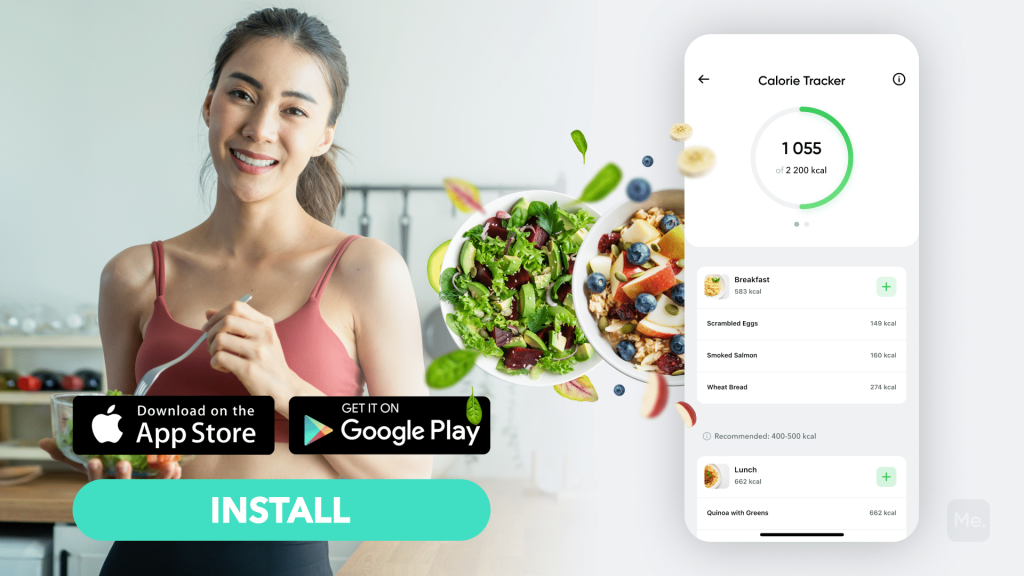 Baked Sweet Potato Fries (2)
French fries are one of the comfort foods that most people go for despite being unhealthy. They are tasty and easy to binge on but pack on a lot of calories. The good news is that you can get a similar flavor yet fewer calories from their alternative, baked sweet potato fries or wedges. Here is an easy yet delicious sweet potato fries recipe from Food Network to try (2):
Ingredients (2):
2 medium sweet potatoes, peeled

2 tbsp. good olive oil

1 tbsp. light brown sugar

1/2 tsp. kosher salt, plus extra for sprinkling

1/2 tsp. freshly ground black pepper
Preparation (2):
Preheat the oven to 450 degrees.

Halve the sweet potatoes lengthwise and cut each half into 3 long spears. Toss them with olive oil, then place them on a sheet pan. Be sure to spread them in one layer. Mix the salt, brown sugar, and pepper, then sprinkle on the potatoes. Bake for 15 minutes, then bake for another 5 to 10 minutes, until lightly browned. Sprinkle lightly with salt and serve hot.
Nutrients (2):
Calories- 124

Total fat- 7 g

Carbs- 15 g

Fiber- 2 g

Protein- 1 g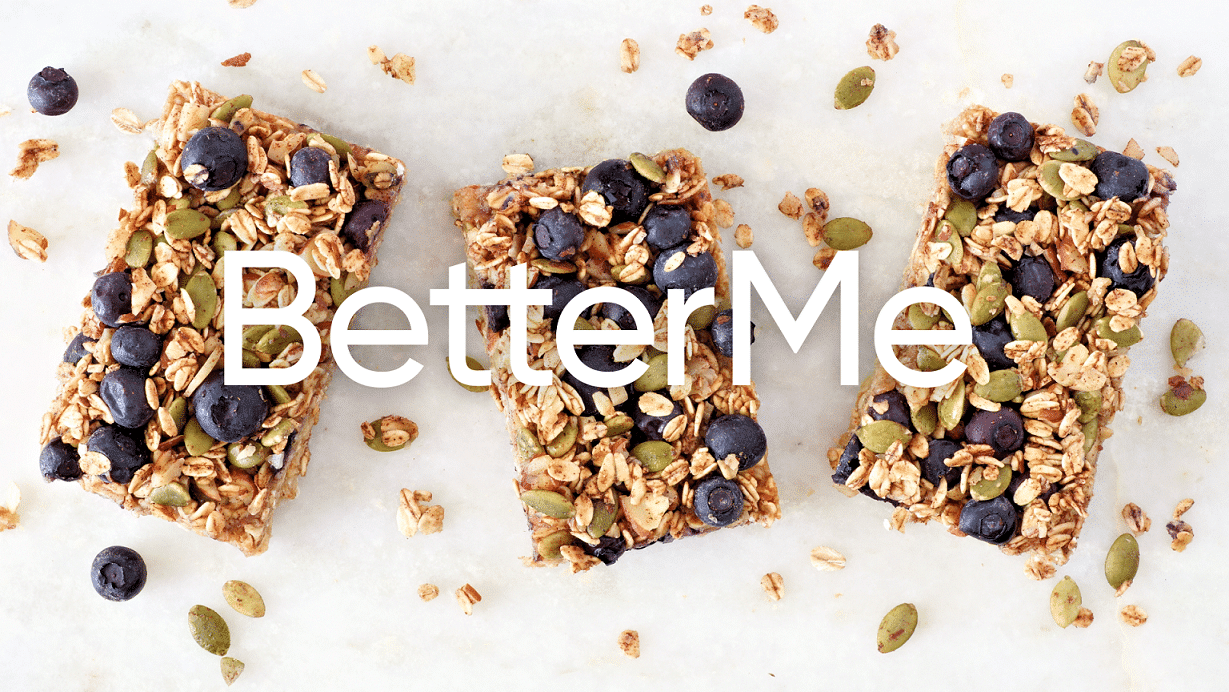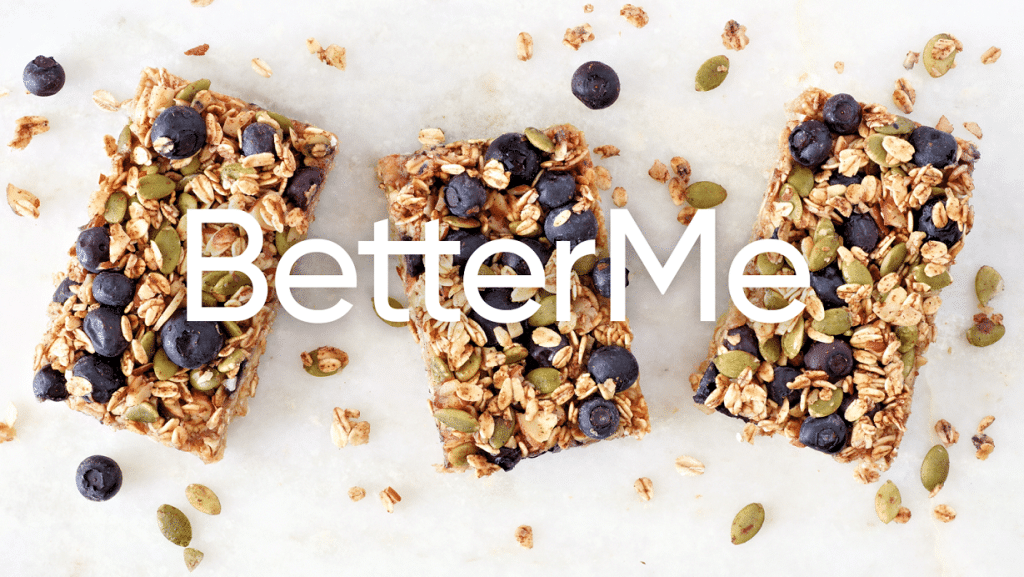 Blueberry Baked Oats (3)
Oats are perfect for breakfast, unlike cereal. They have plenty of nutrients that may help your body lower your cholesterol levels and reduce the risk of coronary artery disease (1). They are also rich in antioxidants and fiber which help fight obesity and chronic disease risk (1).
Ingredients (3):
200 g jumbo porridge oats

450 g blueberries, plus extra to serve

500 ml almond milk

30 g whole, skin-on almonds, roughly chopped

2 tbsp. almond butter

1 small ripe banana, mashed

1 tsp. baking powder

1 egg, beaten

½ tsp. almond extract or 1 tsp. vanilla extract (optional)

Milk or fat-free yogurt and honey, to serve (optional)
Preparation (3):
Heat the oven to 200C/180C fan/gas 6. Combine all the ingredients in a large bowl.

Pour the mixture into an ovenproof dish, then bake for 30 to 35 minutes until piping hot in the middle. Serve warm with some yogurt or milk, honey and blueberries, if you like.
Nutrients (3):
Calories- 386

Total fat- 22 g

Carbohydrates- 34 g

Fiber- 6 g

Protein- 10 g
Read More: 12-Hour Night Shift Meal Plan: Healthy Foods To Keep You Energized All Night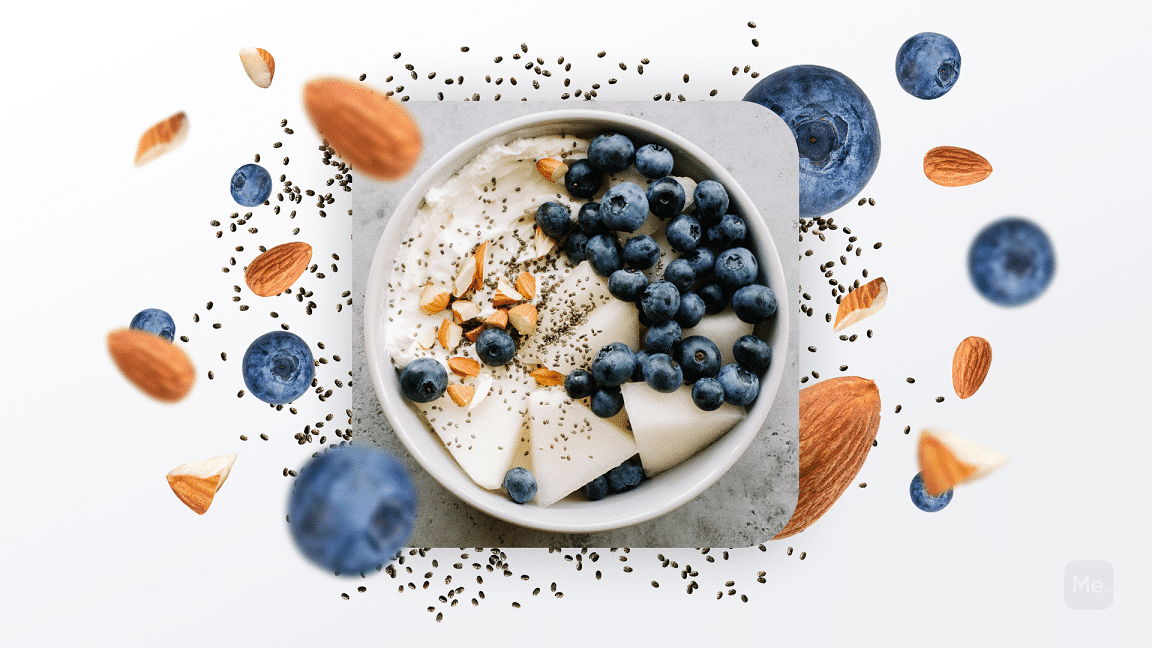 Frozen Yogurt (7)
Giving up ice cream can be difficult for most people. What if we told you you could get the same sweet taste and more from frozen yogurt? Yes, frozen yogurt is a healthy alternative to ice cream. 
Like ice cream, frozen yogurt also comes in different varieties and flavors, meaning you also have a choice. Additionally, frozen yogurt contains probiotics that help build a healthy gut (8). It still contains added sugar, so moderation is key. WebMD reveals that a half-cup of regular frozen yogurt contains (8):
Calories- 120

Protein- 4 g

Fat- 2 g

Carbs- 22 g
Check out this frozen yogurt recipe to consider from WebMD:
Ingredients (7):
1 16-ounce (about 3 1/2 cups) package of frozen unsweetened strawberries

1/2 cup sugar, preferably instant-dissolving

1/2 cup nonfat plain yogurt

1 tbsp. lemon juice
Preparation (7):
Pulse the strawberries and sugar in a food processor until coarsely chopped. Mix the yogurt and lemon juice in a measuring cup, then gradually pour the mixture into the food processor. Process until smooth and creamy while scraping the sides of the work bowl. Serve immediately.
Nutrients (7):
Calories- 183

Total fat- 0.3 g

Carbohydrates- 45.3 g

Protein- 2.6 g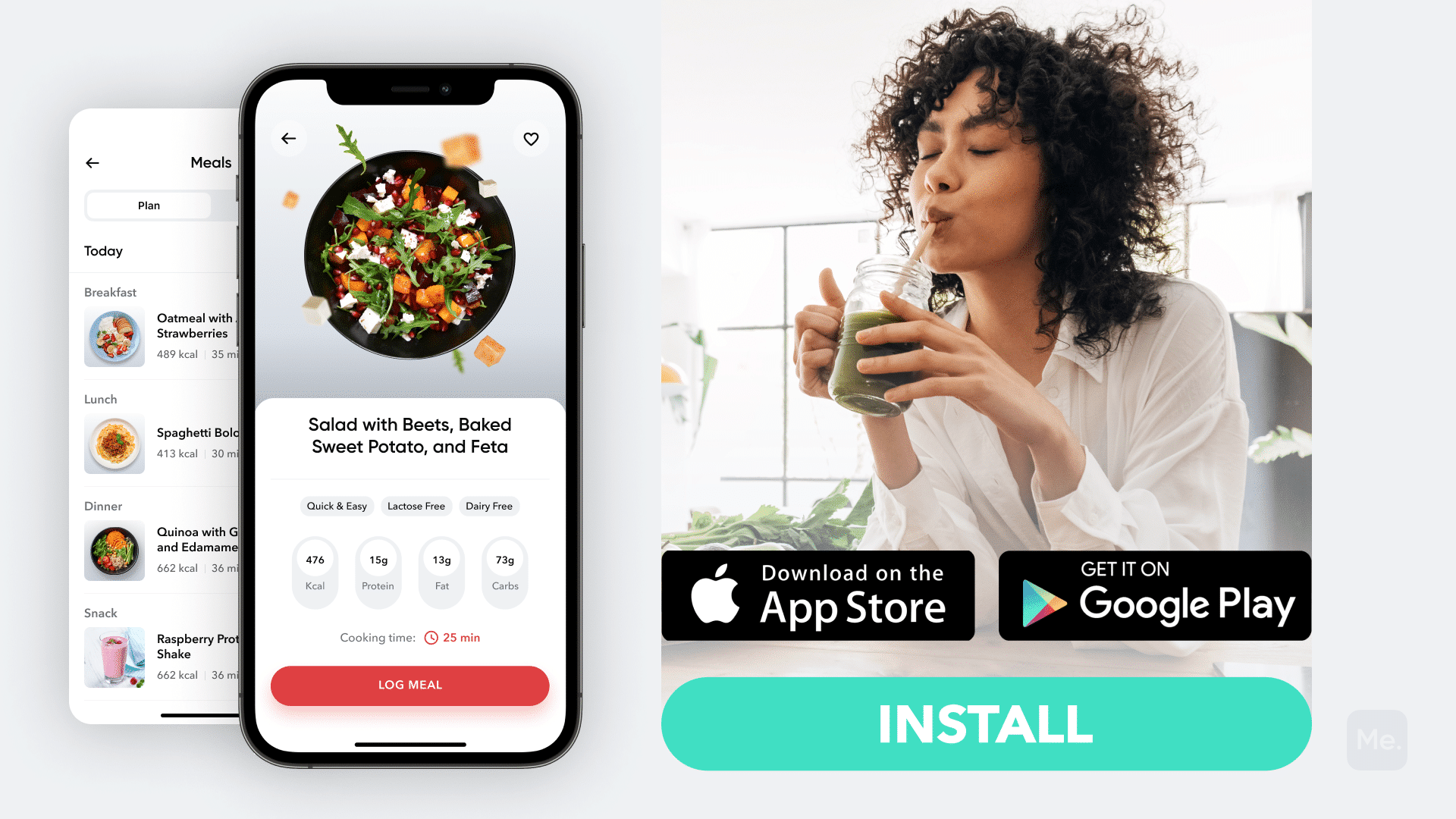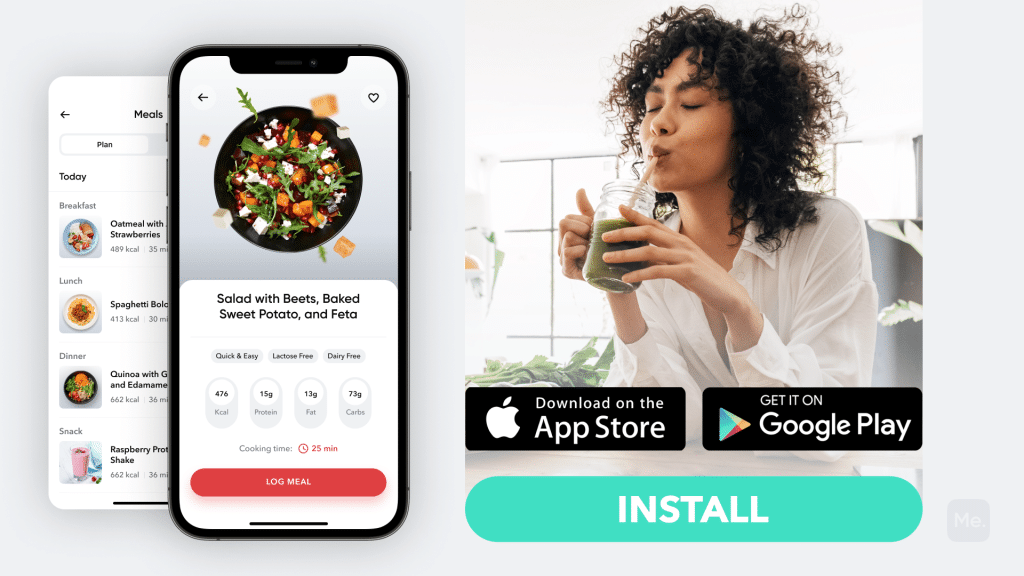 Curry And Lime Spiced Popcorn (5)
Popcorn is one of the healthy snack alternatives to junk food, like fries. It contains fewer calories, salt, and fat than fries do. There are numerous popcorn recipes to follow, depending on the flavors you want. Here is an easy popcorn recipe to follow from BBC Food (5):
Ingredients (5):
45 g/1½oz popping corn

2 tsp. light olive oil

½ tsp. cumin seeds

¼ tsp. ground cinnamon

1 tsp. mild curry powder

¼ tsp. finely grated lime zest

Pinch sea salt
Preparation (5):
Place a covered saucepan over medium heat. Lightly toast the cumin seeds for 1 to 2 minutes, then put them in a bowl.

Add the oil and corn to the pan and stir well. Cover and cook for a few minutes while shaking the pan every few seconds until the corn starts to pop. Be sure to keep shaking while popping to prevent the corn from burning.

Mix the toasted cumin seeds, cinnamon, curry powder, and lime zest.

Sprinkle the seasoning, and a pinch of salt over the popcorn, then serve immediately.
Nutrients (5):
Calories- 66

Protein- 1.7 g

Carbohydrates- 9 g

Total fat- 2.5 g

Fiber- 1 g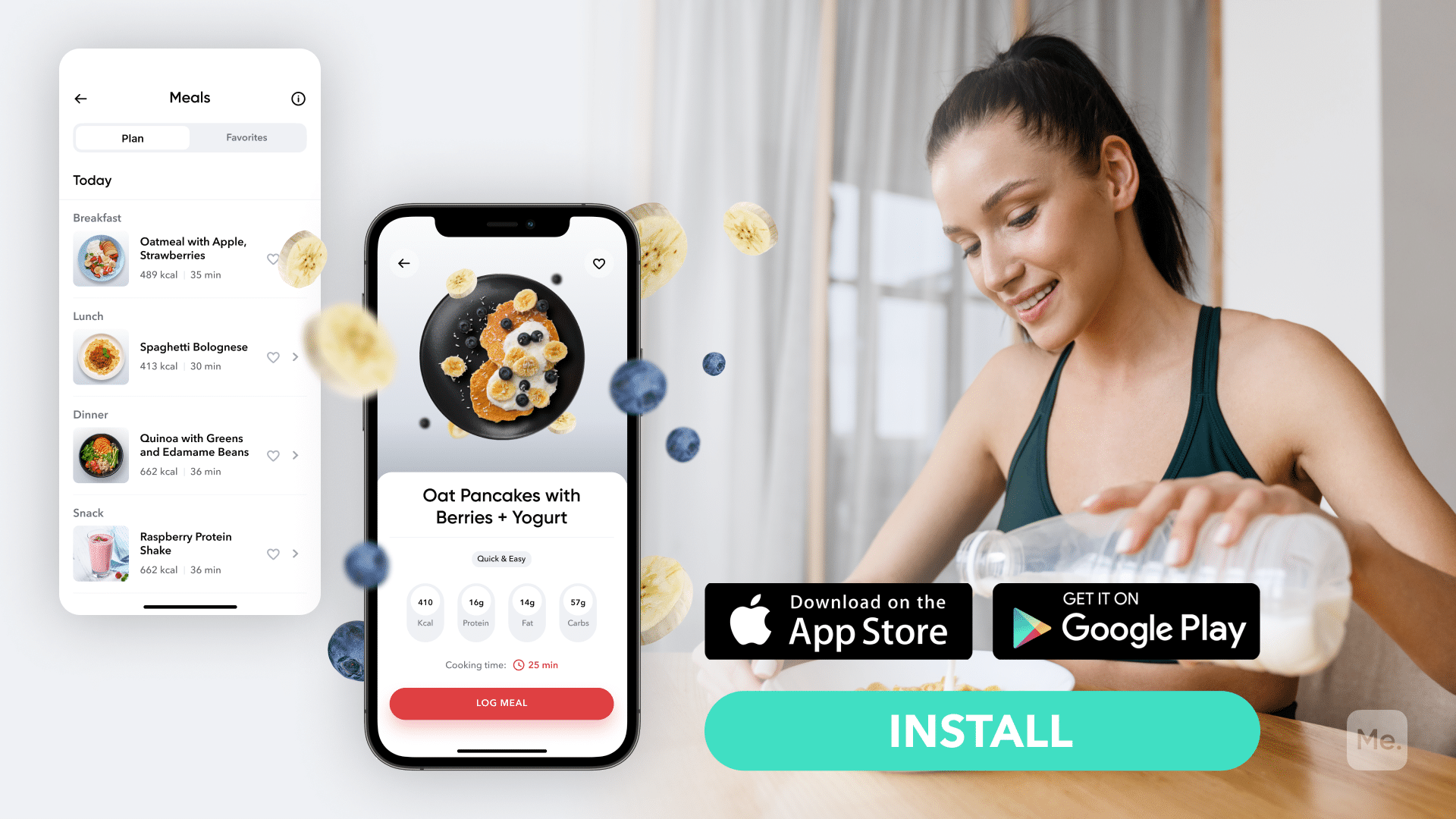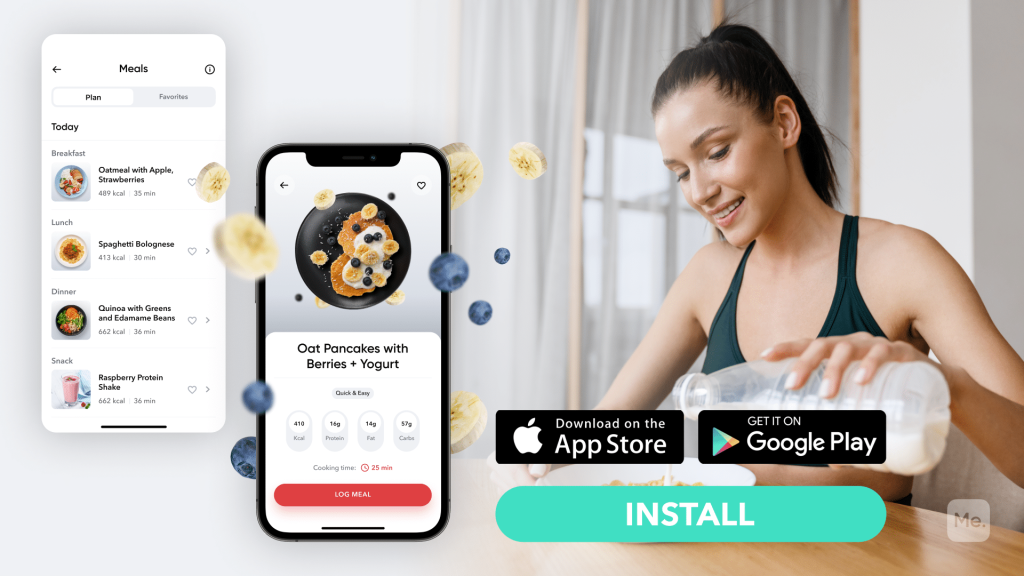 Healthy Blueberry Muffins (9)
Healthy blueberry muffins are excellent alternatives to cookies. They are prepared with whole meal flour for extra fiber and are an excellent food option for breakfast, brunch or afternoon tea. Here is the recipe to follow, as obtained from BBC Food (9):
Ingredients (9):
250 g/9 oz. wholemeal flour

Butter for greasing, or coconut oil or cooking oil spray 

125 ml/4fl oz. honey or maple syrup

140 g/5 oz. Greek-style yogurt

2 free-range eggs, preferably at room temperature

125 g/4½ oz. fresh or frozen blueberries

1 tsp. baking powder

2 tsp. vanilla extract

½ tsp. bicarbonate of soda

100 ml/3½fl oz. extra virgin olive oil

½ tsp. fine sea salt

¼ tsp. ground cinnamon

1 tsp. plain flour

1 tbsp. granulated sugar for sprinkling (optional)
Preparation (9):
Preheat the oven to 220C/200C Fan/Gas 7. Grease about 12 muffin tin holes with coconut oil, butter, or cooking oil spray or line the tins with paper muffin cases. You do not have to grease or line with paper cases if you have non-stick 12-hole muffin tins.

Mix the whole meal flour, bicarbonate of soda, baking powder, salt and cinnamon in a large bowl.

Take a medium bowl and whisk the oil and honey or maple syrup. Beat the eggs well into the mixture, then add the vanilla and yogurt and whisk. Pour the wet mixture into the dry one and mix well using a wooden spoon.

Put the blueberries in a small bowl and mix with the plain flour (It prevents them from sinking to the bottom of the muffins). Gently fold the blueberries into the thick mixture.

Divide the mixture between the 12 muffin cups. Sprinkle the tops with sugar (optional). Bake for 15 to 20 minutes, until the muffins are golden on top. Transfer to a rack to cool.
Nutrients (9):
Each muffin contains:
Calories- 200

Protein- 5 g

Total carbs- 24 g

Total fat- 9 g

Fiber- 2 g
If you tend to let yourself off the hook, raise the white flag when things get tougher than you expected, send yourself on an unconscious binge-eating trip – BetterMe app is here to help you leave all of these sabotaging habits in the past!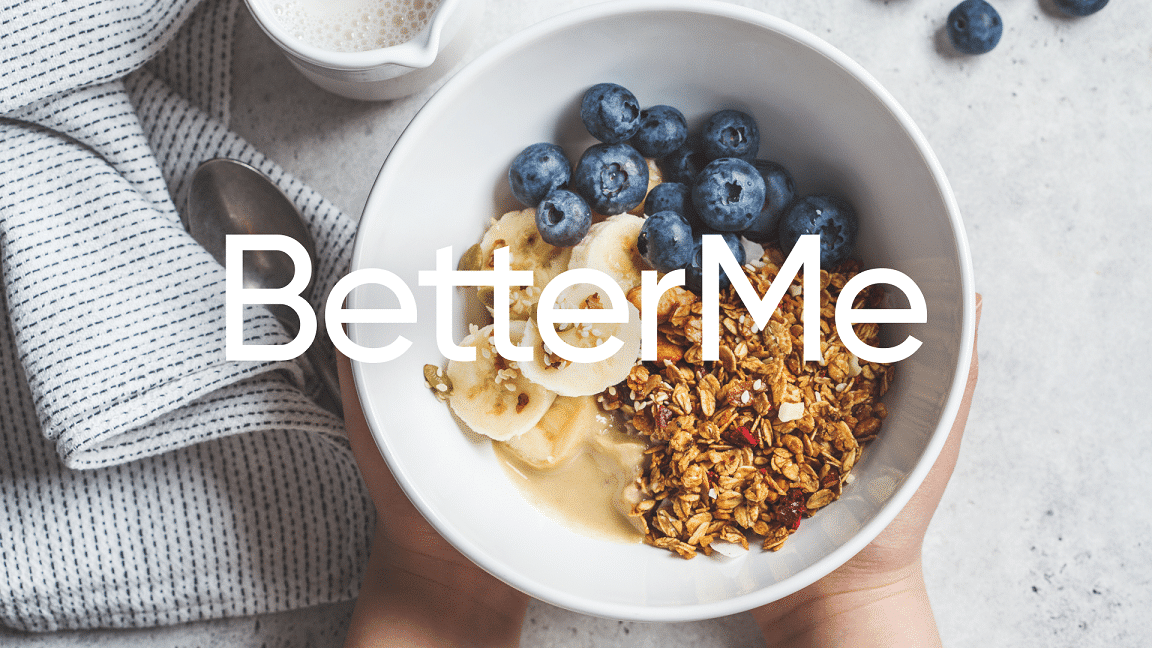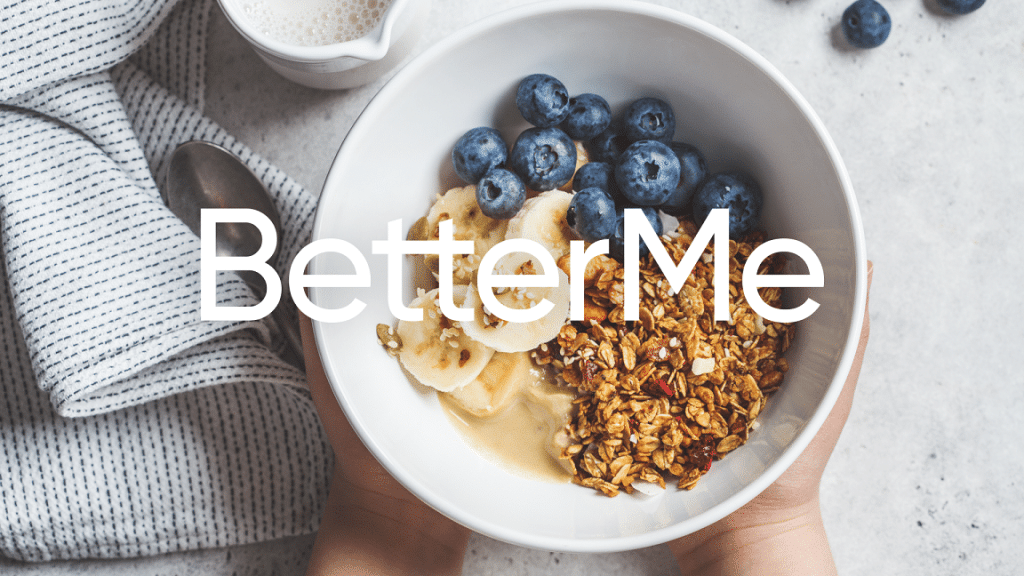 Dried Fruit Energy Nuggets (6)
Swap candy for these sweet and healthy dried fruit energy nuggets. This is one of the healthy alternative recipes, and it is as follows, as obtained from the BBC Good Food website (6):
Ingredients (6):
100 g soft dried date

50 g soft dried apricot

50 g dried cherry

2 tsp. coconut oil

1 tbsp. toasted sesame seed
Preparation (6):
Add the dates and cherries to a food processor and whizz until finely chopped. Put the mixture in a bowl and add the coconut oil using your hands. Shape the mixture into walnut-sized balls, then roll in sesame seeds. Store in an airtight container if you are not consuming immediately.
Nutrients (6):
Calories- 113

Protein- 2 g

Total carbs- 21 g

Total fat- 3 g

Fiber- 2 g
The Bottom Line
Eliminating junk food from your diet is a significant step towards losing weight and leading a healthy lifestyle. To help you cut junk food from your diet, experts suggest taking simple steps like swapping them for healthier food alternatives.
For example, you can swap french fries with baked sweet potato fries or wedges. Similarly, you could swap potato chips with kale chips. Be sure to talk to your doctor and dietitian before making any major dietary changes, especially if you are being treated for any medical conditions.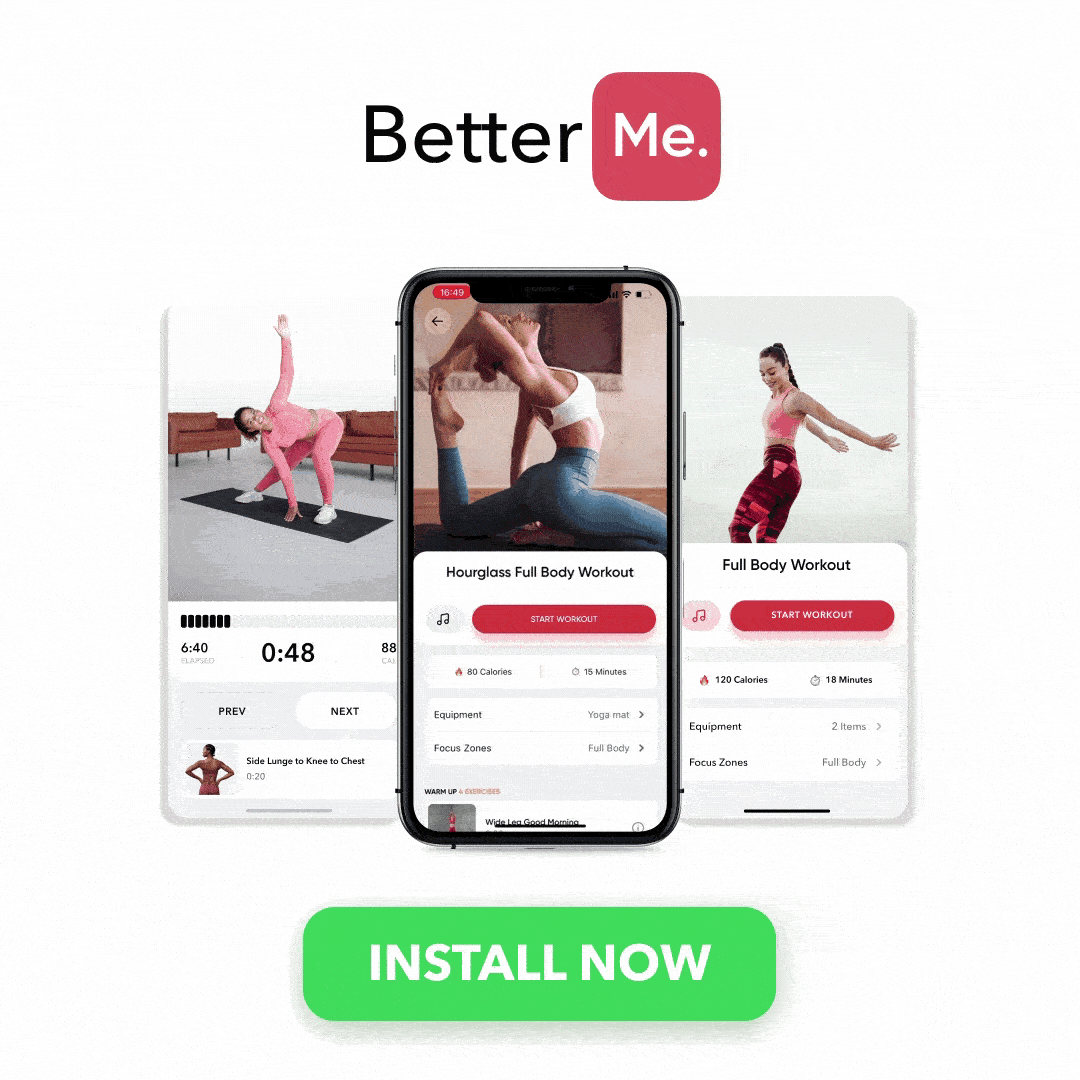 DISCLAIMER:
This article is intended for general informational purposes only and does not address individual circumstances. It is not a substitute for professional advice or help and should not be relied on to make decisions of any kind. Any action you take upon the information presented in this article is strictly at your own risk and responsibility!