Chair yoga is a gentle form of yoga that is slowly but steadily gaining popularity all over the world. Unlike traditional yoga, this variation has been praised for being more inclusive and accessible – especially among certain demographics like older adults, people with disabilities and even with beginners to yoga. When it comes to learning a skill or building a habit, joining a challenge is the best way to go. Here are some reasons why you should consider doing a 21 day chair yoga challenge.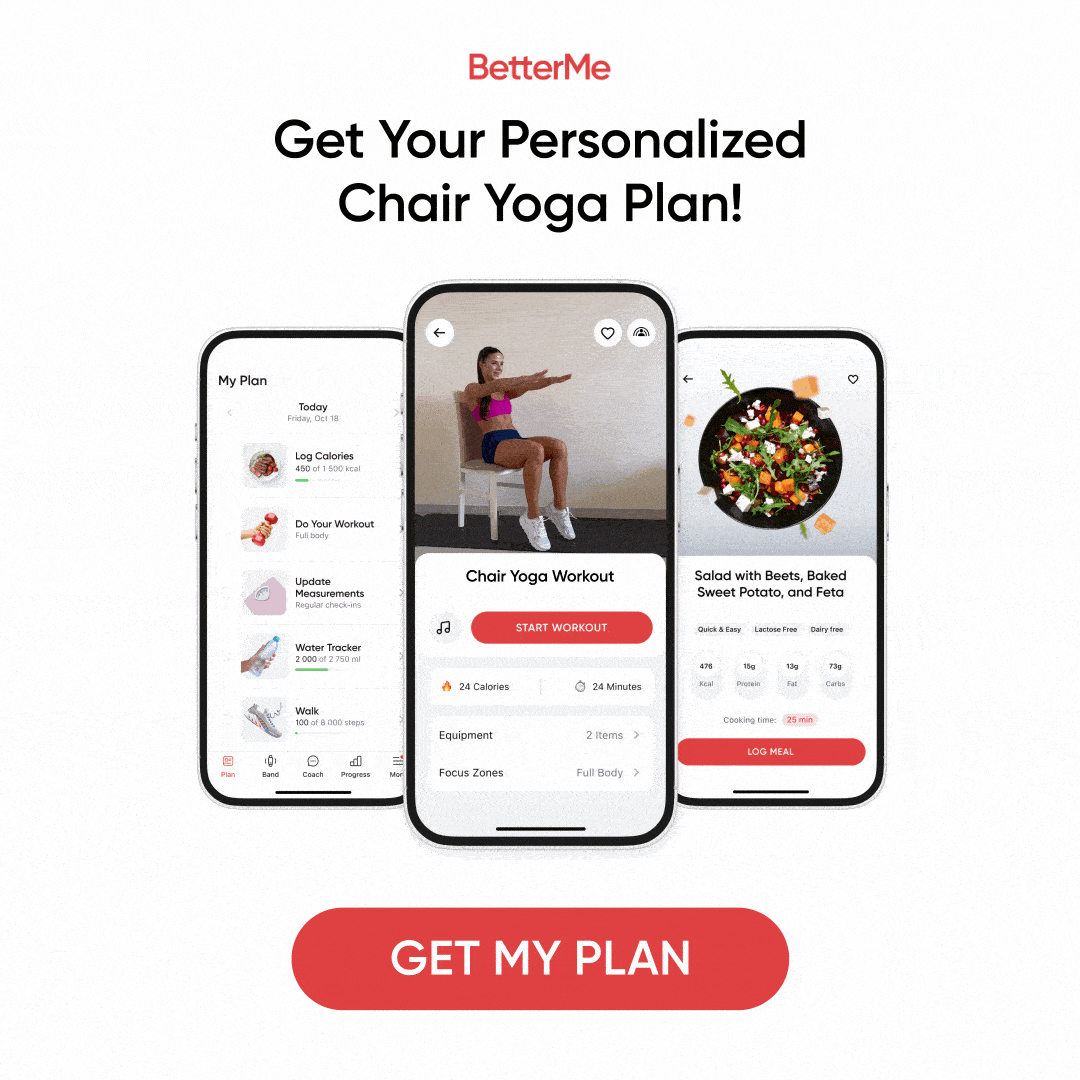 What Is 21 Day Chair Yoga?
As the name suggests, this is a 21 day challenge where you dedicate yourself to do chair yoga poses. Through this challenge, you are able to not only stretch your body, but also meditate, build your muscle strength and even improve your balance.
Why 21 Days Of Chair Yoga?
To build on consistency and form a routine.
While the popular myth that it takes 21 days to build a habit has been debunked, there is no doubt that continuously doing something for a long while is very likely to become a routine to you and eventually turn into a habit (3, 7).
If you are new to yoga, or simply working out in general, choosing to start a 21 day chair yoga exercise challenge is a simple way to slowly build this behavior into a routine that you are likely to continue even after 3 weeks.
Read More: Chair Yoga Routines For Every Age And Ability: A Comprehensive Guide
What Are The Benefits Of Doing A 21 Day Chair Yoga Workout?
Some reasons why 21 day chair yoga is good for you include:
Increased flexibility

– While everyone could do with better flexibility, older adults benefit from this more than younger people. 
A 21 day chair yoga challenge for seniors will help them become more flexible which relieves tension in their joints, enables them to move more freely, reduces their reliance on others, improves balance which in turn reduces the risk of falling and fracture, and much more (1).
Stress management

– According to statistics by

The American Institute of Stress

, Americans are among the most stressed people in the world (

8

). Yoga has long been shown to help manage stress levels (

6

).

Improved mental health

– Stress reduction is not the only mental health related benefit of this exercise. Yoga in general is shown to help people suffering from anxiety, depression, mood disorders, eating disorders, PTSD, OCD and much more (

6

,

2

,

9

).

Chronic pain management

– In a study published in 2019 in the

Journal of Evidence-Based Integrative Medicine,

researchers found that doing yoga twice a week for 8 weeks not only helps reduce pain severity in people living with chronic pain, but it also reduced the number of instances where the lives of these people were interrupted by chronic pain (

11

).
This practice has been shown to help with the management of pain caused by illnesses like fibromyalgia, low back pain, arthritis, neck pain and even headaches (10).
Chair yoga will also boost relaxation, improve sleep quality, and even help with weight loss.
How Much Chair Yoga To Do A Day?
The key to a successful workout plan is not to overdo it. When you overwork/overexercise in the name of quick results, you risk overtraining – a condition that occurs when you workout too much without getting enough rest. Overtraining can lead to reduced performance, extreme fatigue, mood disorders, issues with sleep, depression, inflammation and much more (4).
While chair yoga is generally a very gentle exercise, you should still avoid the risk of overtraining. If you are using chair yoga to simply stretch your muscles, you can do the poses anytime your muscles feel too tight.
However, if you are doing the 21 day chair yoga challenge as a genuine workout plan, we suggest doing it once a day – either in the morning or evening.
BetterMe app will provide you with a host of fat-frying fitness routines that'll scare the extra pounds away and turn your body into a masterpiece! Get your life moving in the right direction with BetterMe!
How Often Should You Do Chair Yoga?
As seen above, you should only do the 21 day chair yoga routine once a day. When it comes to a weekly routine, we suggest doing the challenge two to three times a week – 5 times at most.
In a 21 day chair yoga challenge for beginners, a twice to thrice a week schedule works best as it allows your body ample time to rest and recover from what is essentially a new workout plan. Remember, it is always a good idea to pace yourself at the beginning of any workout routine – no matter how easy it may seem.
If you workout on the regular, 5 times a week may be better for you – but remember to prioritize rest.
Can You Lose Weight Doing Chair Yoga?
Yes, you can. Chair yoga, while relatively gentle, is still exercise and thus it burns calories which will lead to eventual weight loss. However, it should be noted that doing a 21 day yoga for weight loss might not help you lose as much weight as you expect.
Because chair yoga is very gentle, it burns less calories than other kinds of yoga namely Hatha and Vinyasa – two variations that have been shown to help with weight loss (5). It will also burn less calories than doing regular cardio exercise or engaging in weightlifting.
If you want to lose a large amount of weight, do your 21 day chair yoga in tandem with some cardio and bodybuilding exercises – this way you burn more calories and see better and faster results.
Read More: From Stressed To Zen: Here's How Chair Yoga At Work Can Make You Healthier And Happier
The Bottom Line
If you are a beginner to yoga or an older adult looking to build your strength and flexibility, a 21 day chair yoga is the best place to start. Not only do you have a relatively easy workout routine that works for anyone irregardless of age and fitness level, but you also get started on building a healthy routine for a healthy lifestyle. Stop procrastinating and start today!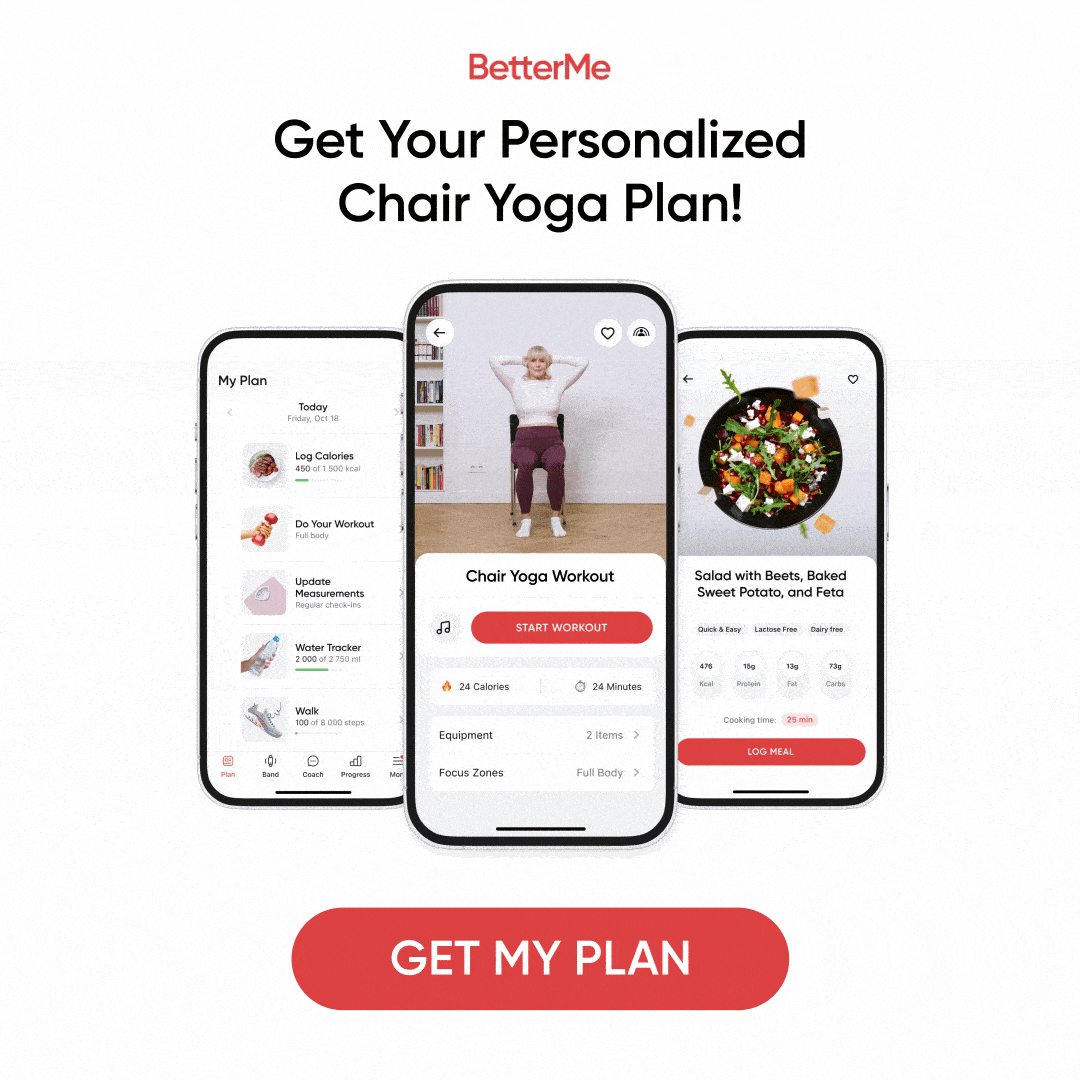 DISCLAIMER:
This article is intended for general informational purposes only and does not address individual circumstances. It is not a substitute for professional advice or help and should not be relied on to make decisions of any kind. Any action you take upon the information presented in this article is strictly at your own risk and responsibility!