Whether trying to manage weight or just eat healthier, we tend to focus on breakfast and dinner. We look at breakfast as "the most important meal of the day" and do our best not to have "too heavy" of a dinner. Meanwhile, lunch becomes an overlooked time when you might overindulge at a fast food place by your office or skip the meal entirely running on quick snacks because of the busy workday. Feeling like your lunch needs more attention? Let's take a look at how healthy low-calorie lunch recipes for weight loss look like!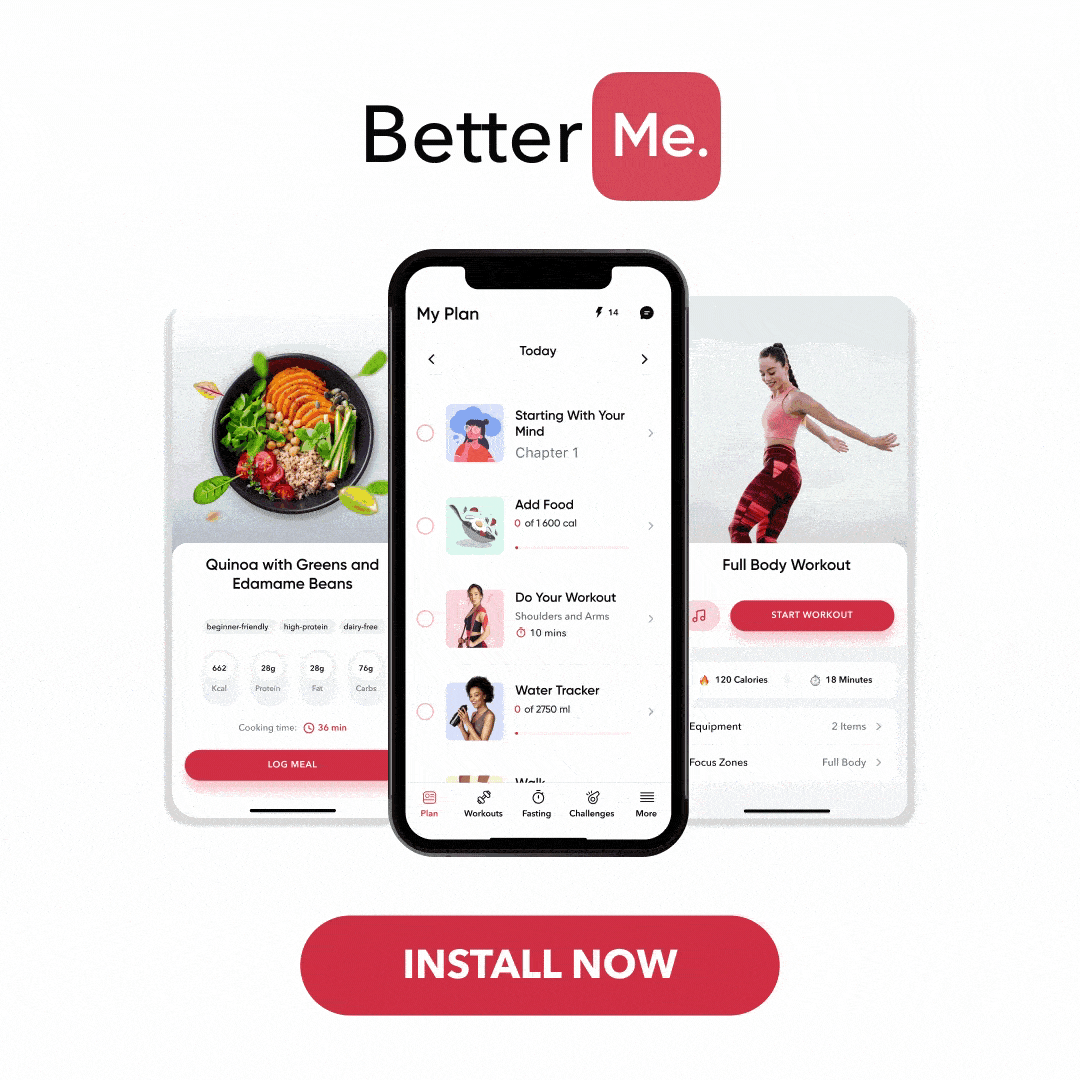 Why You Should Go Low Calorie For Lunch
Going out for lunch we might end up having 1000+ calories in a single meal, which ups your total calorie intake significantly and can slow down weight loss. But even with a home-cooked lunch, going overboard is easy, if you think that a high-calorie lunch will make you eat less at dinner. 
However, according to the study published in The American Journal of Clinical Nutrition (6), when eating higher energy-dense meals, people don't take it into account for the subsequent meals and end up consuming 56% more energy. 
That's why paying attention to the calorie count at lunch is a good idea.
Read More: Best Yogurt For Weight Loss: Low-Calorie Calcium Bombs To Be On The Lookout For
Balancing The Macros: What Makes A Healthy Lunch For Weight Loss
To create a healthy on-the-go lunch you need to adjust the portion size based on your daily energy expenditure. Otherwise, unless you follow a specific diet for health reasons, the rules for a good midday meal are straightforward:
Extra Tips For A Healthy Lunch At Work
Timing matters

, so try to have your lunch before 3 p.m. In the office or at home, busy work makes you put off lunch, but we recommend treating it as seriously as any b

usiness call. To compensate for delayed lunch, you might eat extra snacks you didn't plan for, or overeat when you finally do have lunch. Moreover,

the International Journal of Obesity

published that those eating

late lunches lose weight slower (

17

).

Avoid eating lunch at your desk

. Getting distracted by emails and unfinished tasks promotes mindless eating (

2

). Try to focus on the food and leave your workspace if possible.
If coming up with new meal ideas is your daily struggle, let us do that for you! In BetterMe app, you will find even more low-calorie lunch recipes for weight loss as well as meal plans customized to your goals and dietary preferences. Install BetterMe app to make your next meals healthier and tastier!
Healthy Sandwich Ideas For Lunch
If your lunch of choice is a sandwich, there's a chance you need some swaps to cut on white bread and processed meats. These sandwiches make tasty and healthy on the go lunches:
Green Club Sandwich
You need for a 583kcal serving (8):
3 slices of wholegrain toast

3 tbsp of hummus

1 small avocado

Arugula

Sliced cherry tomatoes (8-12)
Greek Avocado Sandwich
You need for a 560kcal serving (14):
whole wheat bread (2 slices)

1/2 avocado (mashed)

1 tbsp of basil pesto

red bell pepper

cucumber

red onion

6 pitted kalamata olives

spring mix

balsamic vinegar
Baked Tofu Wrap
You need for a 374 kcal serving (16):
Extra-firm tofu cut into cubes

A slice of Swiss cheese

A honey-wheat tortilla

1 tomato 

Fresh spinach 

Buffalo wing sauce to taste

Cooking spray
Instructions:
Marinate tofu in the sauce while preheating the oven to 400F (200C).

On a sprayed baking sheet, bake tofu for 10 minutes on each side.

Put cheese on the tortilla and melt it on a pan.

Wrap with the rest of the ingredients.

Danish Open-Faced Sandwich
You need for a 282 kcal serving (15):
Pumpernickel bread (2 slices)

Unsalted butter (2 tbsp) and horseradish (1 tbsp) to spread on the bread

Sliced smoked salmon

Cucumber (8 slices)

Chopped red onion (1tbsp)

Black pepper

Dill
Read More: Weight Loss Soup Recipes: Filling But Low Enough In Calories To Get Your Weight Loss Moving
Salads Perfect For Your Lunch
Wondering what to eat for lunch to lose weight? The answer is – a salad! Salads are perfect for combining greens and protein. Here are a couple of easy-to-cook low-calorie lunches to go.
Dilled Shrimp Salad On Lettuce Leaves
Mix 2 cups of farfalle pasta, 4 cut asparagus stalks, dill, ½ pound shrimp, 8 cherry tomatoes, green onions, and salad greens. Top with light vinaigrette salad dressing.
With 1 cup of greens and 2 cups of toppings – it's 329 kcals (7).
Asian Edamame Salad
This vinaigrette dressing salad includes 12 ounces of shelled edamame beans, 1 cup of diced cucumbers, 1 red bell pepper, 2 green onions, chopped cilantro, and sesame seeds.
This entire batch totals 440 kcals (3).
Easy Chickpea Salad
Try 1 avocado, ½ fresh lemon for the juice, 1 can of chickpeas, ¼ cup of diced red onion, 2 cups of diced grape tomatoes, 2 cups of diced cucumbers, ½ cup of diced green bell pepper, ½ cup of parsley. You can experiment with the dressing, but olive oil and red wine vinegar with salt and pepper are a safe choice.
This recipe is for 6 servings, 238 kcal each (5).
3 Meal Prep Friendly Low-Calorie Lunch Recipes For Weight Loss
If you don't have time to cook fresh every day, you can prepare ahead of time and stock up your fridge or freezer. Here are some healthy lunch ideas for work to lose weight that will taste good even after a few days.
Brown Rice Stuffed Peppers
Ingredients:
6 green peppers

3/4 cup uncooked brown rice

1 pound lean ground beef (90% lean)

one medium onion, chopped

1 can (8 ounces) tomato sauce

1/4 teaspoon each of dried basil, oregano, and thyme

1/2 teaspoon salt and pepper to taste
Preparation:
To prepare peppers: remove tops and seeds and cook in boiling water for 5 rice.

Cook the rice.

Preheat the oven to 375F.

Use a skillet to cook beef and onion (medium heat) until it's not pink.

Add herbs, spices, and tomato sauce to the skillet and cook for 5 more minutes. Then, stir in rice.

Stuff the peppers with the cooked rice and beef mix.

Bake for 15-20 minutes and enjoy!
You'll get 245 kcals in one stuffed pepper (4).
Inspired by these low-calorie lunch recipes for weight loss? Then continue improving your nutrition and lifestyle with BetterMe app! Download our app for science-backed nutrition tips, personalized meal plans, daily motivation, and much more!
Garlic Mushroom Quinoa Side Dish
Ingredients:
1 cup of raw quinoa

12 oz of sliced white mushrooms 

2-3 minced garlic cloves 

1 ¾ cup vegetable broth or chicken broth

½ oil

¼  cup chopped cilantro

salt and pepper to taste
Preparation:
Saute garlic in oil (use a medium pot).

Add mushrooms and cook for 5-6 minutes over medium-high heat.

Now add quinoa and stir for 1-2 minutes.

Add broth and get to boiling.

Season and simmer on low heat for 15-20 minutes.

Once cooked and cilantro on top.
It's 4 servings, 199kcal each (11).
Veggie Quiche
Ingredients:
Sliced yellow squash (2 small or 1 very large)

Sliced zucchini (2 small or 1 very large)

1 large chopped bell pepper

2 cloves roasted garlic, chopped

1 tbsp ground thyme (or fresh chopped)

3 large eggs

3 large egg whites

¾ cup milk

¾  tsp salt

Balck pepper

⅔  cup shredded cheese

2 tbsp grated parmesan cheese
Preparation:
Heat a non-stick skillet over medium-high heat.

Add squash, zucchini, bell pepper, roasted garlic, thyme, and then season.

Cook for 6-7 minutes while stirring frequently.

Cool in a bowl.

Preheat the oven to 350F (177C). 

Whisk eggs, egg whites, milk, salt, and pepper in a bowl.

Oil a pan and spread the set-aside vegetables and top with shredded cheese.

 Pour the egg mixture. 

Sprinkle grated parmesan.

 Bake for 45 minutes.
1 pan in 660 kcal and 6 servings (1).
Conclusion
Lunch is as important as any other meal, so tweaking a few of your old habits can be game-changing for weight loss. What to eat for lunch on a diet? The best approach is going low-calorie and including lean proteins, whole grains, and tons of fruits and vegetables. Even your trusted sandwiches can make the cut if you make them more balanced. So try following these easy low-calorie lunch recipes for weight loss and see the change yourself!
Low-Calorie Lunch Recipes For Weight Loss: Can BetterMe Help?
Weight management requires meticulous attention to calories and macroelements on your plate. When you are just figuring things out, it gets time-consuming and tiring. Good thing that BetterMe app makes it an effortless part of your routine. The app offers a huge database of recipes and an easy-to-use calorie tracker that does all the calculations for you. So, try BetterMe app today to have personalized meal plans and recipe inspiration all at the tips of your fingers!
Diets are great, but your body will thank you if you supplement your healthy nutrition plan with a good workout.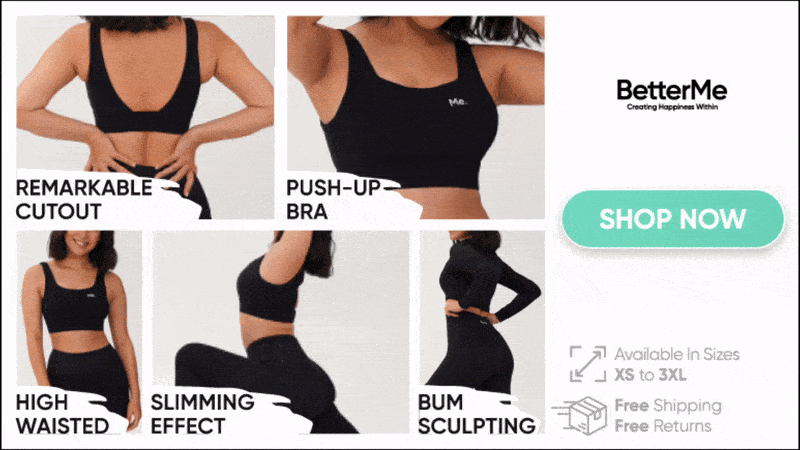 DISCLAIMER:
This article is intended for general informational purposes only and does not address individual circumstances. It is not a substitute for professional advice or help and should not be relied on to make decisions of any kind. Any action you take upon the information presented in this article is strictly at your own risk and responsibility!
SOURCES: