How does keto for women over 40 work? Does it have the same benefits as it does for younger people? Check out this article to find out how this high-fat diet can affect your health and weight. Will it make your efforts harder or easier and how many carbs can you consume, safely on such a meal plan.
What Is The Recommended Amount Of Carbs On Keto For Women Over 40?
As we all know the keto diet is a very-low carbohydrate, high-fat, and adequate protein meal plan that has gained popularity in recent years. However, unlike other low-carb diets, the number of carbohydrates is severely limited to help keep you in ketosis.
So how many carbohydrates should one have on the keto diet for women over 40? The recommended carb intake on keto can be as low as 20 grams a day but no more than 50 g of carbs (7). This allows you to stay in ketosis, helping you lose weight on the meal plan.
How Many Calories Should I Eat On Keto?
Determining the exact number of calories to be consumed on the keto for women over 40 diet may be a little complicated. The total number of calories needed for an individuals daily needs is dependent on the person's age, sex, height, weight, and level of physical activity (4).
However, according to WebMD, women between the age of 31 to 50 years old should consume the following number of calories to maintain their weight (8).
1,800 cals for a sedentary lifestyle

2,000 calories for anyone with a moderately active lifestyle and

2,200 cals for very active women.
For slow and gradual weight loss using a keto for women over 40 meal plan, you should aim to cut anywhere between 500 to 1000 calories a day from your diet. This enables you to lose one to two pounds of weight (fat), a week (6).
To determine your recommended calorie deficit you can use a reputable fitness app like the BetterMe calorie counter app. Keep in mind to not consume too little calories as this could lead to a whole slew of problems like (15):
Slowing your metabolism

Nutrient deficiencies

Lowered immunity

Fatigue, hair loss, and brittle nails

Fertility issues

Skin problems and mental issues such as depression
Harvard Medical School suggests that women should not consume less that 1,200 calories a day (5).
Read More: The Best Healthy Fats For Keto, Their Health Benefits And How To Use Them
Does Keto Work For Women Over 40?
Yes, it can. This eating plan is believed  to help with improving and resetting insulin levels, as well as the levels of estrogen and other hormones. Keto for women over 40 may help them with weight loss and reduce mood swings and cravings during menopause (16).
Sample Of A Keto For Women Over 40 Meal Plan
Here is a free and simple keto meal plan for women over 40. Remember that this is just an outline, you can reduce or increase the number of calories provided depending on your recommended food energy intake.
Day One
Meal 1 – No Bread Sandwich
2 sausage patties, 1 egg, 1 tbsp cream cheese, 2 tbsp cheddar, 1/4 medium avocado, 1/4–1/2 tsp sriracha, a pinch of salt and pepper
Calories: 603. Fats: 54 g, Protein: 22 g, Carbs: 7 g.
Meal 2 – Chicken and Avocado salad
1 cooked chicken breast, 1 avocado, 1/2 cup celery, 2 slices cooked bacon, 1/2 tbsp dried chives, 1/2 tsp dried dill, 1.5 tbsp lemon juice, 1.5 tbsp olive oil, 1/2 tsp Kosher salt, 1/4 tsp black pepper
Calories: 329. Fats: 26.3 g, Protein: 17.2 g, Carbs: 8.6 g.
Meal 3 – Shrimp Avocado salad
227 g deveined shrimp, 1 large avocado, 2 small tomatoes, 43 g feta cheese, 5 tbsps chopped cilantro/parsley, 2 tbsp melted salted butter, 1 tbsp lime juice, 1 tbsp olive oil, 1/4 tsp salt, 1/4 tsp black pepper
Calories: 430. Fats: 33 g, Protein: 24 g, Carbs: 6.5 g.
Total Intake for the Day: Calories: 1362. Fats: 113.3 g, Protein: 63.2 g, Carbs: 22.1 g.
Day Two
Meal 1 – Peanut Butter Smoothie
1 cup unsweetened almond milk, 2 tbsp natural peanut butter, 1.5 tsp monk fruit sweetener, 7 g cocoa powder, 1/3 cup heavy cream
Calories: 492. Fats: 44 g, Protein: 8 g, Carbs: 16 g.
Meal 2 – Keto Burger
For the onions – 1/2 tbsp butter, 1/8 cup diced onions, salt to taste
For the burger – 113 g ground beef, 2 tsp mustard, salt and black pepper to taste
For the sauce – 1.5 tbsp mayonnaise, 1 tbsp sugar-free ketchup, 2 tsp minced dill pickles, 1/4 tsp distilled white vinegar
4 leaves of iceberg lettuce, 2 dill pickle chips, 1 tomato slice, 1 slice of cheese
Calories: 605. Fats: 52 g, Protein: 26 g, Carbs: 6 g.
Meal 3 – Shrimp Zoodles
450 g shelled and deveined shrimp, 3 tbsp olive oil, 4 minced garlic cloves garlic, 1/4 cup vegetable broth, 3 medium spiralized zucchini, 1 pinch red pepper flakes, Juice of 1 and a half lime, 1 teaspoon lime zest, 2 tbsp chopped cilantro, salt and pepper to taste
Calories: 225.7. Fats: 6.7 g, Protein: 31.3 g, Carbs: 9 g.
Total Intake for the Day: Calories: 1322.7. Fats: 102.7 g, Protein: 65.3 g, Carbs: 31 g.
Day Three
Meal 1 – Keto Pancakes
113 g room temperature cream cheese, 2 eggs, 1/4 cup coconut flour, 1/2 tsp baking powder, 1/4 tsp salt, butter for coating the pan
Calories: 392. Fats: 30.2 g, Protein: 10.1 g, Carbs: 5.4 g.
Meal 2 – Chicken Salad
110 g skinless chicken breasts, half tbsp olive oil, 1/4 cup water, 1/2 medium sized ripe avocado, 2 tbsp minced cilantro, 1 tbsp mayonnaise, 1/4 tbsp lime juice, salt to taste
Calories: 502. Fats: 36 g, Protein: 37 g, Carbs: 2 g.
Meal 3 – Egg and Bacon Salad
225 g green asparagus, 40 g cooked bacon, 2 large, halved hard-boiled eggs, 1 tbsp avocado oil, 1 tbsp red wine vinegar, 0.5 tbsp Dijon mustard, 0.5 tbsp bacon fat, 0.5 garlic clove, half a pinch of salt and chili flakes.
Calories: 542. Fats: 46 g, Protein: 22 g, Carbs: 6 g.
Total Intake for the Day: Calories: 1372. Fats: 112.2 g, Protein: 69.1 g, Carbs: 13.4 g.
Day Four
Meal 1 – Almond Coconut Smoothie
1/2 cup full-fat coconut milk, 2 tbsp unsweetened cocoa powder, 1 cup almond milk, 1 tbsp coconut oil, 1/2 tbsp almond butter
Calories: 392. Fats: 27 g, Proteins: 13 g, Carbs: 26 g.
Meal 2 – Greek Salad
1.5 ripe tomatoes, 0.25 cucumber, 0.25 red onion, 0.25 green bell pepper, 100 g feta cheese, 5 black Greek olives, 2 tbsp olive oil, 0.25 tbsp red wine vinegar, 1 tsp dried oregano, salt and pepper to taste
Calories: 593. Fats: 51 g, Proteins: 17 g, Carbs: 15 g.
Meal 3 – Zucchini pasta
2 large spiralized zucchini, 1 cup of spinach, 2 tbsp of olive oil, 2 tbsp of butter, 1/4 cup Parmesan cheese, 1/4 cup feta cheese, 5 cloves of garlic, 10 kalamata olives. Add black pepper and salt to taste.
Calories: 231, Fat: 20 g, Protein: 6.5 g, Carbs: 6.5 g.
Total Intake for the Day: Calories: 1216. Fats: 98 g, Protein: 36.5, Carbs: 47.5.
If you tend to let yourself off the hook, raise the white flag when things get tougher than you expected, send yourself on an unconscious binge-eating trip – BetterMe app is here to help you leave all of these sabotaging habits in the past!
Day Five
Meal 1 – Breakfast Porridge
2 tbsp coconut flour, 2 tbsp ground flax seeds, 3/4 cup water, pinch of salt, 1 large egg, 2 tsp butter, 1 tbsp heavy cream, 1 tbsp low carb brown sugar
Calories: 345. Fats: 28.5 g, Proteins: 13 g, Carbs: 13 g.
Meal 2 – Salmon Poke Bowl
113 g salmon, 0.5 tbsp sesame oil, 0.5 tsp tamari sauce, 1 cup shredded cabbage, 57 g sliced cucumber, 0.5 small thinly sliced radish, 1/4 diced avocado, 1/8 cup cilantro, 1 tbsp mayonnaise, 0.5 tsp sesame seeds, and 0.5 tsp black sesame seeds.
Calories: 446. Fats: 34 g, Proteins: 26 g, Carbs: 11 g.
Meal 3 – Low-Carb Chilli
1/2 tbsp avocado oil, 2 chopped celery stalks, 907 g ground beef, 1.5 tbsp chili powder, 2 tsp garlic powder, 1 tbsp cumin, 1 tsp salt, 1 tsp black pepper 425 g tomato sauce, 460 g beef bone broth
This recipe makes 6 servings.
Calories: 446. Fats: 34 g, Proteins: 26 g, Carbs: 11 g.
Total Intake for the Day: Calories: 1150. Fats: 85.3 g, Proteins: 73.4 g, Carbs: 30.7 g.
Day Six
Meal 1 – Stuffed Peppers
70 g red bell pepper, 55 g cooked chicken, 30 ml mayonnaise, 4 g finely diced scallion, 1 lettuce leaf, 1/4 tbsp curry powder, salt and ground black pepper to taste
Calories: 309. Fats: 23 g, Proteins: 20 g, Carbs: 3 g.
Meal 2 – Cheesy Salmon with Broccoli
110 g broccoli, 21 g butter, 30 g shredded cheddar cheese, 170 g boneless salmon fillets, juice of 1/4 lime, salt and pepper to taste.
Calories: 656. Fats: 50 g, Proteins: 45 g, Carbs: 6 g.
Meal 3 – Nutty Brussels Salad
For the nut and seed mix – 1/4 tbsp coconut oil, 14 g almonds, 7 g pumpkin seeds, 7 g sunflower seeds, 1⁄8 tsp ground cumin, 1/4 tsp chili paste, and 1/4 pinch salt
For the salad – 110 g Brussels sprouts, 30 ml olive oil, juice and zest of a quater lemon, salt and pepper to taste
Calories: 484. Fats: 45 g, Proteins: 11 g, Carbs: 9 g.
Total Intake for the Day: Calories: 1149. Fats: 118 g, Proteins: 76 g, Carbs: 18 g.
What Are The Best Supplements For Keto For Women Over 40?
While the ketogenic diet can work great for women over 40 who wish to lose weight and get back in shape, it has some potential health risks including but not limited to nutritional deficiencies. Any person who does not get enough nutrients in their system is at a higher risk of getting diseases such as (11):
Dementia

Skin disorders

Memory loss

Anemia

Eye problems

Convulsions and abnormal heart rhythms

Defective and weak bones

Digestive issues, etc.
While on the keto diet for women over 40 specifically, not eating a wide variety of vegetables, fruits, and grains, may lead to deficiencies in micronutrients, such as selenium, magnesium, phosphorus, and vitamins B and C (12). To prevent this and other issues that can come up due to this meal plan, here are some supplements that you can add to your daily diet (14, 13). Remember to always discuss any supplements with your doctor before taking them.
Read More: 30 Day Keto Challenge: Will Upping Your Fat Intake Help You Lose Weight?
MCT Oil
Also known as medium-chain triglyceride, it is an oil supplement that is quite popular among keto dieters. Because it is broken down by the liver and swiftly absorbed into the bloodstream, it ups your fat intake, increasing your ketones making it a good fuel source for the brain and muscles during ketosis.
While MCT oil can be found in coconut oil, it is suggested that you take the supplement itself by adding it to your coffee, foods, shakes, and smoothies. MCT is said to promote weight loss, ketosis, boost athletic performance, and help manage blood sugar levels.
Magnesium
Women over 40 on the keto diet risk having a magnesium deficiency because foods such as whole grains, fruit, and beans, are high in sugars and carbs, which are all severely limited on this meal plan. While nuts, seeds, and low- fat dairy products can be used to supplement this, it might not be enough for your diet.
A magnesium deficiency is known to cause muscle cramps and twitches, mental disorders, increase your risk of osteoporosis and bone fractures, high blood pressure, fatigue and muscle weakness, and abnormal heartbeats (2). Adding this supplement to your diet can reduce this and even improve irritability and sleep difficulties.
This mineral can also be found in foods like spinach, oily fish like mackerel, avocado, Swiss chard, pumpkin seeds, and avocado.
Electrolyte Supplements
While starting out on a keto diet, the kidneys secrete more water which can cause the body to lose important electrolytes which can be life threatening. Electrolytes help regulate nerve and muscle function, hydrate the body, balance blood acidity and pressure, and help rebuild damaged tissue.
Examples of them include sodium, potassium, calcium, bicarbonate, chloride, and phosphate. If the levels of these drop you may end up experiencing keto flu symptoms like headaches, muscle cramps and fatigue. Electrolytes can be easily found in many keto friendly foods but to be safe, investing in some supplements could be beneficial for keto for women over 40.
Fiber
Constipation is quite common on the keto diet, especially in the beginning. Most fiber-rich foods are carbs which on this low-carb diet are limited to 20 to 50 grams carbs a day much lower than the recommended intake of 225 to 325 grams a day (4). On the keto diet for women over 40, fiber intake can be supplemented with store bought powders or through foods such as nuts, seeds, avocado, and leafy greens.
BetterMe app is a foolproof way to go from zero to a weight loss hero in a safe and sustainable way! What are you waiting for? Start transforming your body now!
Omega-3 Fatty Acids
These are a part of the polyunsaturated fats which are essential fats that our bodies need but cannot make them on their own. Omega-3 fatty acids have been know to help (3)
Lower blood pressure thus reducing your risk of abnormal heart rhythms.

Slow the development of plaque in the arteries which lowers the risk of stroke and heart attacks

Fight depression and anxiety

Improve eye health

Reduce signs and symptoms of metabolic syndrome by improving insulin resistance, inflammation and heart disease risk factors.
These fatty acids can be found in organic eggs, flaxseed, seafood, especially oily fish, fish oil, algae, krill oil, and in meats from grass-fed animals.
Vitamin D
This is not only a good vitamin for women over 40 on keto, but also for anyone on any kind of diet. It should be noted that while this meal plan does not put you at a higher risk of a Vitamin D deficiency, adding it to your daily diet is a good idea. The vitamin helps with the absorption of calcium, a mineral that may be deficient in this diet, especially if you do not consume dairy due to a lactose intolerance.
It also supports your immune system, regulates cellular growth, promotes bone health and lowers inflammation in your body. Too much inflammation can damage your arteries, organs and joints, and if left unchecked can lead to chronic diseases, such as heart disease, blood vessel disease, diabetes, obesity, cancer, Alzheimer's disease and other conditions. We produce vitamin D when our skin is exposed to sunlight, but deficiencies can be common, especially during winter time or in less sunny climates.
Iron
While many keto-appropriate foods are high in iron, some sources of this mineral like legumes, lentils, tofu and some fortified breakfast cereals are high in carbs and thus forbidden on the diet. Getting this mineral becomes even harder for those consuming a vegan-keto or vegetarian-keto diet because animal products are not allowed on these meal plans (1).
Plant sources such as leafy greens may provide this mineral but it may not be enough and thus a deficiency could lead to issues such as extreme and unexplained fatigue, chest pain, fast heartbeat or shortness of breath, a swollen and sore tongue, weakness, brittle nails, and more. To prevent this, speak to your doctor and ask him/her to recommend a daily iron supplement for you.
Is Keto Bad For Women Over 40?
Ordinarily, keto can be a reasonably safe diet that may help with weight loss, improve blood sugar, and has even been used in conjunction with cancer treatments (10). However, some researchers have asked people to be aware of the keto flu, as well as kidney stones, renal damage and elevated LDL cholesterol that can potentially occur while on this meal plan.
In older adults, the main concern for researchers seems to be the lack of enough protein in the meal plan. To remain in ketosis, the amount of carbs and proteins are highly regulated and often do not reach the recommended amounts. Without enough protein in your diet you risk losing muscle (9), which is already a problem in aging adults.
How To Lose Weight For Women Over 40 On Keto?
1. Eat on a calorie deficit. Remember that you can't outwork a bad diet. Calories in, Calories out' matters because even if you workout but eat way more calories than you burn, you will not lose weight.
2. Work out. Be sure to exercise for at least 30 minutes a day. To lose weight faster, combine the keto for women over 40 meal plan with cardio and strength training. Building muscle helps you burn more calories throughout the day, even while at rest.
The Bottom Line
Doing keto for women over 40 is a good diet plan for anyone who wishes to lose a couple of extra pounds. What's even better is that the benefits of this meal plan go above and beyond weight loss and it may help you improve your overall health.
With that being said, please remember that such a meal plan also has some potential pitfalls that you should watch out for. Please be sure to consult with your doctor or a dietitian to ensure that this meal plan is what's best for you.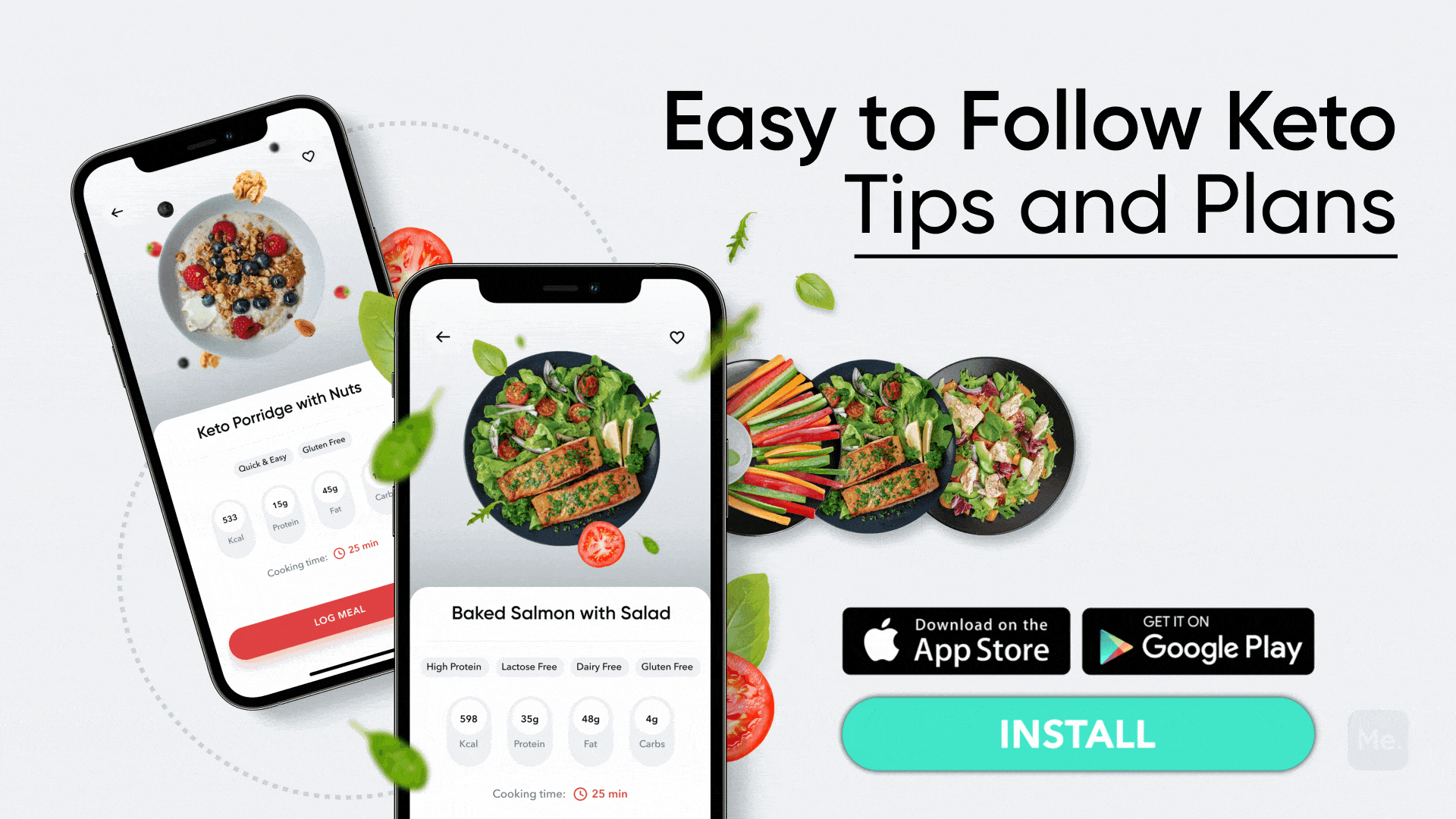 DISCLAIMER:
This article is intended for general informational purposes only and does not address individual circumstances. It is not a substitute for professional advice or help and should not be relied on to make decisions of any kind. A licensed physician should be consulted for diagnosis and treatment of any medical conditions. Any action you take upon the information presented in this article is strictly at your own risk and responsibility!
SOURCES: