Whoever said that an apple a day keeps the doctor away was perhaps onto something about this fruit. Apples are high on the list of nutritious foods and are packed with essential vitamins, antioxidants, and fiber (1).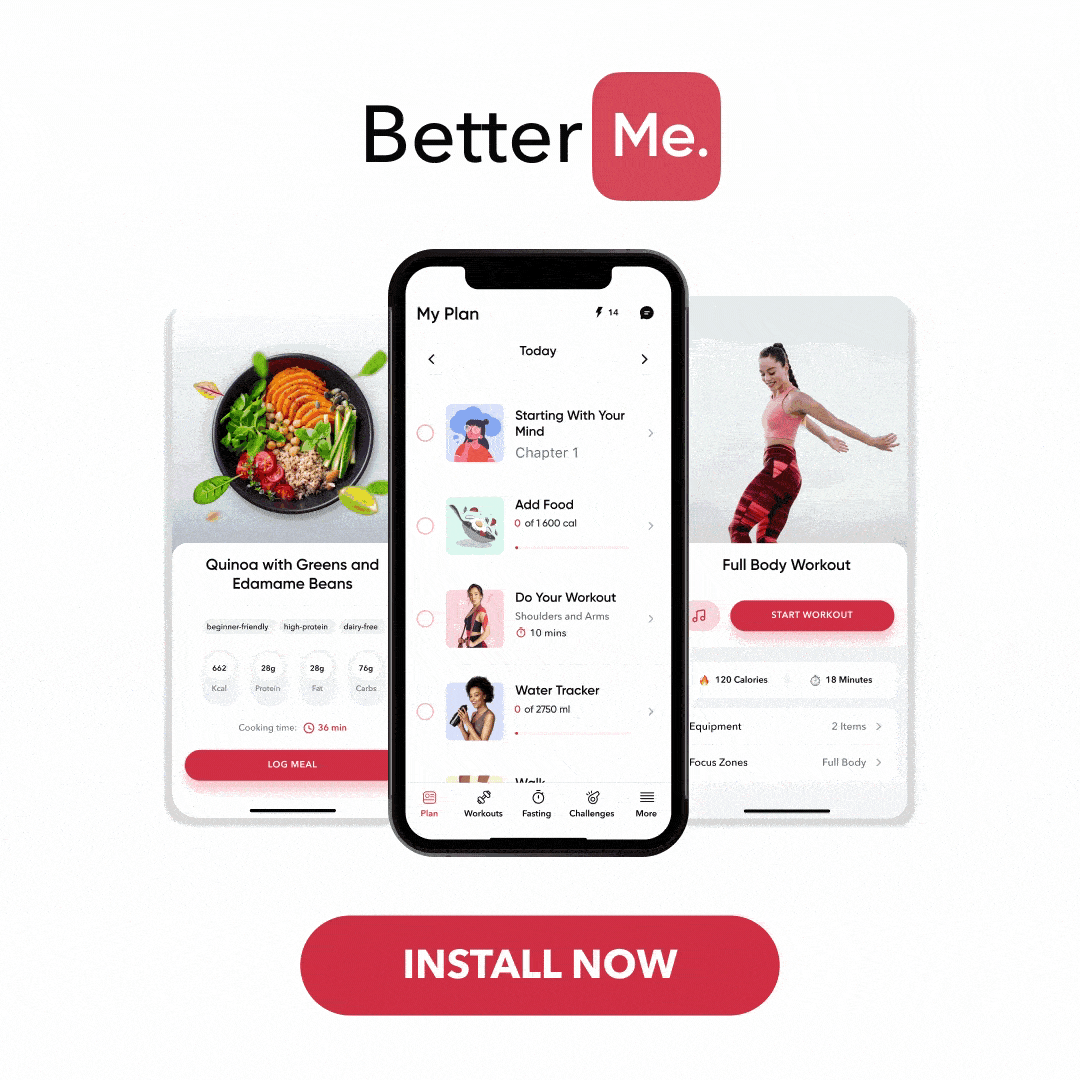 For those with a sweet tooth, apple desserts may very well be the best choice. Combining the natural sweetness and crisp texture of an apple with a touch of creativity can result in a delightful, guilt-free treat. Whether it's a comforting winter evening or a sunny summer afternoon, there's an apple dessert that is perfect for you. 
In this article, we will share four healthy apple recipes with you that are thoughtfully curated to satisfy your cravings in any season and are easy healthy apple desserts, while still keeping your health in check.
Intense sweat sessions, working weight loss tips, lip-smacking recipes come in one package with the BetterMe app. And all of it is at your fingertips, start transforming your life now!
What Pairs Well With Apples?
Apples pair well with a variety of flavors. In a savory context, apples can be paired with pork or poultry for a delightful contrast. For desserts, apples harmonize beautifully with warm spices such as cinnamon, nutmeg, and cloves. 
They also pair excellently with caramel, vanilla, and robust flavors such as ginger and citrus. And let's not forget the classic pairing of apples with cheeses, particularly sharp ones such as cheddar, for a balance of sweet and savory.
Below are four of our favorite apple dessert recipes that show how to use this fruit for sweet flavors:
Apple Oatmeal Cookies (3)
When it comes to healthy apple desserts with oats, these apple oatmeal cookies strike the perfect balance between nutrition and indulgence. The star of this recipe is the nutritious apple, well-complemented by oats, which are known for their fiber content and heart health benefits. They're an easy healthy apple dessert and are ideal for a quick snack or a dessert for two.
Ingredients
1 cup quick-cooking oats (use quick oats instead of rolled oats as rolled oats have a much firmer texture that is more difficult to chew)

3/4 cup whole wheat pastry flour (or substitute white whole wheat flour or all-purpose flour)

1 1/2 teaspoon baking powder

1 1/2 teaspoons ground cinnamon

1/4 teaspoon kosher salt

1/8 teaspoon ground nutmeg

2 tablespoons unsalted butter

1 teaspoon pure vanilla extract

1 large egg at room temperature

1/2 cup honey or substitute pure maple syrup

1 medium firm sweet apple (such as a Honeycrisp, Gala, or Fuji)
Instructions
Preheat your oven to 325 degrees Fahrenheit (165 degrees Celsius) and line a baking sheet with parchment paper for easy cleanup.

In a mixing bowl, combine your dry ingredients: 1 cup quick-cooking oats, 3/4 cup whole wheat pastry flour, 1 1/2 teaspoons of baking powder, 1 1/2 teaspoons of ground cinnamon, 1/4 teaspoon of kosher salt, and 1/8 teaspoon of ground nutmeg. Stir until well mixed.

In a separate bowl, melt 2 tablespoons of unsalted butter. Once it has cooled slightly, add 1 teaspoon of pure vanilla extract and 1 large egg. Mix until the egg is fully incorporated into the mixture.

Add 1/2 cup of honey (or pure maple syrup if you prefer) to your wet ingredients and stir well.

Gradually add your dry ingredients to your wet ingredients, stirring after each addition. Mix until all of the dry mixture is fully incorporated into the wet mixture.

Peel and finely chop 1 medium firm sweet apple (such as a Honeycrisp, Gala, or Fuji) and fold it into your cookie dough.

Using a tablespoon or cookie scoop, drop dollops of the cookie dough onto your prepared baking sheet, spacing approximately 2 inches apart.

Bake the cookies in your preheated oven for 12-15 minutes or until they are golden brown and firm to the touch.

Allow the cookies to cool on the baking sheet for 10 minutes before transferring them to a wire rack to cool completely.
Nutrition
Serving: 1 (of 12) without glaze | Calories: 126 Kcal | Carbohydrates: 24g | Protein: 3g | Fat: 3g | Saturated Fat: 1g | Polyunsaturated Fat: 1g | Monounsaturated Fat: 1g | Trans Fat: 1g | Cholesterol: 21mg | Sodium: 56mg | Potassium: 133mg | Fiber: 2g | Sugar: 13g | Vitamin A: 90iu | Vitamin C: 1mg | Calcium: 35mg | Iron: 1mg
Cinnamon Apple Pie Chia Pudding (6) 
If you're looking for healthy apple desserts for your weight loss diet, then you need look no further than this cinnamon apple pie chia pudding. 
This dessert is a clever twist on the classic apple pie and includes chia seeds, a superfood that is celebrated for its fiber content and its ability to support weight loss. The portion size makes this a perfect treat when you're aiming for a healthy apple dessert for two.
Ingredients
 For the chia pudding
5 tablespoons chia seeds

1/2 cup coconut milk

1/2 cup almond milk

1/3 cup unsweetened apple sauce

1 tablespoon maple syrup

1 teaspoon vanilla extract
For the sauteed apples
1 tablespoon coconut oil

2 apples, peeled and cut into cubes

2 tablespoons maple syrup

1/2 teaspoon cinnamon
Instructions
In a large bowl, combine 5 tablespoons of chia seeds, 1/2 cup of coconut milk, 1/2 cup of almond milk, 1/3 cup of unsweetened apple sauce, 1 tablespoon of maple syrup, and 1 teaspoon of vanilla extract. Stir the ingredients until they are well mixed.

Cover the bowl with a lid or plastic wrap and refrigerate for at least 2 hours or until the chia seeds have absorbed the liquid and the mixture has a pudding-like consistency.

While the chia pudding is setting, prepare the sautéed apples. In a skillet, heat 1 tablespoon of coconut oil over medium heat.

Add in 2 peeled and cubed apples, 2 tablespoons of maple syrup, and 1/2 teaspoon of cinnamon. Cook over a medium heat, stirring occasionally, until the apples are soft and the syrup has thickened.

Once the chia pudding has set, divide it into servings, top each with an equal amount of the sautéed apples, and enjoy your cinnamon apple pie chia pudding.
Nutrition
Serving size: 1/4 of the recipe  | Calories: 230  | Sugar: 22g  | Sodium: 7mg | Fat: 13g Saturated Fat: 9g | Carbohydrates: 33g | Fiber: 8g | Protein: 4g
Easy Weight Watchers Apple Crisp  (7)
As part of our healthy apple recipes Weight Watchers edition, this easy apple crisp recipe is an effortless yet delicious way of enjoying the natural sweetness of apples. With its low-fat content and controlled portion sizes, it is an excellent choice for those who are looking for a balance between taste and health.
Ingredients
Crumb Topping

½ cup all-purpose flour, plus 2 tablespoons

½ cup old fashioned oats (not instant)

¼ cup packed brown sugar

¼ teaspoon cinnamon

1 pinch salt
3 tablespoons light butter

1 teaspoon water
Apple Filling
¼ cup granulated sugar

¼ teaspoon ground nutmeg

1 pinch ground cloves

3 lbs apples

1 teaspoon vanilla extract
Instructions
Preheat your oven to 375 degrees Fahrenheit (190 degrees Celsius).

To prepare the crumb topping, combine 1/2 cup plus 2 tablespoons of all-purpose flour, 1/2 cup of old fashioned oats, 1/4 cup of packed brown sugar, 1/4 teaspoon of cinnamon, and a pinch of salt in a bowl.

Add tablespoons of light butter, using your fingers or a pastry cutter until the mixture resembles coarse crumbs.

Sprinkle in 1 teaspoon of water and toss until the crumbs are moistened.

For the apple filling, peel and thinly slice 3 pounds of apples and place them in a large bowl.

Add 1/4 cup of granulated sugar, 1/4 teaspoon of ground nutmeg, a pinch of ground cloves, and 1 teaspoon of vanilla extract to the apples.

Stir until the apple slices are well coated.

Transfer the apple filling to a baking dish and spread it into an even layer. Sprinkle the crumb topping evenly over the apple filling.

Bake in the preheated oven for 30-40 minutes or until the topping is golden brown and the apples are tender when they are pierced with a fork.

Allow the apple crisp to cool slightly before serving.
Nutrition
Serving size: 1 (recipe makes 8 servings) | Calories: 205 | Sugar: 30.7g | Fat: 2.8g | Saturated Fat: 1.4g | Carbohydrates: 46.1g | Fiber: 4.9g | Protein: 2g
Read more: 19 Protein Shake Recipes for Weight Loss, Muscle Gain, and Delicious Flavors.
Sugar-Free Keto Apple Cake (9)
This sugar-free keto apple cake is among the most delectable healthy apple recipes with no sugar added. This cake is a testament to the fact that desserts can be healthy, delicious, and guilt-free. 
The natural sweetness of the apple is enough to satisfy your sweet tooth cravings, which makes this a go-to healthy apple cake that will not compromise your diet.
Ingredients
14 oz apples 4 – 5 apples, 1 sliced, the rest diced

Squeeze of lemon

¼ cup granulated sweetener, for macerating (soaking)
Cake batter
4 large eggs at room temperature

½ cup butter, melted, then cooled

¼ cup cream cheese

¼ cup almond milk

½ cup granulated sweetener, use up to ⅔ cup for a sweeter cake

2 cup almond flour

¼ cup coconut flour

2 teaspoons baking powder

1 tablespoon vanilla extract

1 tablespoon cinnamon or more, to taste
Topping
¼ cup almond flour

½ tablespoon coconut flour

1 tablespoon butter melted

1 tablespoon granulated sweetener

½ teaspoon cinnamon
Instructions
Start by preheating your oven to 350 degrees Fahrenheit (175 degrees Celsius).

Prepare your apples by peeling and dicing them until you have approximately 400 grams. Save one apple and thinly slice it. Squeeze a bit of lemon over the apples and sprinkle them with ¼ cup of granulated sweetener. Allow this mixture to sit to enable the apples to macerate.

To create the cake batter, start with 4 room-temperature eggs in a large bowl. Add in ½ cup of melted, cooled butter, ¼ cup of cream cheese, and ¼ cup of almond milk. Mix these ingredients well.

In the same bowl, add ½ cup of granulated sweetener (you can increase this to ⅔ cup if you prefer a sweeter cake), 2 cups of almond flour, ¼ cup of coconut flour, 2 teaspoons of baking powder, 1 tablespoon of vanilla extract, and 1 tablespoon of cinnamon. Stir until the mixture is well combined.

Fold the diced apples into this batter, saving the sliced apple for later.

Pour the batter into a prepared cake tin and arrange the apple slices on top.

For the topping, combine ¼ cup of almond flour, ½ tablespoon of coconut flour, 1 tablespoon of melted butter, 1 tablespoon of granulated sweetener, and ½ teaspoon of cinnamon. Sprinkle this mixture evenly over the apple slices.

Bake in the preheated oven for 40-50 minutes or until the cake is golden brown and a toothpick inserted in the center comes out clean.

Allow the sugar-free keto apple cake to cool before you cut it into slices. Enjoy your healthy, guilt-free dessert!
Recipe makes 12 servings
Calories per serving: 256 kcal | Carbohydrates: 10g | Protein: 7.2g | Fat: 22g | Saturated Fat: 7.9g | Fiber: 3.6g | Sugar: 4.8g
What Goes Well With Apples for a Snack?
Some examples of what goes well with apples include:
Cheese:

A classic pairing, sharp cheddar or creamy brie complements the tartness of the apple.

Peanut Butter:

This protein-packed spread adds a savory touch to the apple's sweetness.

Almond Butter:

An alternative to peanut butter, almond butter is nutrient-rich and pairs beautifully with crisp apples.

Cottage Cheese:

A scoop of cottage cheese with apple slices is a satisfying high-protein snack.

Yogurt and Granola:

Dip apple slices in Greek yogurt and granola for a mini-meal.

Caramel Dip:

For a sweeter snack or dessert, try apples with a caramel dip.

Crackers and Hummus:

Apples, whole-grain crackers, and hummus make a balanced and satisfying snack.

Chocolate Spread:

A decadent treat, apples dipped in chocolate spread is a real crowd-pleaser.

Celery:

For a light snack, try "ants on a log" – apple slices, celery, and peanut butter with raisins on top.

Dried Fruit and Nuts: A handful of dried fruit and nuts with apple slices make a quick and energizing snack.
What Is The Healthiest Way To Eat Apples?
The healthiest way of eating apples is consuming them whole and unpeeled. The skin of an apple contains the majority of its fiber and a substantial amount of its vitamin C content (2). In addition, the skin includes various phytochemicals, natural compounds that can help fight inflammation and disease (4). 
To maximize the health benefits, it is important to eat a variety of fruits, as different types have different nutrient profiles. However, you should ensure they are washed thoroughly to remove any pesticide residues. Our types of fruits post provides further reading on how to prepare and eat different fruits.
Dropping pounds by the dozens without putting yourself through the wringer is everyone's weight loss pipe dream. But what if we told you that the BetterMe app can make that happen? Keep yourself in prime shape with our fat-blasting workouts, delicious budget-sparing recipes, and body-transforming challenges with our app!
Are Apples Healthier Raw or Cooked?
Raw and cooked apples both have health benefits. Raw apples retain all their vitamins and minerals, which helps provide a significant source of vitamin C, various B vitamins, and dietary fiber (2). In addition, they possess higher levels of certain phytochemicals that can help combat disease ( 4).
But this doesn't mean that cooked apples lack nutrients. Feel free to eat them cooked, raw, or any way you wish, safe in the knowledge that you are enjoying a healthy treat. 
Are Stewed Apples Healthy?
Stewing apples is a healthy method of preparation. This process involves simmering apples in a small amount of liquid – water, juice, or even a sweet syrup. This softens the apples and makes them more digestible, while the cooking liquid can absorb some of the apples' nutrients. 
While some vitamins, such as vitamin C, can be lost during the cooking process as a result of their heat sensitivity, other nutrients may become more or less bioavailable (8). However, these effects are likely minor and will not erase the benefits of eating apples. 
Stewed apples are an excellent choice for those with digestive issues, as the cooking process breaks down fiber, which makes it easier to digest. They can be sweetened naturally by adding spices such as cinnamon or with a touch of honey for those who desire a sweeter treat.
Are Cooked Apples Good for the Gut?
Cooked apples may be beneficial for gut health for several reasons:
Pectin:

Apples are rich in a type of dietary fiber called pectin that acts as a prebiotic. Prebiotics serve as food for beneficial gut bacteria, improving their health and diversity (

10

).

Improved Digestion:

The cooking process softens the apples, which makes them easier to digest. This is particularly beneficial for those with sensitive digestive systems

or

conditions such as Irritable Bowel Syndrome (IBS).
To maximize the benefits, you should cook apples with a minimal amount of added sugars and choose a variety of types to ensure a diverse nutrient intake.
Is an Apple a Good Snack for Weight Loss?
Yes, apples are a great snack for weight loss. They are low in calories, high in fiber, and provide a good amount of water, all of which can help control hunger and keep you feeling full for longer.
Consuming whole apples will increase feelings of satiety more than apple juice or applesauce. The natural sugars in apples also provide a healthier, lower-calorie alternative to sugary snacks. 
However, you should not rely solely upon apples for weight loss and a more comprehensive balanced diet and exercise regime will work best.
Read more: 4 Broccoli Recipes: Healthy And Satisfying Meals For Weight Loss.
Frequently Asked Questions
What's the unhealthiest dessert?
The unhealthiest dessert is arguably the deep-fried candy bar. This confection is not only high in calories, it is also full of unhealthy fats from the frying process and a high amount of sugar from the candy bar itself.
Why do apples burn belly fat?
Apples can help burn belly fat due to their high fiber content, which aids in digestion and maintains a feeling of fullness, thereby reducing overall calorie intake. Further reading is provided in our "Are apples good for weight loss?" post.
What is the 3-day apple diet?
The 3-day apple diet is a short-term diet plan that is designed for quick weight loss. It involves eating only apples for all three meals for three consecutive days. However, this is not recommended as it is highly restrictive and lacks essential nutrients.
How good are apples on an empty stomach?
Eating an apple can be beneficial for digestion at any time due to their high fiber content. It doesn't matter if you eat an apple on an empty stomach or as a sweet ending to a meal. In addition, the minerals and vitamins in apples can help boost energy levels, which will allow you to start your day feeling energized. Eating an apple every morning is a great way of keeping yourself feeling full until lunchtime, particularly if it is paired with some protein and healthy fat, such as nut butter or yogurt.
The Bottom Line
The 4 healthy apple desserts and snack recipes that are provided here are an excellent way of enjoying the sweetness of apples while keeping your health on track. Apples are an excellent source of vitamins, minerals, and fiber, all of which can help promote good gut health and assist with weight loss. Raw and cooked apples both have their own benefits.
DISCLAIMER:
This article is intended for general informational purposes only and does not address individual circumstances. It is not a substitute for professional advice or help and should not be relied on to make decisions of any kind. Any action you take upon the information presented in this article is strictly at your own risk and responsibility!