The benefits of cardiovascular exercises are well-researched. It is generally accepted that these activities are vital for maintaining a healthy heart and preventing heart disease. They can also help to control weight, lower cholesterol and triglyceride levels, improve blood sugar control in people with diabetes, and reduce the risk of some types of cancer (2). Both swimming and running are excellent forms of cardio exercise. They both provide a workout for the heart and lungs, and they both burn a lot of calories (7). That said, which one is better? There are pros and cons to both swimming and running. Ultimately, the best exercise for you is the one that you enjoy the most and will actually do on a regular basis.
Swimming Vs Running: Calories Burned
For many, cardiovascular exercise is a way to burn calories and lose weight. So, which activity burns more calories?
A 155-pound person will burn approximately 216 calories in 30 minutes of swimming at a moderate pace, according to Harvard Health Publishing (1). That same person will burn about 288 calories by running at a pace of 5 miles per hour for the same amount of time.
In this regard, running burns more calories than swimming. Although the difference is not huge, it may be enough to help someone reach their weight-loss goals a bit faster.
That said, how many calories you burn doing either exercise depends also on your weight and effort level. A heavier person will burn more calories than a lighter person (6), and someone who is swimming at a vigorous pace will burn more calories than someone swimming more slowly.
Swimming Vs Running: Impact On Joints
Joint health is a major concern for many people, especially as they age. Running is a high-impact activity that can put stress on the knees, hips, and ankles. This impact can lead to joint pain or injuries (3).
Swimming, on the other hand, is a low-impact activity. The water supports the body and takes some of the stress off of the joints. In fact, aerobic therapy in a pool is often recommended for people with joint pain or injuries (9).
Aside from protecting your joints, water can have a soothing effect on them. The warmth can help to relax muscles and ease pain.
Read More: Swim Workouts For Beginners And Intermediate Level Swimmers
Swimming Vs Running: Bone Health
Weight-bearing exercises have a positive impact on bone health. They help to build strong bones and prevent osteoporosis (4).
Running is a weight-bearing exercise, while swimming is not. This means that adopting a regular running routine may be more beneficial for your bones than swimming. It forces you to work against gravity and in the process, strengthens bones.
That being said, swimming does have some benefits for bone health. The resistance of the water helps to build muscle, and strong muscles help to support and protect bones. In addition, the hydrostatic pressure of the water can help to increase bone density (5).
Swimming Vs Running: Cardiovascular Health
Both swimming and running are excellent forms of cardio exercise. They both provide a workout for the heart and lungs, and they both help to reduce the risk of heart disease (2).
In fact, the American Heart Association recommends that people get at least 150 minutes of moderate-intensity aerobic activity each week.
The type of exercise you do does not matter as much as getting your heart rate up and get moving. However, some research suggests that swimming may be slightly better for the heart than running.
A study published in the Journal of American College of Cardiology found that swimmers had a lower risk of death from cardiovascular disease than runners. The study followed 40,547 adults over the course of 32 years.
While more research is needed, this study suggests that swimming may provide some additional benefits for heart health.
Swimming Vs Running: Muscle Strengthening
While cardio workouts aren't as effective as strength training when it comes to building muscle, they can still help to tone the muscles.
Swimming provides a full body workout. It requires you to use many muscles in your body including your arms, legs, core, and back. In fact, swimming can help to build strong muscles and improve your posture (8).
Running also works many muscles in the body. However, it primarily uses the muscles in the legs. This means that if you are looking to build muscle in your upper body, swimming may be a better option.
Intense sweat sessions, working weight loss tips, lip-smacking recipes come in one package with the BetterMe app. And all of it is at your fingertips, start transforming your life now!
Swimming Vs Running: Mental Health Benefits
Both swimming and running offer mental health benefits. Exercise helps to reduce stress, improve mood, and increase energy levels. It can also help to improve sleep quality (2).
Which of these two exercises improves your mood more comes down to personal preference. Some may like being outdoors, enjoying scenery and getting a dose of vitamin D.
 If you're one of these, you'll find that your mood improves significantly after a run. Others may prefer the tranquility of being in the water. If you're one of those, swimming may be a better choice for you.
Swimming Vs Running: Ease And Accessibility
If you're new to cardiovascular exercise, you might find running easier than swimming. Most people know the basics of running without any training. While there are advanced tactics for pro runners, simply putting one foot in front of the other is enough to get started.
Swimming, on the other hand, requires a bit more instruction. You need to learn how to move your arms and legs in a coordinated way to stay afloat.
If you're not comfortable in the water, you might feel anxious or stressed while swimming. This can make it difficult to enjoy the experience and get the most out of your workout.
In addition, swimming requires access to a pool. This may not be convenient or possible for everyone. If you live in an urban area, you might have to drive to a gym or community center to use a pool. This can add time and expense to your workout routine.
Running, on the other hand, can be done anywhere. All you need is a pair of shoes and an open space. You can run outdoors in your neighborhood, at a local park, or on a treadmill. This makes running a more convenient and accessible form of exercise for many people.
Read More: Running With A Weight Vest: Do The Benefits Outweigh The Risks? Is It Safe? How Do You Get Started?
How To Choose The Right Exercise For You
The best exercise is the one that you will actually do. If you're more likely to stick with running, then running is the better choice for you. However, if swimming is more your speed, then swimming would be a better option.
There is no wrong answer when it comes to choosing between swimming and running, but asking yourself these questions might help you to make a decision:
Do you prefer to exercise outdoors or indoors?

Do you want a full-body workout or one that focuses primarily on the legs?

Do you feel anxious or stressed in the water?

Is there a pool conveniently located near your home or workplace?

Do you have any injuries or health conditions that might make one type of exercise more difficult or dangerous than the other?
If you're still not sure which exercise is right for you, talk to your doctor or a certified personal trainer. They can help you to assess your fitness level and develop a safe and effective workout plan.
Safety Tips For Swimmers And Runners
No matter which type of exercise you choose, it's important to stay safe while you're working out. Here are a few safety tips to keep in mind:
Wear sunscreen if you're exercising outdoors.

Drink plenty of water to stay hydrated.

Wear proper shoes and clothing to avoid injuries.

Warm up before you start exercising.

Cool down when you're finished.

Listen to your body and stop if you feel pain or discomfort.

Work with a certified personal trainer if you're new to either of these exercises.
Whether you're looking to simply pep up your fitness routine, jazz up your diet with mouth-watering low-calorie recipes or want to get your act together and significantly drop that number on your scale – BetterMe app has got you covered! Improve your body and revamp your life with us!
Swimming Vs Running: The Bottom Line
Both swimming and running are excellent forms of cardiovascular exercise. They offer a host of health benefits and can be done by people of all fitness levels.
The type of exercise you choose should be based on your personal preferences and goals. If you're looking for a low-impact workout, swimming may be the better choice. 
But if you're looking for an activity that's easy to get started with and can be done anywhere, running may be a better option.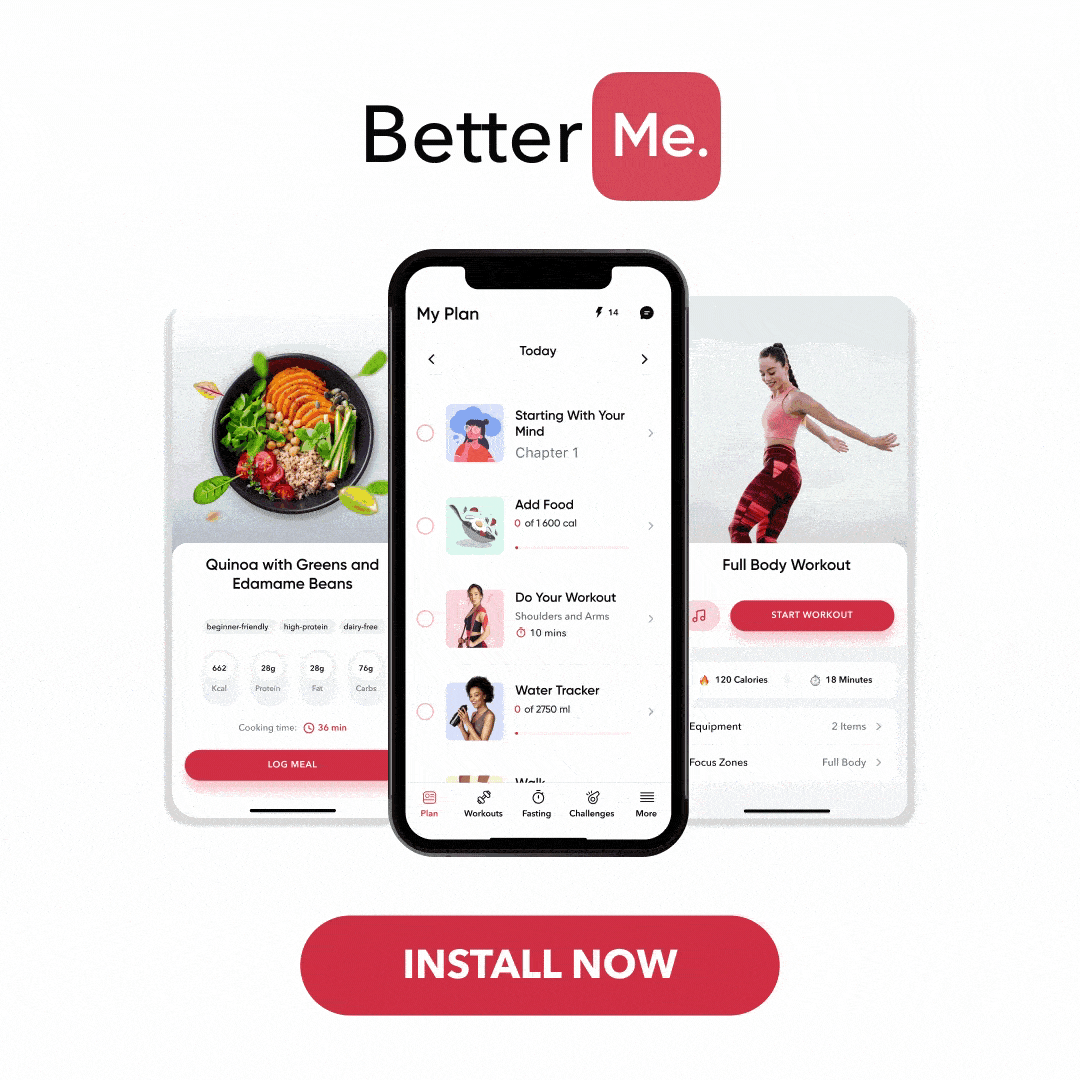 DISCLAIMER:
This article is intended for general informational purposes only and does not address individual circumstances. It is not a substitute for professional advice or help and should not be relied on to make decisions of any kind. Any action you take upon the information presented in this article is strictly at your own risk and responsibility!