Cooking doesn't need to be fussy to be delicious. And stuffed sweet potatoes are a classic example of this! The rich masses of antioxidants can be served in multiple ways. Preparing a stellar dish from sweet potatoes takes merely a few steps. All you need is to add some simple ingredients in measured quantities to prep a finger-licking sweet potato serving. Typically, people consume this veggie at Thanksgiving feasts. But sweet potatoes contain abundant nutrients, making them worth having throughout the year. And the cherry on top, they are incredibly versatile and easy to cook. You can find them in various colors, from pinks and purples to yellows and whites. Since colors are indicators of a plant's nutritional profile, expect slight taste differences with each. However, the overall health benefits of sweet potatoes are found across all varieties. Are you wondering about the health benefits of stuffed sweet potatoes and how to consume them? If you answered yes, you've landed at the right place. This article explores the health benefits of stuffed sweet potatoes, followed by some quick recipes to prepare them.
Are Stuffed Sweet Potatoes Healthy?
The wholesome nutritional profile of sweet potatoes is, perhaps, the main reason behind their growing popularity. Here are some reasons why you should include them in your diet to support your health:
Contain Essential Minerals
A medium-sized sweet potato has 25% of the daily value of manganese, 20% of copper, and 12% of recommended daily potassium. Manganese may promote bone health and regulate our blood pressure. Meanwhile, copper may help with functions like making red blood cells, and potassium favors healthy nerve function.
Promote Gut Health
Sweet potatoes are rich in fiber and antioxidants. The fiber stays inside the digestive tract to enhance gut health by promoting regular healthy bowel movements. Also, some fibers are fermented by friendly bacteria in the colon. These create a compound called short-chain fatty acids, which fuel the intestinal lining to keep it healthy (1).
Simultaneously, the antioxidants in sweet potatoes may benefit gut health. Test-tube experiments discovered that purple sweet potato contains antioxidants that might increase the growth of healthy gut bacteria (2). An increased amount of this bacteria in the gut may lower the risk of irritable bowel syndrome (IBS) and diarrhea (3).
May Fight Cancer
Sweet potatoes contain antioxidants which may help to develop a strong resistance against cancer-causing cells. Carotenoids and anthocyanins found in sweet potatoes might lower the risk of certain cancers, mainly those of the colon, bladder, and stomach (4).
Test-tube studies of orange sweet potatoes and their peels have shown anti-cancer properties against colorectal cancer cell lines (5).
Support A Healthy Vision
Beta-carotene is an antioxidant that is the main reason behind the bright color of orange sweet potatoes. When it enters the human body, it is converted into vitamin A, which helps form light-detecting receptors in your eyes (6).
Vitamin A plays an essential role in maintaining strong vision. Its deficiency can cause xerophthalmia, a kind of night blindness. Consumption of stuffed orange sweet potato may reduce the chances of such a condition (7).
Read More: Sweet Potato Cold Salad For Your Next Potluck
May Improve Cognitive Functions
Age-related decline in cognitive abilities is quite common. As a person progresses in age, there is a stronger likelihood of neurodegenerative conditions like dementia and Alzheimer's. Antioxidant carotenoids in orange-stuffed sweet potatoes might help slow cognitive decline by protecting brain cells. On the other hand, anthocyanins in purple sweet potatoes might improve learning and memory (8).
Could Help To Maintain A Healthy Weight
Unlike some other starchy foods, sweet potatoes can easily be a part of a nutritious diet plan for weight loss. A mid-sized serving of stuffed or baked sweet potato is pretty filling. The combination of complex carbohydrates and fiber may provide sustained energy, keeping you satisfied for a few good hours. The best part is their nutrient-to-calorie ratio is that they are relatively healthy. They carry plenty of nutrients for only a few calories.
All in all, stuffed sweet potatoes are excellent for whenever you have extra sweet potatoes lying around or wish to replace regular potatoes with something different. As the name suggests, these are naturally sweet and taste scrumptious with various savory additions.
What Meat Goes With Sweet Potatoes?
Sweet potatoes are a yummy side dish that works well with almost every main course. It gives you an easy way to increase your vegetable consumption without feeling overwhelmed.
But what meat goes well with a sweet potato? Let's sneak a peek into some tasty options:
Turkey
Turkey – a traditional Thanksgiving food – goes well with sweet potatoes as it has a complementary flavor. You can toast, grill, or get ready-made Turkey meat from a grocery store. Then, toss some herbs, garlic cloves, tossed onions, olive oil, and salt/pepper to enhance the taste.
This way, you can supplement your diet with vegetables without going through a tiring cooking process.
Ribeye Steak
Ribeye Steak is another great option to serve with stuffed sweet potato as a side dish. Meat lovers prefer it due to its high protein content and great flavor. Ribeye is a relatively higher fat cut of meat, so if you are trying to limit your saturated fat intake, a leaner option like sirloin or filet also goes great with sweet potatoes.
The steak goes well with a sweet potato because it is savory. Both flavors complement each other pretty well.
Chicken Breast
Chicken breasts are a popular meat option with sweet potatoes. In fact, they work with so many other dishes as well. For instance, you can add sliced chicken breasts to a salad or prepare a delicious soup with your favorite vegetables and chicken breast chunks.
Likewise, you can also take sweet potatoes with chicken breasts. This combination will give you a much-needed protein kick and a healthy portion of vegetables to fuel your body.
Yanking yourself back in shape has never been so easy with our game-changing fitness app! Start transforming your life with BetterMe!
Sirloin Steak
Sirloin Steak is a fantastic meat option for all beef lovers. Adding baked sweet potato as a side dish will stop you from worrying about overeating and stop you from looking for more healthy options.
You can serve the steak by baking in an oven for 20 minutes. Cut the baked meat into small pieces for every person to enjoy their individual serving or storing for later.
Sweet potatoes are a classic side dish that goes well with all meat options or can be made into a vegetarian meal. If you are specifically interested in stuffed baked sweet potatoes, you should try them with chicken or beef if you are a meat eater. When you use baked sweet potato as a side dish for these meats, it brings out the sweetness in the potato and creates a strong flavor.
What Can I Put On A Sweet Potato?
After an exhausting day at work, most of us cannot think of what to cook. Sweet potatoes are one of your best bets when you need a quick yet flavorful food to stuff your tummy. They are highly versatile, with loads of different options.
You can roast them in chunks, add toasted seeds, or cool them with a minty yogurt sauce. From hot and spicy to cool and juicy, you get a wide range of options with sweet potatoes.
Here are some toppings you should keep handy to add instant flavor to the sweet potatoes:
Olive oil + Salt + Pepper

Feta + Paprika

Thai curry paste + Milk

Pecans + Maple Syrup

Prosciutto + Kale
How Do You Cook Sweet Potatoes?
In case you are wondering, "how do you cook sweet potatoes?" Here are a few methods you can use to add more flavor to sweet potatoes.
Method To Make The Perfect Baked Sweet Potato
Preheat the oven to 375 degrees

Wash potatoes well and poke holes with a knife or a fork (around 6 to 8 slits)

Apply a thin layer of olive oil on every potato and sprinkle kosher salt on them

Put the potatoes on a baking sheet or the rack (according to your preference)

Bake for 45 – 60 minutes until it is easily pierced with a knife/fork

Make a slit (longitudinal) across the top to create space for your favorite stuffing
Once you have delicious and tender potatoes ready, it is time to flavor them the way you like. Check out the two best ways to prepare stuffed baked sweet potatoes:
Buffalo Chicken Stuffed Sweet Potato
This recipe is a fun combo of spice and cream. It is spicy and tangy but not too heavy.
Nutritional Value:
Serving: 1 potato with 2 tablespoons of yogurt dressing

Calories: 441kcal, Carbs: 31g, Protein: 44g, Fats: 15g
Ingredients:
4 sweet potatoes

1 ½ pounds boneless chicken breasts

¾ cup of hot sauce

2 tablespoons coconut oil

1 teaspoon kosher salt

1 teaspoon garlic powder

1 tablespoon cornstarch

½ teaspoon ground cayenne
Directions:
Coat a cooker with nonstick spray and place chicken at the bottom

Place hot sauce, coconut oil, garlic powder, cayenne, and salt in a microwave bowl

Heat them until the coconut oil melts and stir until it is smooth

Pour sauce on the chicken

Cover the cooker and cook for 1 ½ to 2 ½ hours on low flame

Remove chicken from the pot when it reaches 165 degrees and shred it

Mix cornstarch and 1 tablespoon of water to create a slurry

Add it to the cooking liquid in the slow cooker and whisk

Cover the cooker until the sauce thickens and stir when it's half done

Now return the chicken to the slow cooker and toss to coat it
Pile chicken on stuffed sweet potatoes and serve with a side salad, yogurt dressing, or steamed veggies.
Read More: Should You Follow The Potato Diet To Lose Weight?
Black Beans Stuffed Sweet Potato
You can enjoy this easy recipe for lunch or dinner. The protein-rich beans and healthy fats make it a complete and satisfying vegetarian meal!
Nutritional Value:
Calories: 370 kcal, Carbs: 55g, Protein: 10g, Fats: 14g
Ingredients:
4 sweet potatoes

1 ½ cups of black beans

1 tablespoon avocado oil

1/3 cup of chopped cilantro

½ cup corn

1 diced garlic clove

¼ cup diced red onion

2 tablespoon oil

½ lime juice

¼ tablespoon sea salt

A pinch of chili flakes

A pinch of pepper
Directions:
Combine black beans, cilantro, corn, red onions, and garlic

Drizzle lemon juice and olive oil

Sprinkle with pepper, chili flakes, and salt

Mash avocado in a bowl with a pinch of sea salt and lime juice

In another bowl, mix lime juice, coconut yogurt, and lime juice
Cut sweet potatoes in half and fill the black beans mixture. Top with guacamole and drizzle the vegan sour cream.
If you wish to cinch your waist, tone up your bat wings, blast away the muffin top – our fitness app was created to cater to all your needs! BetterMe won't give excess weight a chance!
Conclusion
Sweet potatoes are a fantastic ingredient to have in your pantry. They can pair with any protein, and you can cook them in various styles. For example, you can opt for stuffed sweet potato or sweet potato, whatever excites your taste buds. They add sweetness to your meals and satisfy all your cravings with simple additions.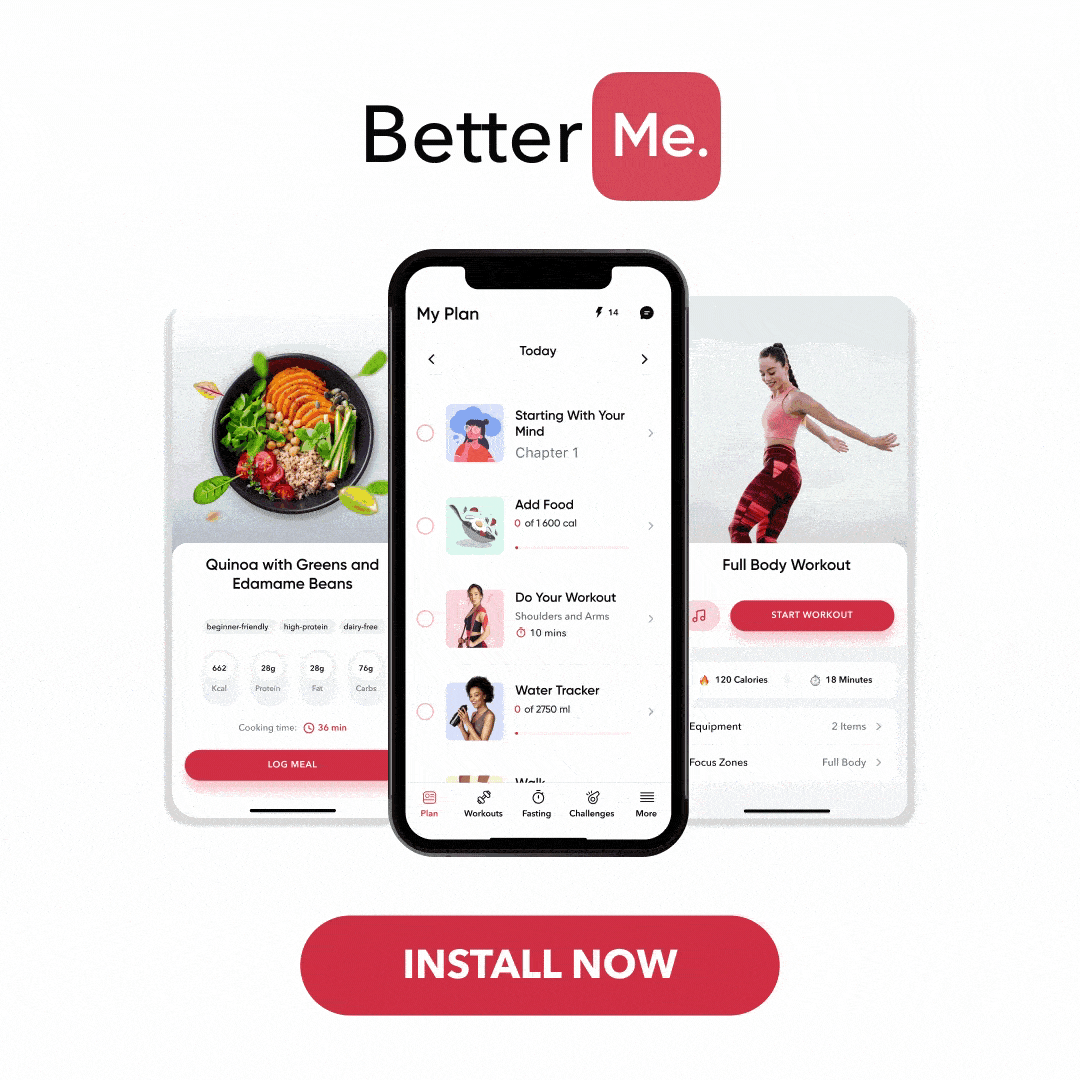 DISCLAIMER:
This article is intended for general informational purposes only and does not address individual circumstances. It is not a substitute for professional advice or help and should not be relied on to make decisions of any kind. Any action you take upon the information presented in this article is strictly at your own risk and responsibility!