How many times have you made the decision to workout to improve your health or lose weight only to never get enough time to actually get down to it? You are not alone. The issue of failing to have enough time to squeeze in a 30 to 45 minute workout a day is a reality for many. Here is where doing mini workouts throughout the day comes into play. Working out throughout the day in short bursts is a great way to not only keep you active and your blood pumping, but it is also a great way to lose weight even with a busy and packed schedule!
What Are Mini Workouts?
These are smaller/shorter exercise sessions done throughout the day as a replacement for a longer workout session.
When it comes to the recommended amount of physical activity for adults, the U.S Department of Health and Human Services advises that adults should have at least 150 minutes to 300 minutes (5 hours) a week of moderate-intensity, or 75 minutes 150 minutes a week of vigorous-intensity aerobic physical activity and also insists that adults should do muscle-strengthening activities of moderate or greater intensity which involve all major muscle groups on 2 or more days a week (8).
While this seems easy enough to do, many people – due to incredibly busy schedules or other factors – often find themselves unable to spare the quick 30 to 45 minutes a day to accomplish this goal.
This is where small workouts done throughout the day come in. Here, instead of you doing a series of exercises in one go, you divvy up the workouts into smaller easy to do sessions/sets that can be done in 5 to 10 minutes bursts throughout the day – which should enable you to still keep up with your schedule and remain active.
Read More: 10 Common Workout Problems And How To Fix Them
What Are The Benefits Of Intermittent Exercise Throughout The Day?
Is it good to do small workouts throughout the day? Yes, it is absolutely a great idea to do small workouts throughout the day. In fact, here are some reasons why you should consider attempting this.
What sounds easier (and possibly less painful/strenuous) to do; 50 sit-ups and 30 squats in one session or 10 sit-ups and 5 squats every two hours? For many people – especially those new to working out, the second option is more manageable and definitely less strenuous on the muscles. The extra time between sets helps your muscles recover a little before you have to strain them again.
While consistency is absolutely essential for weight loss or even muscle gain, the monotony of a set schedule can be very boring, which causes many to quit working out prematurely. Having a more radical schedule that involves the same workouts could offer such people a better chance at sticking to their exercises.
In fact, one study published in the Journal of Obesity in 2010 found that, compared to a long bout of exercise, doing short workouts for weight loss throughout the day (about 10 minutes per session) made it easier for people to stick to an exercise routine (3).
Helps Lower Blood Pressure
In a study published in the Medicine & Science in Sports & Exercise journal, researchers found that shorter 10-minute workouts throughout the day was better for lowering high blood pressure in  prehypertensive individuals (4).
Aids In Weight Loss And Reduces Risk Of Obesity
One study published by the American Council on Exercise found that bouts of activity, especially higher-intensity activity was associated with a lower risk of obesity, with the biggest results seen in women more than men (9).
Another study published in the Journal of Obesity stated that such high-intensity intermittent exercises may be more effective at reducing belly and overall body fat than longer traditional workouts (6).
Small workouts throughout the day can offer other benefits such as relieving stress by boosting endorphins, improving overall health – including reducing the risk of chronic illnesses, and even help you reach your fitness goal faster than imagined (6, 10, 5).
BetterMe is your fast-track ticket to a long-lasting weight loss! Tailor your fitness journey and maximize your results with just a couple of swipes!
Is It Better To Do Multiple Small Workouts Throughout The Day Instead Of One Long One?
For anyone with a busy schedule choosing to do a mini workout throughout the day instead of trying to find time for one long session is obviously the best choice. But what about for the average person with ample time but who wishes to try something different? Will intermittent exercise throughout the day benefit them in any way?
In some ways, yes, they can.
According to a blog post by The New York Times, several studies have shown that when compared to one long session, multiple small workouts can have added benefits not seen in longer workouts (2).
One study found that a shorter cardio session (i.e. two 15-minute cycling sessions) resulted in longer lasting less arterial stiffening when compared to one 30-minutes long bike riding session.
For anyone unaware, arterial stiffening is a condition where the walls of your blood vessels – specifically the arteries – become stiffer, less pliable and they lose their natural flexibility. This makes it harder for the heart to pump blood throughout the body. This condition has been linked to an increased link of certain chronic illnesses such as hypertension, chronic kidney disease, dementia, a variety of cardiovascular illnesses, dementia, stroke, and even death (1, 7).
That aside, breaking up your workouts can also make them seem more doable – especially for beginners and helps make regular exercise a more achievable goal to many.
Read More: Should You Get A Massage Before Or After Your Workout?
FAQs
Can I Do 5 Minute Workouts Throughout The Day?
Yes, you can. If 5 minutes is all you have to spare then by all means try and get a quick workout in. Timespan doesn't matter, just the completion of the activity does.
What Are Some Types Of Foods To Avoid After Working Out Throughout The Day?
Just because you've decided to switch from concentrated workout sessions to simple 10 minutes bouts of activity throughout the day doesn't mean that you should also stray from a healthy diet/meal plan.
To ensure that you see the results of your exercises, be sure to avoid unhealthy foods and drinks such as refined carbs, fast foods, red meat, and any drinks/foods with too much fat and added sugars.
Instead stick to foods made from complex carbs, lean proteins, healthy fats, with no added sugars (opt for calorie free sweeteners if you have to have sugar) and watch your calorie intake.
Can You Do Workout Sets Throughout The Day?
Yes, you absolutely can do workout sets during the day. As seen above, these short bouts of activity have incredible health benefits – just as much as (if not more than) doing all sets in one concentrated session.
If you've mustered up the courage to crush your weight loss goal, let Betterme take the sting out of this demanding process. Our app will help you restructure your habits, remold your life and crank up your fitness results!
The Bottom Line: Are Mini Workouts Throughout The Day Worth It?
Yes, they are. They might be unconventional, but they are definitely better than choosing to do nothing at all. With these as an option, many people have a better chance to improve their health or weight even as they struggle with a packed schedule. Remember that fitness should work and be for you. If this is the best option for you then go ahead and do it.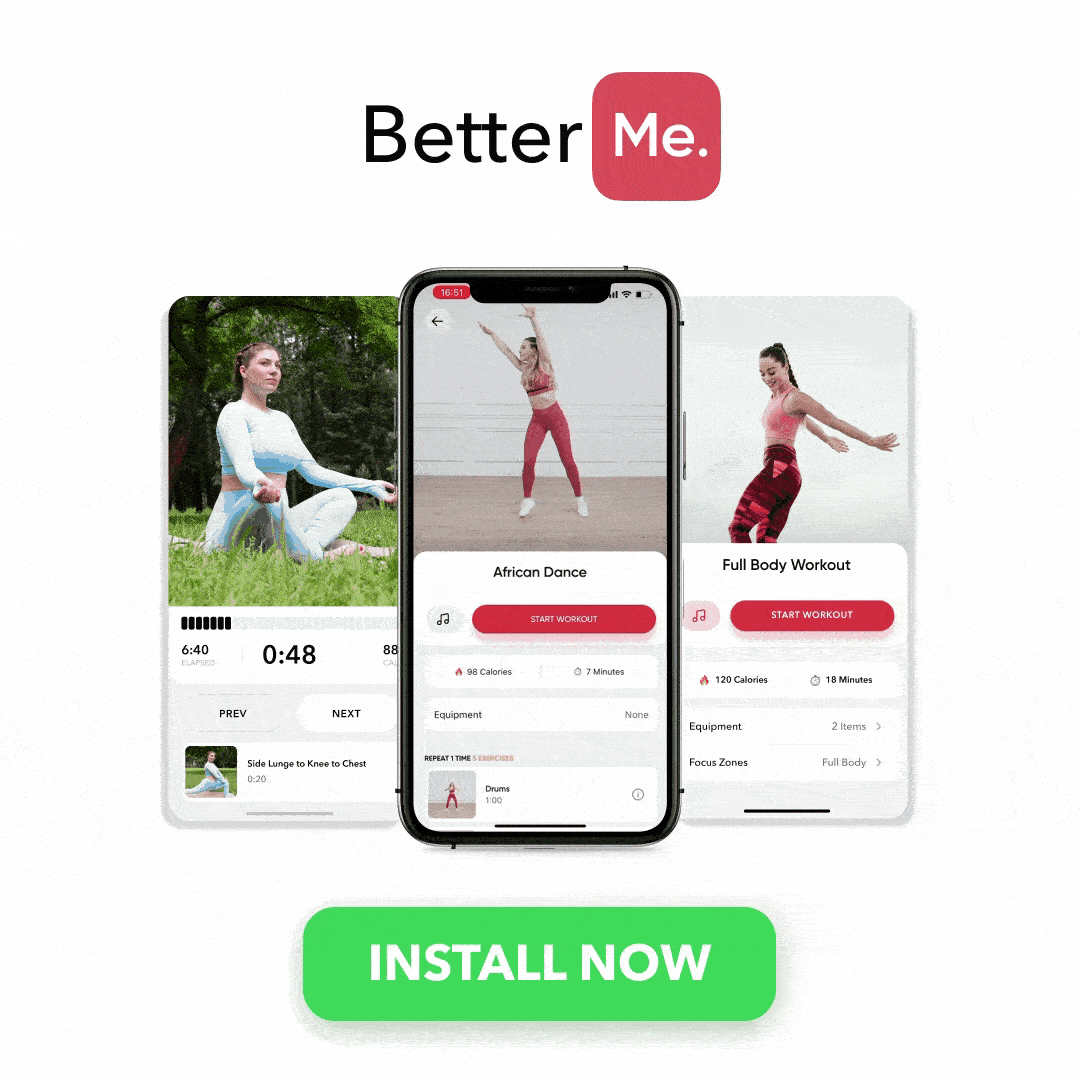 DISCLAIMER:
This article is intended for general informational purposes only and does not address individual circumstances. It is not a substitute for professional advice or help and should not be relied on to make decisions of any kind. Any action you take upon the information presented in this article is strictly at your own risk and responsibility!