As you probably noticed, there are numerous diet plans online. All are varied in benefits, making it hard to determine where to start if you are interested in one of them. One particular diet plan that has been getting fantastic reviews for its benefits is the Mediterranean diet plan. If you have been thinking about starting a Mediterranean diet 30-day meal plan, then you are in the right place. To begin with, this diet plan is based on a very simple and straightforward concept. This is none other than the consumption of whole grains and other plant-based foods. Note, however this is not the only food product included in this meal plan. There are other numerous and healthy food groups that are key to this diet plan.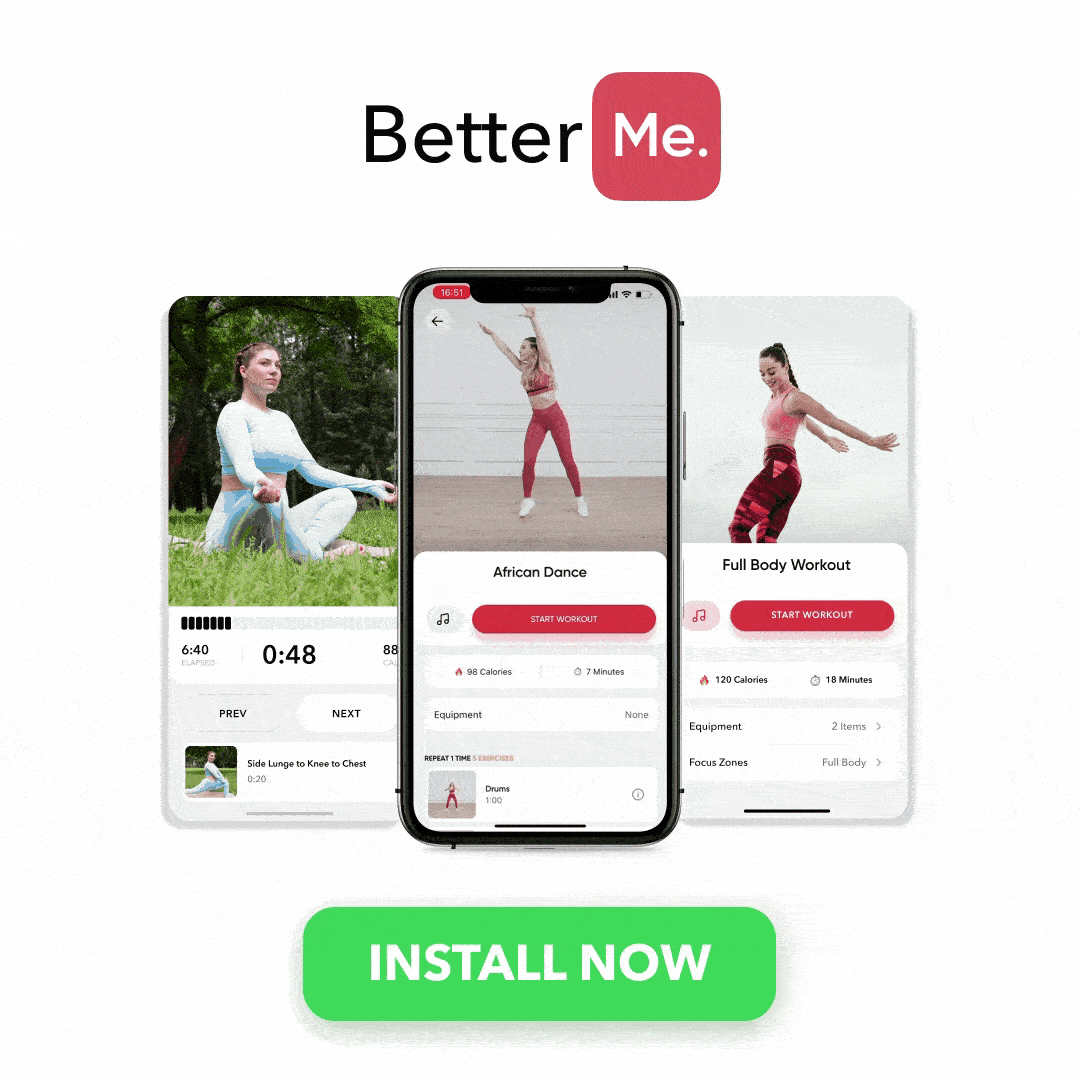 This article will touch on the primary components of the Mediterranean diet plan. These include the areas like its primary concept, benefits, downsides, and sample meal plans. Read on to get more insight into this diet before you start your Mediterranean diet 30-day meal plan.
What Is The Mediterranean Diet?
The Mediterranean diet refers to a balanced diet that emphasizes the consumption of plant-based foods. These include foods such as whole grains, fruits, vegetables, nuts, and legumes (12). According to WebMD, the key characteristics of this diet include (13):
Daily consumption of fruits and vegetables. Most people need at least 7-10 servings per day.

Consumption of eggs, poultry, yoghurt, and cheese in small portions.

Consumption of either seafood or fish at least two times a week.

The use of spices and herbs to flavor meals. It is also used to lessen the need for salt in the meals.

Consumption of healthy fats such as extra virgin olive oil.

Moderate consumption of red wine. The recommended daily limit for women is one glass while that for men is two glasses.

Limited consumption of red meat.

Consumption of whole grains, bread, seeds, nuts, and potatoes.

Use of avocados instead of margarine or butter.

Occasional consumption of sweets. 

Moderate consumption of dairy products such as low-fat Greek or plain yoghurt.
The following list highlights what you are expected to eat when you start a Mediterranean diet plan. Additionally, Mayo Clinic adds that this particular diet also emphasizes the following aspects (9):
Sharing of the Mediterranean meals with family and friends.

Staying physically active.

Healthy cooking methods such as grilling instead of deep frying.
In the Mediterranean diet, Medical News Today acknowledges that you have to limit consumption of processed foods (14). Some common examples of processed foods include biscuits, bacon, sausages, crisps, pastries, and pies. 
Read More: Mediterranean Diet Macros: Taking A Closer Look At What Eating Mediterranean-Style Actually Means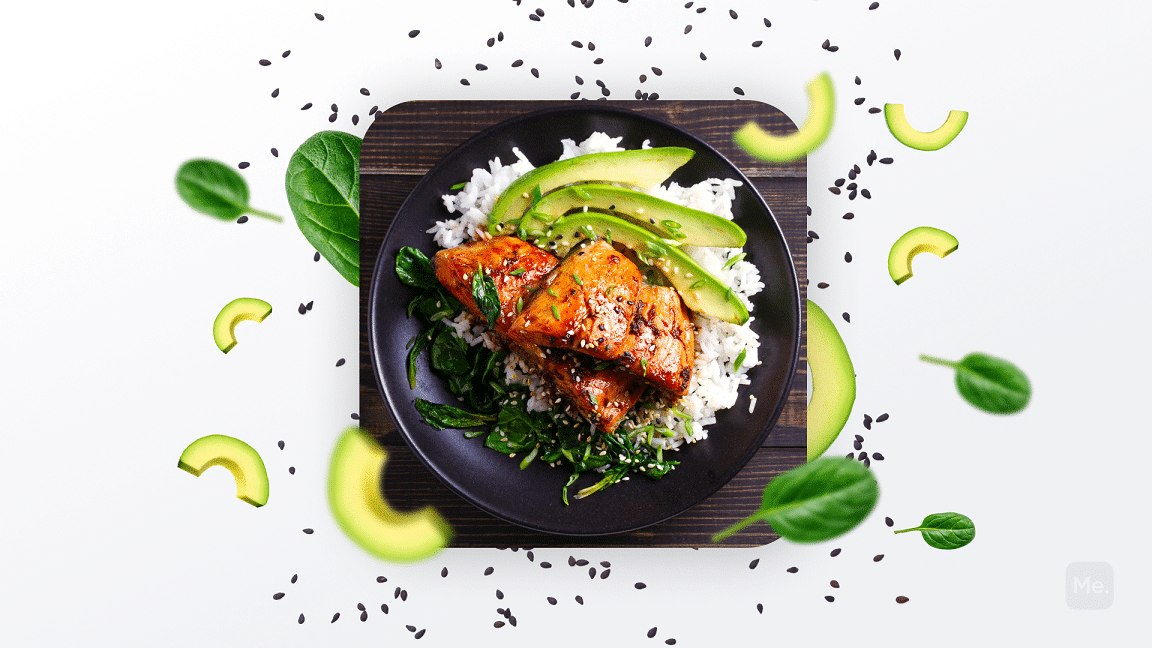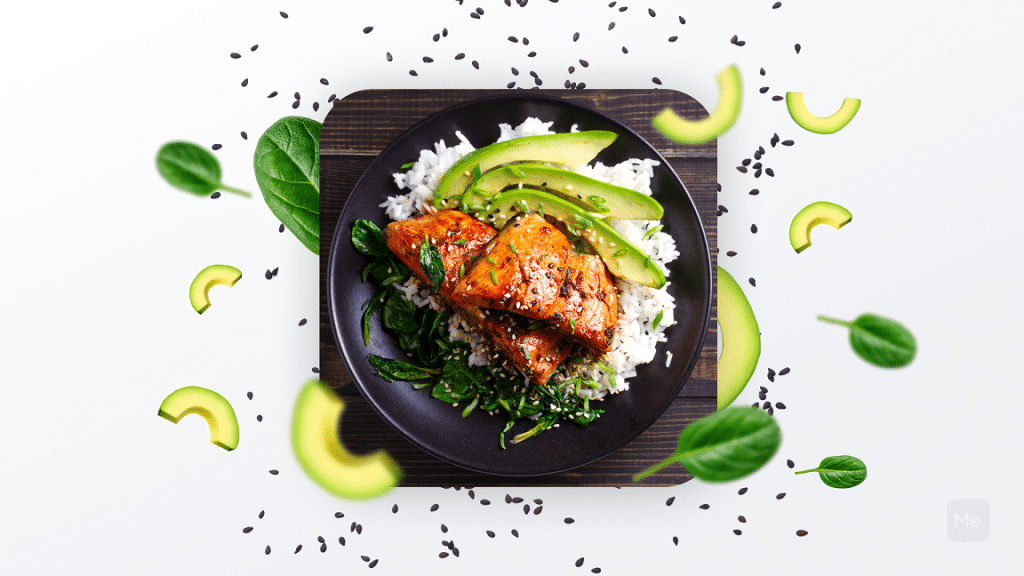 Start The Mediterranean 30-Day Meal Plan The Right Way 
If you feel the Mediterranean diet plan fits the bill for you, then you can go ahead with it into your lifestyle. But before doing that, you should have a talk with both a licensed physician and nutritionist. After this, you are going to have to double-check the following criteria to make sure you start on the right foot:
Every diet plan fulfils different needs. Some help with weight loss, others reduce risks of various diseases, while others merely help you live healthier. Dig deeper to examine why you want to start the Mediterranean diet 30-day meal plan.
According to WebMD, the Mediterranean diet was ranked as the best diet plan for 2020 (8). It was considered the best diet to follow and the best diet to promote healthy eating. It also ranked as the best plant-based diet and the best diet for diabetes and heart health.
So, if your goal is finding a diet that propels you into healthy eating, then this 30-day plan is perfect. Likewise, it fits the bill if you want an effective plant-based meal plan. Remember to double-check with your dietitian for more professional advice on the same.
How Long Do You Want To Be On a Meal Plan?
As mentioned earlier, there are plenty of diet plans today. Some are short term while others work best long term. It is up to you to determine how long you want to stick with a diet plan. This will likely be highly influenced by your goals.
In most cases, if you want short term results, you might want to try the diet plan for a month or so. However, for long term results, you should keep with the meal plan for a longer period of time. In this case it's fortunate to know experts acknowledge that the Mediterranean diet is an effective and practical approach for long-term lifestyle changes (13).
Will Counting Calories Still Count?
If you do not know the Mediterranean diet concept, you will probably start such a meal plan and still count calories. It is undeniable that calories are vital for human health. As such, we have to consume the right amount, especially if we want to maintain healthy body weight (4).
When it comes to this diet, you do not need to count your calories. According to WebMD, you will not need to count your calories while on the Mediterranean diet (1). This is because this diet swaps out most of the unhealthy and bad foods for healthier options.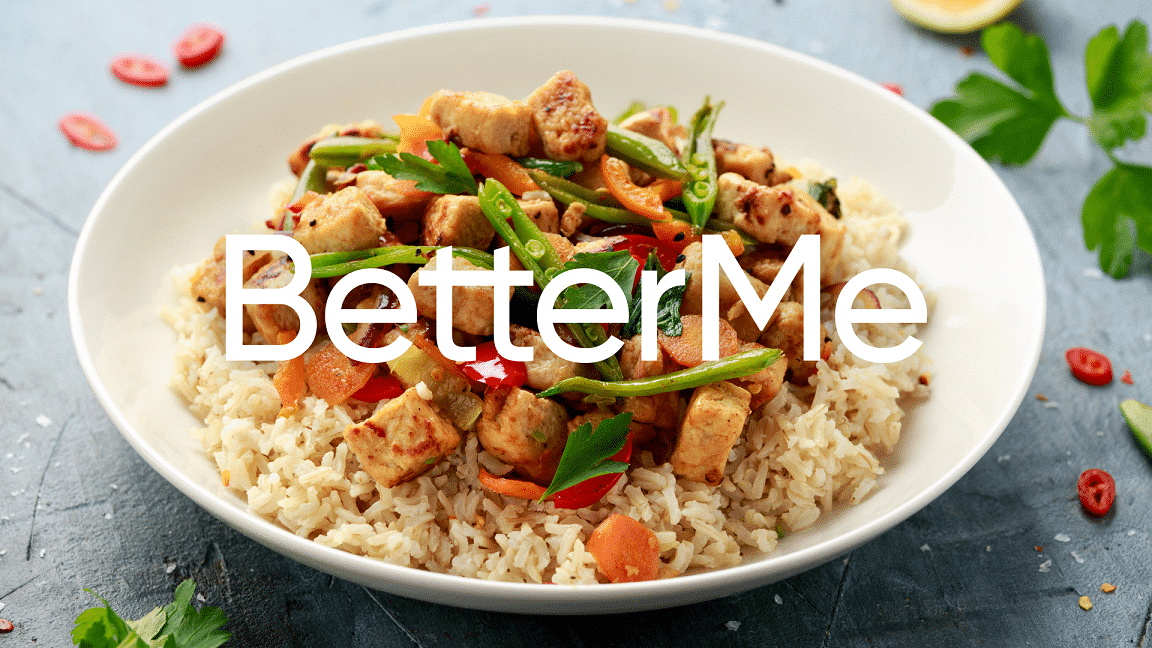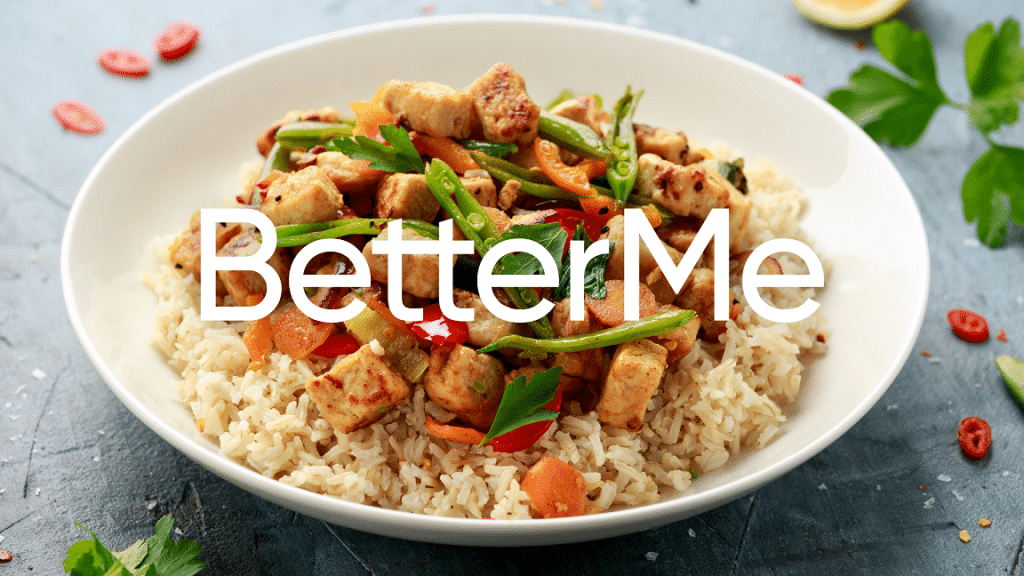 Why Start A Mediterranean Diet 30-Day Meal Plan 
There are many reasons why the Mediterranean diet plan is popular and has numerous fantastic reviews. These reasons may propel you to give the Mediterranean diet 30-day meal plan a try. Take a look at some solid benefits of starting such a food program:
It May Help Prevent Type 2 Diabetes
According to WebMD, the Mediterranean diet may help in reducing your risk of type 2 diabetes (7). Type 2 diabetes is detrimental to your health as it can affect vital body organs such as your heart, kidneys, and eyes.
It May Reduce Your Stress Levels
The idea of a diet helping to reduce your stress levels may appear to be a bit far-fetched. However, Medical News Today acknowledges that some observational studies have found a link between this diet and reduced stress (2). They acknowledge that people who regularly eat fruits and vegetables or the Mediterranean diet tend to report less stress.
It Can Improve Your Heart Health
In addition to protecting you against diabetes, Medical News Today also states that this diet supports good cardiovascular health (10). The reasoning behind this comes from the fact that the Mediterranean diet promotes good monounsaturated fats that increase the 'good' cholesterol levels.
It Can Improve Athletic Endurance
Eating a Mediterranean diet can help with improving your exercise performance within a few days (6). As such, experts acknowledge that this dietary pattern can quickly improve athletic performance.
It May Promote Weight Loss
Most of the foods included in the Mediterranean diet 30-day meal plan are plant-based. They also have relatively low calories. Medical News Today acknowledges that weight loss involves consuming fewer calories than your body is burning (3). Since this diet plan helps you to limit consumption to fewer calories, it may indeed help you shed some pounds.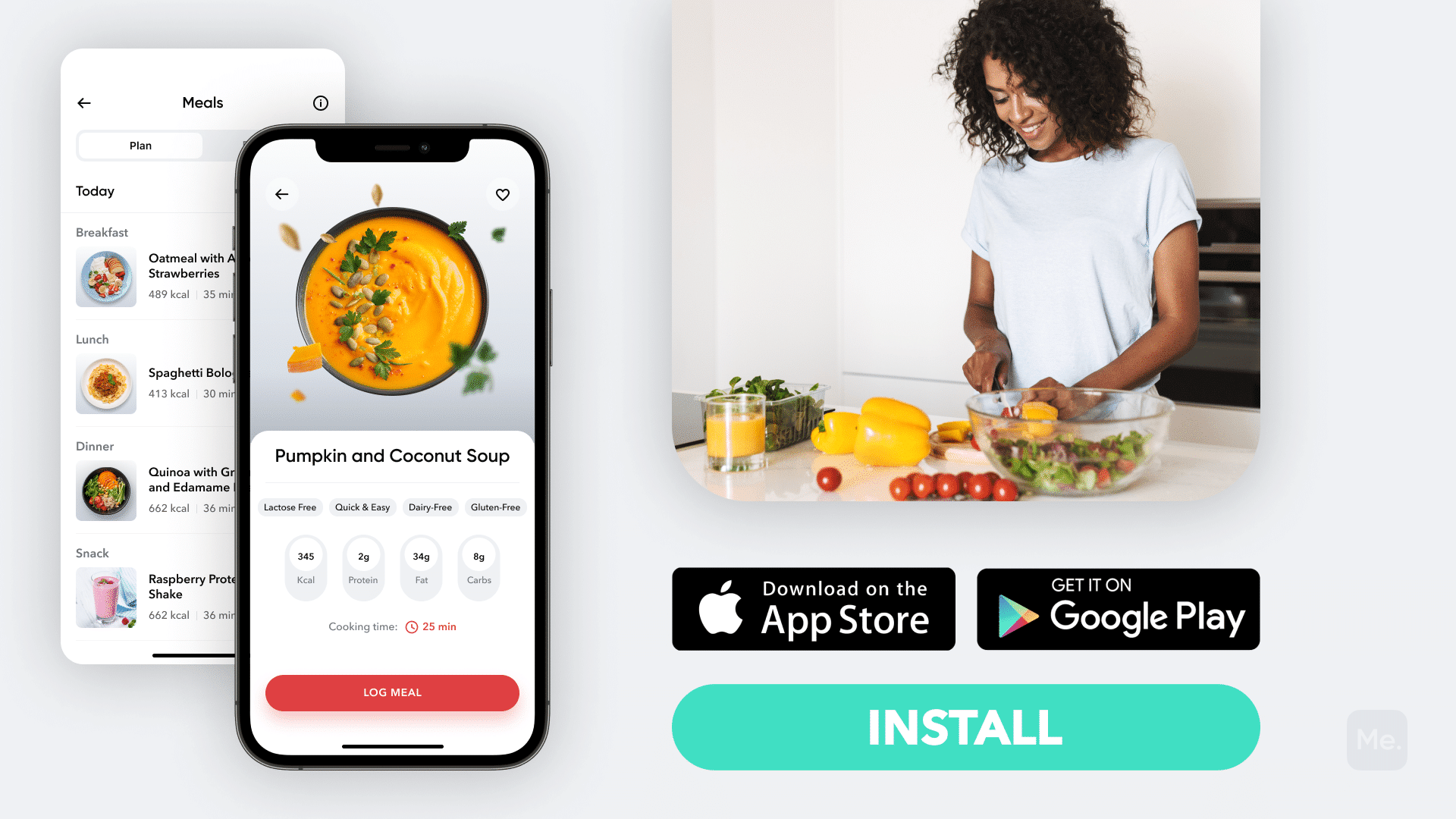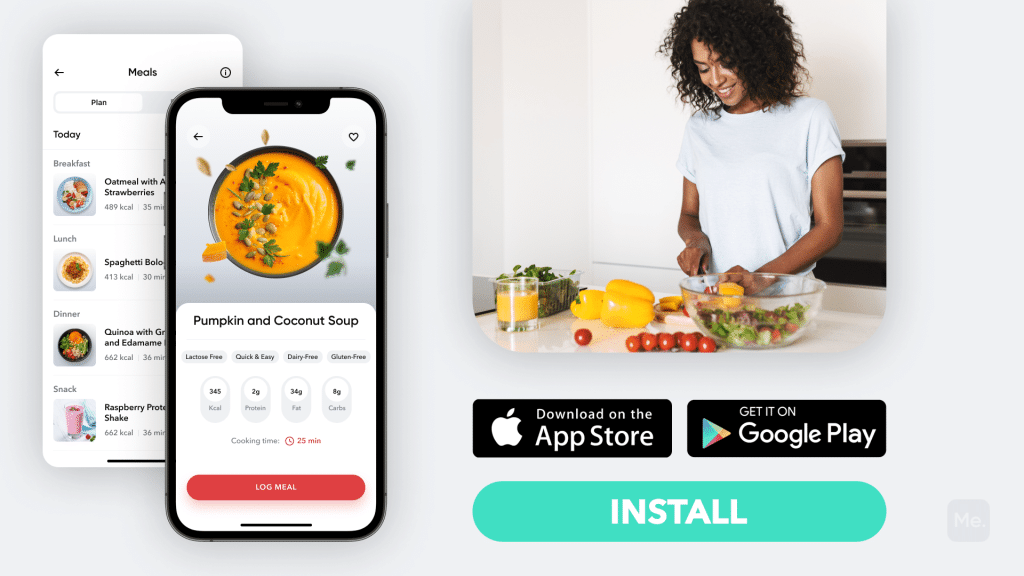 It Gives Your Body Essential Minerals And Vitamins
The Mediterranean diet is designed around the consumption of fruits and vegetables that provide your body with vitamins and minerals vital for healthy body functioning. These foods also provide your body with antioxidants that are responsible for removing free radicals from your body (15). 
Free radicals refer to toxic molecules that build up from various body processes such as metabolism. In addition to improving your physical health, antioxidants and fiber from this diet may also help in improving your mental health.
BetterMe app is a foolproof way to go from zero to a weight loss hero in a safe and sustainable way! What are you waiting for? Start transforming your body now!
The Downsides Of Starting A Mediterranean Diet 30-Day Meal Plan
Although this diet has multiple health benefits, it also has several negative aspects. You need to take note of these downsides beforehand to avoid putting your health at risk for the next 30 days. These health concerns about starting this diet plan include (5):
Low iron content. You may tend to have lower levels of iron if you follow the Mediterranean diet. So, if you choose to start this diet plan, you will have to consume more foods rich in iron and vitamin C. 

Low calcium levels. You may also have low calcium levels due to a low consumption of dairy products. In this case, you need to ask your doctor if you can start taking calcium supplements.

Weight gain. Although the Mediterranean diet is plant-based, you can still gain weight from it. This happens when you overeat fats in products such as nuts and olive oil.
A Mediterranean Diet 30-Day Meal Plan Sample
Are you wondering where to start in creating your Mediterranean 30-day meal plan? Allow us to help you. We have compiled easy Mediterranean diet 30-day meal plan recipes to give you a clue on how to go about it. Take a look: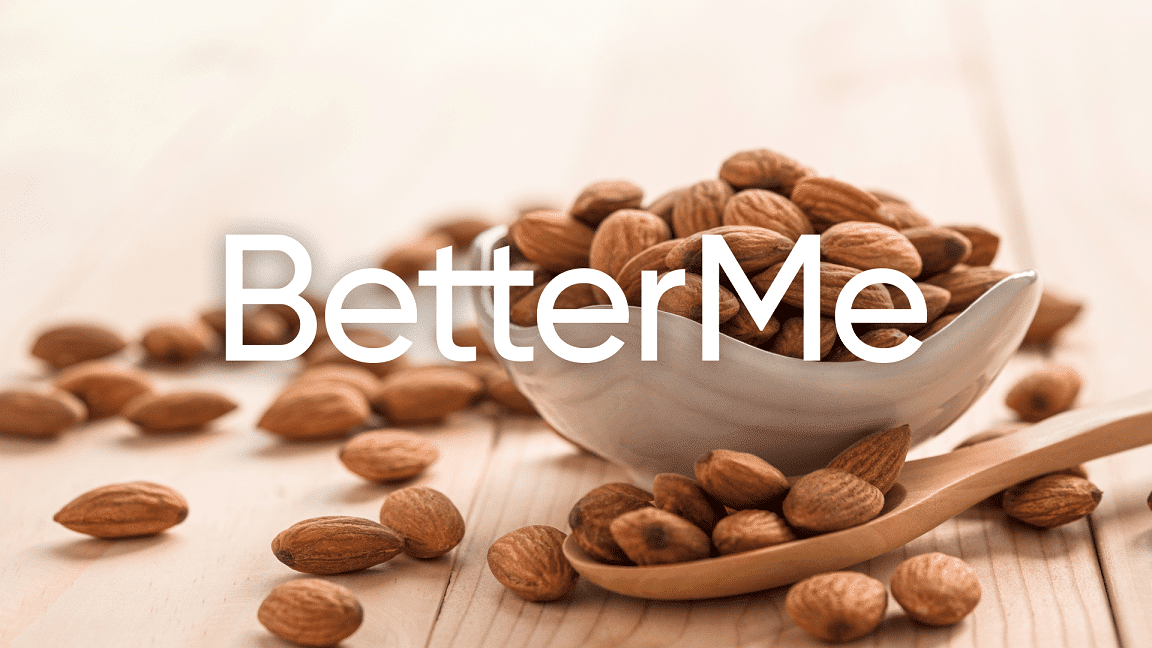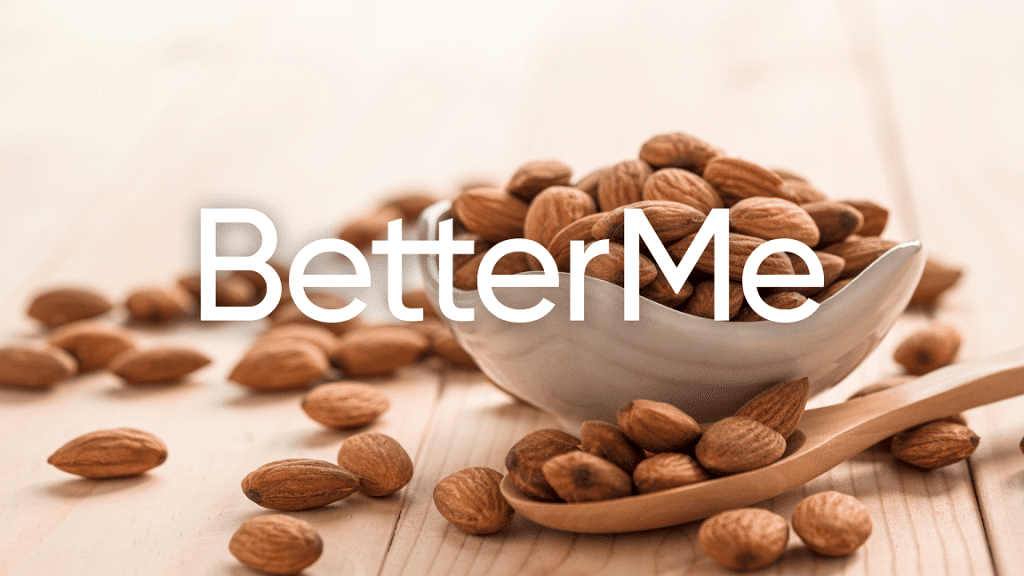 Day 1
The first four-day Mediterranean diet 30-day meal plan ideas are from the Medical News Today website (11). They are as follows:
Breakfast
One pan-fried egg, grilled tomatoes, and a whole-wheat toast
Lunch
Two cups of mixed salad greens with cherry tomatoes, olives, and a vinegar and olive oil dressing

,

two ounces of hummus, and a whole-grain pita bread
Snack
Dinner
Whole-grain pizza with grilled vegetables, tomato sauce, and low-fat cheese as toppings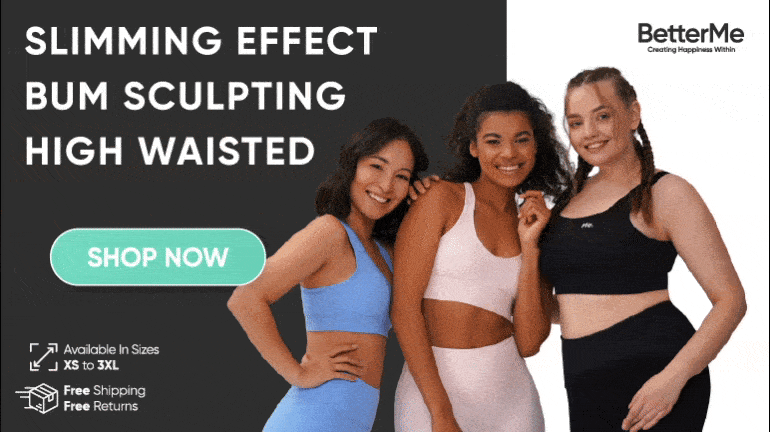 Day 2
Breakfast
One cup of Greek yoghurt, half a cup of fruits such as raspberries or blueberries
Lunch
A whole-grain sandwich with grilled vegetables such as zucchini, an onion, bell pepper, and eggplant.
Snack
Dried fruits such as figs or apricots
Dinner
One salmon or baked cod portion with black pepper and garlic, and one roasted potato with chives and olive oil
Day 3
Breakfast
One cup of whole-grain oats with dates, honey, and cinnamon, one ounce of shredded almonds (optional), and raspberry or any other low-sugar fruit toppings 
Lunch
Boiled white beans prepared with spices such as garlic, cumin, and laurel, one cup of arugula with tomato toppings, olive oil dressing, feta cheese, and cucumber
Snack
Avocado on whole-grain toast
Dinner
One half of a cup of whole-grain pasta with grilled vegetables, olive oil, and tomato sauce and one tablespoon of Parmesan cheese.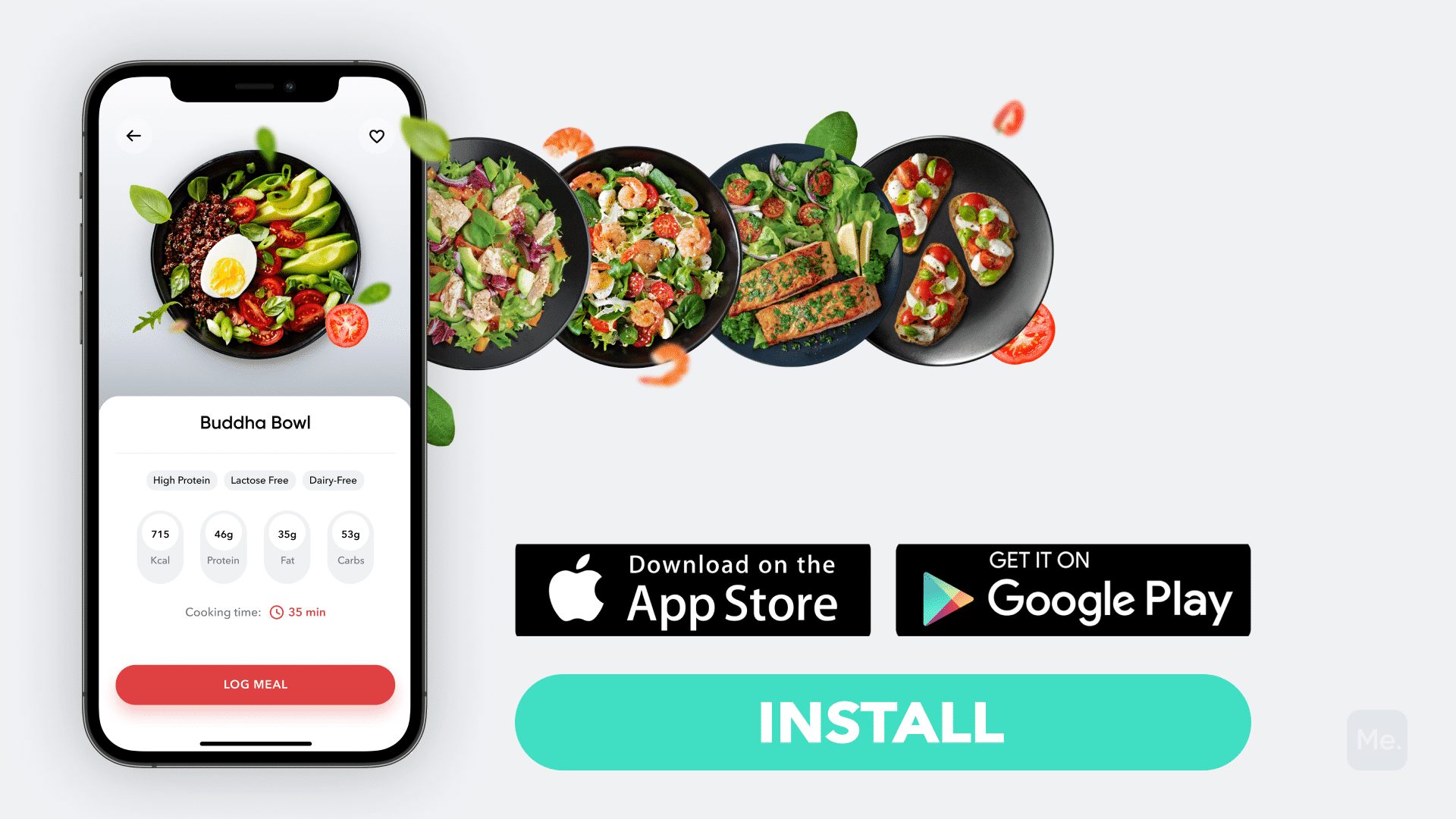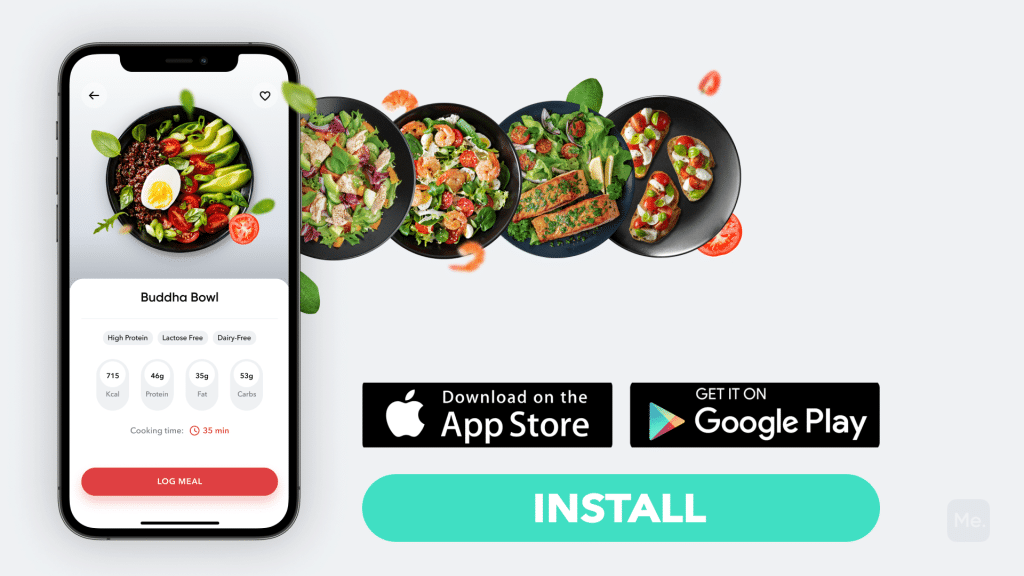 Day 4
Breakfast
Two egg scramble with tomatoes, bell peppers, and onions and a topping of one ounce of queso fresco or one-quarter of an avocado
Lunch
Roasted anchovies in olive oil on whole-grain toast with a  lemon juice sprinkling and a warm salad made with two cups of steamed kale and tomatoes
Snack
Hummus with carrot, celery, or any other vegetable
Dinner
Two cups of steamed spinach with a lemon juice sprinkling and herbs and one boiled artichoke with salt, garlic powder, and olive oil
Read More: Mediterranean Diet vs Paleo: Which Eating Pattern Should You Follow and Why?
Day 5
For the fifth day, you can consider this meal plan idea from the Medical News Today website (15):
Breakfast
Oatmeal with some nuts and fruits
Lunch
Spinach and feta stuffed salmon
Snack
Vegetables with a  hummus dip or tzatziki
Dinner
Mozzarella, chickpea, and tomato salad
Evening Snack
Greek yoghurt with some fruits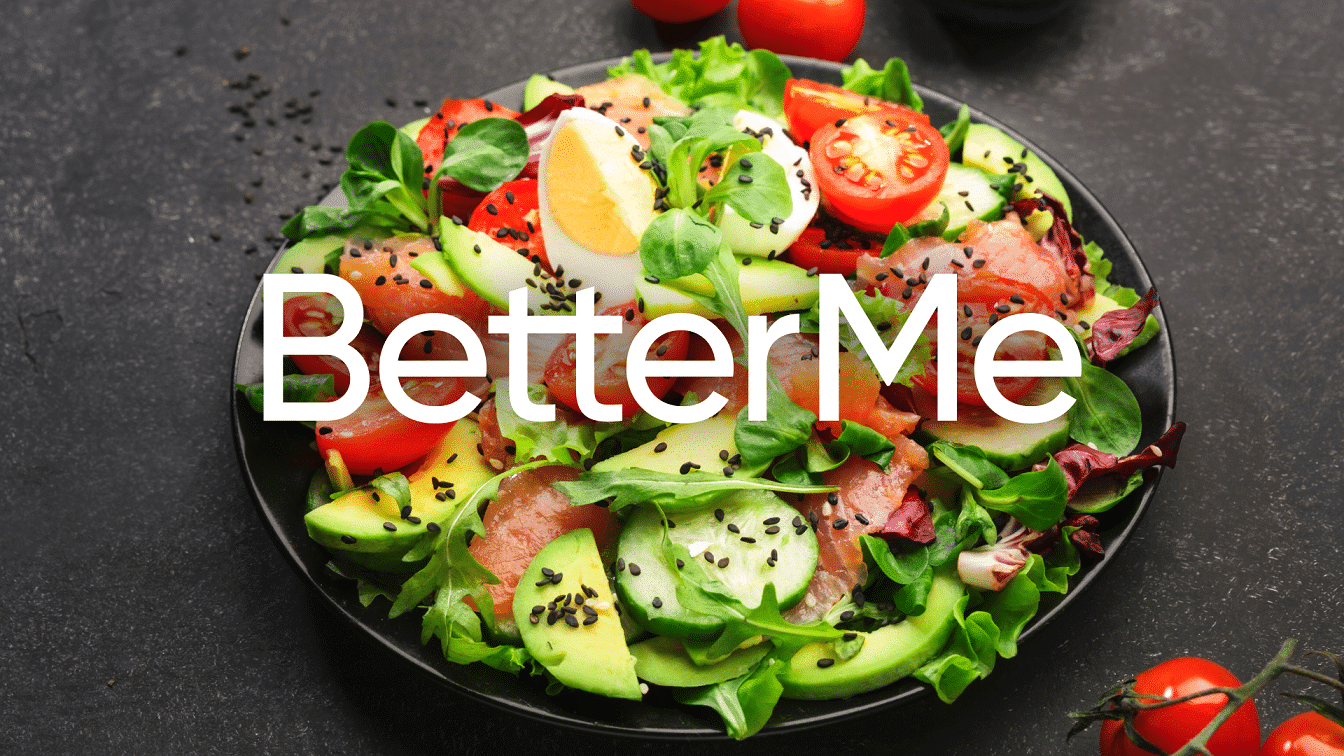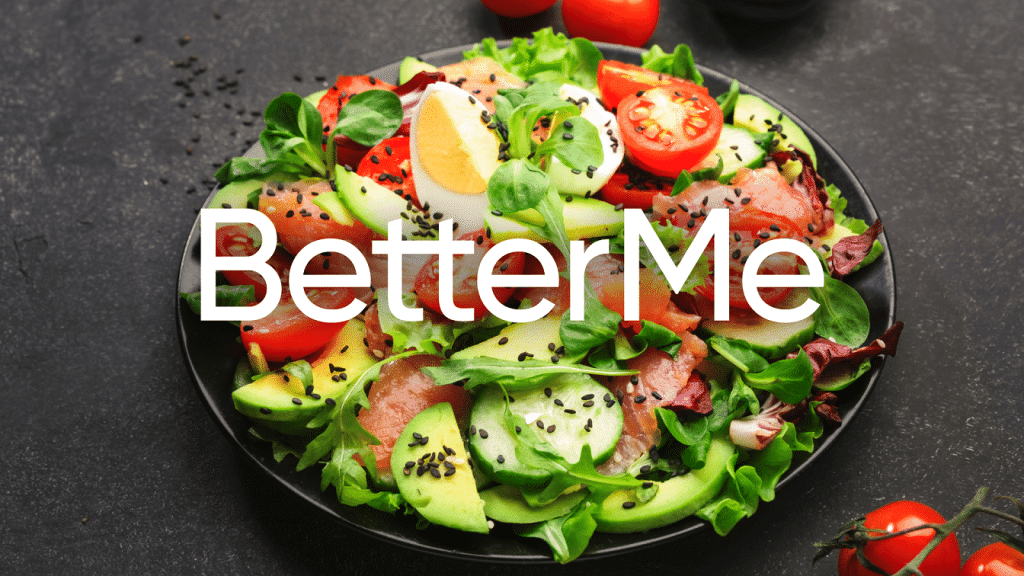 Day 6
The next meal recipe for the sixth day is from the Mayo Clinic website and is as follows (12):
Breakfast
Plain Greek yoghurt with some blueberries, peanut butter, apple slices and a whole-grain toast
Lunch
Hummus and baba ghanoush (eggplant dip), with pita and sliced vegetables for dipping and olives for a sweet finish
Snack
Whole fruits such as grapes or oranges
Dinner
Baked pasta with zucchini, a tossed salad, and a whole-grain roll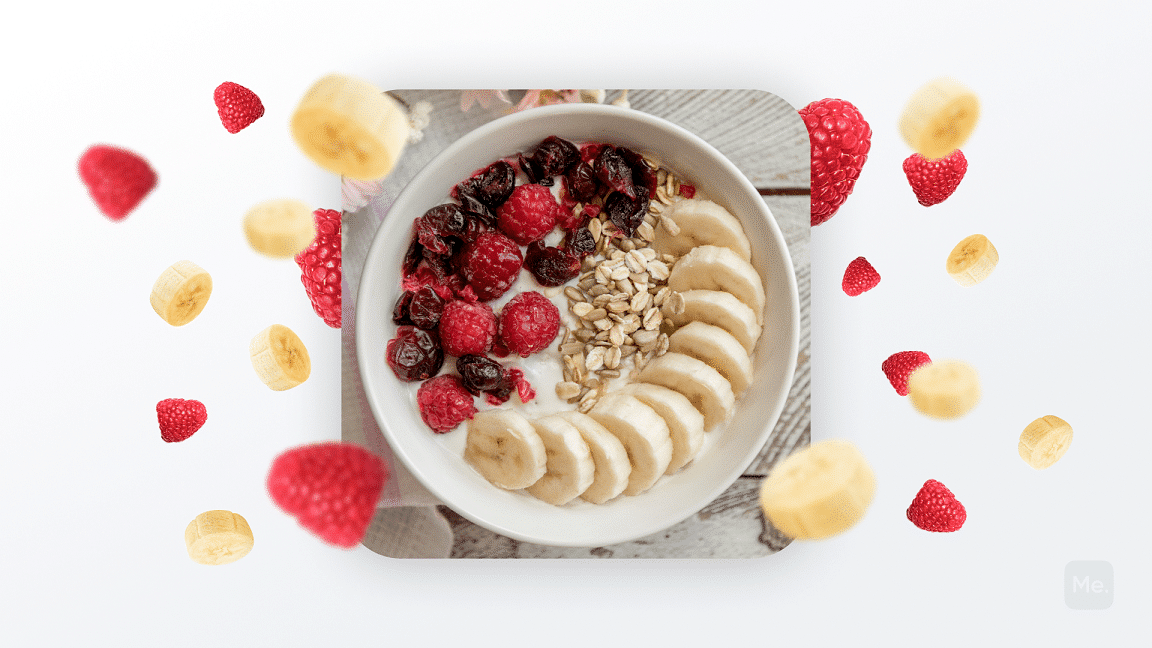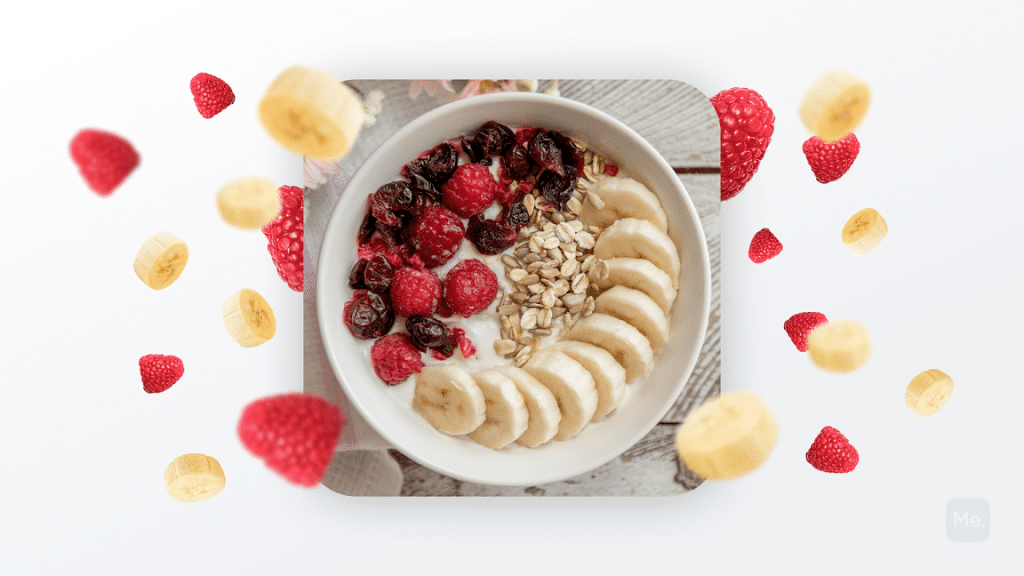 Day 7
The next three recipes are also from the Medical News Today website (11). You can consider them if you are looking for a Mediterranean diet 30-day meal plan bodybuilding meal ideas. They are as follows:
Breakfast
One cup of Greek yoghurt with honey and cinnamon and a mix of shredded almonds and a chopped apple
Lunch
One cup of quinoa with sun-dried tomatoes, olives, and bell peppers, roasted garbanzo beans with thyme and oregano, and a topping of feta cheese crumbles of avocado (optional)
Snack
A small serving of yoghurt
Dinner
Two cups of steamed kale with cucumber, tomato, Parmesan cheese, olives, and lemon juice, and a portion of grilled sardines with a  lemon slice
Intense sweat sessions, working weight loss tips, lip-smacking recipes come in one package with the BetterMe app. And all of it is at your fingertips, start transforming your life now!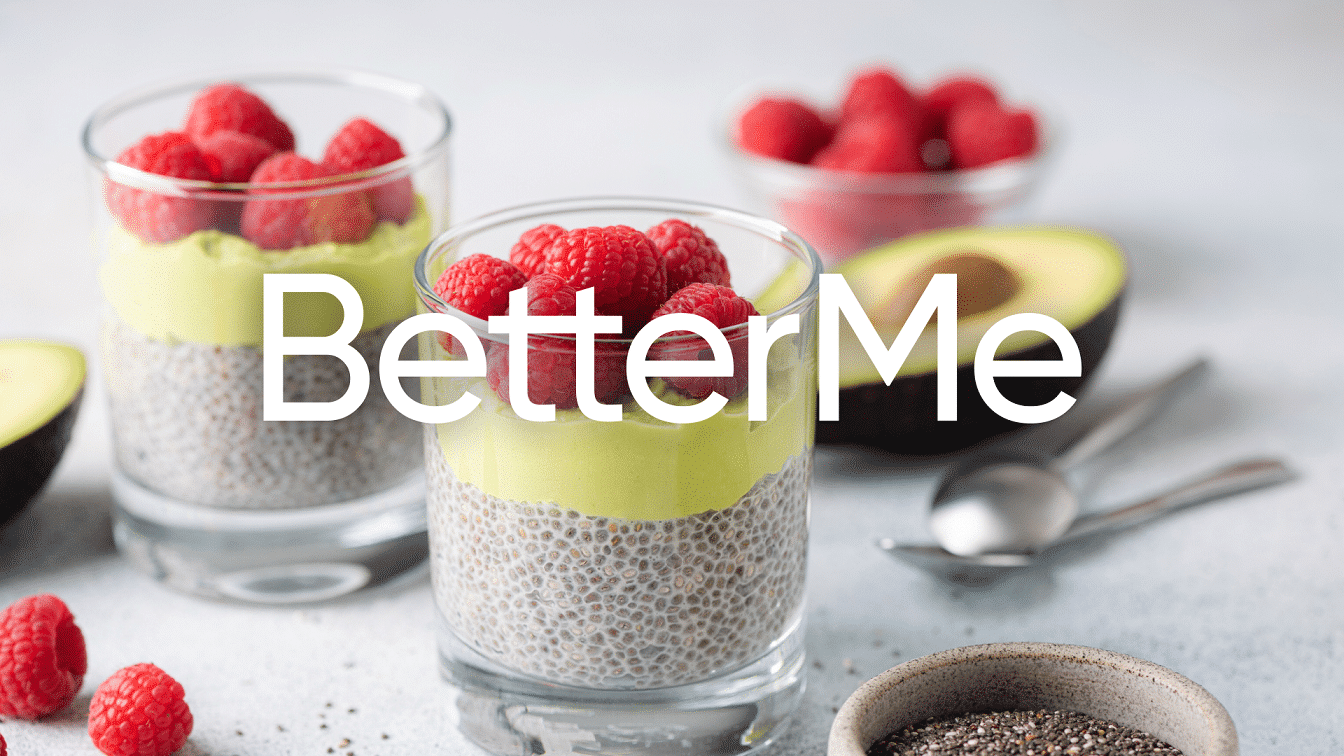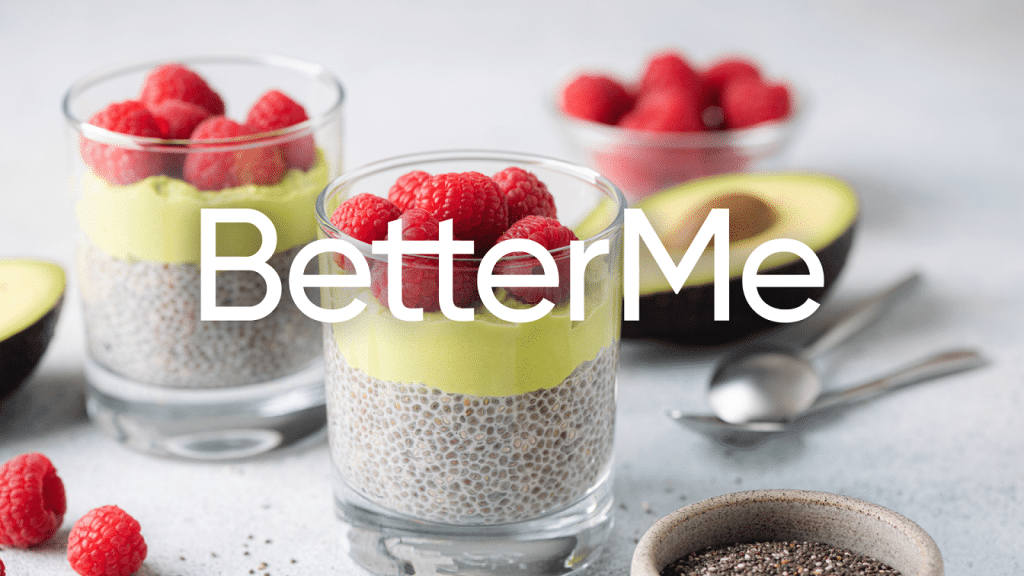 Day 8
Breakfast
Two slices of whole-grain toast with soft cheese such as queso fresco, ricotta or goat cheese, and some chopped figs or blueberries for sweeteners
Lunch
Two cups of mixed greens with cucumber and tomato, and a small roasted chicken portion with a sprinkling of lemon juice and olive oil
Dinner
Oven-roasted vegetables such as eggplant, sweet potato, zucchini, artichoke, tomato, and carrot, and one cup of whole-grain couscous
Day 9
Breakfast
Whole-grain oats with dates, maple syrup, and cinnamon and a topping of low-sugar fruits like blackberries
Lunch
Stewed zucchini, onion, squash, and potato in a herb and tomato sauce
Dinner
Two cups of greens like spinach or arugula with olives, tomato, and olive oil, and a small white fish portion. You can also eat the leftover vegetable stew from lunch if there is any.
The Bottom-Line
The Mediterranean diet has been ranked among healthy diet plans, meaning you can safely start a Mediterranean diet 30-day meal plan. Such a meal plan can highly benefit your health, including improving your cardiovascular health and promoting weight loss.
However, for you to reap these benefits, you must adhere to the Mediterranean diet guidelines. They include aspects such as eating plant-based foods, more whole grains, seafood, a few dairy products, and limited red meat.
Despite taking these safety measures, you still ought to talk to an accredited physician and dietitian. They will guide you in creating a practical 30-day meal plan that can help you attain your goals.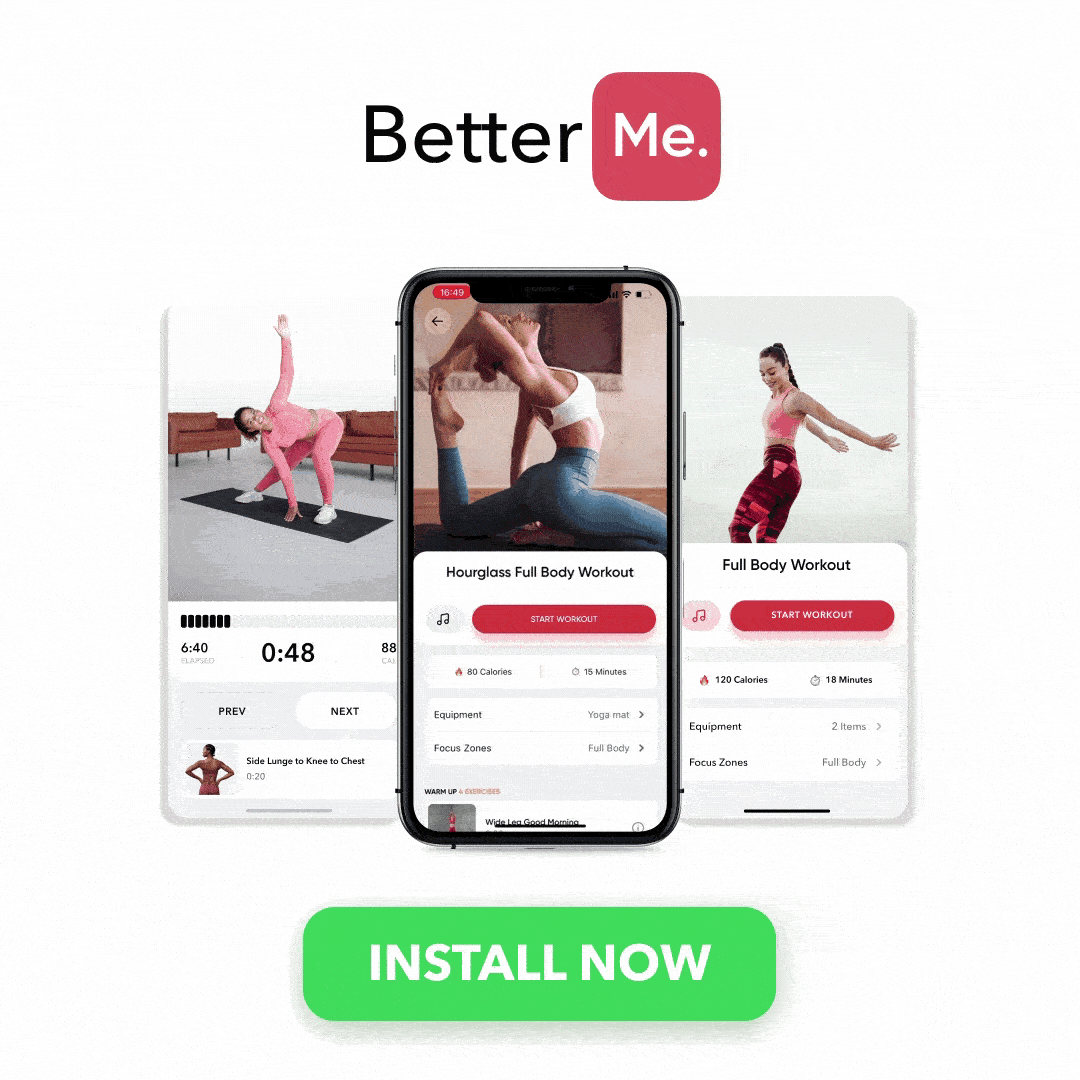 DISCLAIMER:
This article is intended for general informational purposes only and does not address individual circumstances. It is not a substitute for professional advice or help and should not be relied on to make decisions of any kind. A licensed physician should be consulted before making any dietary changes. Any action you take upon the information presented in this article is strictly at your own risk and responsibility!
SOURCES: