Exercise is good for everyone, regardless of age. According to  the Center for Disease Control and Prevention (CDC), simply engaging in 30 minutes of physical activity five days a week can reduce the risk of certain diseases and conditions (2). It's a good idea to encourage kids to form an exercise habit that will last them a lifetime. Even the older family members can benefit from such a routine-it's never too late to start prioritizing your physical well being. In this article we'll look at the exercise needs of different family members. We'll also give you some suggestions on fun activities that can help you or your kids get in shape.
How Much Exercise Do Kids Need?
Kids need at least 30 minutes of moderate activity each day, according to the CDC. You can break this up into smaller sessions of 10-15 minutes throughout the day (5).
There are lots of different ways for kids to get exercise. Besides playing an active game like tag or soccer, they could also ride a bike, walk to school, play in the backyard with their friends or siblings, even climb trees.  
How Much Exercise Do Moms Need?
According to the experts, adults should get 150 minutes of moderate aerobic activity every week. In addition, you should do muscle-strengthening activities 2 or more days a week that work all major muscle groups (legs, hips, back, abdomen, chest, shoulders and arms) (2).
Moms have a very hectic life. But you still can have time to squeeze some exercise into your busy schedule. There are lots of things you can do to stay in shape while spending quality time with the family:
Walking is a great way for moms to get some exercise and spend time outdoors with their children. Besides using a stroller, you can also teach your kid how to ride a bike or scooter. Jogging is another good option, and you don't have to push the stroller when jogging. Just make sure that it's safe to jog with your child in tow, and that they are properly restrained in the stroller during the activity.
Swimming is also a good option for moms who want to exercise with their kids. Water aerobics or aqua jogging are great full-body workouts that you can do with your child nearby. Dancing is another light activity that makes it easy for mothers and children to move together in the same room, but at different speeds or levels. You can make it a family activity by taking turns choosing the songs and showing off your fancy footwork.
Read More: Motivation To Exercise When Tired: Where Do You Find It?
How Much Exercise Do Dads Need?
Just like moms, dads can benefit immensely from at least 150 minutes of exercise a week. However, they might be more inclined to spend time at the gym or engage in a particularly active sport. There are many different exercises that dads can do with their kids, depending on how old they are. 
What About Seniors?
As we grow older, our bones and joints lose some of their elasticity (1). This can make it difficult to do many of the activities that we used to enjoy. However, this doesn't mean that seniors have to be completely sedentary. In fact, a study shows that physical activity is especially beneficial for older individuals, as it enhances mood and reduces social isolation and depression symptoms.
There are some simple exercises that seniors can do with their kids: Walk around the block or neighborhood is a great low-impact exercise. Just make sure that your parents wear comfortable shoes and clothes. You can also try water aerobics, aqua jogging or strength exercises in the pool to keep everyone engaged. Seniors can also do stretches while watching TV. 
Family Fitness: 10 Workouts You Can Do Together
Despite having different fitness needs, all members of the family can benefit from physical activity. 
Whether you're older, younger or a little bit in between it's important to be healthy and stay active throughout your life. Here are some fun activities that you can do with family members of all ages:
Bike Riding
This is such a simple activity but the possibilities for outdoor fun are endless. You can ride around the neighborhood, take a bike to the park or go on an adventure through winding trails in your local woods. The best part about biking is that it's something you can do as a family-and there are very few sports where both parents and children can be "athletes" at the same time!
Biking is good for cardiovascular health, and can increase your lifespan by protecting you from various lifestyle diseases (2).
Swimming
Swimming is a great low-impact exercise that you can do as a family. It's easy to learn, doesn't require any special equipment and even the youngest members of the family can participate. Moms or dads who want to get a full-body workout can try strength exercises in a pool, such as lifting weights or doing kick-boards.
Swimming is great for seniors, since it doesn't put any stress on the joints (4).
Yoga And Meditation
Yoga has many benefits, but it can also be used as a family bonding activity that brings people together in the present moment. Kids who are struggling to sit still for meditation or long periods of time will benefit greatly from yoga, which is why it's such a popular practice in schools.
Yoga is good for your mental and emotional well-being, and can help you manage stress and anxiety (8).
If you've mustered up the courage to crush your weight loss goal, let Betterme take the sting out of this demanding process. Our app will help you restructure your habits, remold your life and crank up your fitness results!
Dance
Just like yoga, dance is an activity that will bring everyone present in the same room. This can be a great way to bond with kids of any age; whether you're doing the "whip and nae-nae" or practicing ballet poses. Dancing is a fun activity that also helps with coordination and balance.
Walking Or Hiking
Walking and hiking are great ways for parents and kids alike to enjoy the outdoors while getting some exercise. It's also easy to learn and low-impact (just make sure that you don't go hiking or walking on too rough of terrain if your joints are already sensitive). If you're not up for an outdoor journey, try walking around the house or around the block.
Walking is a great cardiovascular activity that improves your sense of wellbeing (7). 
Kickball/Baseball/Tennis
Instead of going to the gym, why not try something a little more active and fun? Playing sports as a family can teach kids important social skills and stress management techniques , as well as being a fun way to exercise.
Kickball is great for families with kids of all ages; no one has to feel left out! 
Hula-Hoops And Jump Rope
Simple games like hula hoops and jump rope are great ways to keep the family moving without feeling like you're working out. These games are also a great way to introduce kids to sports and exercise in a fun and easy way.
Hula-hooping and jumping rope help you burn calories and improve your coordination. 
Build A Ninja Course
You can play outside and exercise at the same time by turning your yard into a ninja obstacle course. Having an outdoor course that you and your kids (and even your pets) can use is a great way to burn some calories and have fun with family members of all ages. It's also a good ice breaker if you're looking for ways to connect with your in-laws or cousins!
Building an obstacle course in the backyard is a fun way to bond with family members. 
Playgrounds And Swings
Another activity that's great for all ages, playing on playgrounds and swings is just plain fun. Whether you're doing it at the local park or in your own backyard, everyone will be able to join in with minimal injuries. Playing on swings and jungle gyms is an easy way to burn some calories. Anyone with mobility issues should be careful not to overexert themselves 
Strength Training
Strength training can be done with very little equipment and in a small space (making it perfect for the family). By lifting weights and doing bodyweight exercises like push-ups, squats, and lunges your whole family can stay fit. Strength training is also great for improving bone density , which makes it extra helpful for preventing falls among seniors (6).
Read More: Exercises For Shortness Of Breath And Increasing Lung Capacity
How To Make Workouts With Kids Work
Getting everyone on board with a new routine is often easier said than done.  Here are a few tips for making family workouts work:
Make It Fun
If you want to make exercise a lifestyle, it helps to enjoy what you are doing. Introduce exercise to your family as something fun to do together, rather than viewing it as something you have to do.
Maintain A Positive Attitude
If your family members are not used to exercise , they will likely need time to adjust to the new routine. Instead of focusing on what might be difficult for them (for example, "this workout is so hard!") try talking about what they like about the new routine (for example, "I bet we'll be able to do more push-ups than last time").
Studies have shown that individuals who exercise because they enjoy it tend to stick with it over the long term.
Reasons why BetterMe is a safe bet: a wide range of calorie-blasting workouts, finger-licking recipes, 24/7 support, challenges that'll keep you on your best game, and that just scratches the surface! Start using our app and watch the magic happen.
Set A Good Example
Don't just say that you want your kids and spouse exercising, show them by exercising yourself. Additionally, make sure you are setting a good example of healthy eating . If your family sees you eating junk food or drinking soda all the time, they're not going to have very much motivation to eat fruits and vegetables.
Schedule Family Exercise
A great way to keep everyone motivated is to set exercise times and stay consistent. Try setting a specific day and time for your family to work out, then stick to the schedule as much as possible.
Offer Rewards For Exercise
This is a great way to get your kids excited about exercising. By offering prizes for meeting weekly exercise goals you can help them continue to be active while also encouraging positive behavior.
By following the above simple tips, you will soon have your whole family finding new ways to include exercise in their daily lives!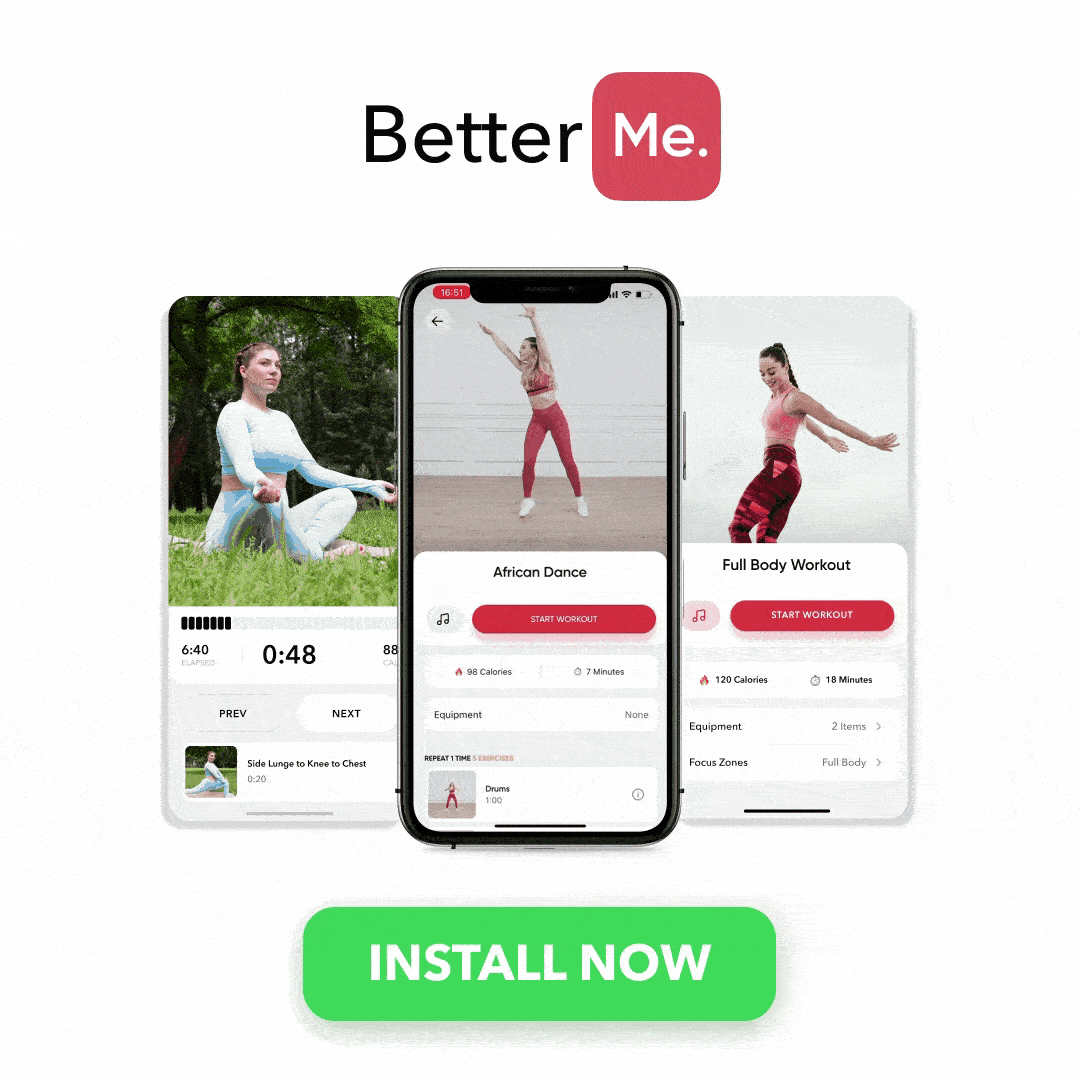 DISCLAIMER:
This article is intended for general informational purposes only and does not address individual circumstances. It is not a substitute for professional advice or help and should not be relied on to make decisions of any kind. Any action you take upon the information presented in this article is strictly at your own risk and responsibility!