Can A Plant-Based Diet Boost Your Health?
Would you be interested in a 30-day plant-based diet plan challenge? In recent years, more and more people have started advocating for and living a more plant-based lifestyle. So what are some advantages that you may experience when following a 30-day plant-based diet meal plan? Is a plant-based diet healthy, or will it cause nutrient deficiencies in your body?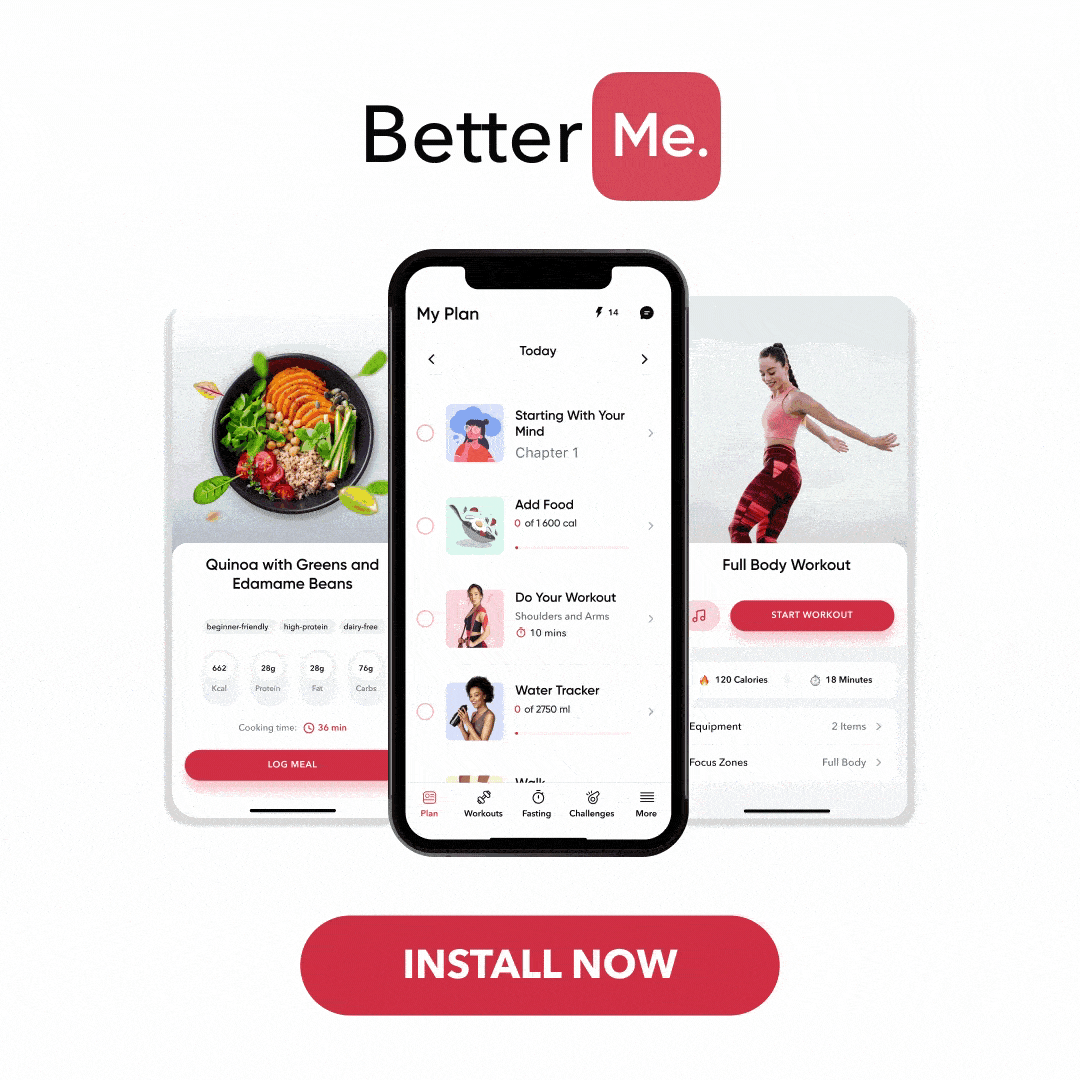 30-Day Plant-Based Diet: What Is A Plant-Based Diet?
Many people would be quick to assume that a 30-day plant-based diet plan means either being a vegan or a vegetarian. While vegetarianism and veganism are the most popular eating plans of a plant-based way of life, a plant-based life does not subscribe to the rules of these lifestyles.
People on a vegan diet will refrain from consuming any animal products, including dairy, meat, poultry, seafood, eggs, and honey. On the other hand, vegetarians exclude all meat and poultry from their diets, but some can choose to eat eggs, seafood, or dairy (22).
Unlike these two, a plant-based diet is not a diet, but it is a lifestyle that focuses more on consuming foods that primarily come from plants. This way of eating does not exclude animal proteins and products, but it encourages you to choose more of your foods from plant sources (21).
Principles Of A 30-Day Plant-Based Diet Plan
If you would like to set a challenge for yourself to follow a 30-day plant-based diet plan, here are some guidelines that you should abide by (23):
1. Limit your intake of or fully avoid animal-source products. As stated above, this is an individual choice. Do what feels right for you.
2. Eat more whole foods. If you have to have anything that has been processed, look for options that have gone through minimal processing.
3. Focus on plant-based foods. This means that your diet should be majorly made up of vegetables, fruits, whole grains, legumes, seeds, and nuts.
4. Get rid of all refined foods. This includes things like added sugars, processed oils, white flour, and white grains.
5. Pay attention to the quality of your foods. Sometimes the foods you buy at the supermarket or grocery store have not been grown in the best conditions or even ethically. While on a plant-based diet, it is best to purchase more locally sourced and organically grown foods.
Want to build an attention-grabbing bubble butt, blast away fat that's stored in all the wrong places, spring-clean your diet, turn back the clock on your skin, skyrocket your self-confidence and shatter your insecurities? Check out the BetterMe app and set this plan in motion!

Is A Plant-Based Diet Healthy?
Yes, it is. Unlike many popular diets, the 30 day plant-based diet plan is quite healthy. It can even be considered to be a balanced diet, something that many raved diets are not.
A balanced diet is one that gives your body the proper nutrients it needs to function correctly. Proper nutrition is achieved through the consumption of fresh fruits and vegetables, whole grains, legumes, seeds, nuts, healthy fat and lean protein (1).
Read More: Plant-Based vs Keto: Delving Into The Meat Of The Debate
30-Day Plant-Based Diet: What Foods To Avoid On A Plant-Based Diet?
Here are all the foods that should be avoided on a 30-day plant-based diet plan:
1. Fast food – Say goodbye to all french fries, cheeseburgers, and hot dogs, etc.
2. Added sugars and candies – Get rid of table sugar and stop buying and consuming soda, juice, pastries, cookies, sugary cereals, etc.
3. Refined grains – White rice, white pasta, white bread, bagels, etc. They have less nutritional value and thus are mostly empty carbs.
4. Packaged and convenience foods – Such as chips, crackers, and cereal bars as they are full of added sugars and trans fats.
5. Artificial sweeteners
6. Processed animal-source products – Such as bacon, lunch meats, sausage, beef jerky, etc.
You can choose to avoid or just minimize foods like beef, pork, poultry, dairy and dairy products, eggs, fish, and other seafood. There are no regulations on this.

What Are The Benefits Of A 30-Day Plant-Based Whole Food Diet Plan?
Here are some advantages of living a plant-based lifestyle:
Plant-Based Diets Are Good For Your Heart Health
Reducing the consumption of meat in favor of an eating plan that consists of mostly fruits, vegetables, nuts, beans, whole grains, and meat substitutes like soy, you may reduce your risk of getting heart disease, high cholesterol, high blood pressure, and type II diabetes (10). However, a plant-based diet that includes juices, sweetened beverages, refined grains, potatoes/fries, and sweets will increase your risk of coronary heart disease (4).
The consumption of red meat has been linked with an increased risk of colorectal, lung, esophageal, bladder, and gastric cancer (6). On the other hand, a plant-based diet could lower your risk of getting cancer by 10% to 12% (12).
Reduced Risk Of Cognitive Impairment And Other Diseases
A review done in 2014 showed that plant-based diets slow the progression of Alzheimer's disease and reverse cognitive deficits. This might be because such an eating plan is high in antioxidants and polyphenols (plant-based micronutrients) (2).
In 2017, another study showed that increased consumption of fruit and vegetables (by about 100 g a day) could reduce your risk of cognitive impairment and dementia by up to 13% (5).

Control Blood Sugar And Prevent Diabetes
Someone suffering from type II diabetes could be advised to try the 30-day plant-based diet plan. This is because such an eating plan has been shown to help control blood sugar levels in type II diabetes patients (20).
More research published in 2016 showed that a healthy plant-based diet could reduce your risk of developing diabetes by up to 34% as compared to anyone who followed an unhealthy, non-plant-based diet (9).
Anyone who hopes to shed some extra pounds should consider trying a 30-day plant-based diet meal plan. This diet plan could help reduce your BMI and cholesterol levels. A randomized controlled trial study done in 2017 showed greater weight loss at 6 and 12 months than any other trial that did not limit energy intake or mandate regular exercise (19).
Common Concerns About Switching To A 30-Day Plant-Based Diet Plan
Whenever anyone says that they are living on a plant-based diet, many people come up with concerns about nutrient deficiencies that could be experienced on this diet plan. In this section, we tackle the health concerns of switching to a plant-based diet (7), especially if you choose to give up meat.
While you can still eat meat on a plant-based diet, some people opt to cut it out completely, which leads to concerns about a deficiency in amino acids. Proteins are made up of amino acids, and while our bodies can produce most amino acids, it cannot synthesize some of them, and therefore these are called essential amino acids as it is essential to consume them in our food. These 9 essential amino acids can be easily obtained from meat, dairy products, and eggs.
However, it should be noted that someone on a plant-based diet who chooses to forgo meat, dairy products, and eggs will not be at risk of amino acid deficiency. These amino acids can be found in quinoa and combinations of plant-based foods such as brown rice with beans and hummus with whole wheat pita.

This is another very common health concern for anyone who is considering a 30-day plant-based diet plan that does not include meat, fish, or eggs. Soybeans are a fantastic protein substitute in such a case. A diet high in soybeans may help lower levels of low-density lipoprotein in the blood, reduce the risk of hip fractures, and some cancers.
Women who regularly consume soy products have a 32% lower risk of breast cancer recurrence and a 29% decreased risk of death. Men who consume soy are also 26% less likely to get prostate cancer. Other than soybeans and products, other plant-based sources of protein include beans, lentils, spelt, nutritional yeast, and teff, among others (17).
Iron helps to preserve many vital functions in the body, including the general energy and focus, gastrointestinal processes, immune system, and regulation of body temperature. Iron deficiency anemia can cause fatigue, heart palpitations, pale skin, and breathlessness. To prevent this deficiency be sure to include more iron-rich foods such as kidney beans, black beans, soybeans, spinach, raisins, cashews, oatmeal, cabbage, and tomato juice in your 30-day plant-based meal plan.
The deficiency of this vitamin is quite common in people following a plant-based diet. Vitamin B12 is needed for blood formation and cell division. A deficiency could lead to serious health issues such as macrocytic anemia and irreversible nerve damage. Supplementation is usually advised for people following a plant-based diet.

Calcium And Vitamin D Deficiency
This is not something that should worry too much people on a 30-day plant-based diet plan. Calcium is readily available in foods such as tofu, mustard, turnip greens, bok choy, spinach, and kale. On the other hand, Vitamin D is found in mushrooms and fortified foods such as soy milk, almond milk, and orange juice. Sunshine is also a great source of vitamin D (18).
Omega-3 Fatty Acids Deficiency
This is a common deficiency in people following plant-based diets, especially vegans. To avoid a fatty acid deficiency while on a 30-day plant-based diet plan, consume more fish and other seafood, especially cold-water fatty fish, such as salmon, mackerel, tuna, herring, and sardines. Some plant-based options to add more fatty acids to your 30-day plant-based diet meal plan include:
Nuts and seeds, such as flaxseed, chia seeds, and walnuts

Plant oils, such as flaxseed oil, soybean oil, and canola oil (

9

)
Omega 3 fatty acids are important as they protect against the risk of diseases such as rheumatoid arthritis, dry eye disease, cancer, age-related macular degeneration, Alzheimer's disease, dementia, and other problems with cognitive function.
When it comes to weight loss, progress is made by inches, not miles, so it's much harder to track and a lot easier to give up. BetterMe app is your personal trainer, nutritionist and support system all in one. Start using our app to stay on track and hold yourself accountable!

What Are The Potential Disadvantages Of A 30-Day Plant-Based Diet?
The potential disadvantages of a 30-day plant-based diet plan have been discussed above. People following this eating plan are at a higher risk of iron, Omega 3 fatty acids, protein, Vitamin B12, essential amino acids, calcium, and vitamin D deficiencies.
Grocery List For A 30-Day Plant-Based Diet Plan For Beginners
Below is a list of foods that will help you to effectively start a 30-day plant-based diet plan. Each category has different options of what you can buy. You do not have to buy everything on the list. Just pick your favorites at your local food market. Remember to stick to your budget.
| Fruits | Leafy vegetables | Starchy vegetables | Whole grains |
| --- | --- | --- | --- |
| Apples | Swiss chard | Potatoes | Brown rice |
| Grapefruits | Kale | Sweet potatoes | Rolled oats |
| Bananas | Collard greens | Butternut squash | Farro |
| Watermelon | Romaine lettuce | Corn | Quinoa |
| All kinds of berries | Spinach | Carrots | Brown rice |
| Pineapples | Bok choy etc. | Plantain etc. | Whole-wheat pasta |
| Limes and lemons etc. | | | Barley etc. |
| Nuts & Seeds | Healthy fats & Oils | Legumes & Lentils | Dairy & its products |
| --- | --- | --- | --- |
| Walnuts | Avocado | Peas | Milk |
| Chia seeds | Olive oil | Chickpeas | Greek Yogurt |
| Hemp seeds | Fatty fish | Lentils | Cheese – You can opt for low- fat cheeses |
| Peanuts | Examples of fatty fish include salmon, tuna, mackerel, and trout | Black beans and all other kind of beans | |
| Almonds | | | |
| Pumpkin seeds | | | |
| Nut butters etc. | | | |
| Plant based milks | Beverages | Meats | Plant-based protein |
| --- | --- | --- | --- |
| Almond milk | Coffee | Lean beef | Tofu |
| Cashew milk | Tea | Chicken | Tempeh |
| Coconut milk | All unsweetened | Duck | Plant-based protein powders |
| Oat milk | Water | Turkey | |
| Rice milk | | Pork | |
| All unsweetened | | Game meats | |
Sample Of A Plant-Based Diet Meal Plan
You can use these examples as a blueprint of what you can consume on your 30-day plant-based meal plan:

Example 1
Meal 1 – Oat Chia Pudding
1/2 cup rolled oats, 1 tbsp chia seeds, 1 tsp honey, 1 cup almond milk, and 1/2 medium-sized banana
Calories: 239. Fats: 8 g. Protein: 7 g. Carbs: 39 g.
Meal 2 – Mango and Black Bean Tacos (3)
2 tomatoes, 2 tbsp red onion, 1/4 cup orange bell pepper, 1 tbsp lime juice, 2 tbsp fresh cilantro, 1/2 tsp Kosher salt, 15 ounces can black beans, 1/4 cup vegetable broth, 6 gluten-free corn tortillas, 1 ripe mango, and 1 avocado
The above ingredients are enough for 3 servings. One serving = 2 tacos
Calories for one serving: 420. Fats: 12 g. Protein: 14 g. Carbs: 70 g.
Meal 3 – Sesame Parsnip & Wild Rice Tabbouleh (13)
500 g parsnips, 2.5 tbsp cold-pressed rapeseed oil, 1 tsp ground turmeric, 2 tsp ground coriander, 2 tbsp sesame seeds, 130 g wild rice, 2 red onions, 2 tbsp white wine vinegar, 3 tbsp tahini, 1 small pack mint, 1 small pack coriander, and 2 tbsp pomegranate seeds
This recipe makes 3 servings.
Calories for one serving: 555. Fats: 24 g. Protein: 15 g. Carbs: 61 g.
Total intake for the day: Calories: 1214. Fats: 44 g. Protein: 36 g. Carbs: 170 g.
Read More: Vegetarian Diet Plan: Plant-Based Meals To Super-Charge Your Weight Loss

Example 2
Meal 1 – Acai Smoothie Bowl
1 acai packet, 1 cup skim milk, 1 medium-sized banana, 0.5 cup strawberries, 0.5 cup blueberries, 15 g walnuts, and 1 tbsp chia seeds
Calories: 489. Fats: 20 g. Protein: 16 g. Carbs: 66 g.
Meal 2 – Buddha Bowl with Egg (11)
3/4 cup wheat berries, 3.5 cups water, 2 tbsp olive oil, 2 tbsp lemon juice, 1 tbsp thinly sliced fresh mint leaves, 1/4 tsp salt, 1/8 tsp freshly ground pepper, 1/2 cup cherry tomatoes, 1/2 cup reduced-fat ricotta cheese, 2 tbsp sliced Greek olives, and 2 large eggs
This recipe makes 2 servings.
Calories for one serving: 526. Fats: 24 g. Protein: 21 g. Carbs: 58 g.
Meal 3 – Kale Salad with Chickpeas (16)
For the salad – 15 ounce can of chickpeas, 1/2 tsp cayenne pepper, 1/4 tsp red pepper flakes, 3 cups roughly chopped kale, 1/2 cup shredded carrot, 1/2 cup red onion, and 1 jalapeno pepper
For the dressing – 1/4 cup apple cider vinegar, 2 tsp pure maple syrup, 1 tbsp dijon mustard, and 1 tsp orange zest
This recipe makes 3 servings.
Calories for one serving: 294. Fats: 5 g. Protein: 14 g. Carbs: 52 g.
Total Intake for the Day: Calories: 1309. Fats: 49 g. Protein: 51 g. Carbs: 176 g.

Example 3
Meal 1 – Avocado Toast
1 slice whole-wheat bread, 0.5 medium-sized avocado, 5 cherry tomatoes, 1 tsp diced red onion, salt, black pepper, and chili flakes to taste
Calories: 241. Fats: 12 g. Protein: 6 g. Carbs: 31 g.
Meal 2 – Shrimp Cobb Salad with Dijon Dressing (14)
3 tbsp extra-virgin olive oil, 3 tbsp white wine vinegar, 2 tbsp finely chopped shallot, 1 tbsp Dijon mustard, 0.5 tbsp ground pepper, 0.25 tsp salt, 10 cups mixed greens, 12 medium extra-large shrimp (peeled and halved), 1 cup halved cherry tomatoes, 1 cup cucumber chunks, 2 large hard-boiled eggs, 1 avocado, 2 slices cooked bacon, and 0.25 cup crumbled blue cheese
This recipe makes 4 servings.
Calories for one serving: 377.6. Fats: 25 g. Protein: 29.1 g. Carbs: 12.6 g.
Meal 3 – Smoky Spiced Veggie Rice (15)
25 g cashews, 4 tbsp olive oil, 1 corn cob, 250 g rainbow baby carrots, 2 red onions, 2 celery sticks, 2 large red peppers, 3 garlic cloves, 2 tbsp Cajun seasoning, 1.5 tbsp smoked paprika, 1 tsp chipotle paste, 2 tbsp tomato purée, 200 g cherry tomatoes, 400 g can kidney beans, 400 g can cherry tomatoes, 300 g long-grain rice, 400 ml vegetable stock, 1 tbsp red wine vinegar, 2 tbsp caster sugar, and 2 spring onions
This recipe makes 6 servings.
Calories for one serving: 447. Fats: 11 g. Protein: 11 g. Carbs: 69 g.
Meal 4 – Yogurt & Pineapples
Half cup coconut yogurt and 1 cup pineapple chunks
Calories: 180. Fats: 6 g. Protein: 7 g. Carbs: 24 g.
Total Intake for the Day: Calories: 1245.6. Fats: 54 g. Protein: 53.1 g. Carbs: 136.9 g.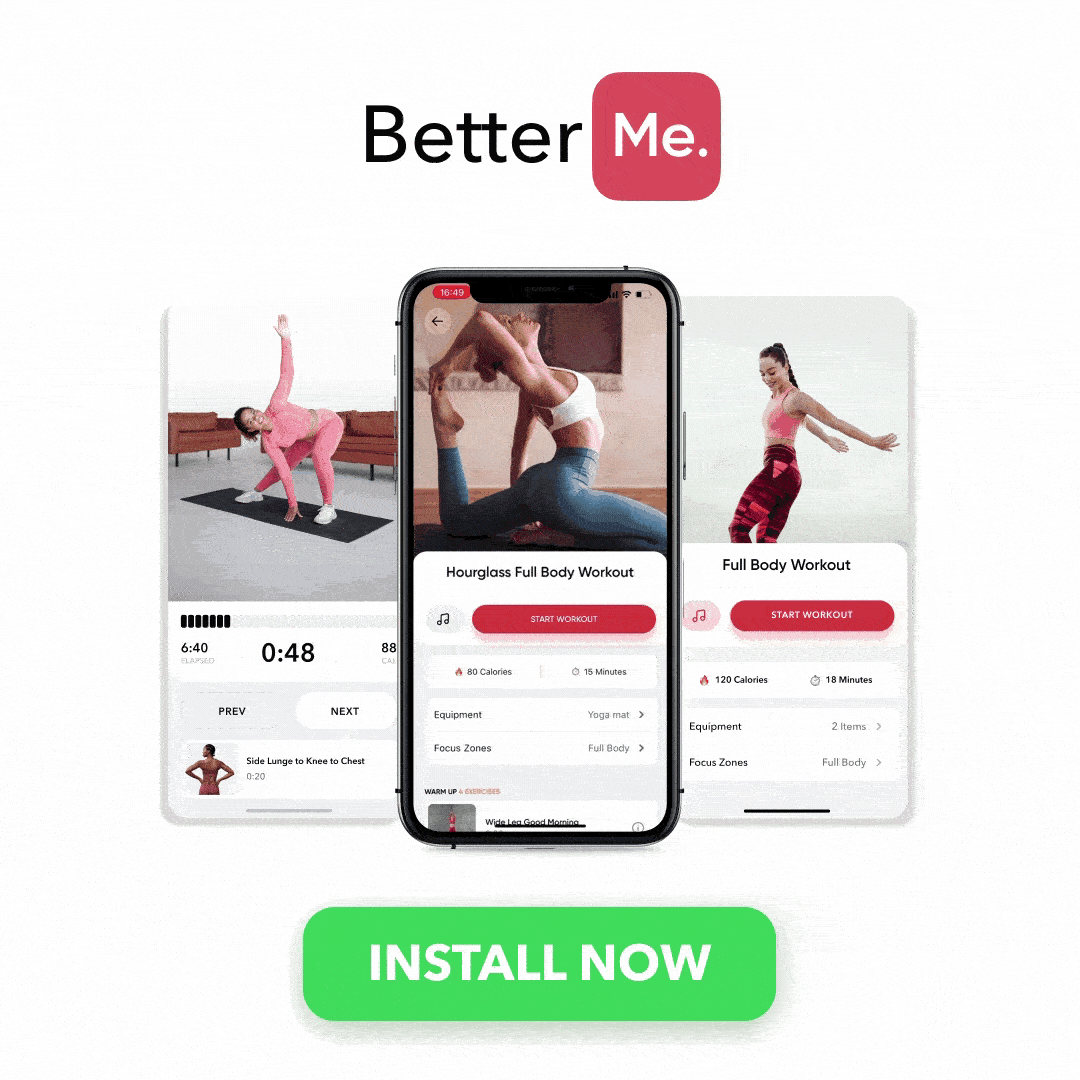 DISCLAIMER:
This article is intended for general informational purposes only and does not address individual circumstances. It is not a substitute for professional advice or help and should not be relied on to make decisions of any kind. A licensed physician should be consulted for diagnosis and treatment of any medical conditions. Any action you take upon the information presented in this article is strictly at your own risk and responsibility!
SOURCES: