Do you want to lose weight fast? Your search for a solution may have pushed you into trying all kinds of diets like the Military Diet, Keto Diet, and the Vegan Diet, but unfortunately, none of these may have worked for you. The Three-Week Diet Plans may be what your body needs because some testimonies (including the before and after photos) prove that these weight loss meal plans deliver what they promise – a tremendous weight loss in three weeks (4). Although, this remains controversial.
The three-week easy diet for weight loss is meant for people who want quick results but have little time to follow more extended diet plans. Getting into a three-week weight loss commitment is no walk in the park, so you need to understand what you are signing up for. You should brace for a massive cut on calories, which will test your tolerance to a steady caloric deficit throughout the program.
Three-Week Diet Plans To Lose Weight Fast 
Do the three-week meal plans really work? Individuals worldwide have curated bizarre diets to lose weight fast, for example, those that give you tips on how to lose 10 pounds in 2 weeks with guaranteed weight loss. Here is everything you need to know on how to lose weight in 21 days (particularly weight loss coach Brian Flatt's Three-week Diet and the Three Weeks to Summer Shorts Plan), including the meal plan, pros, cons, and its effectiveness.
Three-Week Diet Plan By Brian Flatt
How much can I lose in 3 weeks? Brian Flatt's three-week diet is designed to help you lose between 12-23 pounds in three weeks from your thighs, waist, hips, belly, and butt (4) (1). 
Read More: Mediterranean Diet 30-Day Meal Plan: The Beginner's Guide With Clear-Cut Answers About This Diet Plan
How Does It Work?
The three-week diet plan is divided into three phases (each week), each with a unique set of nutritional requirements (all low in carbohydrates and calories), tailored to help you achieve your weight loss goal (2) (5). Throughout the program, participants are guided on the kinds of food they should eat to shred as much fat as possible. The aim is to maximize fat loss at the beginning while gradually introducing more whole foods, then eventually progress towards a nutritionally balanced and complete diet to maintain a healthy weight (5).
This weight loss meal plan is based on five techniques to help your body burn fat faster (5). These are:
Reduced carb intake

Use of supplements (strategic supplementation)

Intermittent fasting

Calorie reduction

Exercise
Each of the methods above may significantly contribute to weight loss, depending on your target, so it is not mandatory to incorporate all of them. However, implementing all of them together will result in rapid weight loss (5). Flatt's three-week diet is made for people who seriously want to learn how to lose weight in a week or three. Remember, you will have to pay for the full diet system, including the introduction, meal plan, workout plan, and motivation manuals.  
After three weeks, you should continue weighing yourself every day. If you weigh three pounds or more above your target weight, start Phase 1 immediately and continue until you get back to your target weight (it should take about 1-2 days). You can therefore enjoy "cheat" meals once in a while without affecting your weight loss progress.

Recommended Foods
The foods allowed include:
Almonds

Asparagus

Artichoke

Avocado

Balsamic vinegar

Beef

Beets 

Broccoli

Butter

Cauliflower

Carrots

Cheese

Chicken

Fish

Kale

Macadamia

Mayonnaise

Mushrooms

Onions

Olive oil

Peppers

Pumpkin seeds

Spinach

Sunflower seeds

Squash

Turkey

Whey protein 

Three-Week Diet Plan Sample Meal Plan
Here is an example of what to eat during the day given by the Freedieting website (5):
Noon
3 poached eggs

Mushrooms

Sautéed spinach

Peppers
4 p.m.
2-3oz tuna

Steamed asparagus

Cauliflower
8 p.m.
2-3oz turkey

Steamed broccoli 

Carrots
Whether you're looking to simply pep up your fitness routine, jazz up your diet with mouth-watering low-calorie recipes or want to get your act together and significantly drop that number on your scale – the BetterMe app has got you covered! Improve your body and revamp your life with us!

Benefits
According to Globenewswire, the Brian Flatt Three-Week Diet Plan leads to the following health benefits (3): 
Improved metabolism that leads to faster body fat loss

Healthier hair and skin 

Toned skin and reduced cellulite

Lowered cholesterol levels and increased energy
The plan is easy to follow since it uses regular grocery store foods and readily accessible nutritional supplements that attack harmful triglycerides that can lead to stubborn belly fat (2).
Disadvantages
According to Freedieting, the meal plan is (5):
Very restrictive

Involves dramatic calorie restriction

Eliminates carbohydrate foods such as fruit, starchy vegetables, legumes, and whole grains

Involves intermittent fasting that may be uncomfortable

Encourages the use of caffeine and nicotine pills, which may be harmful 
Besides being careful about their diet, fitness coach Brian Flatt urges participants to engage in 20-minute intense workouts three to four times a week because burning body fat will be more effective if one engages in intense, full-body exercises instead of long cardio sessions (5). There is a manual for both passionate gym-goers and people who barely go to the gym. Remember that everyone's body is unique, so you may not get exact outcomes as another person who follows the same diet and workout routine.
Three Weeks To Summer Shorts Plan
Apart from Flatt's three-week diet plan, other weight loss meal plans can be followed for the same period. The Three Weeks to Summer Shorts Plan, in particular, is designed to help you lose a stone (7 pounds) in three weeks at the end of the program (6).

How Does It Work?
Three Weeks to Summer Shorts Plan is a 21-day menu of interchangeable food combinations to help you lose weight fast and shift to a better eating habit. This weight loss meal plan also allows you to munch on a snack every once in a while. You can choose the SAVE option (which gives you a boost of 100 calories) or the SPLURGE option (which provides you with a 250 calorie bonus) (6).
Read More: Smoothie Diet Plan: Smoothie Diet Plan To Stop The Pounds From Piling On
Three Weeks to Summer Shorts Plan Sample
The meal plan below is a summarized version of the three weeks to summer shorts plan by Weight Loss Resources (WLR) (6):
Week 1
Day 1
Breakfast
Smear 1tsp peanut butter on a slice of wholemeal bread. Prepare fresh fruit salad with 6 strawberries, 1 kiwi, 1 satsuma, and 3oz cherries.
Lunch
Eat 1 banana and 10 green olives with a slice of wholemeal bread topped with Philadelphia light mini tub and 2 smoked salmon slices.
Dinner
Mince 100g lean beef and make a burger. Fry in ½tsp olive oil and serve in a toasted brioche bun with 1tbsp of tomato ketchup, lettuce, and red onions.
Day 2
Breakfast
2/3 cup freshly squeezed orange juice and 40g Bitesize shredded wheat topped with 20 raspberries.
Lunch
Prepare 2 wholemeal bread slices with wafer-thin turkey (4 slices), 1tbsp light salad cream, and salad; bring an extra 1 pack of baked crisps.
Dinner
Mince 100g lean meat and dry fry till golden brown. Add 3tbsp water, ½ pack taco seasoning, and vegetables and boil for 5-10 minutes. Serve in 2-3 taco shells, each topped with guacamole.

Day 3
Breakfast
Boil 2 eggs and serve with steamed asparagus.
Lunch
Top 200g half potato with 100g cottage cheese and 2 slices of pineapple.
Dinner
75g whole wheat pasta garnished with chili and basil leaves & served with roasted ½ courgette, ½ aubergine, and 6 cherry tomatoes crushed over garlic.
Day 4
Breakfast
Top 40g muesli with 4-5 almonds, raspberries, and 50 blueberries.
Lunch
Whole wheat tortilla wrap filled with ½ avocado, sliced red onion, a small can of tuna, and ¼ pepper.
Dinner
60g cooked jasmine rice served with 80g steamed snap peas. Add scrambled eggs, spring onions, and sprinkle with 1tbsp light soy sauce.
Day 5
Breakfast
1 wholemeal fruit scone smeared with 2tbsp fruit jam; serve with 150ml freshly squeezed orange juice.
Lunch
2-3 slices French stick topped with 6 black olives, almonds, and 100g low fat cottage cheese.
Dinner
Serve couscous with a roasted mixture of ½ chopped courgette, ½ chopped aubergine, ¼ pepper, cherry tomatoes, and 1tbsp olive oil crushed over garlic.

Day 6
Breakfast
10 raspberries, 6 strawberries, blackberries, and blueberries topped with 20g crunch granola.
Lunch
1 wholemeal bagel with Edam salad and cheese.
Dinner
Dress 120g salmon fillets with low-fat balsamic dressing and bake. Serve with asparagus, 100g boiled potatoes, and 60g French stick.
Day 7
Breakfast
Toast 2 wholemeal bread slices and add grilled bacon, lettuce, 1 sliced tomato, and 1tsp low-calorie mayonnaise.
Lunch
Wholemeal pitta bread filled with lettuce, 4 slices of thin ham, 5-6 cherry tomatoes, and 1tsp low-calorie salad cream.
Dinner
Stir fry 40g mange tout, 40g broccoli, sliced mushrooms, 25g edamame beans, and ¼ red onion, and serve with cooked brown rice.

Week 2
Day 8
Breakfast
1 croissant with summer berries and 1tsp raspberry jam.
Lunch
Enjoy 1 banana with Ryvita crispbread topped with spring onions and a Philadelphia mini tub.
Dinner
1 fried chicken breast seasoned with ¼ pack fajita seasoning and served in 2 warmed taco shells; add 1tsp sour cream to taste.
Day 9
Breakfast
A sliced peach, 50g muesli, and 100g low-fat yogurt.
Lunch
Wholemeal roll served with a warm can of minestrone.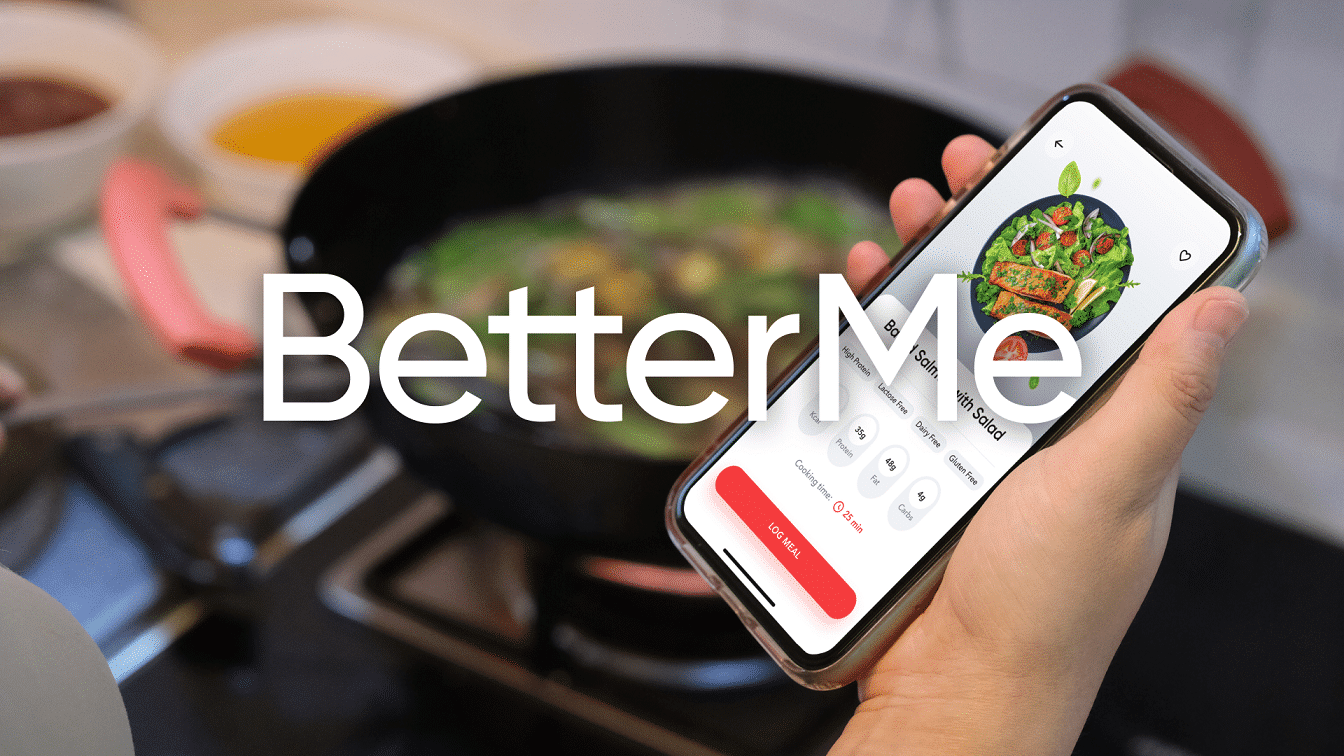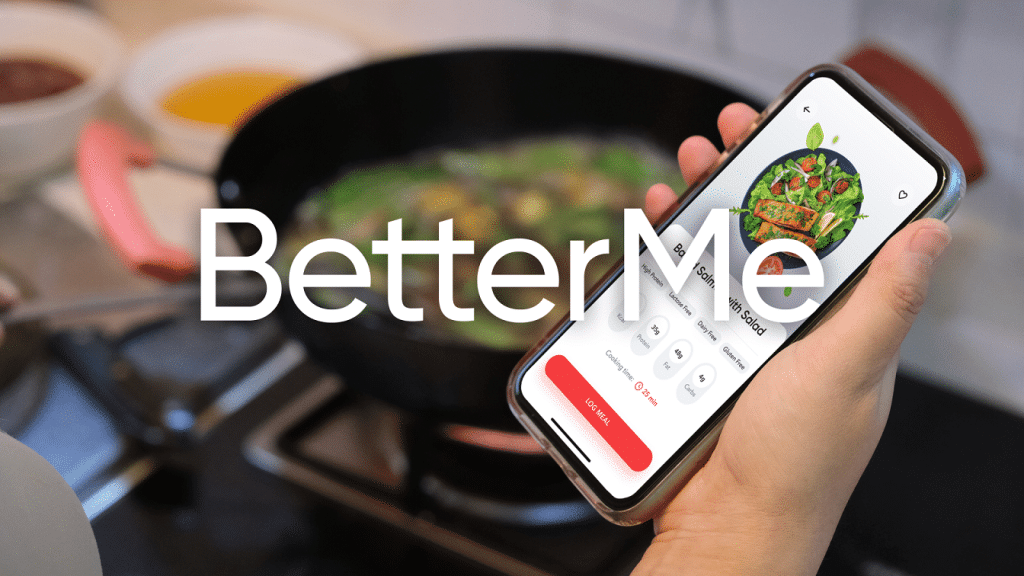 Dinner
100g dry-fried minced beef. Add ½ onion, ½ stick celery, ½ carrots, ½ can chopped tomatoes, and 1tsp tomato puree. Cook and serve with 75g whole pasta.
Day 10
Breakfast
A slice of whole-wheat toast, 1 boiled egg, and 150ml grapefruit juice.
Lunch
A ready-to-eat 350 calorie salad or sandwich and an apple.
Dinner
150g skewered king prawns, brushed with 1tbsp chili sauce, and served with 60g brown rice.
If you struggle to even flirt with the idea of giving up your favorite foods or working out till your legs give way – the BetterMe app is here to breathe a fresh perspective into the way you view the weight loss process! Check out the app and experience the fun side of fitness and dieting with BetterMe!

Day 11
Breakfast
30g corn flakes topped with 10 raspberries, 20 blueberries, and 1 sliced banana.
Lunch
4 breadsticks, cucumber batons, and 3tbsp fat hummus with carrot sticks.
Dinner
Fill a wholemeal tortilla with vegetables or chicken and 1tbsp sour cream topping. Stir-fry a sliced chicken over ½tbsp olive oil. Add ¼ sliced red pepper and ½ sliced red onion and ¼ pack fajita seasoning. Once the seasoning covers all ingredients, add freshly squeezed lime juice.
Day 12
Breakfast
2 slices wholemeal toast topped with 6 strawberries and strawberry jam.
Lunch
80g rocket leaves topped with crumbled blue stilton, a sliced peach, sliced red onion, and 1tsp low-fat dressing; enjoy with 150ml freshly squeezed juice.
Dinner
Serve 1 block egg noodles with 100g king prawns, chopped pepper, and 1 chopped carrot, fried with 3 spring onions in groundnut oil.
Day 13
Breakfast
Weetabix with milk and a banana.
Lunch
Lettuce topped with walnuts, celery, and apple slices. Make a dressing with 20g low-calorie mayonnaise mixed with ½ lemon juice. Serve with 1 or 2 slices of sourdough bread.
Dinner
1 grilled chicken breast topped with 6 cherry tomatoes and served with 180g baby potatoes.

Day 14
Breakfast
2 slices wholemeal toast with 1tbsp marmalade served with 80g raspberries.
Lunch
1 toasted wholemeal pitta with 3tbsp low-fat hummus and cucumber baton; add ½ sliced pepper.
Dinner
2-egg omelet made by cooking 2 eggs in 1 tsp olive oil. Add 6 sliced cherry tomatoes, baby spinach, and serve with sourdough bread.
Week 3
Day 15
Breakfast
A toasted wholemeal bread slice with 2tbsp raisins, almond butter, and a banana.
Lunch
Prepare a salad with 1 sliced grilled peach, ½ ball low-fat mozzarella, sliced tomato, and basil leaves. Enjoy with 2 slices of pumpernickel bread.
Dinner
4 steamed asparagus spears, cherry tomatoes, black olives, 1tbsp grated parmesan, and 1tbsp pesto sauce mixed with 125g gnocchi.

Day 16
Breakfast
1 scrambled egg served in toasted wholemeal pitta bread and enjoyed with 150ml fresh orange juice.
Lunch
Warm a whole wheat tortilla and sprinkle one-half side with low-fat cheese topped with cooked vegetables. Add ¼ chopped pepper, 25g peas, and ¼ can of sweet corn. Fold over the other half and turn until all the cheese melted.
Dinner
125g cubed tofu, sprinkled with 2tbsp low-fat dressing, and marinated overnight. Skewer the tofu along with ½ pepper, 6 cherry tomatoes, courgette, ½ red onion, and grill. When ready, serve with 60g French sticks.
Day 17
Breakfast
1 English muffin with 2tsp strawberry jam and 6 strawberries.
Lunch
75g whole wheat pasta with 6 cherry tomatoes, 1tbsp parmesan cheese, and 1tbsp pesto sauce.
Dinner
A slice of wholemeal bread topped with ½ avocado, a poached egg, 25g peas. Serve with 2/3 cup orange juice.

Day 18
Breakfast
Chia seeds soaked in milk and mixed with 100g low-fat Greek yogurt; add sliced kiwi and mango.
Lunch
A wholemeal tortilla wrap filled with 2 tbsp hummus, ¼ cucumber, ½ yellow pepper, and ½ carrot.
Dinner
100g lean minced beef meatballs fried in olive oil. When golden brown, add finely diced onion, crushed garlic, 1tsp tomato puree, and ½ can chopped tomatoes. Serve with 75g whole wheat pasta.
Day 19
Breakfast
Prepare a smoothie with 50 blueberries, 20g blackberries, raspberries, 6 strawberries, and 100g low-fat yogurt.
Lunch
Dinner
30g couscous mixed with ½ clove crushed garlic, 3 sundried tomatoes, 30g feta cheese, black olives, and seasoned to taste. Spray with ½ tsp olive oil and cool for 15 minutes. Serve with 50g baby spinach.

Day 20
Breakfast
1 slice wholemeal toast with 1 fried egg and 4 grilled bacon slices.
Lunch
1 banana plus 1 wholemeal pitta and vegetable crudites prepared from 1 carrot and ¼ cucumber.
Dinner
Any ready-to-eat meal of your choice.
Day 21
Breakfast
Banana smoothie with 100g low-fat milk and yogurt.
Lunch
1 slice wholemeal bread served with omelet cooked with 1tsp olive oil, 30g low-fat cheese, and 4 slices wafer thin ham.
Dinner
1 grilled chicken breast served with 180g baby potatoes and salad (lettuce leaves, 6 cherry tomatoes, ¼ cucumber, and low-fat dressing).
Note: Quick weight loss plans are not recommended because they are very restrictive, and you may miss out on essential nutrients. Also, they are not sustainable in the long run, and you may end up gaining the weight you lost. The recommended weight loss is about 1-2 pounds a week.
Final Thought
With the three-week diet plans, you can switch from unhealthy eating habits to a healthy diet to lose weight. It takes a little hard work, planning, and patience to get that fit body you always wanted. Remember, before trying this weight loss plan, get a green light from your doctor and dietitian.

DISCLAIMER:
This article is intended for general informational purposes only and does not address individual circumstances. It is not a substitute for professional advice or help and should not be relied on to make decisions of any kind. Any action you take upon the information presented in this article is strictly at your own risk and responsibility!
SOURCES: