What is a metabolic diet and how can it help you lose weight? When it comes to shedding those extra pounds, a lot of different factors affect how fast or slow this process can be. While components such as diet and exercise are widely known as deciding factors in weight loss, some smart people also know that your metabolism also plays a huge part in this.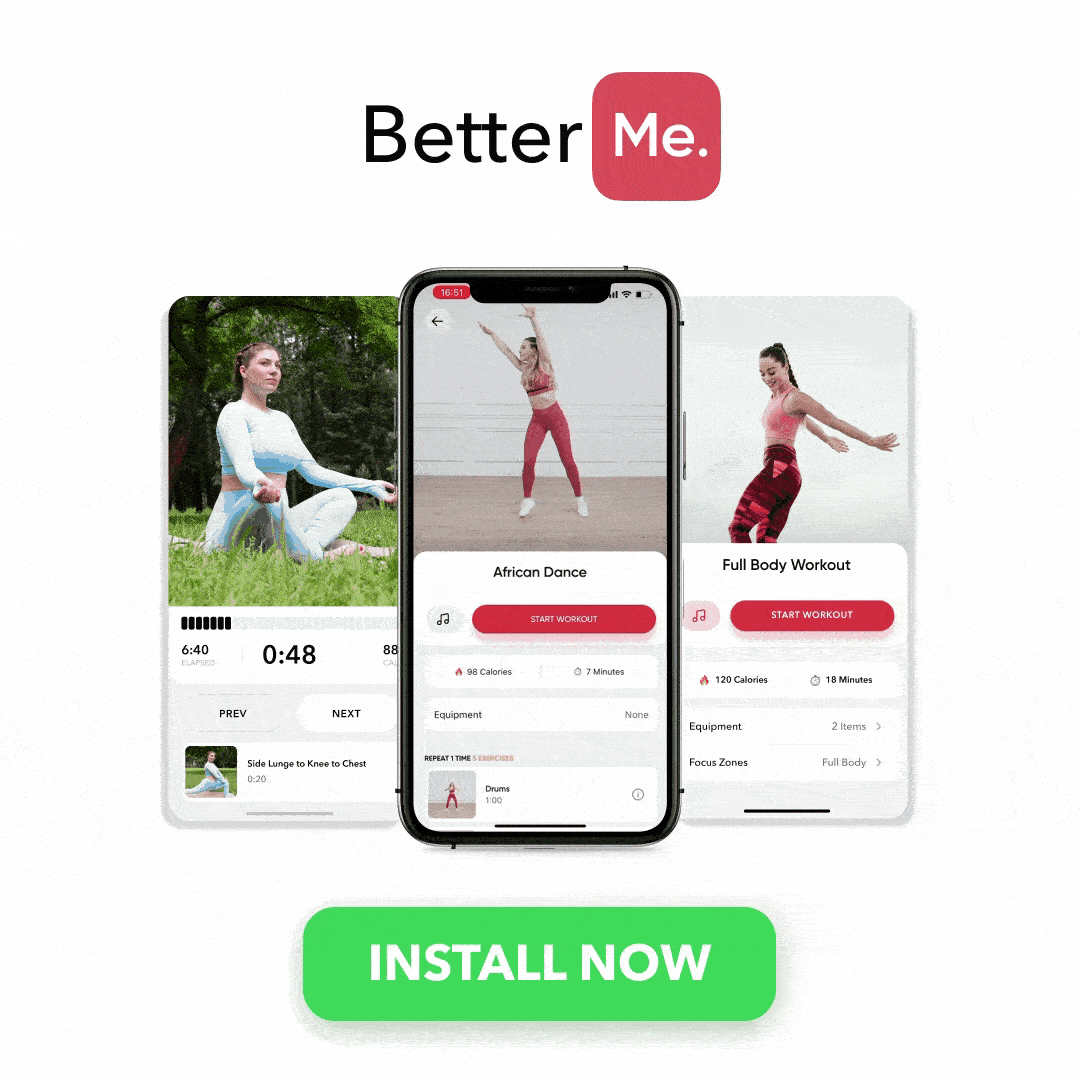 In this article, we are going to explain what metabolism is, how it affects weight gain and loss as well as how the metabolic diet plan could be the trick that finally helps you fit into those skinny jeans.
What Is A Metabolism And Why Is It Important?
Before determining what the metabolic weight loss diet is and how it can help with your weight, we must first understand metabolism and how it affects our bodies. Metabolism is the process by which your body combines food and drinks with oxygen to release and provide energy. This energy is then used to help synthesize molecules like new proteins and nucleic acids (2, 5).
The speed of your metabolism is determined by several factors including
Your sex

– Men have faster metabolisms and burn calories faster than women, mostly because they tend to have more muscles.

Body size

– Larger people, as well as those with more muscles burn more calories than others.

Age

– Younger people have faster metabolisms than older people because the older you get the more muscle you lose and with less muscle equals less calories burned and the more weight gained.
With this in mind it is easy to see how with a faster metabolism you can lose weight faster and with a slower one, weight loss becomes harder and slower (4).
Read More: Metabolic Age: What Is It and What Does It Say About Your Health?

What Is A Metabolic Diet And How Does It Work?
The metabolic weight loss diet is a diet plan that was created by William Wolcott, a researcher in metabolic research and typing and Trish Fahey, a science writer in a book published in 2001. According to the book, the authors claim that since all human beings do not have the same metabolic type, then there is no single diet that will work the same for everyone.
In light of this, they suggest that to counter this, people should be divided into three different metabolic types and that they should eat according to those types. This is where the metabolic diet comes in.
So how does the metabolic diet work? As previously stated, on this eating plan, you shall be sorted in one of three groups through the process of metabolic typing. Each group will then have a specific type of balanced diet allocated to them. The creators of this eating plan believe that by eating in line with your metabolic type then you are most likely to achieve great weight loss results (6).
How To Determine Metabolic Type?
The book in question gives its readers a test that can help them determine their metabolic type. However, for you to get the best and most accurate results, it is best that you speak to your doctor and they can run some blood and urine tests on you.

Which Are The 3 Metabolic Types Mentioned On This Eating Plan?
Once your typing test is complete, it will tell you whether your metabolic type is either carbo, protein, or mixed. Here are the characteristics of each metabolic type as well as the types of diets encouraged for each (1, 3, 6):
Carbo Metabolic Diet
If you fall under this section, then you are referred to as a 'Type B' or a 'carbohydrate type'. Those who fall under the carbo type are said to have:
Very weak appetites

Often crave sugary things such as candy, baked goods, ice-cream, etc.

They have a hard time managing their weight

Type A personalities meaning that they are very driven and/or competitive, deemed as aggressive and hostile and are often rude and impatient (

7

)

They also have a high caffeine dependency
If you are classified as being a carbo type then you are advised to change your diet to a high-carb diet, which basically means that you should always strive to consume more carbs than either proteins and fats.
Regardless of your calorie intake, your macro intake should always be:
60 percent carbs – Whole and complex carbs such as oats, brown rice, quinoa, etc.

20 or 15 percent fats – Healthy fats from nuts, seeds and fruit such as avocados as well as healthy oily such as olive oil, coconut and avocado oil

20 or 25 percent protein – Ensure to consume lean animal protein from poultry, fish, and lean cuts of beef as well as plant protein from legumes, tofu and more.
BetterMe app is a foolproof way to go from zero to a weight loss hero in a safe and sustainable way! What are you waiting for? Start transforming your body now!

Protein Metabolic Type
Unlike the carbo types, protein types or 'metabolic type A' people do not require as much carbohydrates in their diets. Their characteristics are as follows:
They have very strong appetites and are often hungry

They tend to carve fatty and/or salty foods

Are prone to anxiety, nervousness, and can be quite talkative and outgoing

Despite their outgoingness and increased energy levels, they also tend to feel fatigued or lethargic most of the time
If you fall under this group, your metabolic diet plan will most likely be a high-protein diet as your body burns proteins faster than it does the other macronutrients. Your macros percentages should be 40 percent protein, 30 percent healthy fats and 30 percent whole complex carbs.
You will be encouraged to get your protein from sources such as eggs, whole-milk and its products, fatty fish, organ meats, as well as dark-meat for chicken, etc.
Mixed Types
Also referred to as metabolic type C, these are the people who fall outside the scope of the carbo and protein types. These types do not have a lot of guidelines in regards to their diets as experts suggest that they should stick to a balanced diet – equal consumption of protein, carbs and healthy fats.
Metabolic Diet Recipes For Carbo And Protein Types
If you would have done the typing test and fallen in either the carbo metabolic diet or the protein type, these recipes will show you examples of what healthy foods to eat. If you are looking for a metabolic diet plan 13 days menu, you can use the examples given below to help you get an idea of the right foods to eat:

Option One – Carbo Type
Meal 1 – Oatmeal
1/2 cup dry oats, 1 scoop vanilla whey protein powder, 85 g unsweetened almond milk, 3 tbsps grated carrots, a pinch of allspice, cinnamon and nutmegs, 1 tbsp of maple syrup or honey
Calories: 439. Fats: 15 g. Protein: 34 g. Carbs: 50 g
Meal 2 – Quinoa Veggie Salad
200 g quinoa, 3 tbsp olive oil, 1 red onion, 2 red and yellow bell peppers, 200 g courgette, 3 garlic cloves, zest and juice of 1 lemon, pinch of sugar, small roughly chopped handful of parsley, 200 g pack feta cheese
This recipe makes 4 servings.
Calories for 1 serving: 404. Fats: 21.4 g. Protein: 17.3 g. Carbs: 35.3 g
Meal 3 – Curry Red Lentils
1 tbsp avocado oil, 1 cup chopped onion, 1 tbsp minced garlic, 2 medium-sized carrots, 5 tbsp red curry paste, 2 cups red lentils, 411 g diced tomatoes, 382 g lite coconut milk, 453 g veggie broth
Serve with rice or quinoa.
This recipe makes 5 servings. The nutritional information below does not include the serving of rice or quinoa.
Calories for 1 serving: 325. Fats: 7 g. Protein: 16 g. Carbs: 46 g
Meal 4 – Fruit Salad
1 medium-sized apple, 1 medium-sized banana, 152 g strawberries
Calories: 248. Fats: 1.2 g. Protein: 2.8 g. Carbs: 63.8 g
Total Intake for the day: Calories: 1416. Fats: 44.6 g. Protein: 70.1 g. Carbs: 195.1 g
Read More: Metabolic Diet Plan 13 Days: Going Full Force On Your Weight Loss Journey

Option Two – Carbo Type
Meal 1 – Smoothie Bowl
1 cup frozen mango, 1/2 medium-sized banana, 1/3 cup almond milk, 1/2 tbsp turmeric
Toppings – 1/8 cup blueberries, 1/2 peeled kiwi, 1/8 cup raspberries, 1/4 cup shaved coconut, 1 tsp toasted black sesame seeds, 1/4 cup granola
Calories: 343. Fats: 13 g. Protein: 6 g. Carbs: 52 g
Meal 2 – Oat and Walnut Cookies
2 ripe bananas, 125 g peanut butter, 1 tbsp vanilla extract, 5 tbsp coconut sugar, 250 g raw oats, 1 tsp nutmeg, 1 tsp cardamom, 1/4 cup crushed walnuts, 1/2 large grated carrot
This makes 8 large cookies.
Calories for 1 cookie: 122. Fats: 6 g. Protein: 3 g. Carbs: 16 g
Meal 3 – Mixed grain and veggie salad
1 cup cooked wild mixed rice, 1 cup cooked quinoa, 2 cups mixed greens, 1 cup arugula, 1 diced red bell pepper, 2 thinly sliced radish, 1 cup shelled edamame, 1/3 cup corn nuts
Pesto – 2 cups fresh basil, 1/4 cup pine nuts, 4 garlic cloves, 3 tbsp olive oil, 3 tbsp nutritional yeast, juice from 1 lemon, 56 g water, salt and pepper to taste
This makes 2 bowls.
Calories for 1 bowl: 621. Fats: 26 g. Protein: 29 g. Carbs: 71 g
Meal 4 – Shrimp Bowl
566 g jumbo shrimp, 1.5 taco seasoning, 1 small white onion, 1 red bell pepper, 1 green bell pepper, juice from 1 lime, 3/4 cup corn, 425 g black beans, 226 g brown rice
Calories: 410. Fats: 3 g. Protein: 40 g. Carbs: 56 g
Total Intake for the day: Calories: 1496. Fats: 48 g. Protein: 78 g. Carbs: 195 g

Option One – Protein Types
Meal 1 – Breakfast bowl
1 cup of cauliflower rice, 4 ounces turkey chorizo, half an avocado, 1 tbsp salsa and 1 fried egg
Calories: 406. Fats: 25 g. Protein: 34 g. Carbs: 14 g
Meal 2 – Tuna Salad
510 g white albacore tuna, 1/3 cup Dijon mustard, 3/4 cup low fat Greek yogurt, 1/3 cup pepitas, 1/3 cup chopped walnuts, 1 celery stalk, 1/3 cup dried cranberries, 2 tbsp fresh tarragon, 1/2 tbsp curry powder, 1 tsp turmeric, sea salt & pepper to taste
Calories: 266. Fats: 9 g. Protein: 32 g. Carbs: 14 g
Meal 3 – Stuffed Chicken Breast
4 -170 g chicken breasts, 1 tbsp extra virgin olive oil, 1.5 tbsp minced garlic, 1/2 cup chopped white onion, 1.25 cups chopped frozen spinach, 142 g Greek yogurt cream cheese, 2 tsp cumin, 2 tbsp fresh dill, sea salt & pepper to taste
This makes 4 chicken breasts.
Calories for 1 chicken breast: 304. Fats: 10 g. Protein: 45 g. Carbs: 7 g
Meal 4 – Pineapple Chicken
453 g cubed chicken breast, 1 diced red bell pepper, 1 tablespoon olive oil, 1/4 cup chopped red onion, 1/2 tbsp minced garlic, 1 cup fresh pineapple cubes with juice, 1 tablespoon spicy mustard, 2.5 tbsp apple cider vinegar, 1 tbsp Sriracha, 1 tsp agave, low sodium soy sauce, 1 tbsp arrowroot starch (mixed with 1 tablespoon water)
This makes 4 servings.
Calories for 1 serving: 213. Fats: 5 g. Protein: 27 g. Carbs: 13 g
Total Intake for the Day: Calories: 1189. Fats: 49 g. Protein: 138 g. Carbs: 48 g
Intense sweat sessions, working weight loss tips, lip-smacking recipes come in one package with the BetterMe app. And all of it is at your fingertips, start transforming your life now!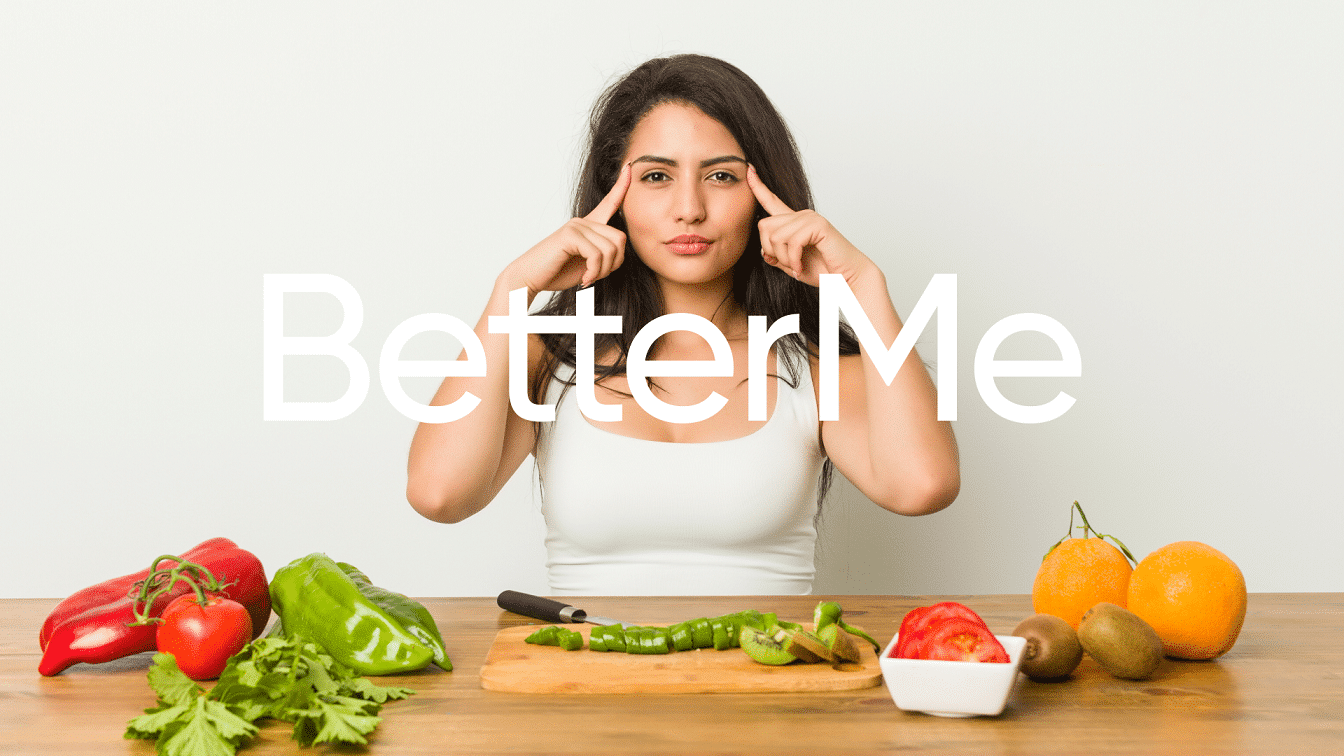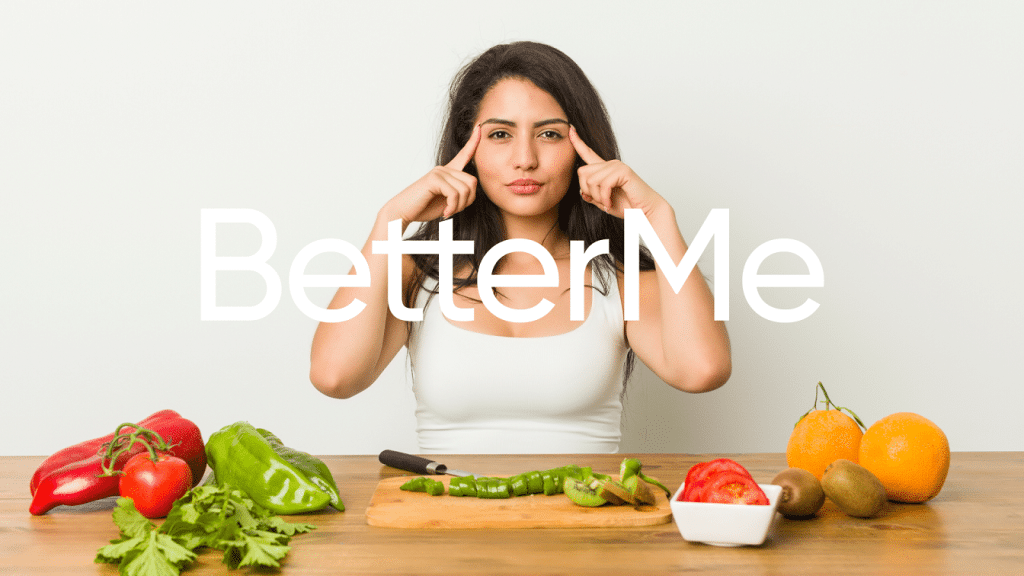 Option Two – Protein Types
Meal 1 – Spinach and Egg Muffin Cups
1 tbsp olive oil, 2 cups chopped bell peppers, 1 cup onion, 2 cups baby spinach, 1 cup mushrooms, 4 whole eggs, 4 egg whites, 2 garlic cloves, salt and pepper to taste.
Calories: 167. Fat: 8 g, Proteins: 18 g, Carbs: 7 g.
Meal 2 – Tofu ground 'beef'
453 g drained and crumbled extra-firm tofu, 2 tbsp tamari, 1/2 tsp garlic powder, 1/2 tsp paprika, 1 tbsp
This makes 4 servings.
Calories for 1 serving: 152. Fat: 9.4 g, Proteins: 12.6 g, Carbs: 3.9 g.
Meal 3 – Shrimp fried rice
1/4 cup sesame oil, 2 large eggs, 3 cups riced cauliflower, 453 g large shrimp, 3 cups broccoli florets, 1 medium-sized red bell pepper, 3 garlic cloves garlic, 3 tbsp reduced-sodium soy sauce, 2 tbsp water, 1 tbsp rice vinegar, 1/2 tsp ground pepper
This makes 4 servings.
Calories for 1 serving: 309. Fat: 16.9 g, Proteins: 30.1 g, Carbs: 9.6 g.
Meal 4 – Shrimp, Avocado, and Egg Salad
1/4 small thinly sliced red onion, 2 tbsp lime juice, 1 tbsp olive oil, 340 g large peeled and deveined shrimp, 1 cup halved grape tomatoes, 8 cups butter lettuce, 1/2 cup fresh cilantro leaves, 1/2 avocado, 2 hard boiled eggs
This makes 2 servings.
Calories for 1 serving: 365. Fat: 17 g, Proteins: 40 g, Carbs: 15 g.
Meal 5 – Baked Salmon
Roasted peppers – 1/2 cup roasted red peppers, 1/4 cup smoked nuts, 1 plum tomato, 2 tbsp red wine vinegar, 1 garlic clove, a pinch of paprika, 1/4 tsp crushed red pepper, 1/3 cup heavy cream, salt and pepper to taste
For the salmon – 3 salmon fillets, 1 tbsp coconut oil, 1/2 lemon cut into slices, 1 tbsp fresh oregano, salt and black pepper
This recipe makes 3 servings.
Calories for 1 serving: 351. Fat: 20 g, Proteins: 36 g, Carbs: 8 g.
Total Intake for the Day: Calories: 1344. Fat: 71.3 g, Proteins: 126.7 g, Carbs: 43.5 g.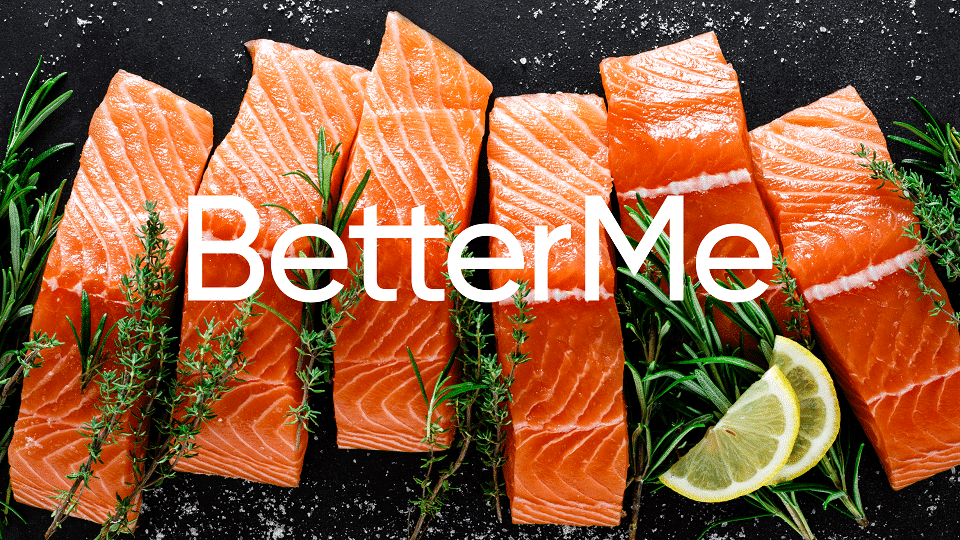 Why Am I Not Losing Weight On A Metabolic Diet?
Not losing weight even after changing your diet is something that many people struggle with. The reasons for this are many and varied:
If you had been losing weight on the metabolic diet but then you suddenly stopped it could be because you are on a

weight loss plateau

and will have to change up some things to restart the process.

If you are on this eating plan and eating at a calorie deficit but the number still isn't going down, the

factors affecting the lack of weight loss

could include lack of enough sleep, increased stress levels, not doing enough exercise, eating too little, hormonal changes, etc.

However, if you have been on the metabolic diet for a while and are still not seeing changes then the issue could be this diet itself. Remember that while this eating plan does seem legit, it does not have any scientifically proven benefits or results behind it
Remember that the secret to weight loss is never in a specific diet. A curated eating plan can help but it's not the only answer. As long as you eat a healthy diet – one that is rich in vegetables, complex carbs, healthy fats and lean protein – eat at a calorie deficit, and workout 3 to 5 times a week then you will lose weight.
The Bottom Line
The metabolic diet plan sounds like a good idea as it promises to help you use your metabolism to boost your weight loss. While it does make some good points with its advice and guidelines, there isn't enough research on it to show that it will truly work.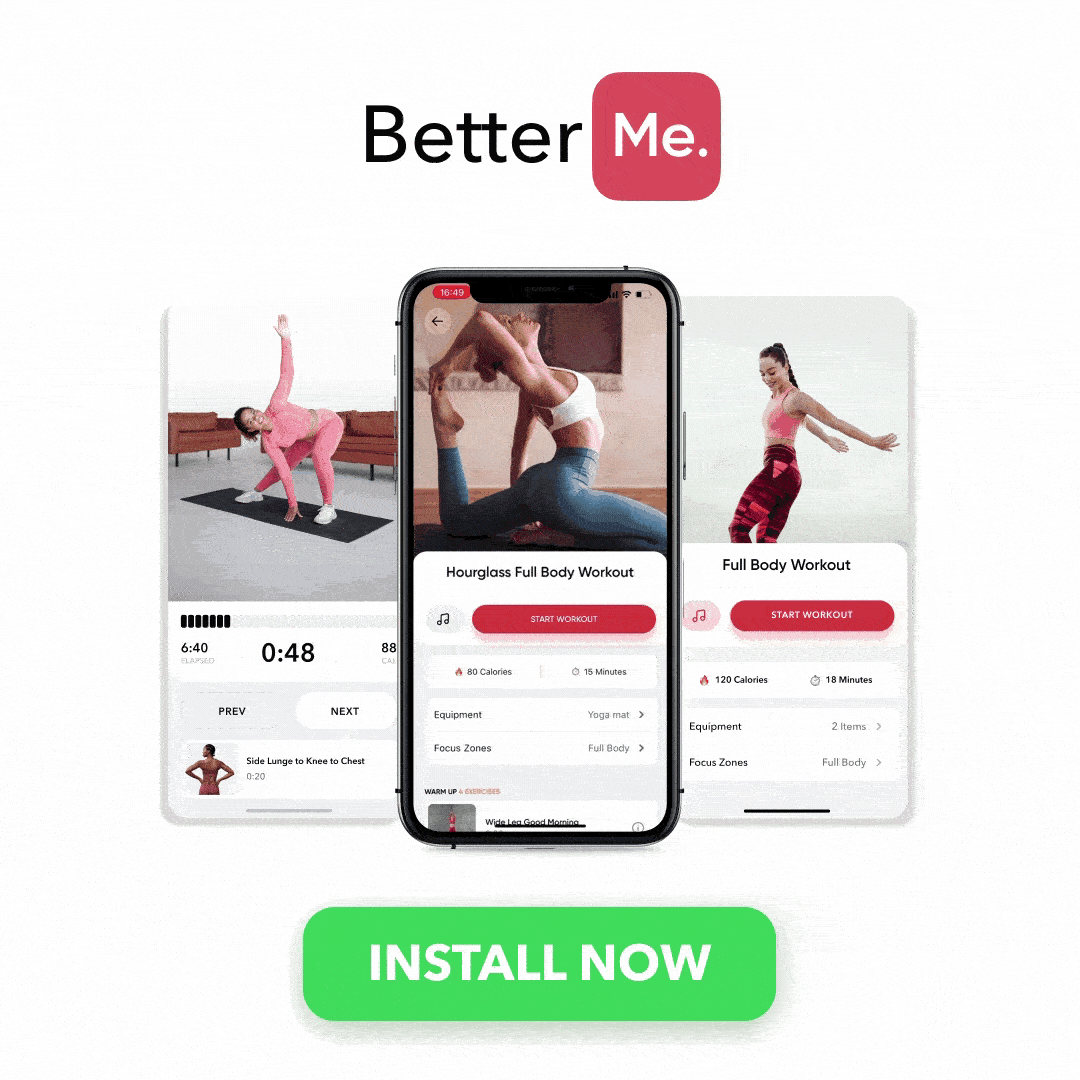 DISCLAIMER:
This article is intended for general informational purposes only and does not address individual circumstances. It is not a substitute for professional advice or help and should not be relied on to make decisions of any kind. A licensed physician should be consulted for diagnosis and treatment of any medical conditions. Any action you take upon the information presented in this article is strictly at your own risk and responsibility!
SOURCES: