Good nutrition is one of the most important keys to staying healthy. With that in mind, it's no surprise that people are always looking for new ways to maintain a healthy diet. There are all sorts of diets out there—low-carbohydrate, low-fat, Paleo, vegan, among others. But if you're interested in weight loss and maintaining your current lifestyle without major changes or restrictions, then calorie deficit meals are what you need. To lose weight, you have to eat fewer calories, plain and simple. In this article, we'll provide you with insights into how calories work, what a deficit is, how to create one, and some meal ideas for a weight loss diet.
Get your personalized
meal plan!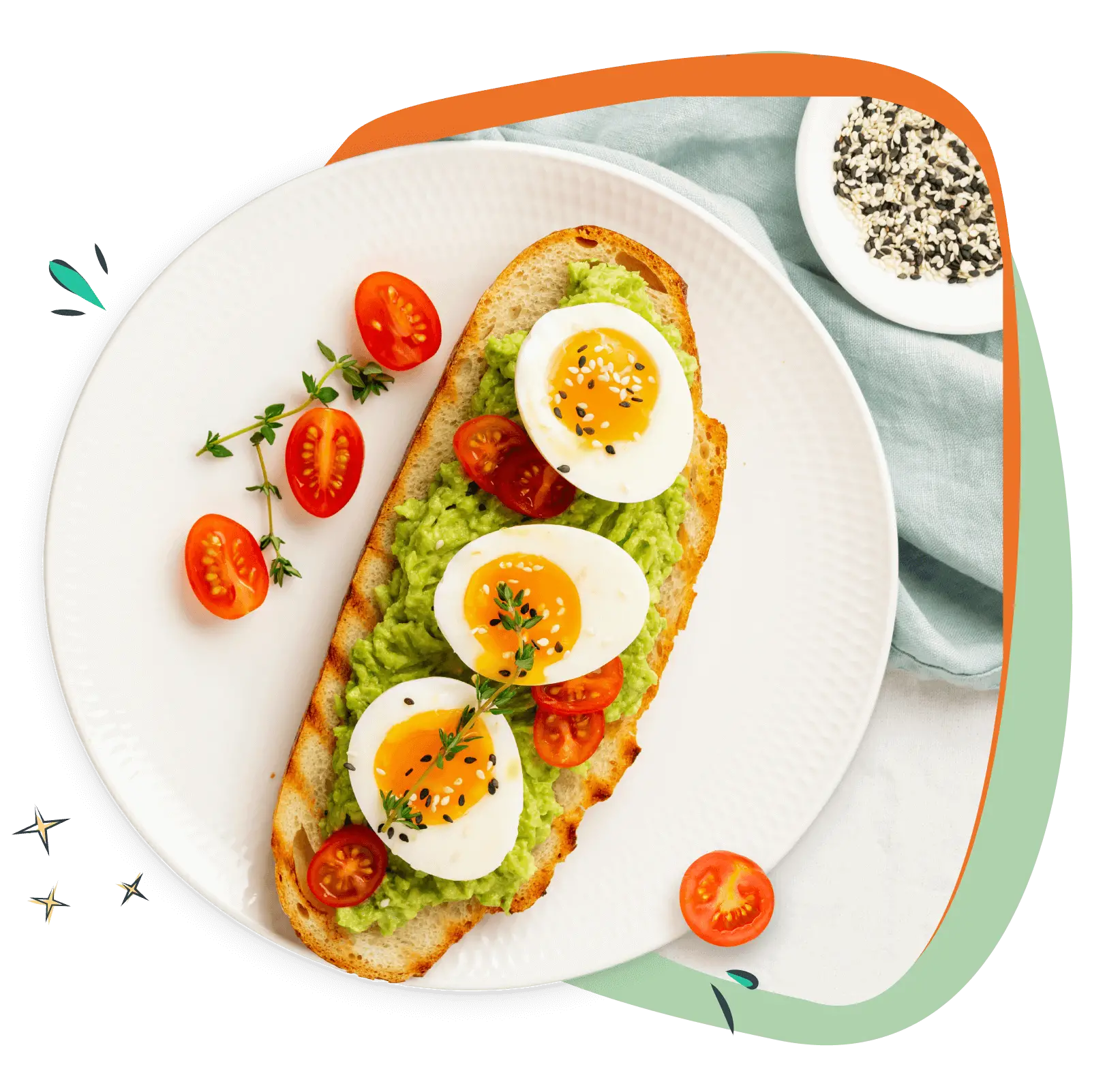 What Is A Calorie?
A calorie is a measurement of how much energy a food provides. When we say "energy," we don't exactly mean electrical or mechanical power. We're talking about the kind of energy you feel in your muscles when you lift a heavy object or work outside on a hot summer day. All foods give us calories, but some foods are denser in calories—that is, they provide more energy per serving size than others. 
How Does This Affect My Weight Loss?
If you eat too many calories without burning enough through normal daily activities and exercise, then even if they come from healthy food sources, you will gain weight over time. Conversely, if you eat too few calories, then your body may go into starvation mode, and your metabolism will slow down (6). This means that it will be harder for you to lose weight and maintain your current weight after reaching your goal.
To successfully lose weight and keep it off, you need to find a calorie level that is both healthy and reasonable—that's where eating a healthy, balanced diet becomes important.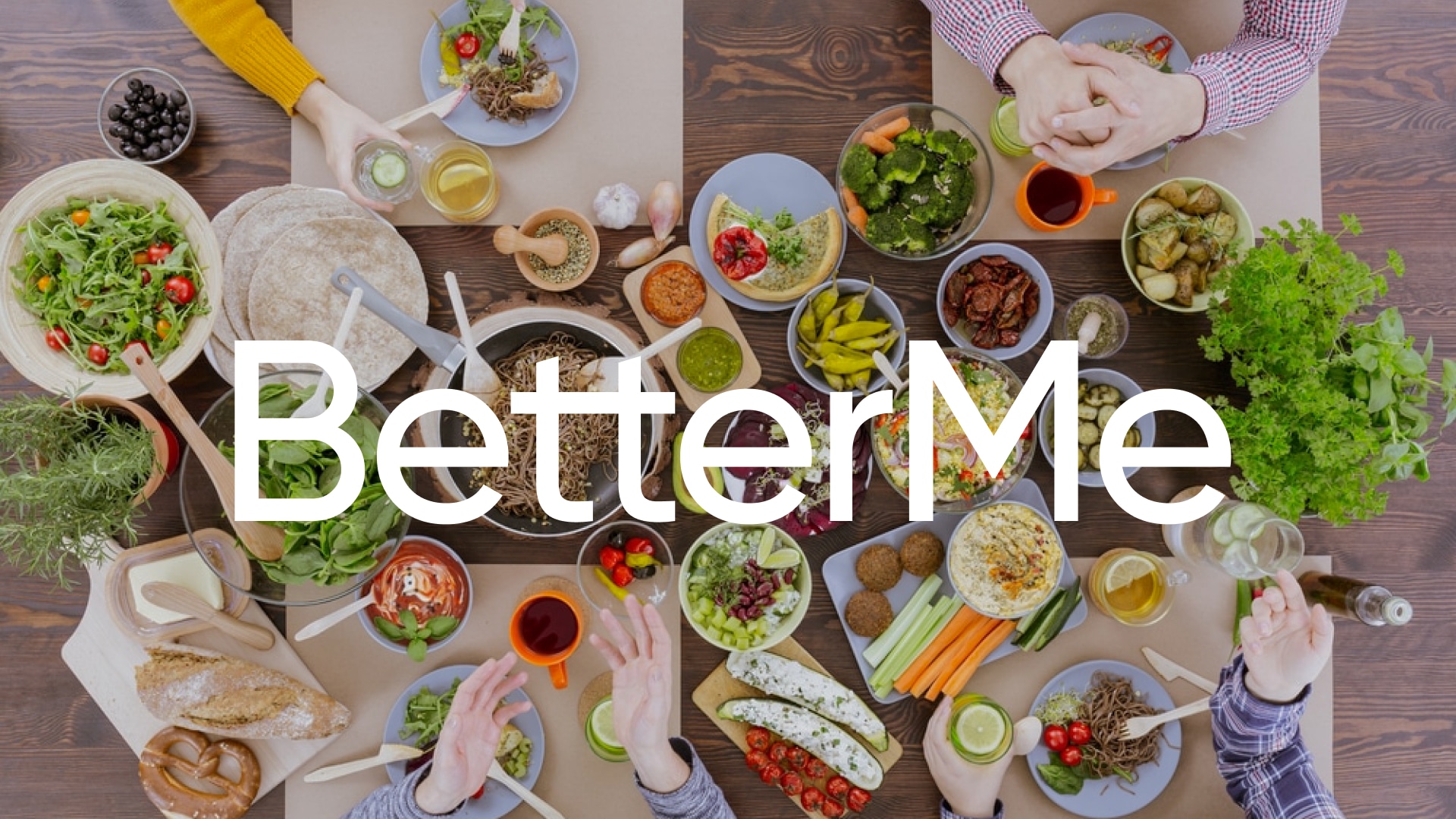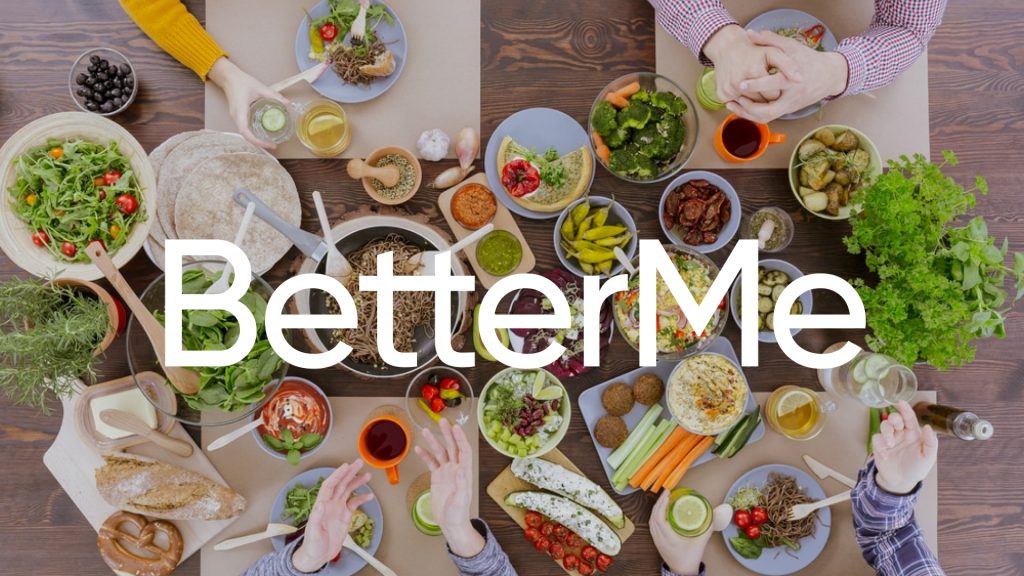 How Do I Know My Ideal Calorie Deficit?
You need to find out how many calories you need each day to maintain your current weight. You can roughly estimate this with a simple equation: take your current weight (in lbs) and multiply it by 15. That number represents the approximate number of calories that your body needs every single day just to keep from losing or gaining weight.
For example, if you weigh 150 lbs, you would need about 2250 calories every day to maintain your weight. You can get a more accurate estimate using the Harris Benedict equation plus an activity factor, or use an online calculator that does the math for you. Now that you know how many calories your body needs to maintain its current weight, you can add or subtract from that number depending on how quickly you want to lose the excess pounds.
To lose weight, you have to eat fewer calories. Usually, subtracting about 500 calories from your maintenance calorie needs is a good place to start. A healthy meal plan could be based on approximately 1500 calories per day if you're a woman or 1800 if you're a man (3). This may seem like a substantial reduction from what your body needs to maintain its current weight but remember that you need enough energy for your body's basic functions as well as for regular exercise and activity.
You can also try using an online calorie calculator, which will give you a more precise idea of how many calories are right for your specific situation. In addition, it gives general recommendations on the types of foods that are appropriate at each calorie level. You can enter information about yourself, such as height, weight, and age into this type of calculator, then click "calculate" to see an estimate. 
While everyone's body has different nutritional needs, most people do best when they eat a balanced diet of healthy foods following their calorie allowance.
Read More: Can You Build Muscle On A Calorie Deficit?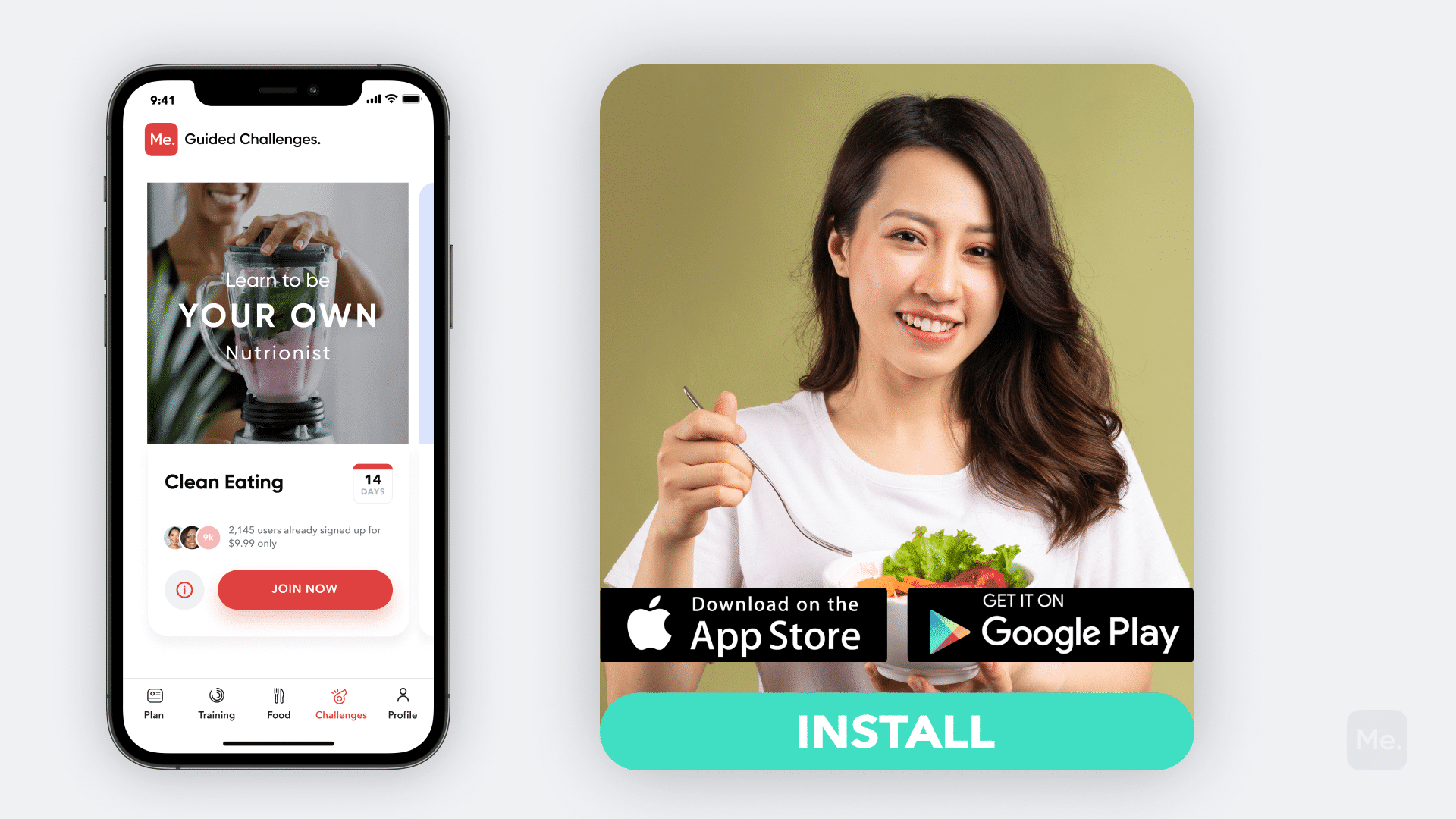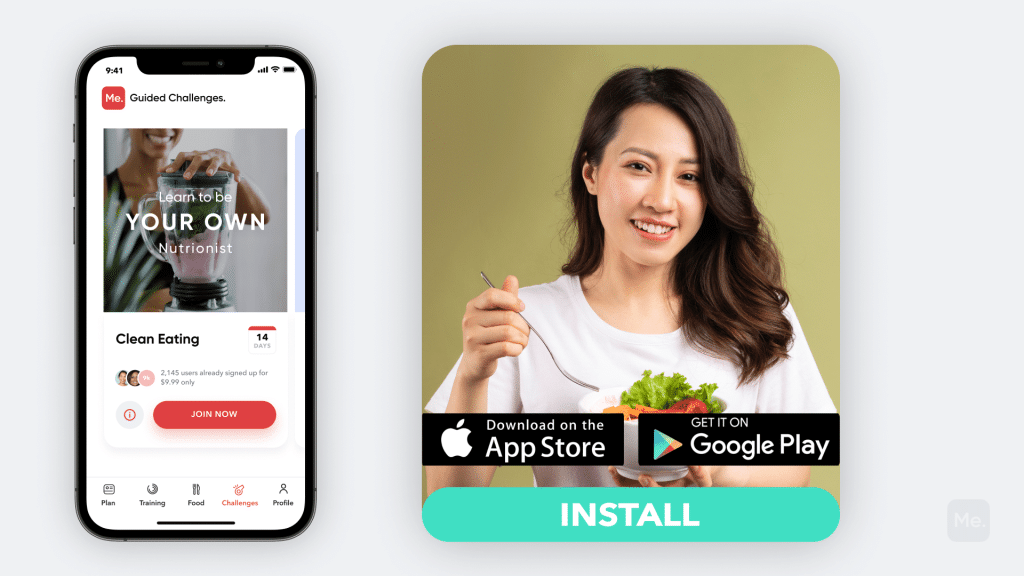 What Are Calorie Deficit Meals?
Calorie deficit meals are recipes designed to help you eat fewer calories than usual, so you can lose weight or maintain your current weight more easily. 
To do this, the recipes will have certain things in common (9): 
They will be low-calorie

. The calorie content for each recipe will be lower than average. This way, if you choose one of these recipes as a part of a calorie deficit plan, then even adding small side dishes or snacks won't push you over your goal calories for the day. 

They will not require a long list of ingredients or unusual cooking skills

. Eating a calorie deficit diet doesn't mean you have to spend hours in the kitchen! The recipes will use simple, easy-to-find ingredients, and most will require minimal preparation time. 

They will be healthy and nutritious.

Most diets that promise quick weight loss use unhealthy filler foods to reduce calories while sacrificing nutrition. We'll teach you how to eat fewer calories without skimping on the nutrients you need.

They will be tasty.

Healthy, tasty recipes are an important part of any diet plan. You shouldn't have to give up the flavor just because you're trying to lose weight.
Calorie Deficit Breakfast Meals
Many diets recommend eating a small breakfast but don't provide many suggestions for what to eat. This can be frustrating if you're trying to lose weight because it's easy to get bored of the same thing every day. 
As part of your diet plan, try the following breakfast recipes:
Spiced Apple Oats With Honey (1)
When combined, oats and apples form a complete protein, something that's hard to come by in cereal or other foods that are eaten first thing in the morning. Plus, this recipe requires minimal preparation time, so it can be made before you head out the door in the morning! 
Ingredients:
1 cup, water

2 cups rolled oats

Pinch of salt

3 apples, peeled and chopped

1 small cup of pecans

Spices, 1 teaspoon cinnamon, and 1 tablespoon nutmeg
Instructions:
Add the water to a medium pot and bring it to a boil. Throw in the oats, salt, cinnamon, and nutmeg, then stir well.

Add the chopped apples and reduce the heat. Allow simmering for 10-12 minutes.

Once the apples are tender, add the honey and pecans and stir.

Turn off the heat and allow it to sit for 5 minutes.
This recipe is courtesy of healthyfitnessmeals.com.
Want to build an attention-grabbing bubble butt, blast away fat that's stored in all the wrong places, spring-clean your diet, turn back the clock on your skin, skyrocket your self-confidence and shatter your insecurities? Check out the BetterMe app and set this plan in motion!
Baked Egg Muffins With Spinach (12)
These healthy egg muffins are high-protein and low-fat, which is essential for a healthy diet. They can be eaten hot or cold for breakfast or dinner, so it's easy to have them as part of your calorie deficit plan.
Ingredients:
Cooking spray

4-ounce cartons liquid egg white

6 ounces shredded reduced-fat sharp cheddar cheese

10-ounce package frozen chopped spinach, thawed and drained

1 teaspoon hot sauce

1 teaspoon salt

½ teaspoon ground black pepper
Instructions:
Preheat the oven to 350 degrees F. Next, spray a muffin tin with the cooking spray.

Mix all the ingredients in a bowl. Now ladle the mixture into the muffin tin, only filling ¾ way full.

Bake in the oven for 20-25 minutes. Serve warm or cooled.
This recipe is courtesy of allrecipes.com.
Garden Vegetable Frittata (7)
At less than 200 calories per serving (and with almost 30 grams of protein!), you won't find a more nutrient-dense and filling recipe. This is the perfect dish for people who eat fewer than 500 calories at breakfast because it will help keep you full all morning.
Ingredients:
6 egg, beaten

⅓ cup milk

1 tablespoon fresh chives, chopped

1 teaspoon fresh marjoram, chopped

½ teaspoon salt

⅓ cup onion, chopped

1 small zucchini halved lengthwise, sliced

1 garlic clove, minced

1 cup frozen corn

2 cups fresh small broccoli florets

2 teaspoons oil

½ cup shredded cheddar cheese

2 Italian plum tomatoes, thinly sliced
Instructions:
Mix well the first five ingredients in a bowl and set them aside.

Heat the oil (1 teaspoon) in a 12-inch non-stick skillet using medium-high heat until it's hot.

Add the zucchini, garlic, and onion; cook and stir for a minute. Reduce the heat to medium and throw in the broccoli, corn, and water. Cover and let it cook for 4-6 minutes.

Remove the veggies from the skillet. Add 2 teaspoons of oil to the skillet. Return the veggies and pour the egg mixture over them. Cover loosely and let it cook for 10-15 minutes.

Sprinkle the frittata with cheese and arrange the tomato slices on the top. Cook for 1-2 minutes and garnish if desired. Cut into wedges and serve.
This recipe is courtesy of bettycrocker.com.
Read More: How To Calculate Calorie Deficit And Why It Matters
Get your personalized
meal plan!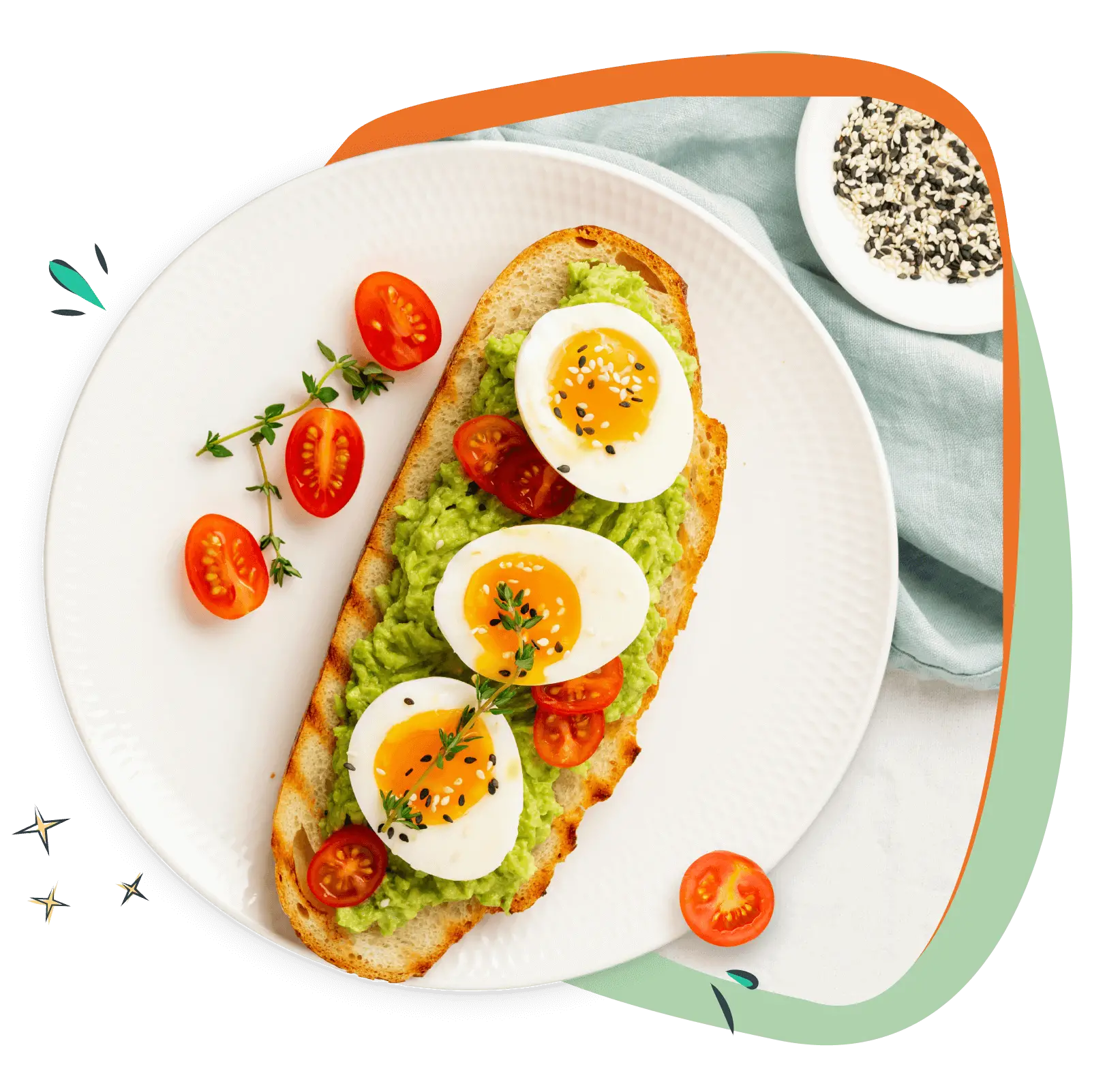 Calorie Deficit Lunch Recipes 
A lot of diets recommend skipping lunch, but this isn't practical or fair to your body. After not eating anything all night and then burning up some energy first thing in the morning, you need to refuel around midday. 
Instead, try the following healthy recipes for your mid-day meal:
Vegetable Soup (11)
Whether you use it as a light pre-lunch or filled up with something like rice, this low-calorie vegetable soup is high in fiber and nutrients. Plus, it doesn't require any cooking skills! 
Ingredients:
14 ounce can chicken broth

11.5 can tomato-vegetable juice cocktail

1 cup water

1 large potato, diced

2 carrots, sliced

2 stalks celery, diced

1 cup chopped fresh green beans

1 cup fresh corn kernels

Salt and pepper to taste

Creole to taste
Instructions:
Combine all the ingredients in a large stockpot and season.

Boil the mixture and simmer for 30 minutes.
This recipe is courtesy of allrecipes.com.
Mushroom & Mint Salad (10)
Filled with low-calorie, nutrient-dense ingredients (mushrooms are full of B vitamins) but still tasty enough to make you feel like you're eating something special. You'll feel full without piling on the calories.
Ingredients:
16 medium white or cremini mushrooms, trimmed and very thinly sliced

¼ cup extra virgin oil

1 tablespoon plus 1 teaspoon fresh lemon juice

Salt and freshly ground pepper

Finely grated zest of 1 small lemon

¼ cup thinly sliced mint leaves
Instructions:
Arrange the mushrooms on a platter, then drizzle them with lemon juice and olive oil. Season using pepper and salt.

Scatter the mint and lemon zest over the mushroom and serve.
This recipe is courtesy of foodandwine.com.
Chicken Enchiladas (5)
We swapped out tortillas for lettuce leaves to create a lower-calorie version of chicken enchiladas that's ideal for a calorie deficit diet. What makes this recipe great is that it can be made in advance and reheated for quick lunches during the week.
Ingredients:
10 ounces enchilada sauce, divided

4 ounces cream cheese, cubed

1 ½ cups salsa

2 cups cubed cooked chicken

15 ounces pinto beans, rinsed and drained

4 ounces chopped green chilies

Lettuce leaves

1 cup shredded Mexican cheese blend
Instructions:
Spoon the enchilada sauce into a greased baking dish.

Cook and stir for about 2 minutes the cream cheese and salsa using medium heat in a large saucepan until blended. Stir in the beans, chilies, and chicken.

Place about ⅓ cup of the chicken mixture at the center of each lettuce leaf. Roll up and place the seam side down over the sauce.

Top it with the remaining enchilada sauce, then sprinkle it with cheese.

Cover and bake for about 25-30 minutes at 350 degrees F.
This recipe is courtesy of tasteofhome.com.
When it comes to weight loss, progress is made by inches, not miles, so it's much harder to track and a lot easier to give up. BetterMe app is your personal trainer, nutritionist and support system all in one. Start using our app to stay on track and hold yourself accountable!
Calorie Deficit Dinner Recipes
As you lose weight, you might find yourself struggling to make healthy food choices at dinner time. This is especially true if you've been eating large portions of high-calorie foods throughout the day.
To help keep your daily calorie intake low, try the following recipes below:
Lemon Chicken Stir Fry (8)
One of the best things about stir fry dishes is how easy they are to prepare. You can just throw everything into one frying pan for an instant meal without any complicated steps or cooking skills required! Plus, this dish provides over 20 grams of protein per serving, so you won't be hungry again in an hour. 
Ingredients:
2 tablespoons extra-virgin oil

½ onion, finely chopped

3 garlic cloves, minced

2 pounds skinless, boneless chicken breasts, cut into ¾-inch pieces

1 tablespoon soy sauce

¼ teaspoon toasted sesame oil

Kosher salt

Freshly ground pepper

1 tablespoon and 1 teaspoon finely grated lemon zest

2 tablespoons fresh lemon juice

1 scallion freshly thinly sliced

Steamed rice
Instructions:
Heat the olive oil in a large skillet and cook over moderate heat for 4 minutes until softened. Add the garlic and cook for a minute.

Throw in the chicken and cook for 3 minutes over moderate heat until browned.

Add the soy sauce and sesame oil. Season with pepper and salt and stir-fry for 3 minutes longer until chicken is cooked through.

Remove from heat and add the lemon zest and juice. Season and transfer the chicken to a platter.

Top with sliced scallion and serve with rice.
This recipe is courtesy of foodandwine.com.
Citrus Chicken And Kale Salad (4)
This healthy salad is full of antioxidants, tastes great, and is easy to make. You could even prepare everything in advance, so it's ready to eat when you need it (just add the kale right before you eat). Plus, this recipe contains less than 50% calories from fat—perfect for people watching their diet! 
Ingredients:
For the chicken:
2 medium-sized chicken breasts

2 tablespoons olive oil

1 tablespoon adobo seasoning
For the salad:
4 cups firmly packed shredded kales

2 cups broccoli slaw

2 cups finely shredded Brussels sprouts

½ cup dried cranberries

¼ cup sunflower seeds
For the dressing:
⅓ c. extra-virgin oil

¼ c. freshly squeezed orange juice

1 tablespoon freshly squeezed lime and lemon juice

3 T. honey

¼ teaspoon kosher salt

1 ½ teaspoon poppy seeds
Instructions:
For the chicken:
Preheat the oven to 375 degrees F.

Next, coat the chicken in adobo seasoning and olive oil.

Wrap the chicken in a foil until the digital thermometer reads 170 degrees.

Remove from the oven and let it rest for 10 minutes. Chop into 2-inch chunks.
For the dressing:
Mix well all the ingredients together in a small bowl.
For the salad:
Combine the salad ingredients and toss gently until mixed well.

Drizzle with dressing while tossing and add the chicken. Serve immediately.
This recipe is courtesy of sweetdesigns.com.
Mixed Bean Stew With Beetroots (2)
Low-calorie and filling, this dish can be eaten as a side or main course. It contains fewer than 45 grams of carbs per serving and has over 20 grams of fiber, which will keep your digestive system happy too! 
Ingredients:
2 tablespoons olive oil

1 medium onion, sliced

3 medium beets and carrots, grated

1 yellow bell pepper, cored and chopped

4 medium tomatoes, chopped

4 cups vegetable stock

5 cups water

1 can black beans, drained and rinsed

1 teaspoon garlic powder

Sea salt and pepper to taste

¼ lemon

2 handfuls chopped parsley
Instructions:
Heat the olive oil over medium heat in a large pot, then add and cook the onions for about 4 minutes.

Throw in the carrots, bell pepper, beets, and tomatoes. Cover and cook for 5-7 minutes, stirring occasionally until the vegetables start softening.

Add water, black beans, vegetable stock, garlic powder, and season with pepper and salt. Bring to a boil and reduce the heat. Cover and allow to cook for about 10 minutes.

Squeeze in the lemon juice and also drop the lemon piece in the soup. Add the parsley and continue cooking for 2-3 minutes. Turn off the heat and serve.
This recipe is courtesy of mariaushakova.com.
Conclusion  
Nobody likes to count calories or think about what they can and can't eat, which is why it's important to have a list of healthy meals that you don't need to think too much about. These recipes offer all the nutrients your body needs without piling on the pounds. Plus, they're easy enough for anyone to make, no matter how little cooking experience you have.
Get your personalized
meal plan!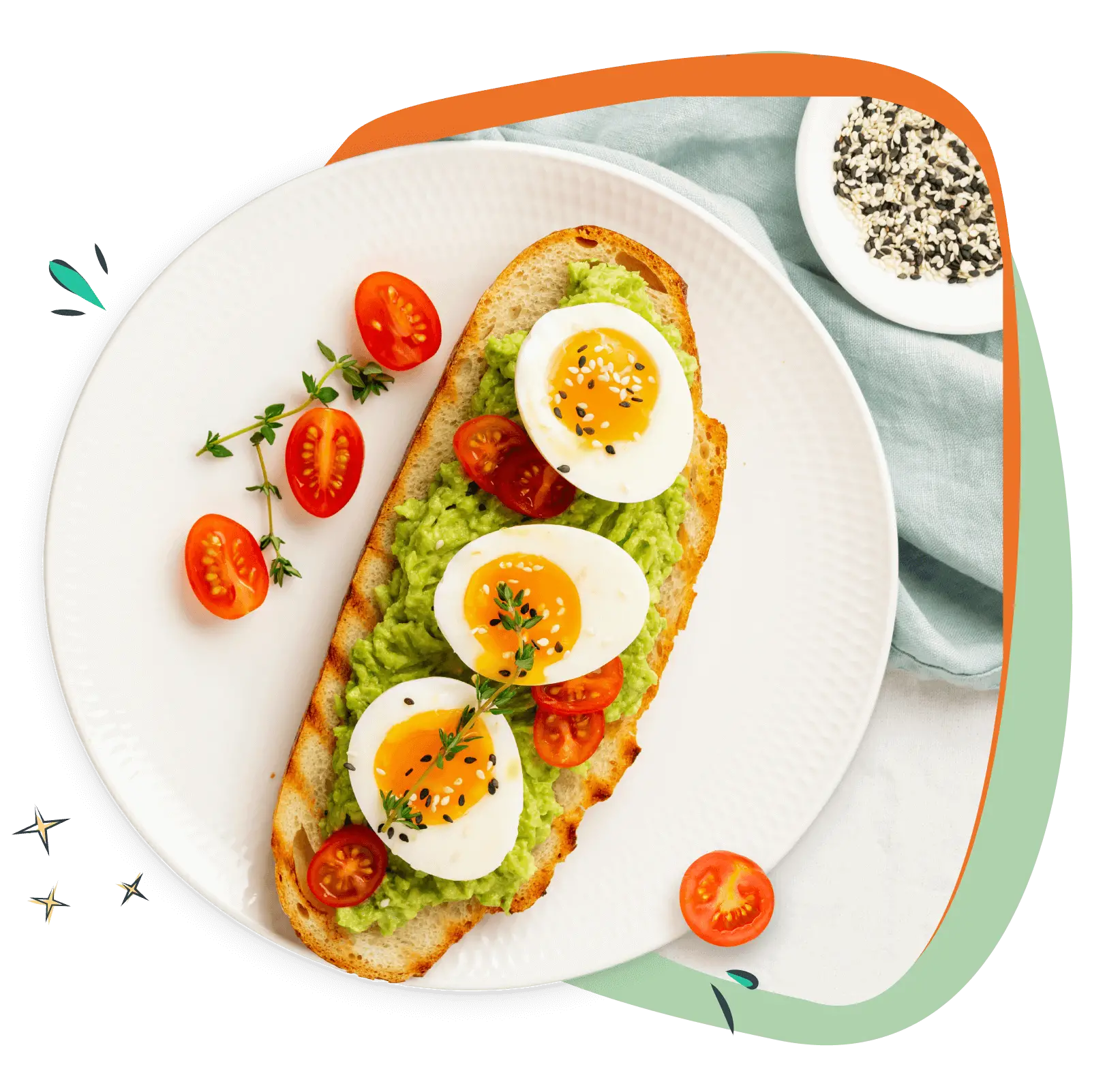 DISCLAIMER:
This article is intended for general informational purposes only and does not address individual circumstances. It is not a substitute for professional advice or help and should not be relied on to make decisions of any kind. Any action you take upon the information presented in this article is strictly at your own risk and responsibility!
SOURCES: