To achieve a bodybuilder competition physique, you have to do more than hit the gym. First, you have to follow a good eating plan. An ideal bodybuilder competition diet would be healthy and account for several things like the calorie count. Here is a detailed overview of what is included and how to design a bodybuilder competition diet.
The Ideal Bodybuilder Competition Diet Plan
Bodybuilders are interested in a nutrition plan that helps with two things. One is muscle development to help them attain broad shoulders and well-toned yet proportionate legs to the rest of the body. 
The other is they need an eating plan that promotes fat loss to help them burn fat around their abdomen for that slim waistline and six-pack. These are some of the features of a bodybuilder's physique.   
According to Medical News Today, a bodybuilder's diet may change because they go through a bulk up and lean cut phase (1). In the bulk up phase, a bodybuilder is expected to consume a high-calorie and protein-rich diet so they build muscle mass (1). This phase may last for months or years.
Read More: Do A 6-Week Female Bodybuilder Workout: How To Consistently Burn Fat And Build Muscle
The bodybuilders aim to lose body fat during the lean-out phase while maintaining muscle mass (1). During these two phases, there are several things you need to concentrate on when it comes to your diet. They include:
The number of calories you consume determines whether you lose weight or not. The weight loss principle is that you must consume fewer calories than your body is burning. On the flip side, weight gain is caused when you consume more calories than your body is burning, which results in a calorie surplus that may result in weight gain.
Bodybuilders in the bulking phase ought to consume more calories than their bodies require to help maintain their weight every day (1). However, if they are preparing for a competition they need to consume fewer calories than they require to trigger fat loss but yet maintain muscle mass (1).
To help with bulking, Medical News Today suggests a bodybuilder increase the daily calorie count by 15 % (1). They should also increase this count by 15% during the off-season. However, since they are expected to lose fat during the lean-cut phase, Medical News Today suggests consuming 15% more calories than expected (1).
We understand that most people have trouble calculating their daily calorie limit. Instead of guessing, we advise you to talk to your doctor as they will guide you on how to use an online calorie calculator to determine your count.
The calorie count will vary, depending on factors such as your age, physical activity demands, height, and body shape (3). That said, Medical News Today has provided estimated calorie counts for individuals in various age brackets.
For example, they acknowledge that an average man requires 2,700 calories daily, while an average woman requires 2,200 calories (3). You will eventually know if the eating plan is working depending on the results you report, either in the bulking or leaning phase.
BetterMe app is a foolproof way to go from zero to a weight loss hero in a safe and sustainable way! What are you waiting for? Start transforming your body now!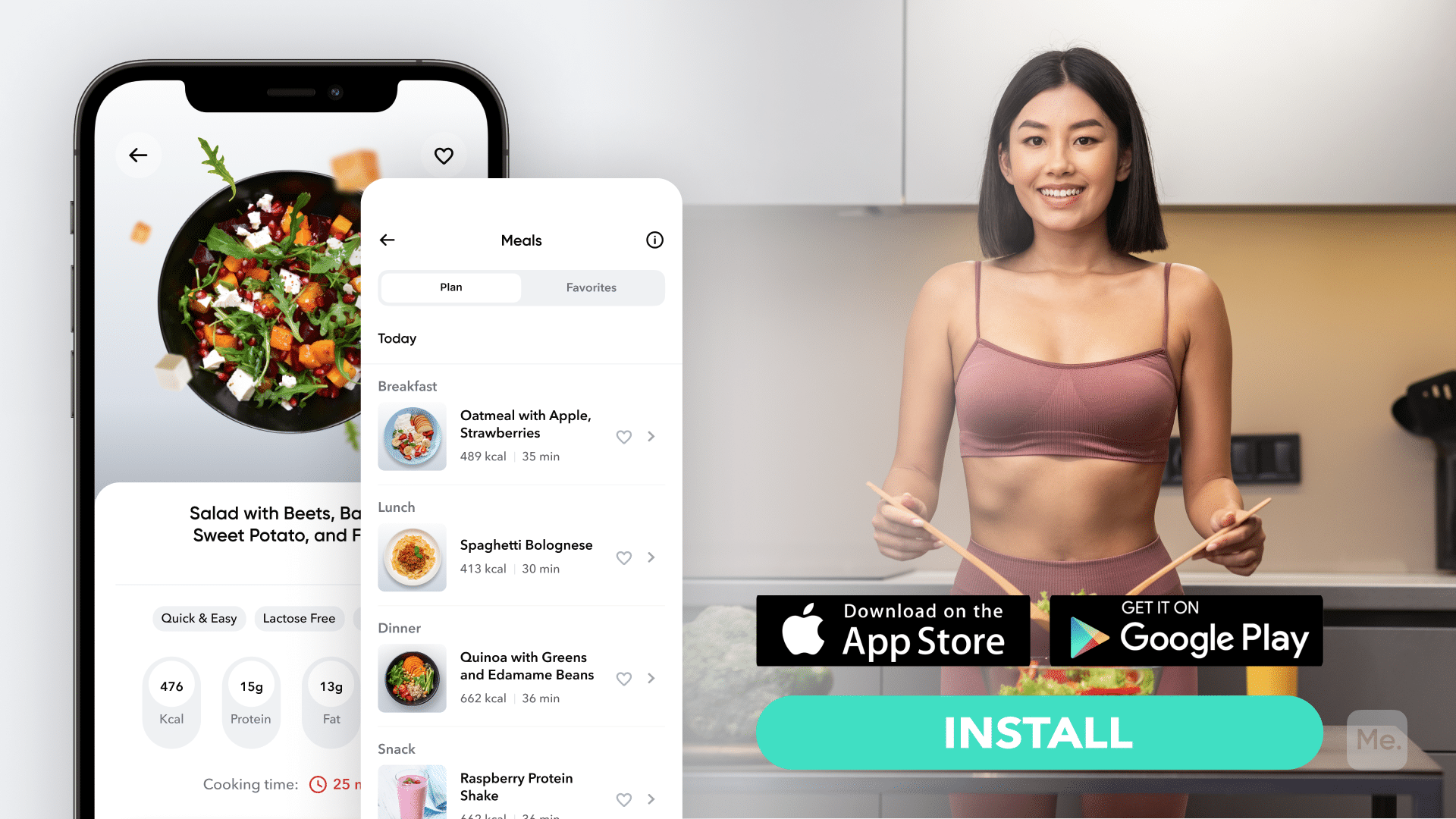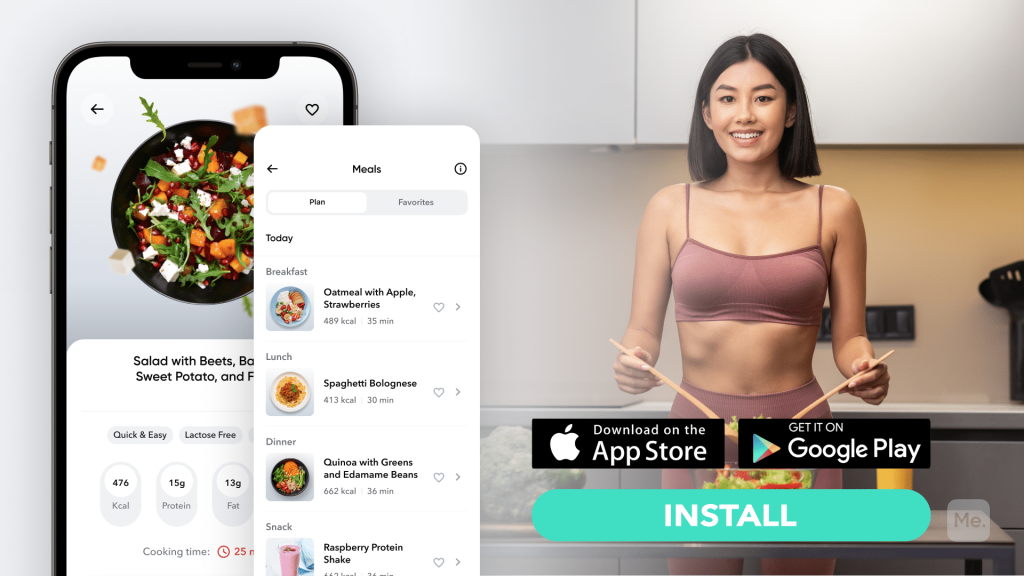 The other factor that is vital in a bodybuilder's diet plan is the macronutrients. These refer to the nutrients your body requires in large amounts and those that give your body energy. They include protein, fat, and carbohydrates (4). 
The amount of macros you will consume when following a bodybuilder's meal plan depends on the phase you are in. According to Medical News Today, bodybuilders need to consume macros in the following amounts in both the bulking and leaning phases (1):
Carbs- 55-60%

Protein- 25-30%

Fat- 15-20%
Nonetheless, the same site recently acknowledged that recent studies reveal bodybuilders should distribute their macros in the following ways (1):
15-30 % of calories from fat

2.3- 3.1 g per kg of lean body mass daily of protein

The remaining calories come from carbs
Notice that we have once again come back to the concept of calories. So, it would help if you found a reputable calorie calculator to validate that you are working with the correct calorie count.
The Number Of Meals You Have In A Day
You will notice with bodybuilders that their eating patterns differ from those of a typical individual. Typically, an individual tends to consume three large meals: breakfast, lunch, and dinner.
Medical News Today states that bodybuilders can consume three to six meals daily (1). Understanding the number of meals you have in a day is crucial for two reasons. First, it helps in better structuring your bodybuilding diet plan. 
Second, it helps in stating the timing of bodybuilding workouts. Remember that when exercising, you also need to account for your pre-workout and post-workout diets. So, understanding the number of meals you will have in a day helps account for your pre and post-workout meals.
Read More: 4-Day Workout Routine For Lean Muscle – Simple Bodybuilding Guide For Beginners
What To Include In A Bodybuilder Competition Diet Plan
There are various foods that bodybuilders can consider when designing their meal plans. As we earlier mentioned, the idea is to concentrate on calories and macronutrients. If you are in the leaning cutting phase, you ought to focus on foods that keep you fuller for longer on a given amount of calories (1).
However, it may be challenging during the bulking phase because you need to continue eating to obtain high-calorie goals despite being possibly full (1). With this in mind, here are the foods you ought to consume (1):
Proteins are vital in the bodybuilding diet. Food experts recommend consuming the following:
Lean proteins like lean lamb and lean red meat

Eggs

Poultry like turkey and chicken breasts

Fish

Nuts and seeds

Beans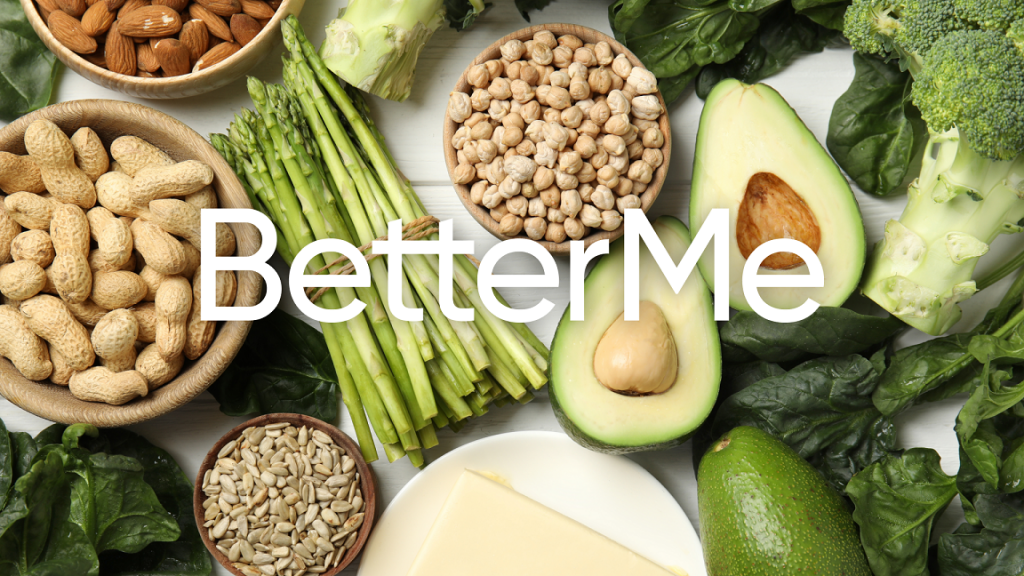 Carbs are also vital in a bodybuilder diet before any competition as they provide energy for the workouts. Some excellent carbs food options for bodybuilders include:
Starchy vegetables like potatoes

Whole grains like quinoa, brown rice, and oatmeal

Fruits like bananas and apples

Leafy green vegetables
Bodybuilders have to focus on healthy fats like:
Nuts and seeds

High-fat fruits like avocado

Healthful oils like olive oil
Note that some foods contain more than one nutrient, like nuts and seeds. They contain both healthy fats and protein. So take note of this to avoid consuming more than your daily macronutrients.
Intense sweat sessions, working weight loss tips, lip-smacking recipes come in one package with the BetterMe app. And all of it is at your fingertips, start transforming your life now!
Sample Of Recipes To Include In A Bodybuilder Competition Diet
Bodybuilding recipes will vary depending on whether you are in the bulking or leaning phase. Again, it will vary depending on whether you are preparing for a competition or not. Regardless of all these, the diet of a bodybuilder should contain healthy foods. Here are examples of some bodybuilder recipes:
Pre-Workout Meal Ideas (2)
Small flapjack, fruit, or energy ball

Scrambled eggs, omelet, or smoked salmon

Low-fat Greek yogurt
Post-Workout Meal Recipes (2)
Halloumi and beetroot sandwich (Calories- 437, Fat- 16 g, Carbs- 48 g, and Protein- 20 g)

Crab and asparagus omelet (Calories- 365, Fat- 24 g, Carbs- 2 g, and Protein- 35 g)

Chicken meatballs with quinoa and curried cauliflower (Calories- 697, Fat- 23 g, Carbs- 44 g, and Protein- 72 g)
Breakfast Recipes (2)
Breakfast super-shake (Calories- 391, Fat- 12 g, Carbs- 50 g, and Protein- 15 g)

Poached eggs with broccoli, tomatoes, and wholemeal flatbread (Calories- 383, Fat- 17 g, Carbs- 31 g, and Protein- 22 g)

Curried broccoli and boiled eggs on toast (Calories- 258, Fat- 10 g, Carbs- 22 g, and Protein- 17 g)

Coconut flour pancakes (Calories- 42, Fat- 2 g, Carbs- 4 g, and Protein- 2 g)
High-Protein Lunch And Dinner Recipes (2)
Griddled chicken with quinoa Greek salad (Calories- 473, Fat- 20 g, Carbs- 35 g, and Protein- 37 g)

Spicy Cajun chicken quinoa (Calories- 386, Fat- 7 g, Carbs- 35 g, and Protein- 47 g)

Spring salmon with minty veg (Calories- 555, Fat- 26 g, Carbs- 42 g, and Protein- 40 g)

Cajun blackened chicken with super green quinoa (Calories- 531, Fat- 12 g, Carbs- 54 g, and Protein- 49 g)

Herb and garlic baked cod with romesco sauce and spinach (Calories- 409, Fat- 24 g, Carbs- 11 g, and Protein- 33 g)

Hearty lamb stew (Calories- 397, Fat- 20 g, Carbs- 19 g, and Protein- 38 g)

Butternut, chickpea, feta, and pickled radish salad (Calories- 370, Fat- 17 g, Carbs- 33 g, and Protein- 16 g)

Parmesan pork with tomato and olive spaghetti (Calories- 572, Fat- 15 g, Carbs- 52 g, and Protein- 50 g)
The Bottom Line
A bodybuilder competition diet should be a high calorie and protein-rich diet to help with bulking up. It must account for an individual's calorie count and consider the macronutrients and the meals one has in a day. Make sure you talk to a licensed nutritionist before you design a bodybuilder diet for weeks before a competition or one to follow when bodybuilding.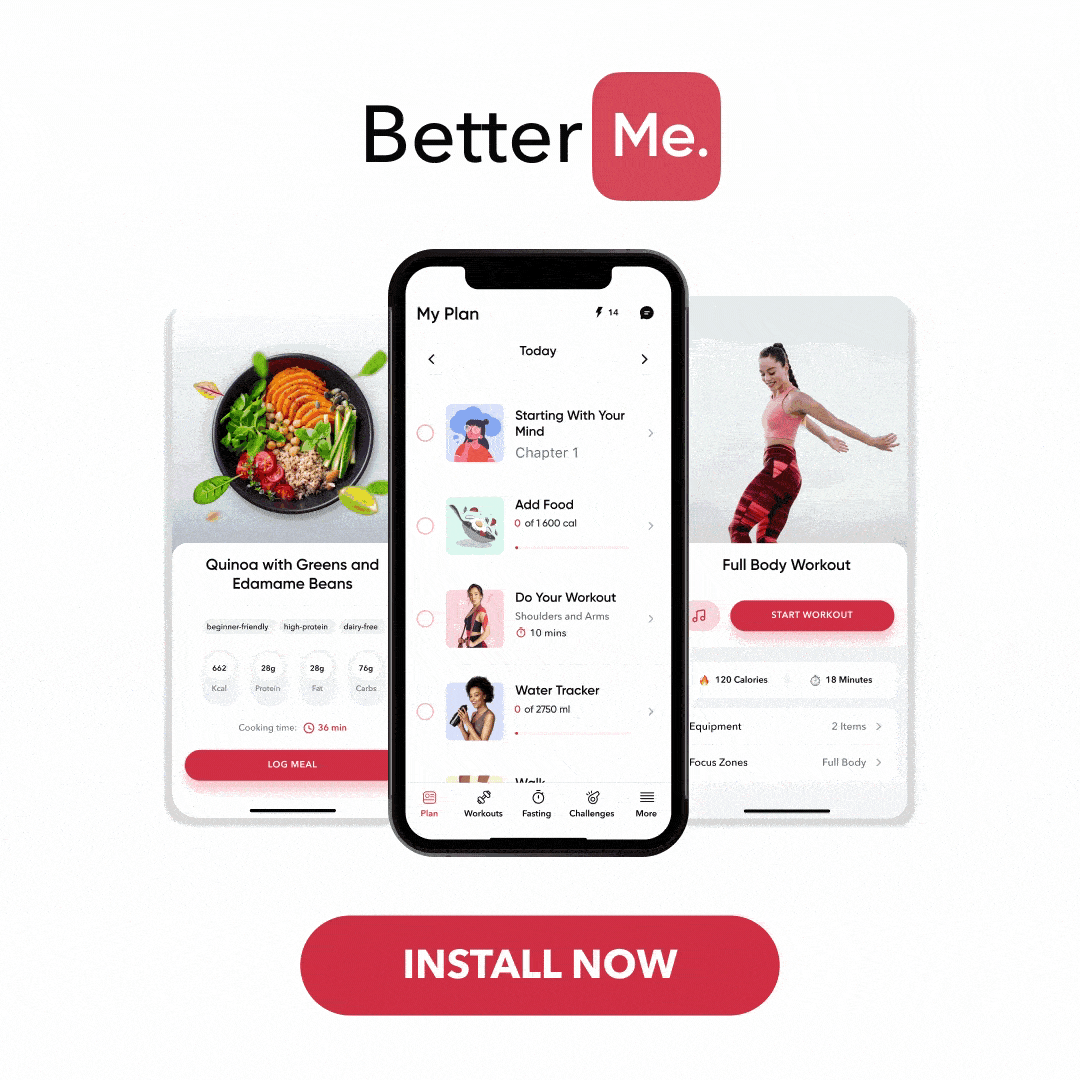 DISCLAIMER:
This article is intended for general informational purposes only and does not address individual circumstances. It is not a substitute for professional advice or help and should not be relied on for decision-making. Any action you take upon the information presented in this article is strictly at your own risk and responsibility!
SOURCES: