Are you getting bored with your at-home workouts? Do you find yourself doing the same exercises over and over? If you answered yes to either of these questions, it's time to switch things up with the best Wall Pilates app on the market – BetterMe. Not only does this Wall Pilates exercises app present an effective way to work out your entire body, it's also fun, engaging, and easy to use. And, you can access it from the comfort of your own home. In this blog post we'll explore what Wall Pilates is, whether BetterMe Pilates is free, and whether it's any good.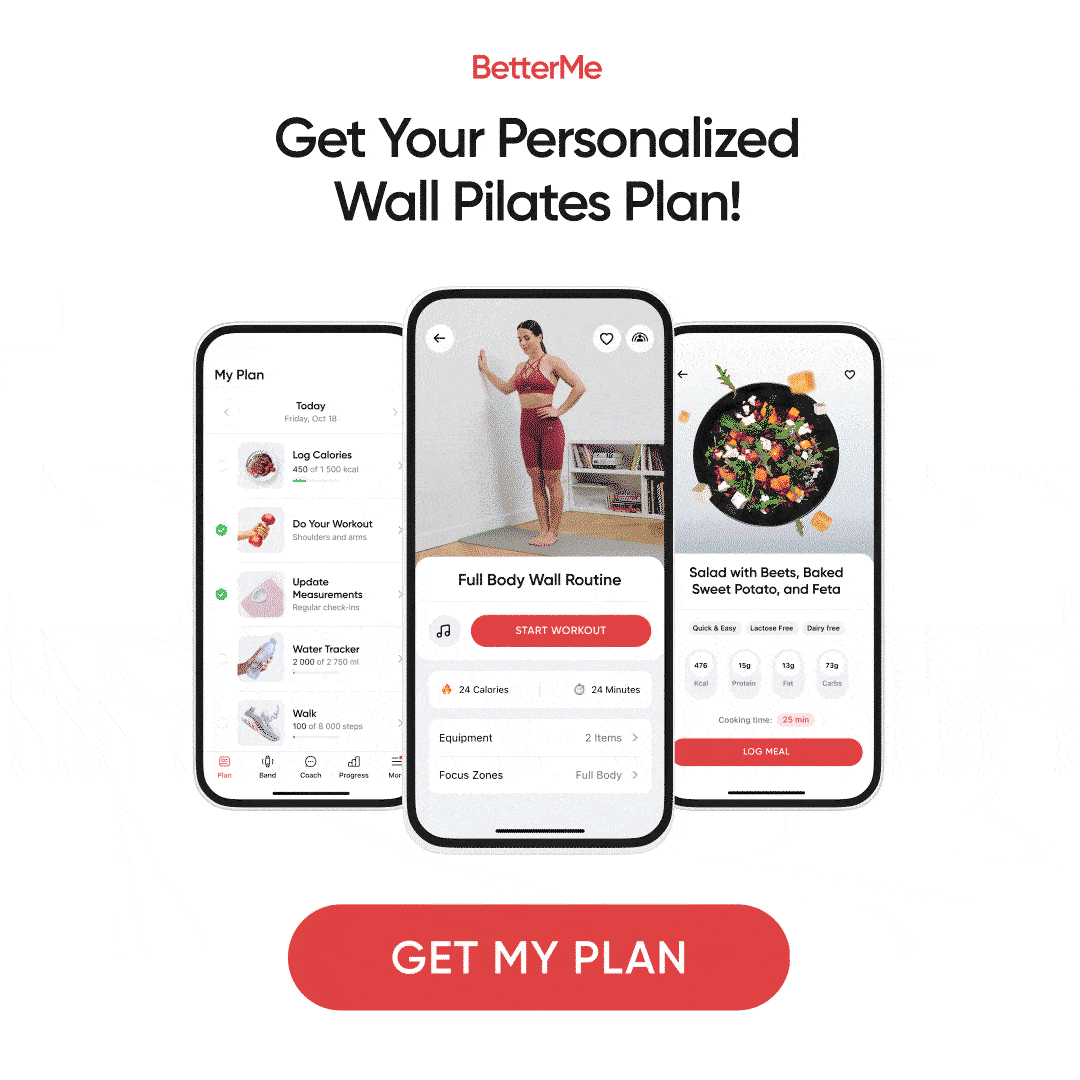 What Is Wall Pilates?
Wall Pilates is a form of Pilates that's performed using the wall as an exercise prop. It's a low-impact workout that focuses on improving your overall body strength, balance, and flexibility. 
Some of the exercises you can anticipate doing include wall sits, wall push-ups, wall planks, and wall squats. Because of these, Wall Pilates is an excellent workout for anyone who wants to improve their core strength, posture, and flexibility.
Is Wall Pilates Any Good?
Absolutely! Wall Pilates is a great workout that can help you achieve your fitness goals while improving your overall health. The benefits of this type of exercise include:
Support for those with limited mobility

Ease of execution as you use the wall as a prop

Gentle on joints for seniors
Getting a Pilates wall workout app can help you access these benefits and much more. Furthermore, if what you're using is the best app for wall Pilates, you'll have a much easier time getting started as you won't have to figure it out on your own.
Read More: 28-Day Wall Pilates Challenge: Stretch Your Limits With It!
Is BetterMe Wall Pilates Free?
Yes, BetterMe is a free Wall Pilates app that's available on both iOS and Android devices. You can download it from the App Store or Google Play Store and start working out in minutes. The app also offers an in-app purchase option that unlocks additional content and features. However, the free version of the app is enough to get you started on your wall Pilates journey.
Is BetterMe The Best Free Pilates App For Beginners?
Yes, BetterMe is the best pilates app for beginners. It has an extensive library of basic-level workouts that are easy to follow and understand. The app also provides modifications for each exercise, making it ideal for anyone who may have physical limitations.
If you tend to let yourself off the hook, raise the white flag when things get tougher than you expected, send yourself on an unconscious binge-eating trip – BetterMe app is here to help you leave all of these sabotaging habits in the past!
Is BetterMe The Best Free Pilates App Android And iPhone?
The BetterMe Wall Pilates app is really the best free Pilates app for iPhone and Android devices. It's user-friendly, has excellent video demonstrations, and provides a variety of workouts that target all the muscle groups. The app also allows you to track your progress and set reminders, ensuring that you stick to your workout routine.
Conclusion
If you're getting tired of your regular at-home workouts, it's time to switch things up with the best Wall Pilates app, for free. The BetterMe app is perfect for beginners and anyone who wants to improve their overall body strength, balance, and flexibility. Why not give it a try and see how wall Pilates can improve your workouts!