When you think of fall, you might automatically think of pumpkin spice lattes, cozy sweaters, and Halloween candy. However, fall is also a great time to focus on your fitness goals! The cooler weather makes it the perfect time to get outside and enjoy some of the best activities that come with the season. We've rounded up the best fall fitness tips to help you stay healthy and in shape all season long. Read on, as we'll also discuss common fall fitness challenges and how to overcome them.
1. Enjoy The Outdoors 
Summer is too hot for many people to want to spend any time outdoors, and winter is too cold– but fall is the perfect season to take advantage of all that nature has to offer. The cooler weather also means that you can finally go for a run or walk outside without feeling like you're going to melt. 
Moreover, there are plenty of other great outdoor activities to enjoy as well, like hiking, biking, and even playing some sports.
Getting more cardiovascular exercise is proven to be beneficial for your health (1), and what better way to do it than by enjoying the outdoors? Not only will you get some great exercise, but you'll also get some much-needed vitamin D from the sun. 
2. Get Some Exercise In The Morning 
With the days getting shorter, it can be hard to find time to squeeze in a workout later in the day. This is why one of the best fall fitness tips is to get your exercise first thing in the morning. Not only will you get it out of the way, but you'll also start your day with some extra energy.
3. Set End Year Goals 
One of the best ways to stay motivated with your fitness goals is to set some end-of-year goals. Whether it's running a certain distance, losing a certain amount of weight, or completing a challenging workout. Having something to work towards will help you stay on track.
Unlike new year resolutions that can often feel like a burden, setting end-of-year fitness goals can be fun and exciting. And once you reach your goal, you'll have even more motivation to keep up with your healthy habits into the new year.
4. Get Back To Routine 
Summer ends, vacations wind down, schools start back up, and life gets back to a bit more of a routine. And that can actually be a good thing when it comes to staying fit and healthy. Having a set schedule can make it easier to plan your workouts and meals, and stick to healthy habits overall.
Read More: Fitness Lifestyle: The Most Effective Ways To Make It Yours
5. Join A Challenge 
Community support is a powerful thing, especially when it comes to fitness. If you're looking for some extra motivation, consider joining a challenge or group fitness class. There's nothing like a little friendly competition to help you reach your goals.
Plus, fall's a time when many competitive and community events take place, so there are plenty of opportunities to get involved.
If you're not into joining a group class or challenge, finding a workout buddy is another great way to stay motivated. Having someone to exercise with can make working out more fun and enjoyable. On top of that, it's also nice to have someone to hold you accountable.
7. Dress For The Weather 
One of the worst things about working out in the colder months is having to deal with the elements. However, on a good note, if you dress for the weather, it can actually make working out in the cold much more bearable.
Layering is key, as you want to be sure you're not too hot or too cold. Be sure to dress in moisture-wicking fabrics to help you stay dry and comfortable.
8. Take Advantage Of Fall Produce 
Fall is a great time to take advantage of all the delicious seasonal produce that's available. Farmers' markets are overflowing with fresh fruits and vegetables, so it's the perfect time to stock up.
Not only is eating seasonal produce a great way to support local farmers, but it's also more budget-friendly. Other than that, since produce is at its peak during fall, it's also more nutritious.
So take advantage of all the delicious fall produce and incorporate it into your meals and snacks. Not only will you be getting more vitamins and minerals, but you'll also enjoy the flavor of seasonal fruits and vegetables.
9. Avoid Halloween Candy
Halloween is a tempting time for many people, as sugary treats are abundant around. But if you're trying to stay on track with your fitness goals, it's important to avoid temptation.
One way to do this is by giving out healthy Halloween treats instead of candy. This way, you won't be as tempted to indulge.
If you do decide to eat candy, be sure to do so in moderation. Also, make sure to offset the sugar by working out a little bit harder or eating a little bit healthier earlier in the day.
10. Rake Your Own Leaves 
Fall is a great time to get outside and enjoy the cooler weather. What better way to do that than by getting some exercise in?
Raking leaves is actually a great workout (5), as it's a full-body activity that gets your heart rate up. So instead of paying someone to rake your leaves, do it yourself and get a workout in at the same time.
Looking for a way to break the vicious cycle of weight loss and tone up all the jiggly parts? Watch the extra pounds fly off and your muscles firm up with the BetterMe app!
11. Boost Your Immunity
Fall is also a great time to focus on boosting your immunity. This way, you'll be less likely to get sick as the weather gets colder and germs start circulating more.
There are many ways to boost your immunity, but one of the best is by getting enough sleep. aim for 7 to 8 hours per night (6).
You can also boost your immunity by eating a healthy diet, exercising regularly, and managing stress levels. So make sure to focus on these things as well as you head into fall.
12. Make Time For Relaxation 
Even though fall is a busy time for many people, it's important to make time for relaxation. This is especially important if you're feeling stressed or overwhelmed.
Try to schedule some downtime each week, even if it's just for 30 minutes. During this time, you can do something calming, such as reading, listening to music, or spending time outdoors.
Fall Fitness Challenges & Solutions
Fall is the perfect time to get back on track with your fitness goals. The weather is cooling down, making it ideal for outdoor activities, and the kids are back in school, giving you more free time to focus on yourself. But, getting started can be tough, especially if you've let your fitness level slip over the summer.
Don't worry! We got your back! We've put together a list of every challenge you might encounter this fall, along with solutions to help you overcome them.
Fall Fitness Challenge: You're Down With the Flu
Solution: Seasonal flu shots can help protect you from the most common virus strains, but they're not foolproof. When the weather starts to turn and flu season hits, make sure to take extra precautions to avoid getting sick.
Wash your hands regularly and often, especially before you eat or after you've been in contact with someone who is sick. If you do get sick, drink plenty of fluids and eat healthy foods to help your body recover. Gentle exercise may also help you feel better, but be sure to listen to your body and take it easy if you're feeling too weak or fatigued.
Fall Fitness Challenge:  You've Let Your Diet Slip
Solution: The change in season can be tough on your diet. All those summer BBQs and picnics can make it difficult to eat healthily, but fall is the perfect time to get back on track. 
Start by cutting out processed foods and sugary drinks, and focus on eating fresh fruits, vegetables, and lean protein. Meal planning can also help you stay on track, and there are plenty of healthy recipes available online.
Fall Fitness Challenge:  You Haven't Exercised In Months
Solution: If you've been inactive for a while, starting back up can be tough. But it's important to ease into things to avoid injury. Start with some simple bodyweight exercises like squats and lunges, and gradually add more challenging moves as you get stronger. 
Cardio workouts, like walking or jogging, are also a great way to get your heart rate up without putting too much stress on your body (4). Just be sure to warm up before you start exercising, and cool down when you're finished.
Read More: Functional Fitness: What It Is And Why You Need To Practice It
Fall Fitness Challenge: You're Feeling Sore
Solution: It's normal to feel some soreness when you start exercising again, but there are a few things you can do to help ease the discomfort. First, try using a foam roller or massage ball to work out any knots or tightness in your muscles (2). 
Stretching before and after your workouts can also help and be sure to drink plenty of fluids to stay hydrated. If the soreness persists, though, it's a good idea to consult with a doctor or physical therapist.
Fall Fitness Challenge: You're Short On Time
Solution: Getting back to routine after the summer break can mean you're juggling a lot of different commitments. However, that doesn't mean you have to sacrifice your fitness. Workouts don't have to be long to be effective. 
In fact, studies have shown that short bursts of high-intensity exercise are just as good for your health as longer, moderate-intensity workouts (3). So, if you're short on time, don't worry. Try a quick Tabata workout, or see if your gym offers any express classes.
Instead of trying to find an hour for a workout, break it up into smaller chunks of time throughout the day. A 10-minute walk in the morning, a quick workout at lunch, and a longer session in the evening can all add up to a significant amount of exercise.
However, if you really don't have time for a formal workout, find ways to sneak activity into your day-to-day life, like taking the stairs instead of the elevator or parking further away from your destination.
If you tend to let yourself off the hook, raise the white flag when things get tougher than you expected, send yourself on an unconscious binge-eating trip – BetterMe app is here to help you leave all of these sabotaging habits in the past!
Fall Fitness Challenge: You're Not Motivated
Solution: After the summer festivities come to an end, it can be tough to get back into a fitness routine. But there are a few things you can do to stay motivated. First, set specific goals for yourself and write them down. 
Then, find a workout buddy or join a class so you can stay accountable. Finally, make sure to mix things up to avoid getting bored. If you keep your workouts interesting, you'll be more likely to stick with them.
The Bottom Line 
Fall is a great time to get healthy and fit. By following these tips, you can make the most of the season and stay on track with your fitness goals. So get outside, take advantage of the cooler weather, and enjoy all that fall has to offer.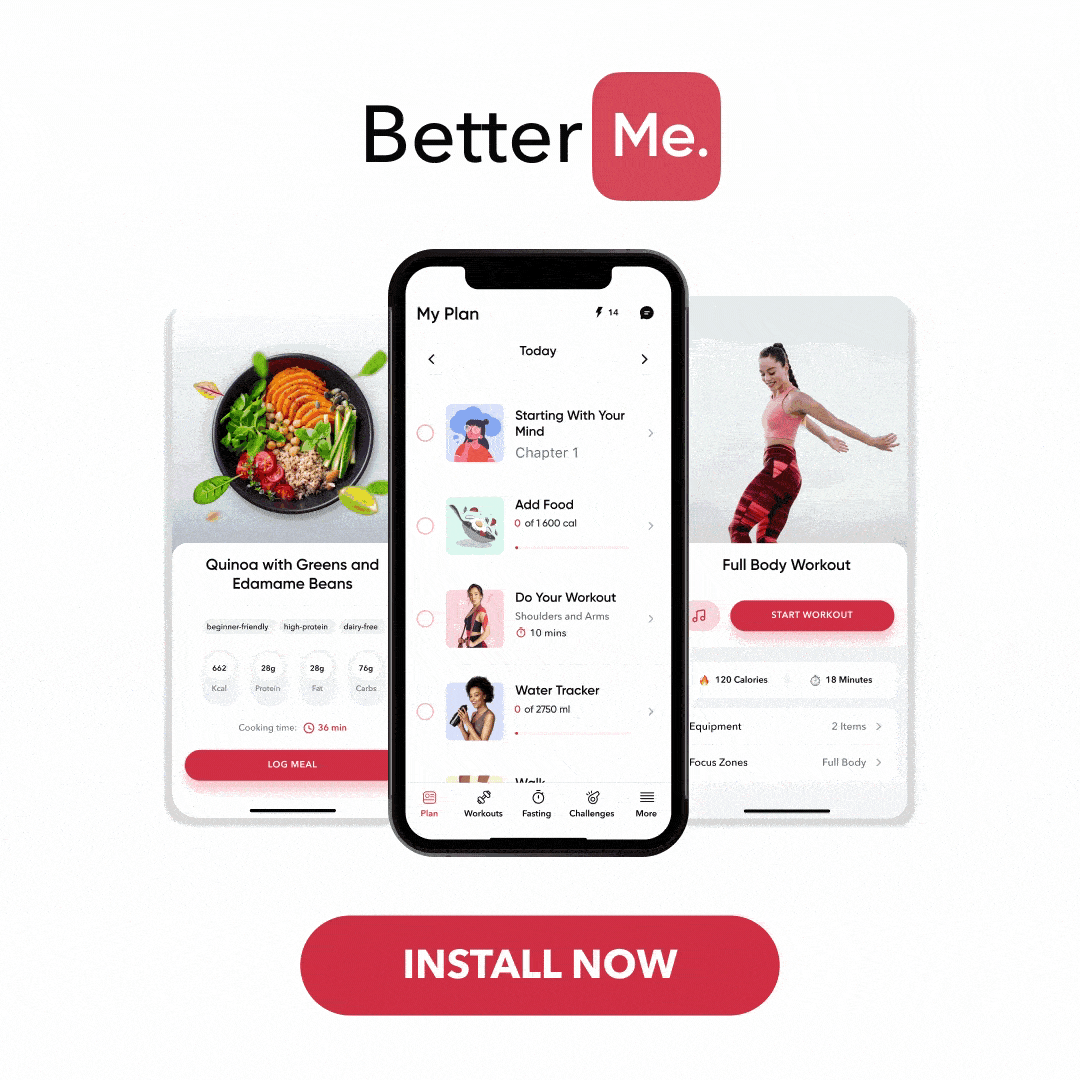 DISCLAIMER:
This article is intended for general informational purposes only and does not address individual circumstances. It is not a substitute for professional advice or help and should not be relied on to make decisions of any kind. Any action you take upon the information presented in this article is strictly at your own risk and responsibility!