Training your muscles on the sand, under the glorious sun, is a whole different vibe. Beach fitness has become an effective and thrilling way to stay in shape. It combines the best of physical training with the serene ambiance of sun, sand, and surf.
Beyond the picturesque landscapes, the beach offers a dynamic and challenging environment that engages muscles rarely targeted in indoor workouts. Whether running on soft sand, performing yoga poses amidst the rhythmic crashing of waves, or engaging in high-intensity interval training with the ocean breeze as a backdrop, beach fitness promises a refreshing experience like no other.
If you wish to take your workout to the next level, this article is one of the best places to get some ideas. Below, we have explored beach workout benefits and tips to make the most of this unique phenomenon.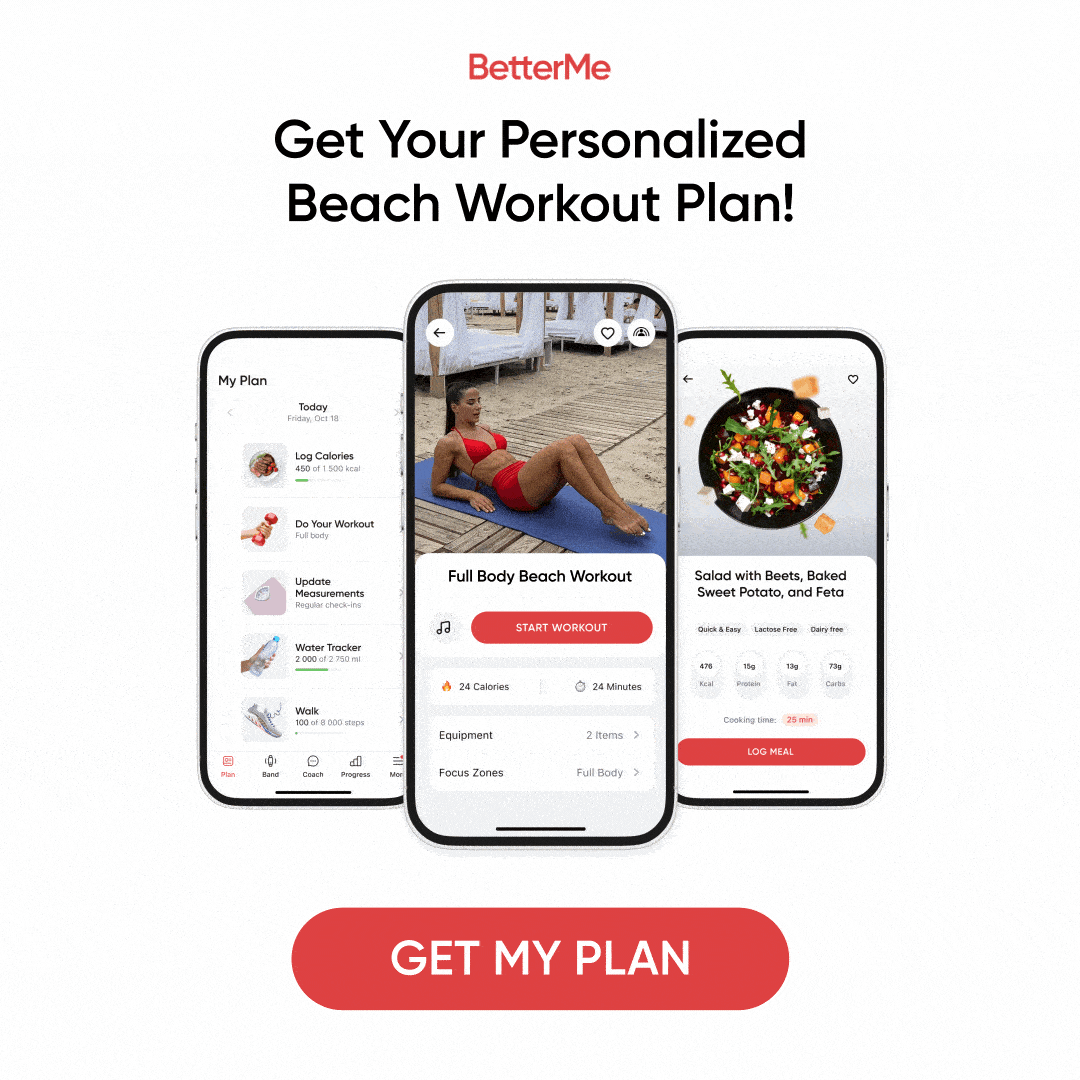 How Do You Use the Beach As A Gym?
The beach is one of the best places to accomplish summer fitness challenges. We have rounded up some of the best beach fitness ideas below. Let's take a look!
Sprints
The beach is one of the best places to go for a run. Running on the beach can help to tone your glutes, hamstrings, and quads (1). Sprints also engage your chest, back, abdominals, and triceps. This makes them a perfect cardiovascular activity.
Yoga
The natural surroundings of a beach are a good place for a relaxing meditation session. When you practice yoga, the sand makes you feel more at ease. Besides, it also challenges you at every pose as you must use more force with every move. If you are an adult or physically challenged, you can also practice a chair yoga sequence at the beach.
Squats
Another great exercise that could be included in beach fitness is squats. It can help to strengthen your quads (2). The wet sand offers stability and firmness because you perform it at the beach.
Frog Jumps
This jump starts in a low squat position. You have to bring your arms backward and jump forward while swaying the arms backward. Land gently on the ground, catch your balance, and repeat the exercise. Fix a distance that you can cover with these jumps.
Planks
Planks are an exercise that you can do to strengthen your core muscles (3). You can do these while lying on the sand. You should also find a comfortable surface to place your arms and toes.
A beach fitness routine is quite similar to your regular workout session. You can perform exercises like jumping jacks, spider walks, bear crawls, and push-ups to make your beach fitness session more productive. Craft a workout plan that caters to your physical needs, and watch wonders unravel in your favor!

Read more: Simple Bikini Body Workout Plan At Home Just In Time For Summer
Should I Workout At The Beach?
Yes, why not?
Working out on the sand can help people burn more calories without stressing their joints too much (4). Studies have shown that exercising on sand utilizes more energy than working out on a hard surface (5).
Further, working out on the beach may enhance your functional ability. A study conducted in 2020 observed the functional ability of adults exercising on soft, hard, and sand surfaces. Those who worked out on sand had much better functional ability than those who performed on hard surfaces (6).
Exercising outdoors can also improve your mental health. It brings perks like:
Reduction in anxiety and depression

Better Energy

Decreased anger and grief
Thus, beach fitness is for everyone out there. Your summer workout plan may include beach barre fitness or simple routines you perform at the gym. You may notice better energy levels and improved fitness when working in the sand.

Betterme will keep you laser-focused on your weight loss journey! Nutrient-packed meal plans, fat-blasting workouts, galvanizing challenges and much more. Try using the app and see for yourself!
Why Are Beach Workouts Good?
Beach workouts offer several benefits, making them an excellent choice for fitness experts and those seeking a stimulating workout experience. The following are some reasons why beach workouts are a sound option for many people:
Fresh Air:

Exposure to the outdoors allows you to soak Vitamin D from the sun. It is essential for bone health and overall well-being

(7).

Natural Resistance:

The soft texture of the sand creates natural resistance, which makes every move quite challenging.

Variety of Workouts:

The beach offers a versatile setting for various workout styles, such as running, yoga, squats, and even water-based activities. This keeps you engaged and prevents boredom.

Stability:

The uneven terrain challenges your stability and balance, helping you to overcome physical challenges and overall coordination.

Stress Reduction: The calming sound of waves and the peaceful ambiance of the beach can relax your mind and reduce stress.

To sum up, a beach fitness workout can provide a refreshing break from the confines of indoor gyms. They offer a great venue to hit those summer fitness goals. Look up "How many calories does swimming burn?" and find out how to include swimming in your exercise regime. The entire purpose of beach fitness sessions is to connect individuals with nature while also achieving their fitness goals.
Read more: The Best Beach Workout Equipment For Maximizing Your Seaside Sweat Sessions
Frequently Asked Questions (FAQs)
When sand moves beneath your feet, it engages your ankles, calves, and arches, helping you burn more calories as you move. A potential benefit of beach training can be strong feet, muscles, and the stability of other joints.
Can I swim instead of going to the gym?
Swimming is an excellent form of exercise that provides many health benefits and can be a perfect alternative to gym training. It is a full-body workout that involves several muscle groups and can help to improve cardio fitness, flexibility, and endurance.
How to do cardio at the beach?
Doing cardio at the beach is both fun and effective. You can do cardio at the beach by running, jumping rope, swimming in the ocean, or doing other bodyweight exercises.
Dropping pounds by the dozens without putting yourself through the wringer is everyone's weight loss pipe dream. But what if we told you that the BetterMe app can make that happen? Keep yourself in prime shape with our fat-blasting workouts, delicious budget-sparing recipes, and body-transforming challenges with our app!
Summary
Beach fitness offers a captivating path to achieving your health and wellness goals while indulging in the natural wonders of the shore. Take it as your dynamic playground where you can increase your calorie burn and relish the benefits of natural resistance.
Apart from sculpting our bodies, these workouts also help to nurture a deep connection with nature. You could form a community with other beach enthusiasts, making your workouts a social and joyful experience. A summer workout plan at the seashore may inspire you to take care of yourself and lead a fulfilling life!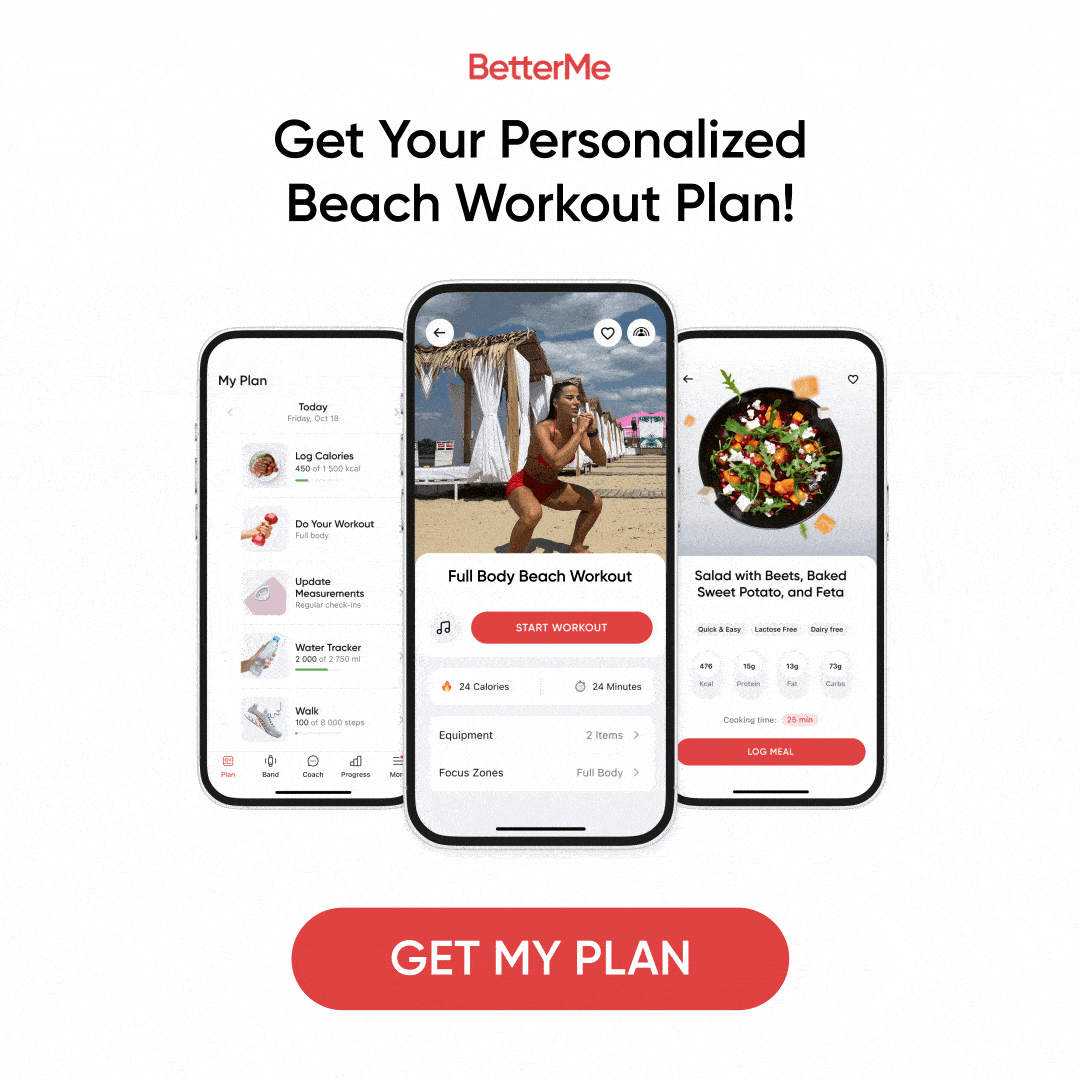 DISCLAIMER:
This article is intended for general informational purposes only and does not address individual circumstances. It is not a substitute for professional advice or help and should not be relied on to make decisions of any kind. Any action you take upon the information presented in this article is strictly at your own risk and responsibility!